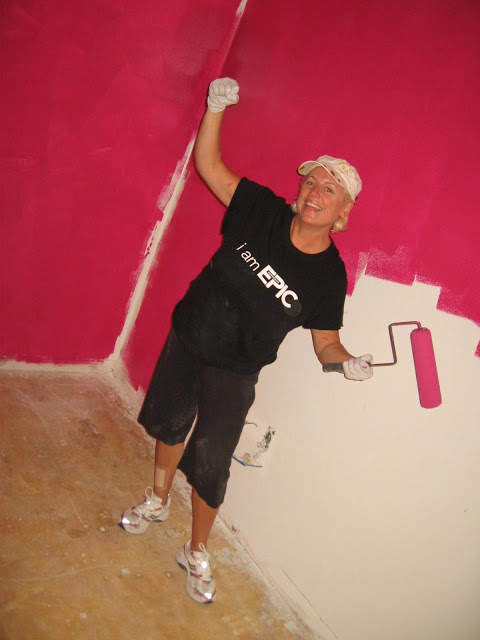 La Diva's not. And neither is the DJ, apparently. This is the colour of our bedroom! You COULD call it HOT PINK. You COULD call it fuschia. But the I prefer to call it raspberry! Actually, the DJ was inspired to "do" our bedroom in raspberry and chocolate brown when I brought home a beach towel that caught my eye in those very colours. It was laid across the railing while we lounged in the hot tub and he looked at it and said, "THAT combo is really hip." Surprised, I agreed. And because we are both artsy, that makes it ok. If he could take it, so could La Diva.
The next day, I decided to paint over the second wall on the left because when you walked into the room it looked like you were being swallowed into the vortex of dark pink, making me feel slightly overwhelmed and claustrophobic. I insisted we change it to the lighter colour, much to the chagrin of the DJ, as we would have to prime over it again and there would be another three coats to paint! After it was done, he relented and agreed it did look better. We painted only the back wall in this PASSIONATE colour and the other three walls are the lightest shade of chocolate brown which actually turns into a sort of very light dusty rose OR the palest of violets, depending on the time of day you are in the room. Cool.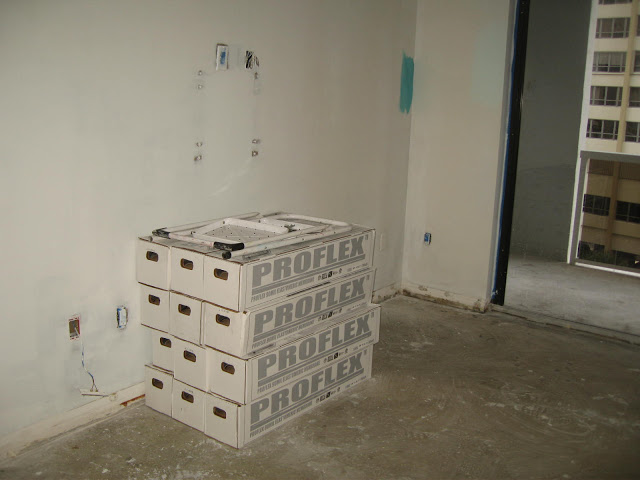 Here's the Proflex subflooring and sound proofing product I told you about a few posts back. La Diva picked this heavy $hit up in Hollywood and then unloaded and loaded it onto a cart up to our apartment all by myself. Yeah, dat's right, snitches, why else go to the gym if I'm not going to use my MUSCLES? (insert Popeye laugh here: "A-gah-gah-gah-gah-gah-gah!")
I am WOMAN, here me roar.
The funny thing is, I had a TOTAL Final Destination flashback while driving back with the Proflex to our unit, a good twenty two miles away, in our Dodge Magnum. You know the movie Final Destination, right? (okay, this movie and all of its sequels are my guilty pleasures!) Basically, the movie's premise is based on the main character having a premonition about a catastrophic accident and therefore has the ability to avoid it, thus cheating Death. Death don't like to be cheated and he comes back and gets all those that survived, one by one. Bwahahahaaaaaa!
WARNING: This clip is full of gratuitous gore and and is poorly recorded. Death is really, really mad in this scene!
Well, it wasn't quite this bad, but you know La Diva likes to add the drama, don't you? These sort of movies crack me up…pretty girls and boys in unbelievable situations and ridiculous consequences. You know you want to see them "buy it" just because they are so annoying. And cute.
In any case, this is what happened: I was driving back from Hollywood to our apartment on the freeway with the 12 rolls of heavy Proflex in the back, and was moving along at regular speed (regular speed being about 75 mph on Miami freeways) when I had to put the brakes on quickly, I did not SLAM them, but put my foot down on them hard enough to make one of the rolls of Proflex KNOCK into the back of my seat with a heavy thud.
"Ugh."
If that wasn't bad enough, another roll FLEW into the middle between the two front seats and pushed my car's gear shift into neutral. While I was driving. On the freeway. NOT. GOOD. Thoughts of messed up transmissions and costly repairs along with the "what if's" went through my Diva head. What IF the Proflex were just a bit heavier and I DID slam on the brakes? Would I experience a Final Destination chain reaction with the Proflex jamming into the back of my head and splattering MY brain into the windshield? Hmmm….better slow down, Diva girl, slooooow down. After that, I went into the right lane and stayed WAY the hell back from the car in front of me. Live and learn. (and don't tell the DJ, ok?)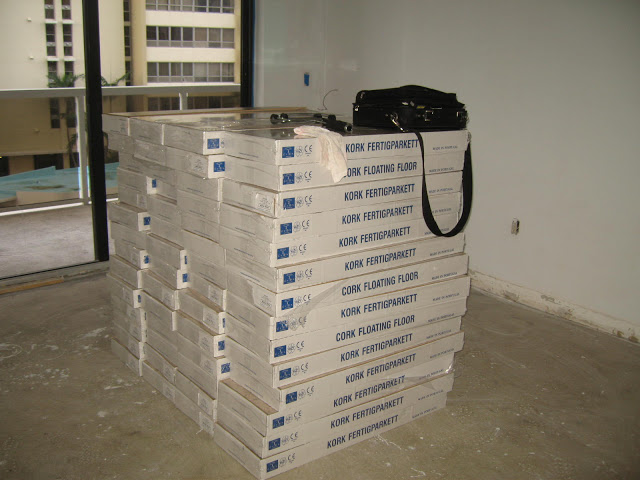 Here is the two pallets of cork flooring we had delivered last Friday. The DJ and I hauled it up to our new place. Our contractors were on another job, so could not help me take the delivery, and thankfully, the DJ was working from home, so could assist. Otherwise, I would have had to pay the driver $250 to help me! Hell to the No! Again, I was glad I've been working out and was able to help load and unload and made sure I picked up each box using the strength from my legs instead of my back. Pleased at myself, I realized that there was no way I could have done this before I started working out back in March when we put the offer on the house.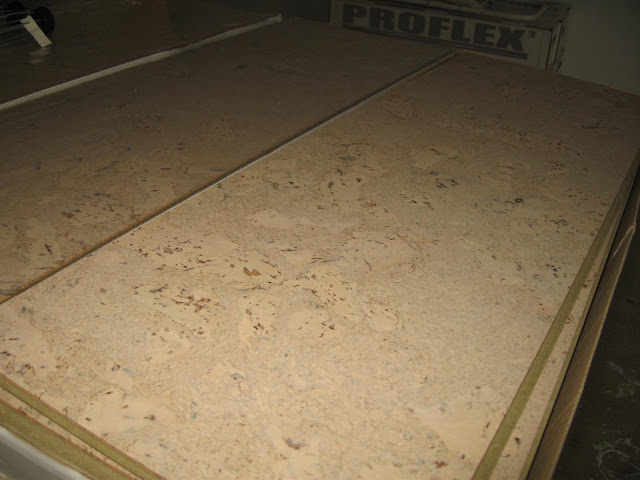 Here is the beautiful cork flooring I bought. Why cork, you ask? Because it's soft on my feets (and cooks like floors that "give.") it's sustainable, it sports a cool marble design, it's durable and hypo allergenic. And it's as strong as wood, if not stronger. I am used to cork floors as it is very prevalent in Australian kitchens, however, it used to be that cork came in only a few limited shades of yellow and brown. Now it comes in many colours and styles, even pearlized high gloss finishes!
It was suggested by several people that in order to save on flooring, I should go to Lumber Liquidators to get something cost effective, but that would mean buying CRAP from China. And we ALL know what GREAT QUALITY Chinese products are, right?
This cork comes from Portugal

.
Luckily, in Miami we have an international port and the company's warehouse is about a half an hour away, so I didn't have to pay exorbitant shipping fees or sales tax. Woo hoo! When I told my friend Beth this great news, she reminded me that I should always BUY AMERICAN. I then reminded her that we don't grow a lot of cork trees here in America. "Oh," she said, and started to laugh. But I DID by from an American importer in Texas who was quite lovely and very helpful!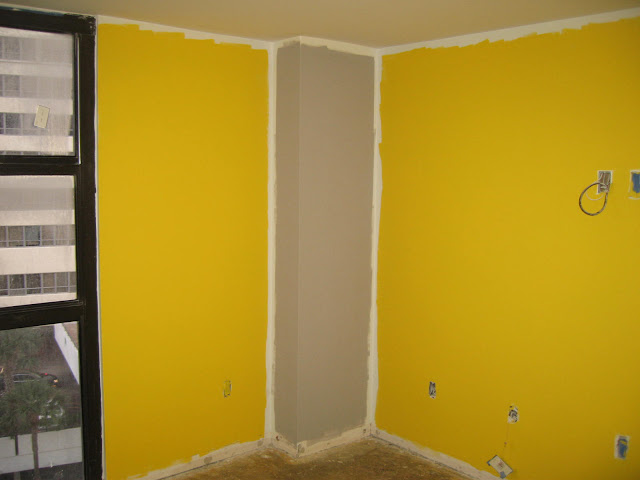 Here is my office! Bright, yes?! La Diva LOVES colour and yes, I have the balls to use it! My desk will go in this corner and the lovely outlook of the tree-filled park will be my view from the window on the left.
The DJ and I work well as a team and we spent the entire weekend painting. Since I hate the fiddly work, he primes, tapes and paints close to the edges. I am the workhorse, rolling the bulk of the paint on the walls. We did each room in three coats and you better believe that La Diva was in that hot tub by the end of the night. Oddly enough, I felt the pain more ON MONDAY and had a blister on my hand from the roller!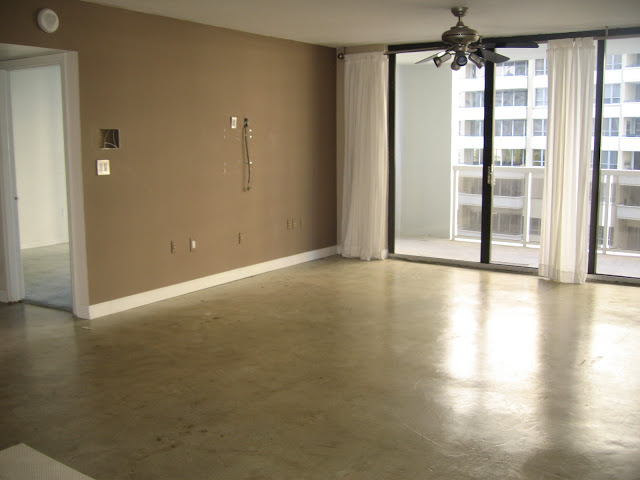 The living room went from this caca brown…
…to this vibrant teal and the palest of blues! Very Miami, VERY hip! (you'll see!)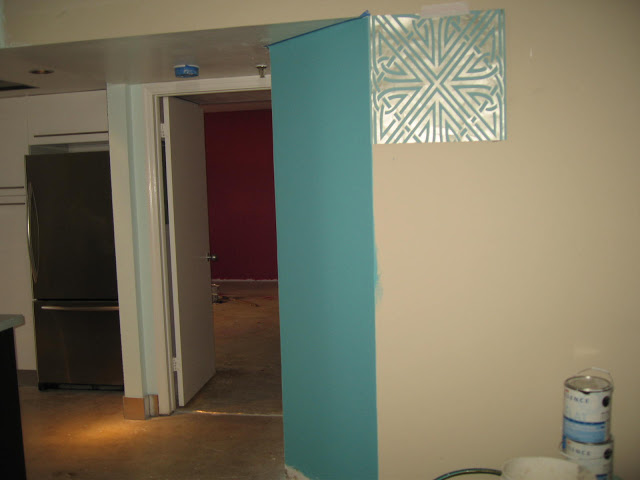 And we will add a bit of texture and DRAMA to the dining area by putting up this really groovy metallic wallpaper by
Graham and Brown.
Yes, wallpaper is back in style, darlings, and its not-cho mama's wall paper either! Divine!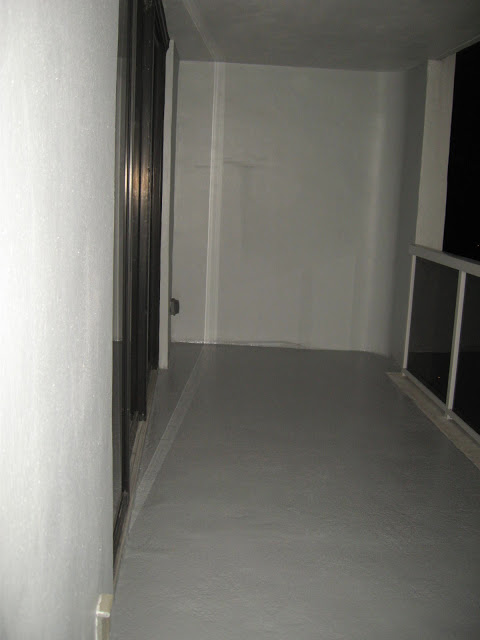 And finally, this is the Vulkem waterproofing finish we put on our balcony. The building did some balcony repairs which left us with pieces of balcony floor removed at about a 1/4 of an inch more shallow than the rest. So, we needed it filled in, leveled and then finished. This will allow me to enjoy walking on it in bare feet without slipping or feeling the heat of the relentless Miami sun. This balcony, by the way, is HUGE. Big enough for me to have a herb garden, bar style table and chairs and a BED. Yeah, dat's right, La Diva is considering putting a bed on the balcony. No, NOT a ghetto-bed-left-over-from-your-tacky-ass-K-mart-living-room-furniture-that-y'all-put-on-da-po'ch-after-it-look-bad-in-da-house, but a DAY bed that will be great for lounging with company while sipping a sassy cocktail and admiring the bay or the full moon! You'll see.
That's it for now, darlings! The crib is half-packed, the floor almost finished, baseboards about to go on and trim painted. La Diva is getting excited! What do YOU think, darlings? Can you DO bright? What are YOUR fave colours? Do tell, La Diva wants to hear all about it! Ciao for now!
Originally posted 2011-09-18 15:06:00.