A delicious recipe for using shelf stable gnocchi with fresh or frozen vegetables.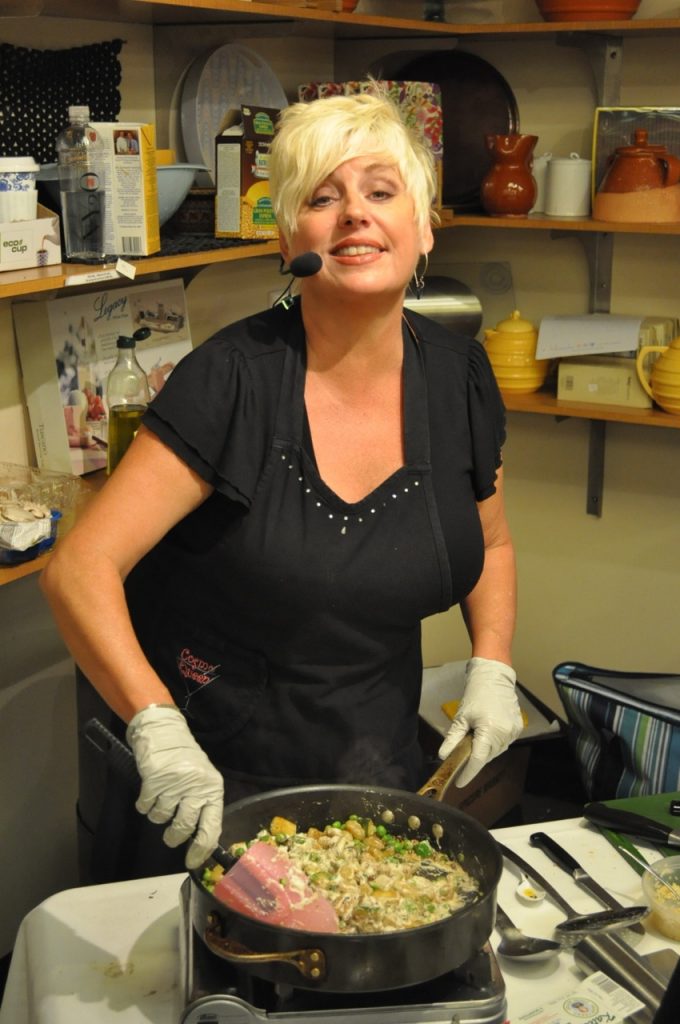 Back in 2010, in an effort to support my fledgling brand and partner with established and respected local businesses, Epicure Gourmet Market asked La Diva Cucina to design and conduct a series of themed cooking classes at their South Beach store. Back then, I was doing more consumer cooking classes and trying to woo corporate team building clients. The series would create a win-win as my company would get exposure while promoting the store and introducing new ingredients and products to their upscale client base.
My goal was to create a unique twist on a product that was shelf-stable and could be pulled from the pantry. As I walked around the grocery, I gained inspiration and picked out shelf-stable gnocchi, fresh vegetables and cheese. I wanted to prepare gnocchi apart from how it's usually made, boiled in water and then adorned with a sauce. I'd had sautéed gnocchi before and loved the idea that by simply frying the succulent dumplings in butter, the texture would create a completely different taste experience.
The class was called Buona Sera supper, and as is the case with most Italian style cooking, it was well attended and garnered many compliments from the attendees.
The recipe is easy to make and is fairly quick too. But what's really helpful is the recipe uses shelf stable gnocchi and is easily modified. You can use fresh vegetables and herbs or not. You may use pancetta or bacon. Or it may be omitted entirely to create a hearty vegetarian dinner.
Please check out my printable recipe below and be sure to check out the notes for substitutions and modifications. And feel free to comment with your own suggestions or questions. Ciao for now!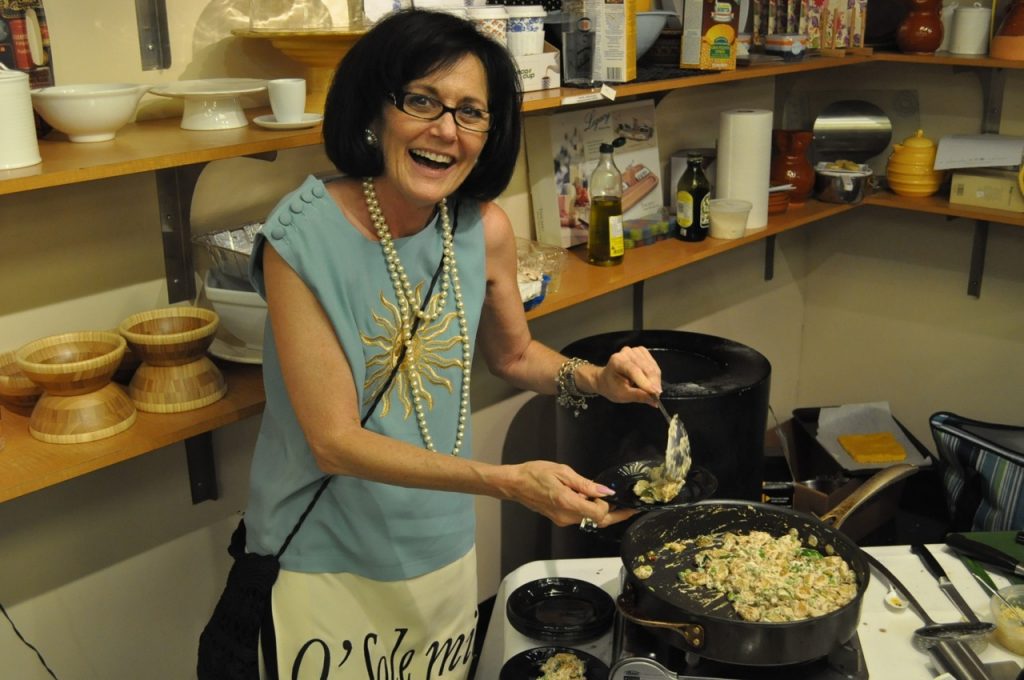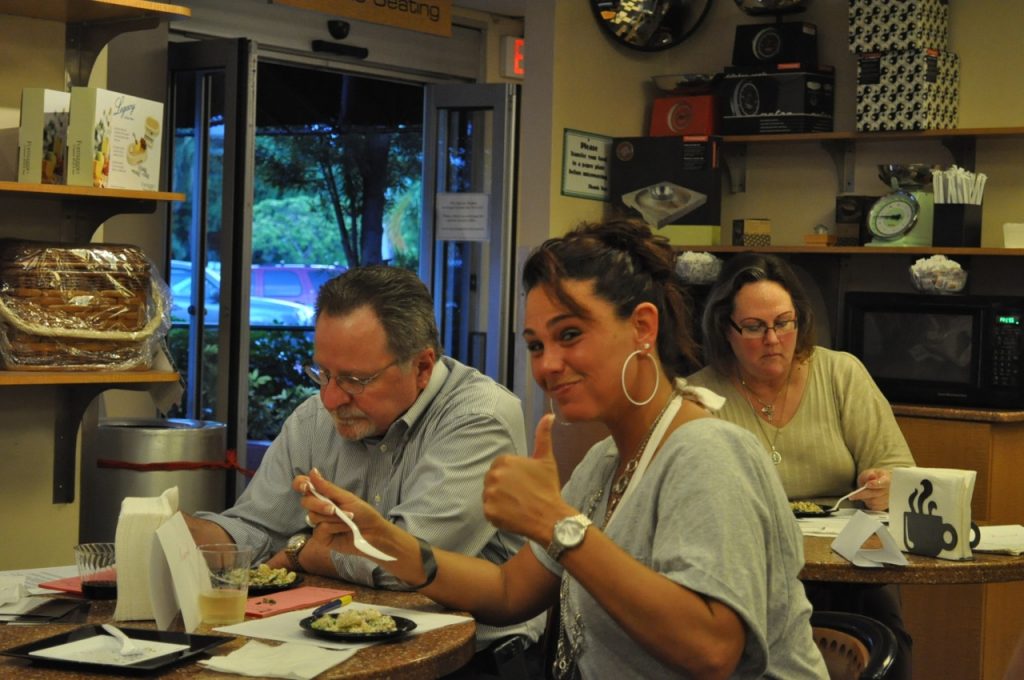 Pan-Fried Gnocchi with Ricotta and Spring Vegetables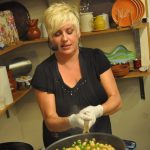 Pan frying gnocchi creates a unique texture to these delicous Italian dumplings and are excellent combined with ricotta cheese, fresh herbs and vegetables. This recipe is quick, delicious and easily modifed, please read sub notes at the end.
1 pound gnocchi (shelf stable, usually shrink wrapped and found on grocery shelves)
1 tbsp olive oil
1/3 pound pancetta (chopped into small dice)
1 cup fresh peas ( blanched)
2 small zucchini (cut into large dice)
1 tbsp butter
1 clove garlic (minced)
1 tbsp fresh marjoram leaves (minced)
1 cup ricotta cheese
1/2 cup parmigiano cheese (shaved with vegetable peeler)
Prep all ingredients as outlined above to have ready to cook.

Bring a large pot of water to boil, add 1 teaspoon of salt to water to flavor.  Once boiling, carefully add gnocchi and reduce heat to medium high. Stir to prevent sticking.  Cook as per directions but before draining, reserve one cup of cooking water. Rinse gnocchi in cold water to get rid of any additional starch.  Set aside.

Heat up a large frying pan with the olive oil and add pancetta when hot.  Cook over medium heat, stirring as needed, until completely cooked and crisped, about 5-8 minutes.  Remove from pan, drain pancetta on paper towels and set aside.  Drain off all oil from the pan and retain one tablespoon.

Blanch shelled fresh peas in boiling, salted water for three minutes.  Drain, refresh in cold water, drain and set aside. If using frozen peas, see note below.

Cut zucchini into large dice, about the same size as the gnocchi. Heat fry pan with reserved pancetta oil and cook zucchini until golden brown on all sides until crisp tender, do not overcook. Lightly salt.  Remove from pan and set aside.  Clean out pan with paper towel.

Heat butter and olive oil in a frying pan over medium high heat.  When heated, add gnocchi and fry until the dumplings begin to turn golden, about five minutes, turning as they brown. 

Add garlic, peas and marjoram, stir gently and cook for one minute.  Add zucchini and pancetta, stir through.  Add ricotta cheese in spoonfuls and stir through 1/3 cup cooking water to form a light sauce.  If you need more water, add it by 1/3 cup until sauce is a creamy consistency and ricotta cheese is well blended.

Salt and pepper to taste, garnish with shaved parmigiano cheese and serve immediately.

NOTES AND SUBSTITUTIONS:

Bacon can be substituted for the pancetta, or omitted completely.

Zucchini can be omitted completely. Or you can add blanched asparagus or toss in fresh spinach.

Frozen peas may be substituted for fresh, just put the frozen peas in a jug of hot water until thawed, drain and toss in.

Dried oregano or fresh basil may be substituted for the marjoram.

Shaved parmigiano may be omitted.
Originally posted 2020-03-31 15:22:57.