A Delicious Cocktail Inspired by a Tropical Storm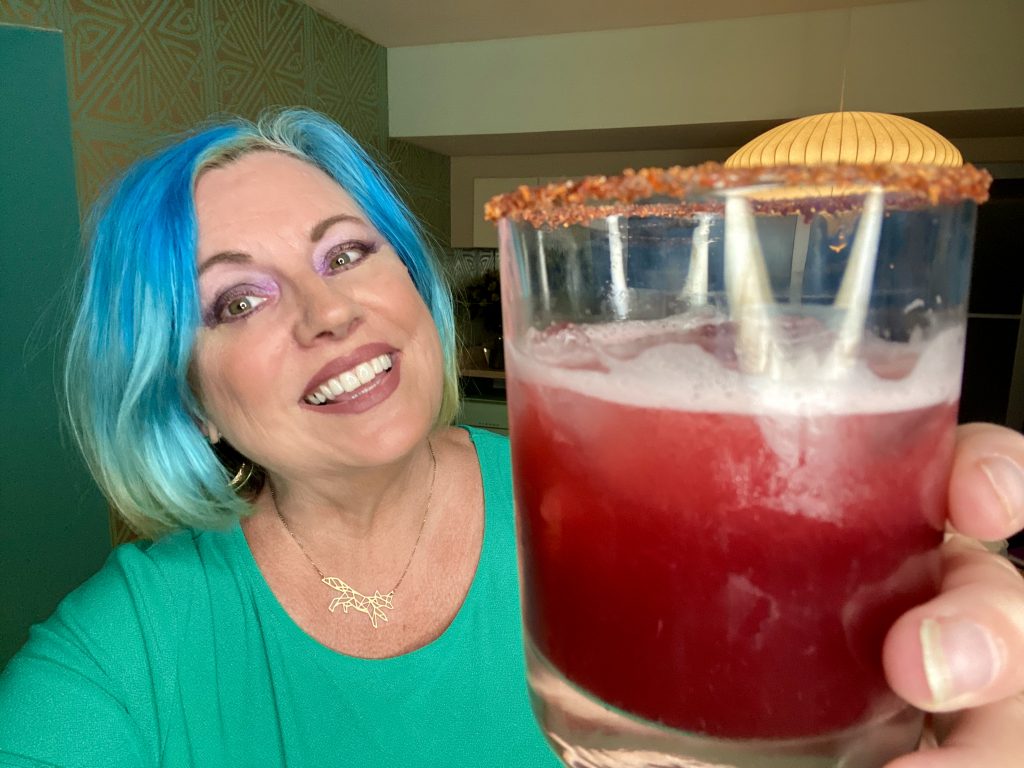 La Diva LOVES margaritas and I've certainly made my share of them over the years. I've mixed hundreds of margaritas at the many bars and restaurants I worked at. Likewise, I've made almost as many while entertaining at home! Today, we're going to learn to make a tangy hibiscus tea margarita, a delicious twist on a classic cocktail.
Margaritas are a wonderful cocktail to adapt to many different styles and flavors. And to be honest, this floral version is anything but cloying. It takes the tang of hibiscus and bright fruit flavors from oranges and apples to create a complex and delicious take on a traditional margarita.
As the syrup is derived from flowers, I thought it appropriate to name it Floridita, a play on "flor" or "flower" in Spanish. But I cannot! Because that's actually the name of a cocktail made famous at the namesake bar, El Floridita in Havana, Cuba! The Floridita cocktail is a take on a traditional daiquiri. What sets it apart is that it includes a hint of maraschino liquor. Unsurprisingly, it was a favorite of Ernest Hemingway! Apparently, he imbibed in many of them.
Back to the Drawing Board for a Cocktail Name
As it happens, Tropical Storm Laura is currently on its way towards South Florida and the Gulf of Mexico. What's so unusual about this storm is that there is another storm parallel to hit heading in the same direction, which to date has been unheard of. But, you know in 2020, ANYTHING can happen!
Since I finally have my own tropical storm, I've decided that it's the perfect time to remember it with its own cocktail. And this margarita embodies everything that I am. This cocktail includes a bit of feminine sweetness along with some spice, sour and a whole lotta kick! Ladies and gentlemen, may I introduce the Laurita Margarita!
Now, let's just hope that storm is a fizzer and never makes its way into the history books. Enjoy!
Virtual Cocktail Classes
By the way….Did you know that La Diva now conducts virtual cocktail parties? Along with my favorite deejay, DJ Nevah L8 4 Dinnah, we'll provide music, cocktail and appetizer demonstrations for you and your friends to make along and enjoy together!
Contact us today, let's party!
Laurita Margarita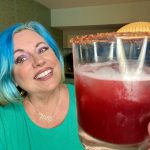 A tangy, earthy margarita with floral notes made from hibicus flowers and other teas and herbs.
2 ounces tequila
1 1/2 ounces hibiscus tea syrup
1 ounce lime juice (freshly squeezed)
1 tbsp Tajin Classico Seasoning
Hibiscus Tea Syrup
1 cup loose tea with hibiscus flowers*
2 cups water
1/3 cup white granulated sugar
Hibiscus Tea Syrup
Add water and tea to small pot on stove, bring to a boil.

Once boiling, turn down heat and simmer for 10 minutes until liquid is reduced slightly.

Take off heat and let steep for 30 minutes.

Strain into a bowl, then strain back into the pot.

Add the sugar, stir and bring to a boil.

Turn down heat and simmer until mixture gets thick and syrupy, about 10 minutes or so.

Reduce until you have about a cup of syrup.

Remove from heat and cool.  Store in jar or squeeze bottle in refrigerator. Will last for two weeks.
Margarita
Pour a bit of the syrup onto a plate, the seasoning salt on another. 

Take rocks glass and dip rim into syrup, shake, then dip into salt making sure rim is evenly coated.

Add ice to glass and put aside.

Fill metal Boston shaker with ice.  

Add all ingredients to glass part of the shaker.

Pour into shaker with ice, marry the glass on top tightly and shake.

Strain into rocks glass and serve.
*or use 8 tea bags of any hibiscus flavored tea.  Examples:  Tazo PASSION herbal tea which includes hibiscus flowers, natural tropical flavors, citric acid, licorice root, orange peel, cinnamon, rose hips, lemongrass or Celestial Seasonings Red Zinger herbal tea which includes:  hibiscus, rosehips, peppermint, lemongrass, orange peel, natural flavors, lemon verbena, licorice and wild cherry bark OR dried hibiscus flowers.
The tea I used included:  hibiscus, rose, calendula and safflower petals, elderberry, rosehip, apple, orange and raisin pieces.