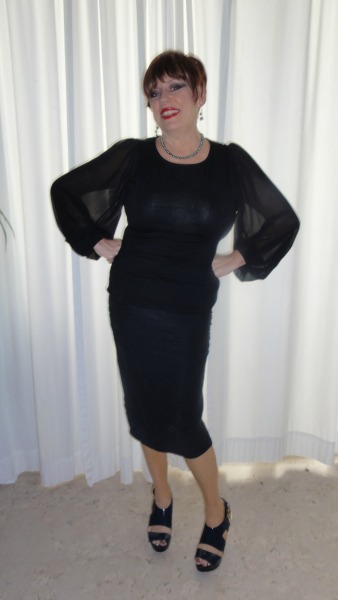 It's only a few days after Christmas and already the guilt is there about my diet.  "Why did I eat so much?  UGH."    For me, it was the same each and every  year.  The overeating would start at Thanksgiving with the usual feast and from there would initiate the juggernaut of events and parties all with copious amounts of food and continuously flowing drinks.  It started with Art Basel in early December and continued on until New Years Day.  The weeks of multiple parties and events would culminate into a 10 lb weight gain for me, along with depression and tears while standing in my closet, desperately trying to find something, anything, that would fit or flatter me.  I'd put on a stretchy skirt with some sexy shoes, feeling blobby, heavy and full of regret, ashamed to look at myself in the mirror.  Was it worth all of that?
This year, I was determined that things were going to be different and I have been slowly changing the way I feel about food, the holidays and eating.  It's taken me six months to take off 16 pounds and with another 14 to go, I decided that I would NOT be gaining back half of what I'd lost in six months by overeating for six weeks.  So, here's what I've learned that is working for me:
!.  ENJOY WITHOUT GUILT:  I sure enjoyed everything I ate this season and I refuse to imbibe and then feel guilty. I  have savored every bite and relived it again.  The spicy lamb meatballs from the cocktail party, the delicious whiskey caramel corn, the three-cheese scalloped potatoes from Christmas day.  They were certainly delicious!  Along with the food I've relished, I'm remembering conversations with friends at parties, stories shared from family and the gorgeous ballet I went to, re-living the magic, the colors, the music and dancing.  I've been savoring all of the good times again and again and extending the enjoyment of all the season has offered. 
2.  EAT QUALITY FOOD:   I decided a long time ago that life was too short to spend calories on bad food, so especially during the holidays, I make sure that what I eat is of high quality.  Cheddar cheese cubes on a pick?  No thanks, I can get that any time, I'm saving my calories for the delicious ham or the lovely sausage pastries or those salted caramels I was given!  I will not waste calories on cheap chocolate or cold french fries or anything I can ordinarily get so that when I DO decide to splurge with the calories, it's for food and drink I really want and will really enjoy.   That cookie I took a bite out of that wasn't that good but I ate it anyway just cost me 80 calories and I didn't even like it! No more!  (They serve food with napkins for a reason, honey!)
3.  MY BEST DEFENSE IS A GOOD OFFENSE:  I've stayed active as much as possible during the holidays and on nights where I knew I'd be eating a decadent meal, I made sure to eat something light like fruit for breakfast and lunch.   And in between the parties, I'd have very low calorie days while working out, swimming or riding my bike.   There were times when I didn't want to get up and move but then I would force myself to GET OUT and then would feel so much better and was glad I made the effort.  There were also nights where everyone else was drinking except me.  I was saving my calories for the parties and passing on wine at dinnertime.
4.  JUST SAY NO:  Just because I've been invited to a party or event doesn't mean I have to go to every one.  I said no to an "all you can eat" brunch because it was just too much.  Too much money, too much food and too many meals out in a row.  My body and my wallet needed a break!  I politely thanked the host and DID NOT EXPLAIN but simply said I'd see him another time. So instead, I enjoyed a beach-side bicycle ride, a healthy, home-cooked meal and saved myself about $70 along with more calories that I didn't need.
5.  STOP EATING:  That's right I have learned to STOP.  I had a three nights of rich appetizers, food, wine and Christmas cookies from the holiday dinners, that was certainly enough.  The plan is to feast for a day and have the leftovers for a day, NOT to feast FOR DAYS!  My strategy is to give away plates to neighbors, friends and family.  Get it out the door to avoid temptation!  I give away plates of food to staff in our building, friends who don't get home-made dinners often or neighbors with small children.   All of them appreciate a plate of my home cooking and baked goods during the holidays.
6.  GET BACK ON TRACK:  The day after a big night, I started back on my fast again or I ate a very light meal.  In the past, I might be self-defeating, jumping on the scale and saying to myself, "Well, I've already gained weight, might as well wait until January now," which of course leads to even more weight gain, depression, tears….. The day after Christmas, I  did NOT get on the scale but instead got back on track, knowing that on the weekend I would have more company and rich food again.  After all, New Year's is a whole week away from Christmas and in the past I have done a whole lot of damage to myself in just a long weekend!  So,  I jumped on the opportunity to eat low calories and besides,  I don't usually eat a lot of cream, cookies or rich foods, so after a few days of heavy eating my body started to crave crunchy green veggies, salads and fruit anyway.
7.  GET ACTIVE NOW:  With my new attitude about how I eat over the holidays, there is no more of this "I'll wait and start to exercise in the New Year…"  Why wait?  Why not start NOW?  It's a LIFESTYLE now.  On December 26,  I was feeling blobby and heavy after ingesting many high-caloric foods, so on the day after Christmas, I got up in the morning and swam 50 laps in the pool.  It felt great getting the oxygen into my blood and feeling energized.  There really is no excuse for not being active, even when I was traveling over the summer, I still found time each day to jump rope, do push-ups and plank poses.  It was always hard to start but soon the work out was finished, the day was mine and I avoided  nasty "guilt" once again.
So, did I gain any weight during the holidays?  I don't know.  Because another part of my new strategy is to not weigh or measure myself until the middle of January when life settles down again and my work outs are less sporadic.  Even if I gained a few pounds, I'm not going to stress about it but JUST GET TO IT.  I DO know for sure that I didn't gain ten pounds.  Heck, I might not have gained any at all! It's really about a new attitude towards food  and self-love with a BIG SIDE of balance and moderation.  Happy New Me!  Happy Holidays!
Originally posted 2014-12-31 02:39:27.