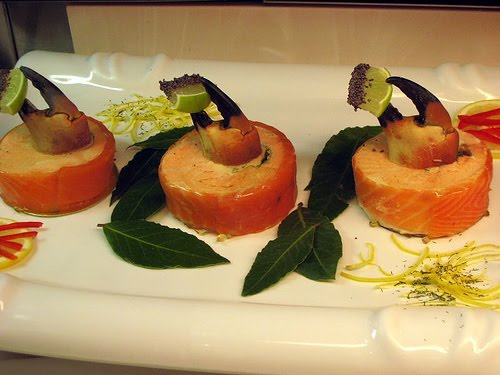 La Diva just LOVES the food styling in this photo and wish it was something I was better at (or had the patience for!) From the food department at Harrod's Food Court.
Darlings! Well, I promised you part deux of the Thai crab post and here it is! The day after La Diva made those scrumptious Thai crab stuffed squash blossoms, I had an entire bowl left of the crab and fish mixture, all seasoned and good to go. I knew I had to use it the very next day, I didn't want to risk letting the delicious crab spoil.
The day before I experimented using a couple of dumpling wrappers. I put a dollop of the crab into the middle of a round Chinese dumpling wrapper and then pinched the top together like a money bag. I fried it and after a few seconds cooling, tasted it. Wow. Succulent and divine and DANGEROUS with the hot crab juice squirting out! YIKES! Yep, these would make great party canapes! But, La Diva was not about to eat a bunch of fried money bags for dinner. I had to think of a healthier, less heavy way to utilize the rest of the crab meat.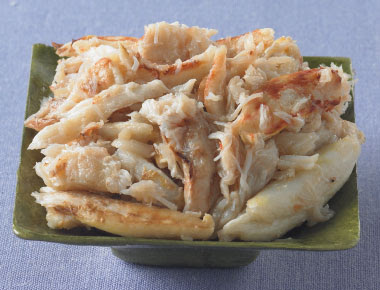 Crab claw meat, full of flavor and cost effective, worked just fine in my dish!
I thought about using the dumpling dough again but this time I would steam them. Or how about making a nice hearty pasta dough and doing a Thai crab ravioli? Good ideas all, but I didn't want to prepare anything too fiddly and time consuming for a Sunday dinner by making tons of tiny parcels. Too much work for a lazy rainy day!
Hmmmm…..I could simply heat it and serve over rice with some julienne zucchini and carrot? Nah. Too simple and rustic.
And then, I got it: Crab cakes! YES!
All I did was take
the mixture from the day before
and added a whole beaten egg and since the seafood was so wet, I added two tablespoons of panko bread crumbs to help bind it all together. I divided it into four and formed patties. I put them on a plate and into the refrigerator to chill for about a half hour.
I then made the coconut rice, which is so easy and divine tasting that it will fool you into thinking that it is more than just two ingredients!! Simply combine one cup jasmine rice to one cup coconut milk and cook as normal and you'll get a deliciously sublime rice that will grace any Asian meal.
While the crab cakes were chilling, I got started on the eggplant.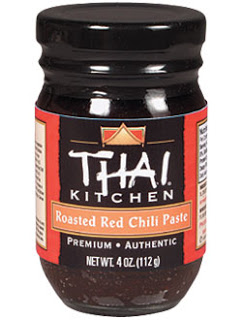 La
Diva LOVES this mild but flavorful roasted chili paste from Thai Kitchen. I get it at Whole Foods and use it to add depth of flavor, it doesn't add a lot of heat at all and I use it in my Asian orange blossom honey sauce that I serve kids, it's that mild!
La Diva's Stir-fried Eggplant with Garlic and Roasted Chiles
For two
Take half of a small eggplant, cut into 1/2 inch cubes and place in strainer. Salt and let drain for half hour, blot with paper towel to remove all excess moisture.
Put enough oil in wok for deep frying. When oil is hot, carefully add a handful of eggplant. Don't add all the eggplant at once or you will crowd the pan. I fried the eggplant in two batches. When brown, remove with slotted spoon and drain on paper towels. Drain off all oil and set aside.
In mortar, smash two cloves garlic and add a heaping tablespoon of roasted chile paste. Mix together.
Get wok hot again and add garlic chile paste, stirring continuously and then add a dash of Chinese wine (Shaohsing) and continue stirring. Turn heat to low and add the eggplant back, mixing the chile garlic paste through and then mash together lightly with a fork. Make sure you do not mash completely and all ingredients are mixed through. Serve at once.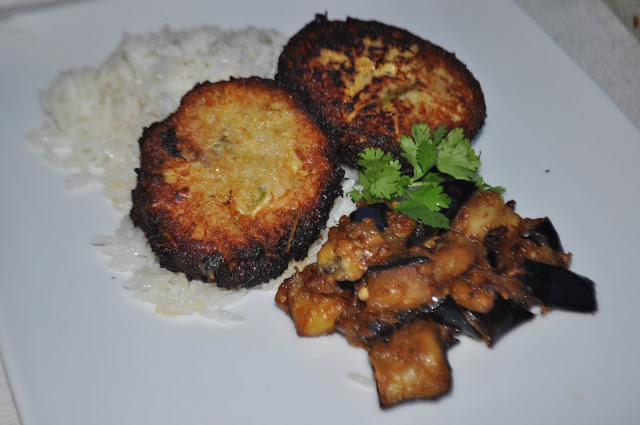 The crab cakes look a little too toasty on the edges, don't they? La Diva thinks the oil was a tad too hot for the delicate crab! Still, they tasted excellent with a lovely CRUNCH! I would have taken another photo of the steamy delightful inside but you know, hot crab cakes need to be eaten, not photographed!
RESULT: WOW. La Diva was very, very pleased with this entire exercise. The texture of the crab cake was crunchy on the outside but moist flavorful crab on the inside, with true Thai flavors, of course. The soft textured eggplant works great with the crunchy crab cakes and the moist, rich and mildly flavored coconut rice. The eggplant with the garlic and chile really take the poor little eggplant to the next level and I felt this dish tasted like one of my fave dishes from the Java Indonesian restaurant in Sydney. In fact, DJ Nevah L8, never much of a "slimy" eggplant fan (his words,) ate it right up! See, just goes to show you, fry anything and you can please even the pickiest of eaters!
I just love when a dish does double duty but this filling goes further than that with numerous ways to serve for appetizers OR dinner. Definitely a winner! Darlings, any ideas on what YOU would do with the Thai crab filling? La Diva wants to hear!
DON'T FORGET PEEPS, THE CULINARY SMACKDOWN COMPETITION FOR BATTLE SANDWICH IS ON!! IT IS BEING HOSTED BY DOGGYBLOGGY OF CHEZWHAT? AND THE DEADLINE IS MIDNIGHT, AUGUST 23. YOU CAN GET MORE DETAILS BY CLICKING HERE.
Originally posted 2010-08-19 13:08:00.