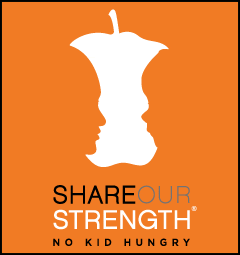 Darlings!  It's time to get serious for a minute.  I want to talk to you about hunger….REAL hunger.  The kind of hunger you might not have ever had to experience yourself.  The hunger that comes from being hungry but not being able to satiate that hunger by going to the refrigerator, the kind of hunger that comes from not actually having enough food to eat.  La Diva is talking about hunger pangs where you are given water or tea instead of food to make the pangs go away.
This is the hunger many, MANY American children are experiencing right now. Yes, in AMERICA.  And that is a crying shame.
Two days ago, I was asked to participate at
at Fairchild Tropical Botanical Gardens on Saturday, May 14, 2011.  All I did was say that I'd like to support a fellow Florida Blogging Buddy Freakin' Flamingo, and next thing you know, La Diva was on the team, given my own pledge page and raising money!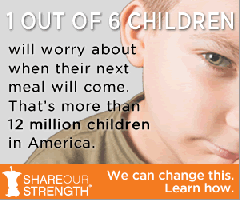 I have been asking for donations since 7 am this morning and now, at 3:30 pm Friday, I have more than doubled my goal of $250 with $600 in donations!  Why?  Cuz I'm a pushy Diva and I truly believe in this cause.  Here's what helped bring the issue home to La Diva personally:
 I am from Michigan and my sister works for a non-profit in the suburbs of Detroit.  She sees first hand families that have lost their homes and now reside in 
run-down yet exorbitant hotel rooms.  These are people like you and me, people who had a nice home before now and people who had jobs.  These are not crack heads.  These are not people that "don't want to work."  These are good people that lost their jobs, these are families.  They could be your neighbors.  Or a child your kid goes to school with.
 And if you think to yourself, "I don't have a lot of money to donate," let me illustrate what your money can do to help:
$1

can help provide a hungry child with 10 healthy meals.

 
$4

can help provide a child facing hunger with a backpack full of healthy food over a weekend when school meals are not available.

 
$9

can help connect a child with healthy lunches during summer when school is out.

 
$35

can help a child care center provid

e free afterschool snacks and suppers to at-risk children all year long.

 
$65

can provide a grab-n-go breakfast cart to an elementary school so that every student starts every school day with a healthy meal.
 So, PLEASE donate TODAY and help feed a hungry kid!  Because no kid in this great country of ours should go hungry.  Click HERE to donate.
  Also participating at the bake sale tomorrow are
local celebrity bakers,
Cupcakes Nouveau
of Coral Gables and
2 Girls and a Cupcake
of Miami, and they are contributing cupcakes to sell,
Dunkin' Donuts of South Florida,
delicious and unusual
Freakin' Flamingo
is offering local micro-batch jams and other baked delights.
Paula from
Mango and Lime
dulce de leche oatmeal cookies,  blogger Trina from Miami Dish is offering FABULOUS  coconut sandwich cookies with mango papaya jam.   Additionally cookbooks, cooking classes and a gift certificate to

Chef Michael Schwartz's
Michael's Genuine
will be raffled off!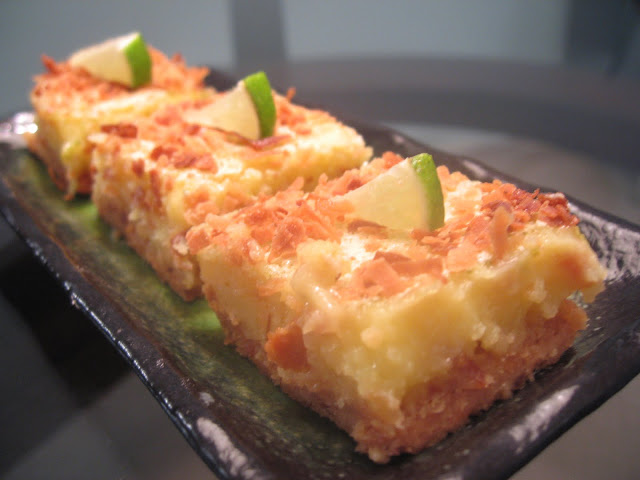 Here is my contribution to the bake sale tomorrow, my luscious lime custard and toasted coconut bars!  You can get the recipe for these delightfully tart and tasty treats by clicking HERE. 
If you are in Miami, please stop by Fairchild Tropical Botanic Garden and buy some of our tasty delights!
 For more information on Share Our Strength, please click HERE.
LA DIVA: 

$680 in donations, $20 towards baked goods and contributed 30 $2 lime bars.  Our total take for the day was $1,689!

Thanks to all who donated! xo
UPDATE: 

Donations keep trickling in…..add another $105 to my target! Total raised for La Diva: $785 and total for our team: $1794!!!
Originally posted 2011-05-13 19:59:00.