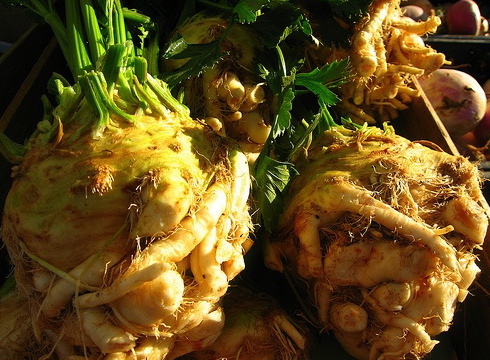 Celeriac ain't pretty but it sho tastes good!
Darlings! Well, after posting so much about LIGHTENING UP lately, La Diva started to feel a bit of "balance" was necessary and was hankering to get into some comfort food cooking again! I've been craving some earthy, umami-saturated food that wasn't quick or light or Asian, and since I didn't work this past weekend, I finally had the time to make a really satisfying,
slow-cooking dish: braised boneless beef short ribs in red wine sauce. MMmmmmm….
Now, there are loads of ways you can serve up those dee-lish short ribs. Over buttered egg noodles or good ol' mashed potatoes or even creamy polenta. But my craving was for something more unusual. I was longing for a big ol' plate of savory ribs on a bed of buttery, pureed celeriac.
Yes, celeriac! You've never heard of it? NO, I'm NOT talking about that disease your crazy cousin says she has (and is a pain in the butt to go out and eat with!) I'm talking about CELERY ROOT. You've probably passed over it in your produce section a million times without ever noticing it!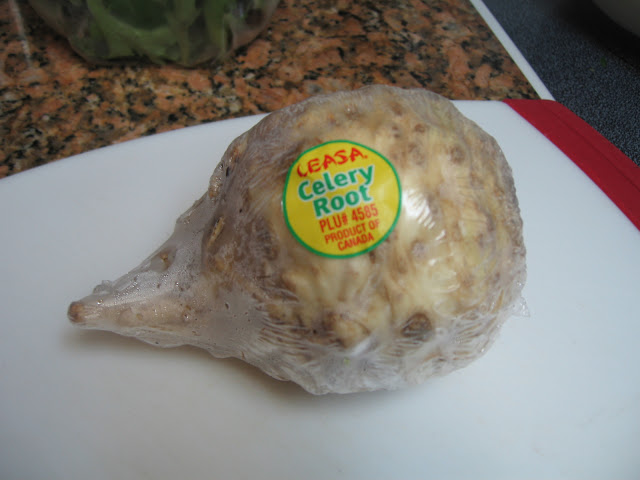 Hmmmmm….why these vendors feel a need to shrink wrap a vegetable, especially a root vegetable, is beyond me. Most of the gnarly dirty bits have been removed from this sanitized version of the lowly celery root. This is usually where the turnips and parsnips are in the refrigerated part of the produce section.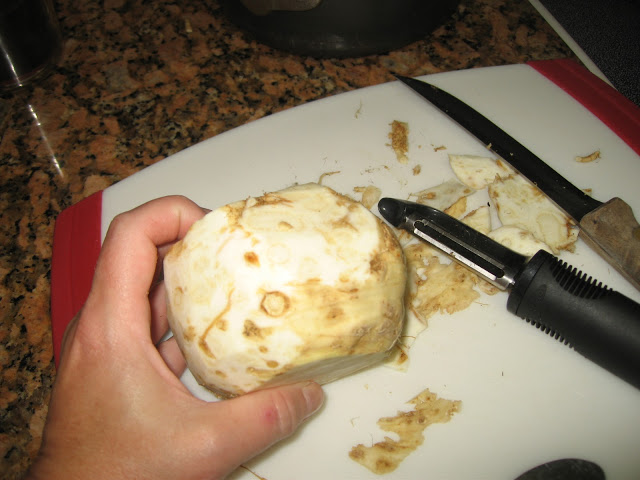 Celery root is one fugly vegetable. But don't let the gnarly roots scare you! SUBDUE the little devil by cutting off its top, then bottom. I then peel off as much of the tough skin as possible with a paring knife and then use a peeler for the rest.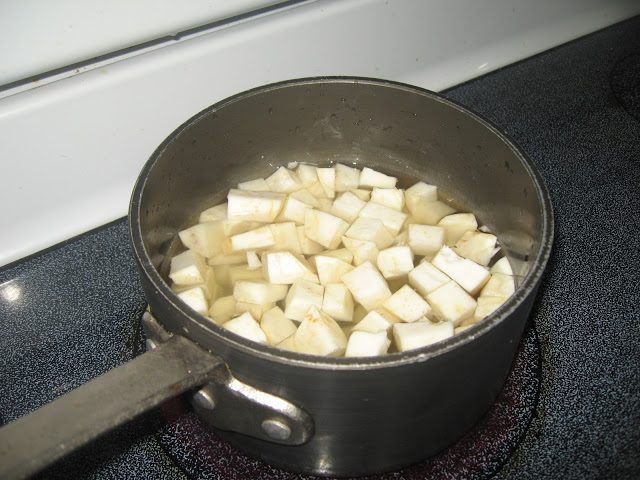 I cut the celeriac into chunks all the same size for even cooking. I added a cubed medium russet potato too. Why? Because I find the texture of the celeriac to be a lot more fluid when cooked, and adding the potato will help to put some body into the puree. I boiled them up for 15 minutes, sometimes "fork tender" is just not enough, so be patient.
I recently attended a taping of
Check, Please South Florida with Chef Michelle Bernstein.
She made seared scallops over pureed celery root. I asked her if she used a chinois to get such a smooth texture? "Nope, just the blender," Michy told me. I explained to her how the last time I'd made it, I still had small chunks of celery root. She said, "You didn't cook it long enough." So, I cooked the veggies for a good 15 minutes instead of my usual 10 and they were perfect!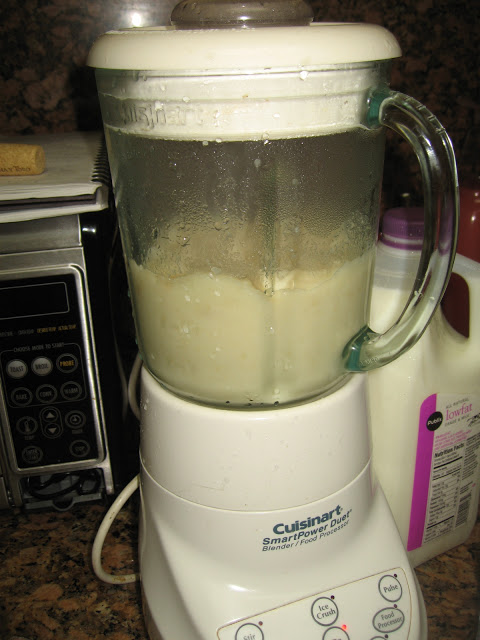 I strained the veggies and added them to a blender with a small amount of milk, a knob of butter and a dash of beef broth. In order to avoid any kitchen disasters, I took out the inside lid of the main blender lid and simply put a tea towel over the opening and then blended. I had to stop and scrape down the sides and then blended for another 15 seconds or so until the vegetables had a smooth and velvety texture. I seasoned with salt and tasted it, delicious!
Since the celeriac doesn't have the same "body" and stiffness as mashed potatoes, I spooned them into shallow bowls and topped with a hearty serving of the beef ribs and red wine sauce.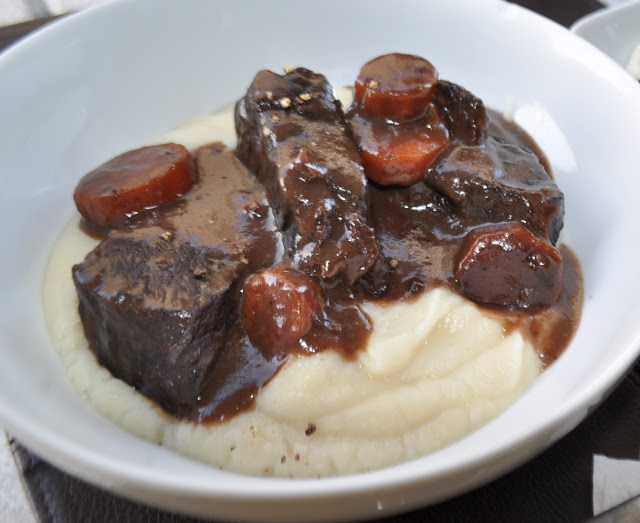 RESULT: Ding dang delicious! The DJ thought he'd died and gone to heaven. My big bear man just loves these sort of stick-to-your-ribs dinners. The celery root was delicious with a light celery taste and a luscious, but not heavy, texture. The combo with the decadent short ribs was simply DIVINE.
Now, here's the funny part: Hubby has told me before how much he dislikes celery root. "It has a funny taste!" But this time, he LOVED it. It was so creamy and cooked so perfectly, it made all the difference!
I know there are other ways to cook celeriac and I'm thinking that a soup or a gratin would serve this ugly duckling root vegetable well. As I was researching the homely celery root, I came upon an interesting article about it. Click
HERE
to learn more and check out more decadent recipes. So, darlings, the next time you are out shopping, give the old standby potatoes a miss and give the unsung celeriac a chance! You'll love its delicate taste and creamy texture!
Did you know that La Diva offers vegetarian cooking classes? Click HERE for more info!
Originally posted 2011-02-21 22:11:00.