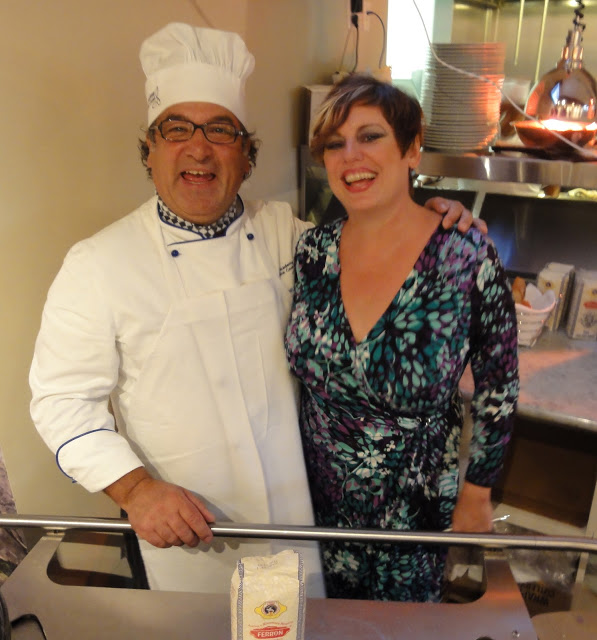 La Diva with World Rice Ambassador, Chef Gabriele Ferron!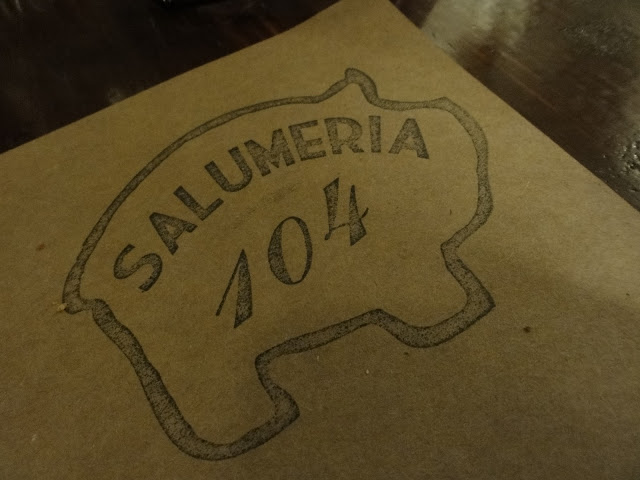 Darlings!  The third week of February is always a busy time for La Diva!  It's not only my birthday week, but also the same time as the South Beach Food and Wine Festival, so lots of foodie events are happening!
And that is how I found myself at the new Graspa Group resto, Salumeria 104!  I had been emailed about a "free" risotto demonstration and as I had been curious about the new cafe (and would they REALLY serve the elusive-to-Miami Italian guanciale?) the invite had boasted about an all-the-way-from-Italy risotto chef AND it was my birfday, La Diva RSVP'd and was IN.  (cuz I do like FREE on my birthday!  Ahhh, who am I kidding?  I go to the opening of an envelope!)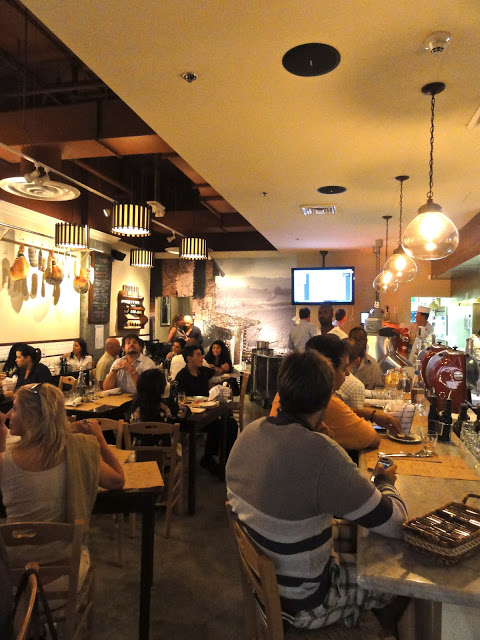 Spot the Big Bear Man and win a prize!!
The small cafe was dead when I got there at 5:45 pm, in fact, no one was there.  When I asked about the demo, the gorgeous Italian waiter said, "That doesn't start until 7 pm, would you like a glass of wine?"  Yes.  Yes I would.  But, the invite said the demo started at 6….was this some sort of trick to get me there early?  Or just typical Miami disorganization?  Hmmmm…   
Annoyed because I had rushed, I took a table outside in the sun and waited for The DJ to meet me.  Glass of wine in my hand, I watched the passerby and dogs frolicking in the park across the street, I was relaxed and off in my own La Diva head when suddenly, The DJ walked up, gave me a sweet happy birthday kiss and inside we went.
I have to say, all in all, there is no such thing as a "free" lunch, which of course, we all already know that.   There was no where to stand to watch the "free" demo (without being in the way of others) so one had to sit at a table.  And one can't sit at a table at a restaurant and not order any food!
  "Hey, You!  You!  If you sit atta da table, you betta order some food or ba fungul!!!!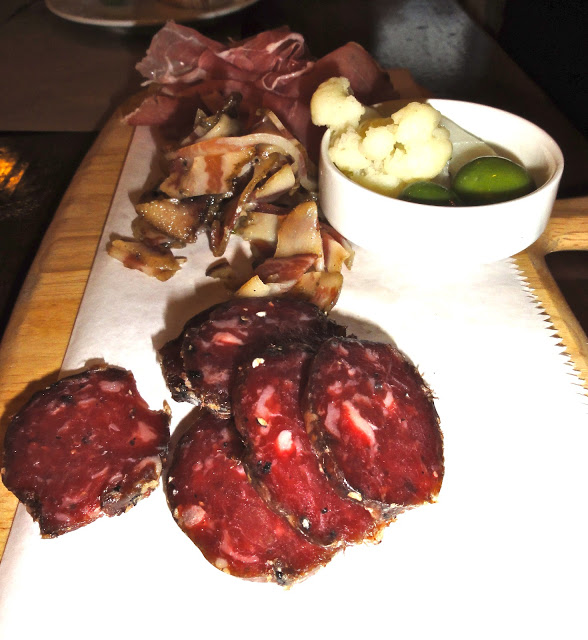 The French have their
charcuterie
and the Italians have their
salumeria,
 both sell a variety of cured meats and sausages and a salumeria is basically an Italian delicatessen specializing in selling (and making) cured meats.  Salumeria 104's
 menu offered typical Italian cured meats, cheeses and pastas (their cavatelli was homemade and allegedly exquisite!) and YES, there was guanciale on the menu!
The meats included prosciutto di parma, prosciutto san Daniele, cotto al tartufo (truffle), speck, mortadella, bresaola, cacciatorino and parmigiano reggiano, pecorino toscano and bufala (mozzarella.)
We got the platter with parmigiano, prosciutto di parma, cacciatorino and the guanciale and more wine.  It was delicious!  But, what about the demo, La Diva?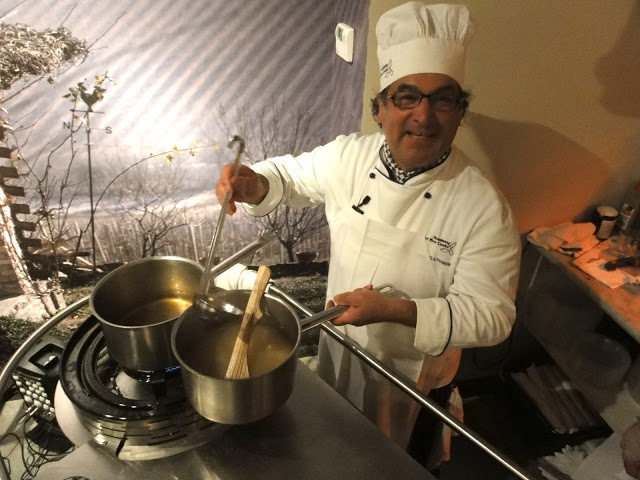 Chef begins the risotto by heating up the chicken stock.  To tell you the truth, I was SUPER CURIOUS as to how this demo was going to go….When I first started La Diva Cucina Inc., I had thought about doing a demo risotto for a class but then realized, logistically, it would be boring as all hell.  Risotto making is pretty much 10% prep and 90% stirring….and stirring…and stirring…my risotto takes a minimum of 30 minutes of stir time.  And adults in a class or demo pretty much have ADD…so could not ever see Risotto Making 101 as a practical class.
In typical Italian fashion, the start to the demo was a bit, er, chaotic.  They had a large screen above the chef but it really didn't serve any purpose except as a slide show, there were no cameras on the dish as he prepared it even though they had a camera set up on a tripod.  They had a p.a. but had placed it behind the person on the microphone, a representative for the chef, who was going to translate the steps as the chef spoke in Italian.  We couldn't hear anything but mumbling and feedback.
The DJ, who works for a production company producing events for a living, could take no more, called over the owner and explained to him where to position the speaker.  They put it on the floor.  Sigh.  So, with the combination of mumbled translation simultaneously as the chef speaking in Italian in a packed room with no soundproofing whatsoever, it was pretty hard to stay engaged, which disappointed me as a culinary instructor and as an attendee.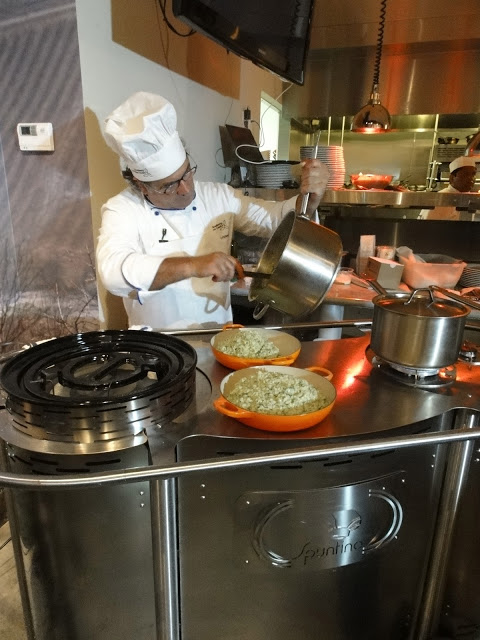 The first risotto was risotto with basil but more importantly, check out the Chef's snazzy portable stove!!!  Dang!  I want one.  Did they rent it?  Bring it over with the chef from Italy?  I wish I had taken a closer look at the name……What a gorgeous piece of equipment!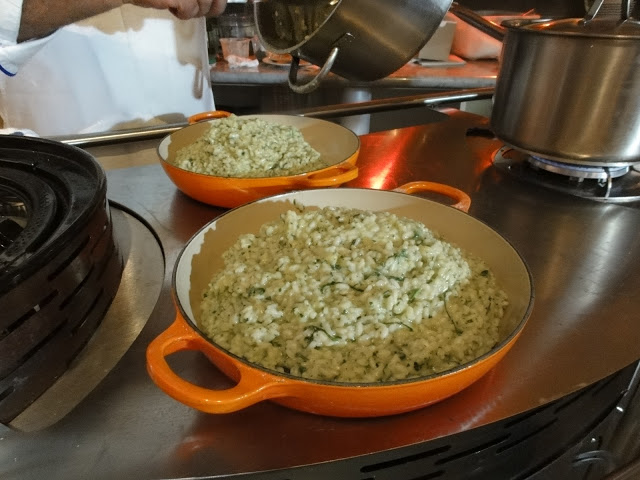 The risotto al basilico looked great but notice how it did not spread out on the plate?  It was quite firm. Would Tom Colicchio approve?  Is that REAL risotto?  Hmmm….would I tend to believe a smarmy Italian-American chef and restauranteur who makes his living "judging" others on tv or a man that has devoted his life to promoting rice and making risotto, is a renowned chef and rice ambassador who comes straight from Italy?  YOU decide.
The risotto was put onto appetizer plates and passed around.  It was creamy and delicious but decidedly al dente.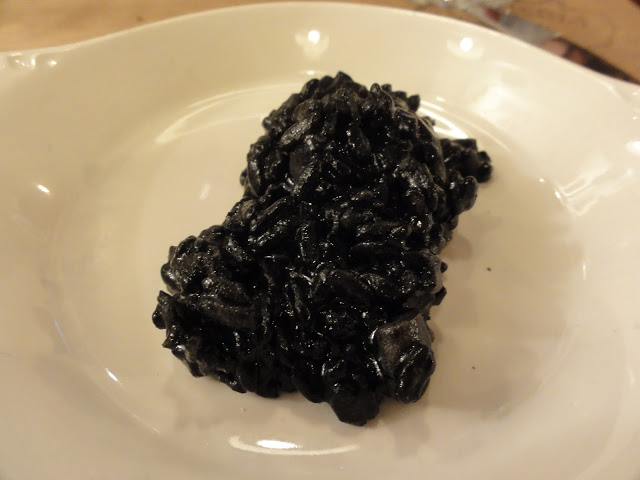 Risotto with squid ink and calamari.  YUM!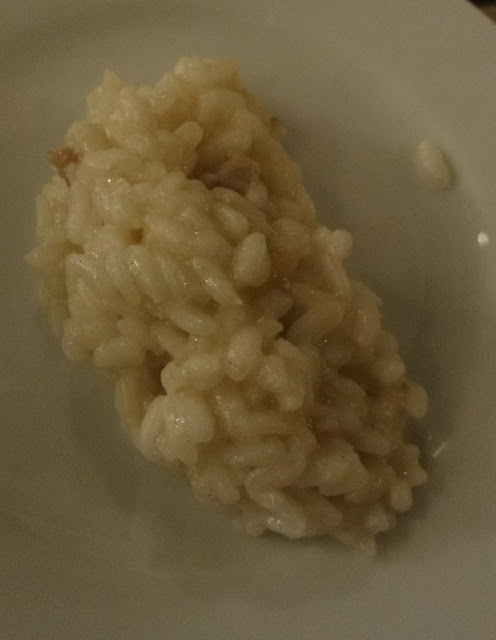 Risotto with pork and cinnamon, my least favorite.
This one was very al dente…was it al dente because the chef preferred it that way?  Or because he was running out of time?  As the demo wore on, the cafe became louder and busier, waiters scurrying about.  I felt a bit sorry for the great risotto maestro, it's hard enough to cook and talk in front of people but to compete over their babbling…just kind of rude.  But then again, poor planning and a lack of technical knowdege contributed to the outcome.
By the time the first sample had come out, we had finished our meat plate and wine but had dropped $60 without really eating.  The DJ, ever observant, had noticed a spread of open wine bottles laid out on the table near the demonstration.  Instead of paying another $10 for a glass, he walked up and filled our glasses with the gratis grog!  And then he did it again.  And again.  And no one stopped him.  (would YOU?!)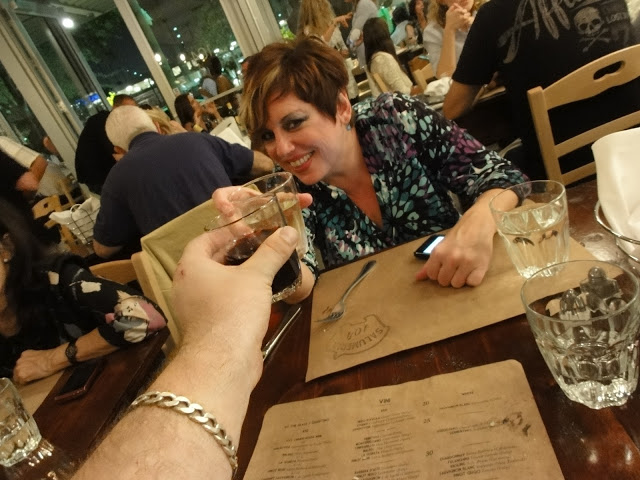 La Diva is four glasses in and feeling no pain!
And so La Diva enjoyed a lovely birthday and realized that risotto IS still a hard dish to demo but in spite of the demo hiccups, we had a wonderful time!  (and I left with all the recipes demonstrated and a history of Italian rice in a small booklet!)  Molto grazie, Risotto Maestro, Chef Ferron!
Originally posted 2012-03-21 16:35:00.