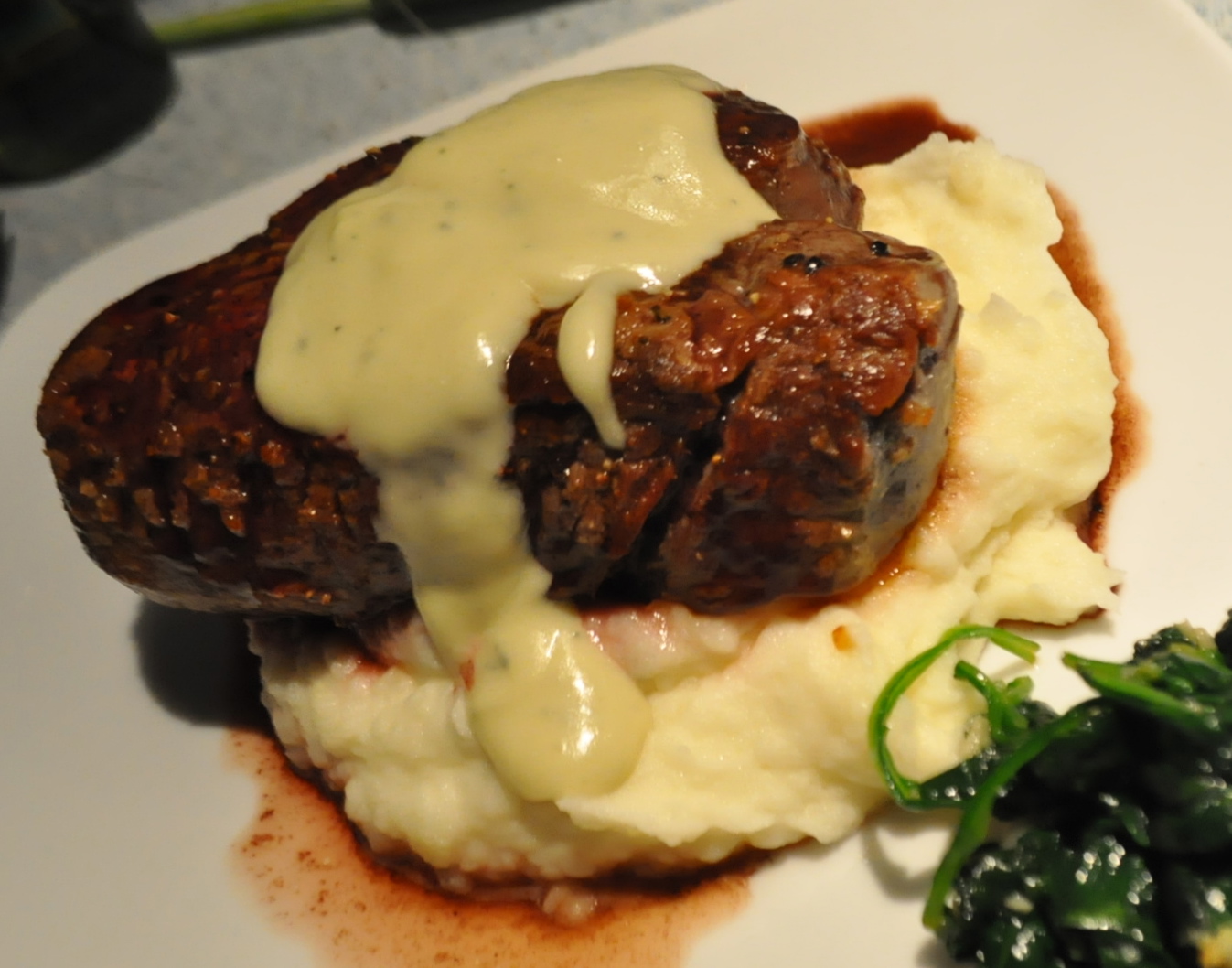 Filet Mignon with bearnaise sauce over mashed potatoes…
Darlings!  Well, the Creative Cooking Crew challenge for this month did a complete 180 from last month's vegan challenge to a theme La Diva is very comfy with:  Meat and Potatoes.
Having said that, I took a look at some of my dishes from the past few years and realized that I don't actually eat meat and potatoes very often!  In fact, it could be fish and mash or a Malaysian beef redang with rice or perhaps a lovely lamb ragu with home made pappardelle!
So to get you in the spirit, here's a bit of food porn from meals past to showcase some of my fave meat and potato dishes and then we'll get to the meat and potato challenge!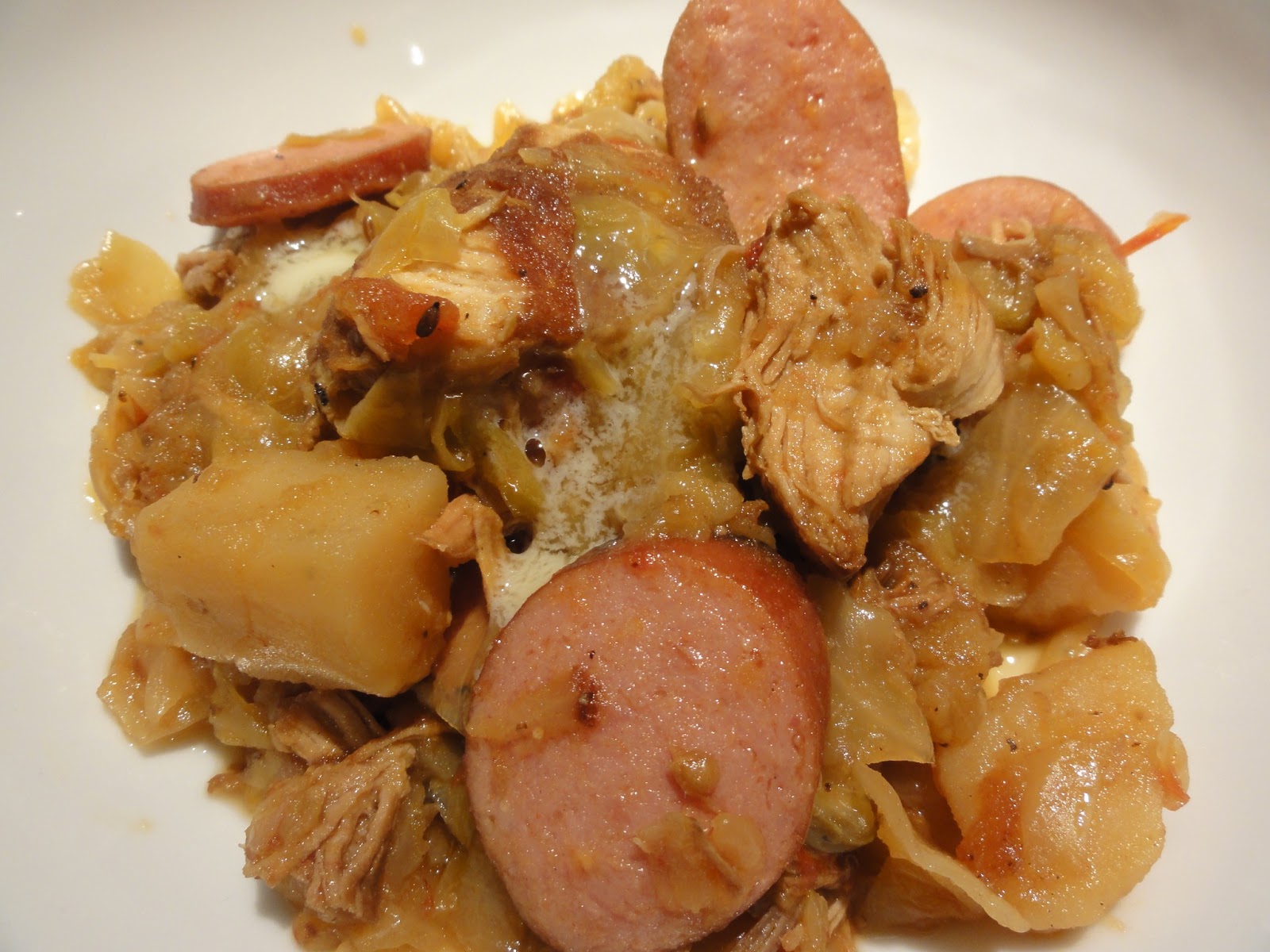 Polish kapusta with pork and keilbasa, potatoes and cabbage…..mmmmm….look at dat buttah and melt in your mouth pork!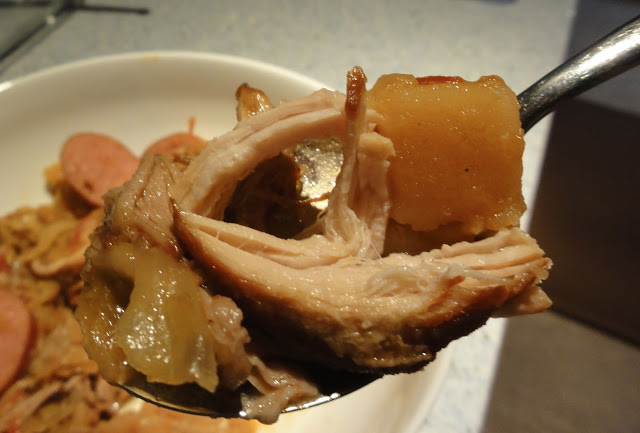 Bow chick a bow bow!  YES!  That pork DOES taste as good as it looks!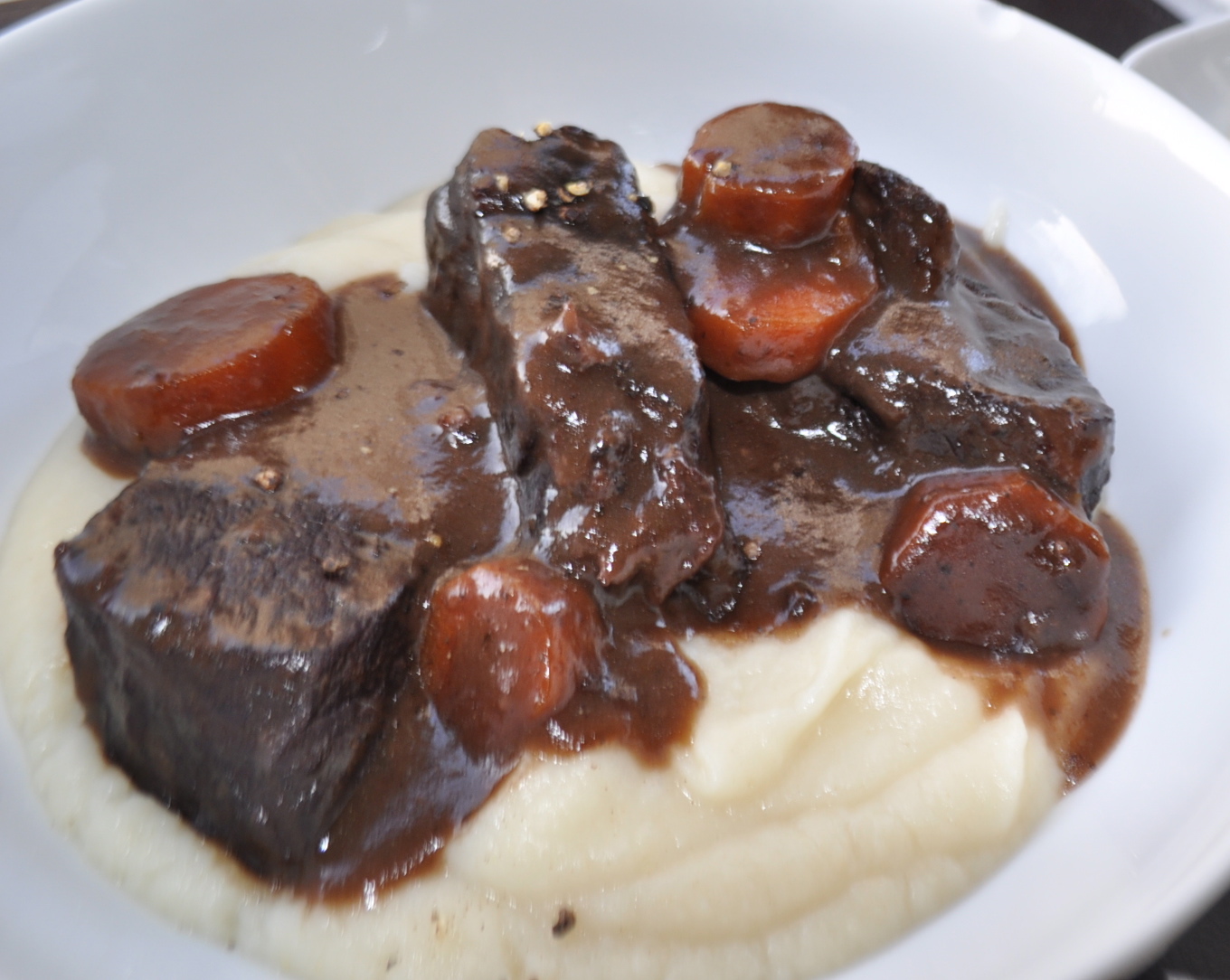 Wow!  You can really see the difference in quality of the photos from my new camera (see pork above) to my old one (this photo!)  One of my all time fave winter dishes:  boneless short ribs braised in red wine with carrots over a creamy celeriac and potato puree.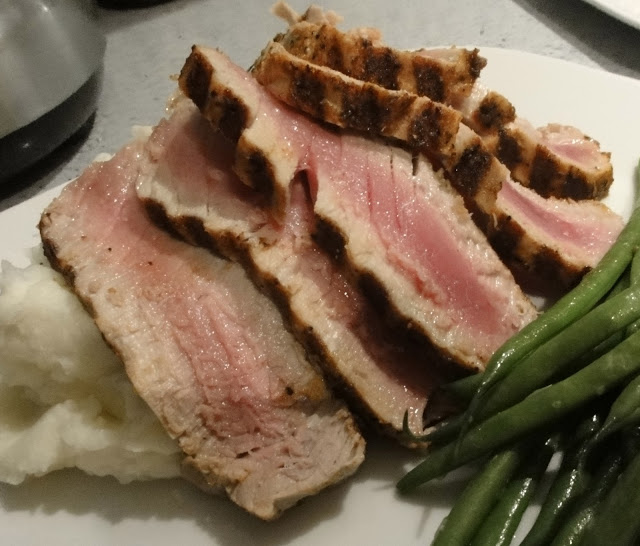 Seared blackened ahi tuna steak over wasabi mashed potatoes, an 80's nouvelle cuisine classic.  While fish is not actually considered meat, this hearty fish is a healthy and low fat substitute for good ol' steak!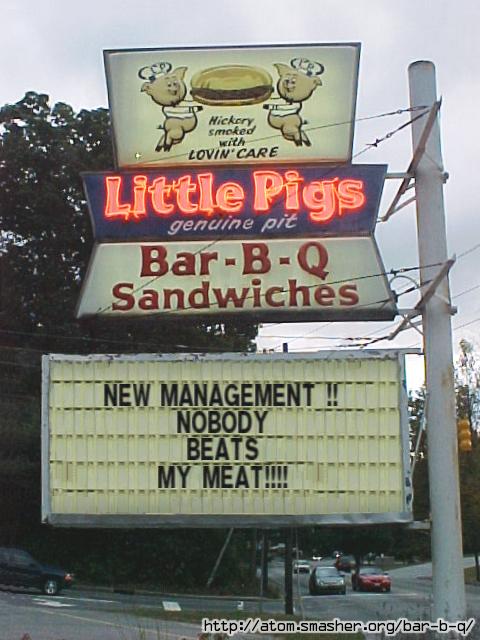 So, what WOULD I make for this month's challenge of meat and potatoes?  Originally I was going to make a lovely beef vindaloo with potatoes, but then I got busy, the beef was cooked and it was too late to add the potatoes!  Doh!
I started to think of other ideas…..rosti with some sort of savory meat topping?  Maybe a meatball encased in a fried potato?  A classic shepherd's pie?
Sounds great, yes?  Cuz I know I loves me some fried poke and taters!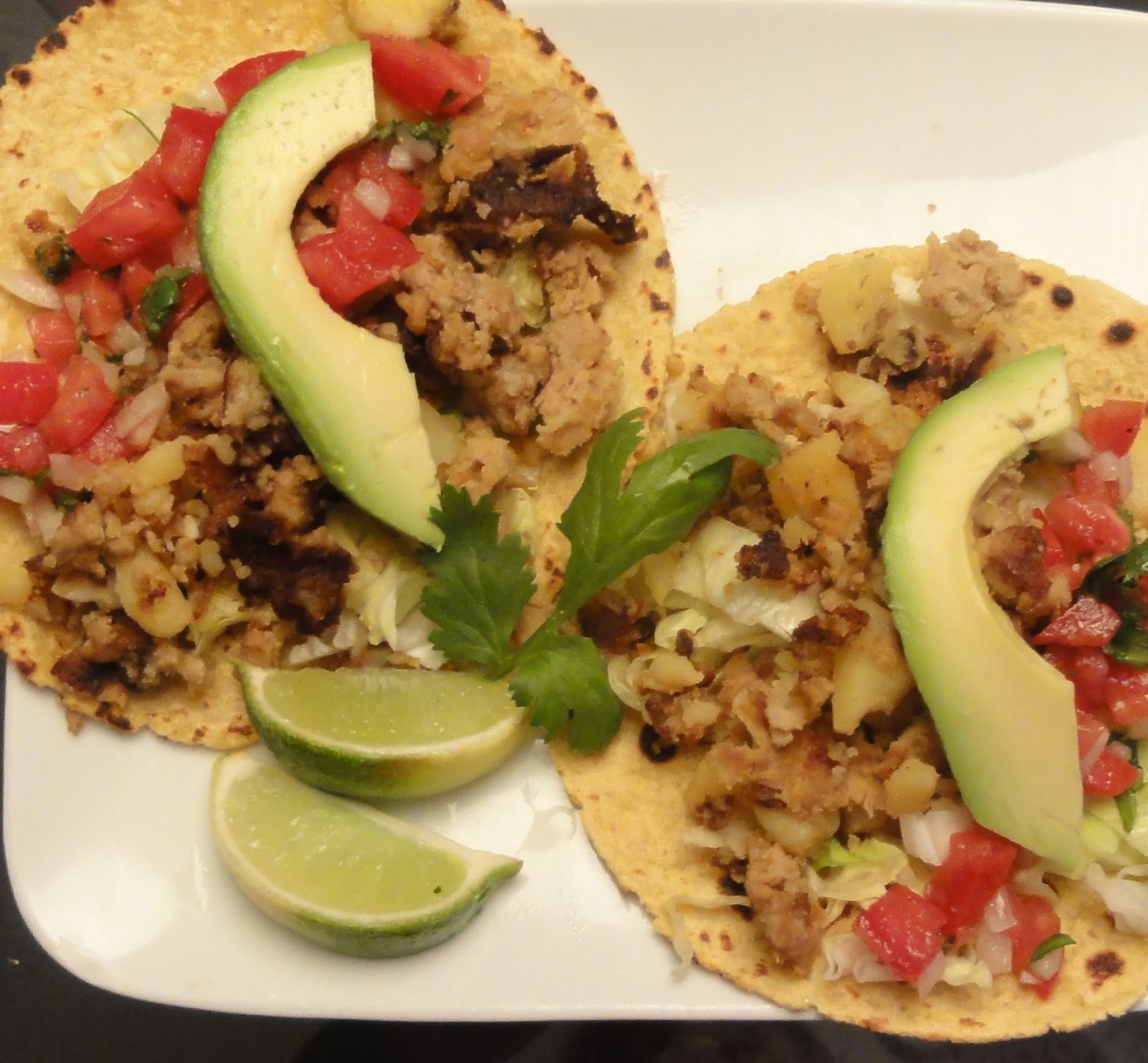 So, I made chorizo and potato tacos and guess what?
THEY WERE A BIG, FAT YAWN.
I was disappointed, considering Food & Wine claimed they had "perfected it in our test kitchen" and was a "staff favorite."  Yeah, maybe for La Gringa but not for La Diva, they were bland, bland, bland!  Fresh chorizo is full of flavor and SPICE, but the seasonings were insipid and without kick. No picante, Pedro.
Even The DJ was disappointed and wanted to know what brand chorizo I was using as it wasn't full of the usual chorizo zest!  When I told him it was home made, he carefully suggested that I just buy the chorizo we both know and love next time.  I concurred.
Unless I'm just checking out a recipe purely for inspiration, I usually make it as it's written and then modify it if necessary.  I noticed that when I added the spices to the pork, it was not the right color for a spicy chorizo, and there was not nearly enough paprika.  And yet, I followed the "tested, staff favorite" recipe anyway.
Further to my dismay, after I cooked it, I noticed that the meat was D-R-Y.
This is the second time I've used pork from my local grocer and it was dry in a recipe.  Really?  What's the point of using ground pork if it has no flavor or fat?  Perhaps the butchers are grinding their pork a bit leaner these days, so next time I make this recipe (and I will make it again according to MY specifications) I will either just buy the pre-made Colombian or Nicaraguan chorizo that is so readily available in Miami or get the butcher to grind me pork with a higher fat ratio.
To combat the dry, I made a fresh salsa and spiced it up with home made habanero garlic vinegar.  And of course, I served the meat on top of freshly chopped, cool and crunchy iceberg lettuce, a trick I employ to lighten up heavy Mexican fare, especially cheese enchiladas!
The good thing about this recipe, is that you can easily feed a crowd, so in the future I would halve it for dinner for two or offer it for a taco party, but only after modifying it.
But now, what does a Diva do with all of this bland, dry taco filling?
HUEVOS!!!!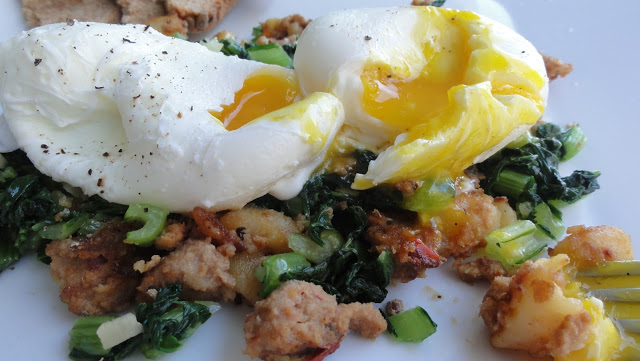 Yep, the pork and potato taco filling would make a perfect hash and a bed for poached eggs!  The next morning, I sauteed garlic and komatsuna from my garden (a  mild-tasting Japanese green similar to spinach) added some oil to a pan, sprinkled with a liberal dose of red pepper flakes and heated the mixture up.  The DJ was happy.  La Diva was happy.  Satisfied and with full bellies, we were both ready to start our Sunday!
The moral of the story?
Follow your instincts.  (and just buy the damn chorizo from the people who don't scrimp on the fat or flavor, the Latins!)
'Nuff said.  Ciao for now, darlings!
(I'll post a link to the other entries after the deadline, so come on back to check them all out, guaranteed to be creative and inspiring!)

Originally posted 2013-02-17 15:32:00.