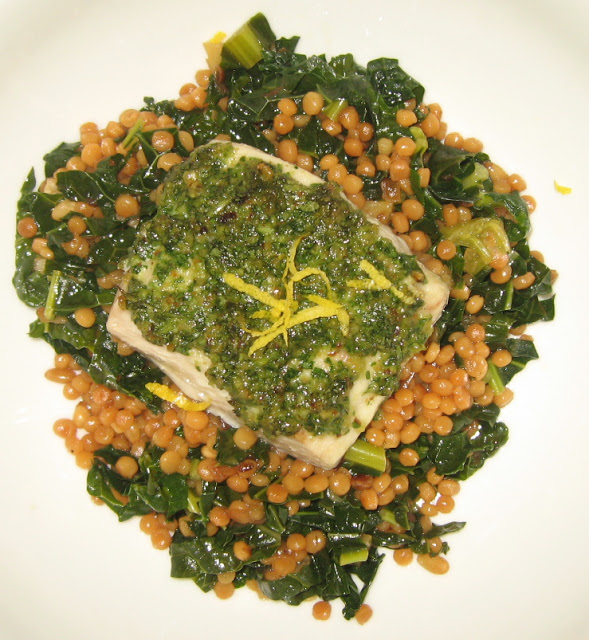 Darlings! Well, with any regime to cut calories and lose weight, one must, I'm afraid, succumb to vigorous exercise to aid in shedding pounds and toning the body. : ( La Diva knows this. I feel better and stronger when I get more exercise. La Diva knows this too. I also know my clothes fit me better when I get regular exercise. So, why do I have such a hard time starting?
La Diva has a bad habit of doing too much too fast and expecting results and progress to happen fast as well. Every time I start an exercise program, I over-do it, get very sore and then get ill, which of course, puts me behind even more! This time, I thought I'd "go slow" and only commit to working out two times a week and then add more work outs as I get more fit and strong. I began my program last week and wouldn't you know it, that the last two times I wanted to work out, strange events thwarted my attempts. I feel that the "spirits that be" are trying to sabotage my efforts!
While time and circumstances and busy business have been thwarting La Diva's attempts to a regular work out routine, the least I can do is eat lighter meals with a focus on eating lean proteins and filling up on veggies that are "good for you." Looking in my fridge at the farm fresh kale and two nice meaty fillets of mahi mahi, I thought of a dinner idea that would provide that balance of eating light while being satisfying, low fat and nutritious.
So, here's my second satisfying but LIGHT dinner idea:
mahi mahi with walnut parsley pesto over Israeli couscous and kale!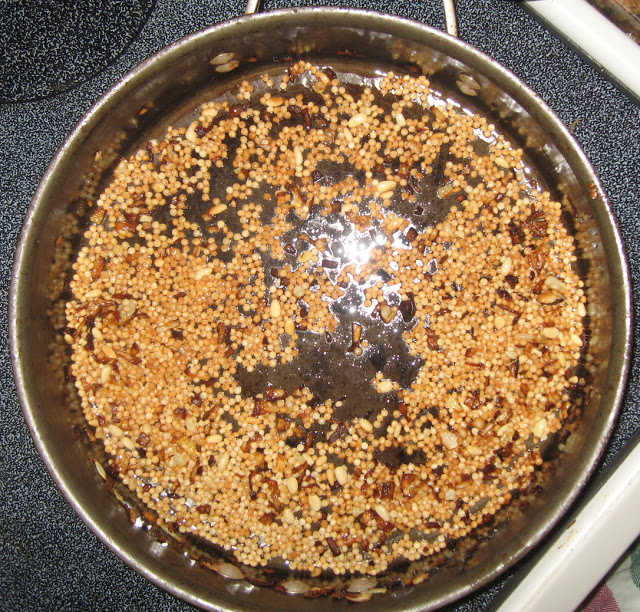 I browned a small chopped onion in olive oil, added some Israeli couscous and tossed in a small handful of pine nuts and toasted the lot until it all turned a nice brown. Then I added a bit of chicken stock and cooked the couscous until tender, about ten minutes. I added a good tablespoon of finely minced
preserved lemon,
removed it from the heat and started on the greens.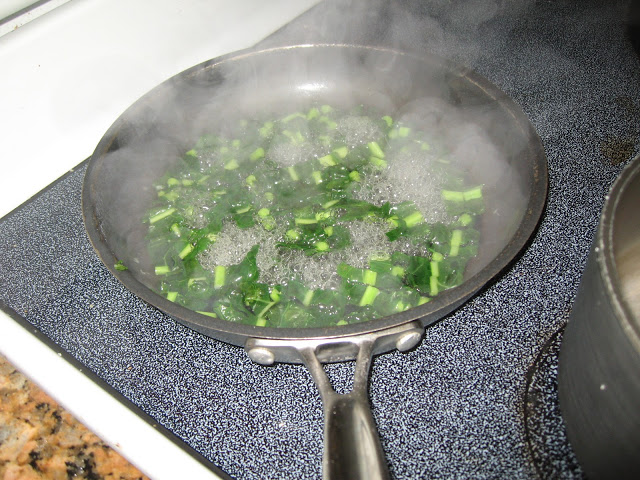 After thoroughly washing the kale, I cut the leaves away from the tougher stem towards the root of the plant. I cut the stems into small pieces and cooked for ten minutes in boiling salted water and then added the rest of the kale and cooked for another eight minutes until tender. I drained the kale and set it aside.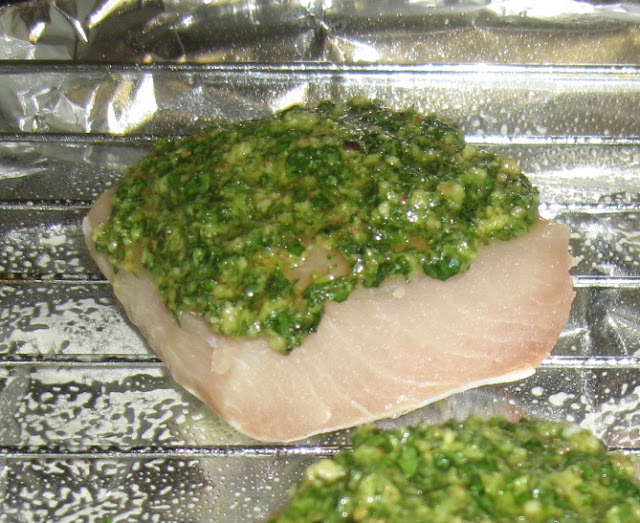 Remember that walnut parsley pesto I said I had leftover from a dish that didn't work out a few weeks ago? Well, I kept it covered with a thick coat of extra virgin olive oil so it was just fine to use and I thought it would be perfect as a topper for the lovely mahi mahi. I heated a convection oven to about 350 Farenheit. Then, I salted the fish on both sides and slathered a nice amount of pesto onto the fish. Into the oven it went until it was firm to my touch, about ten minutes.
The couscous was still pretty warm but I put it on a low heat, added a bit more broth and mixed the cooked kale through it to meld the flavors and ingredients. I spooned it into a shallow bowl and carefully put the fish on top. Then, I grated a bit of fresh lemon zest over the top and served!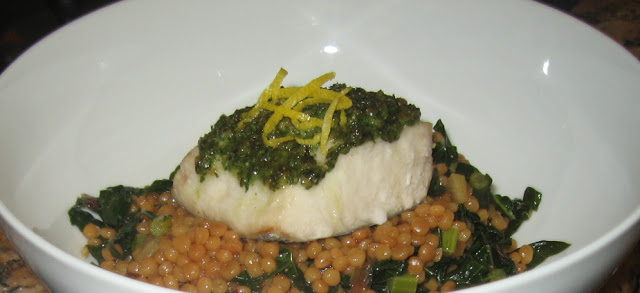 RESULT: Very nice, very flavorful and very satisfying. I thought that since the piece of fish was so small, I would need more couscous, but actually, I couldn't finish it, it was that filling! Just goes to show you that my eyes are certainly bigger than my stomach and we don't need as much as we think we do! The couscous paired with the kale very nicely as well as the walnut pesto and mild tasting fish. The crunch of the pine nuts added a bit more texture and repeated the nutty flavor from the pesto. And of course, the lemon zest on top and the preserved lemon were just the right additions to add a bright citrus note and compete the fresh flavor profile.
While there IS a bit of fat in this dish from the olive oil and the nuts, both are monounsaturated and the nuts are also polyunsaturated. I am using a concentrated flavor paste (the pesto) for the bulk of the flavoring; I've not counted on the use of any cheese or butter (both with saturated fat and cholesterol) to make this simple dish delicious! Remember that, darlings, small but CONSISTENT modifications to diet can lead to an overall big calorie reduction!
La Diva was so happy with this dish that I'm going to teach it at my very first one on one private class this week! The class will feature "mahi mahi" and I'll also be teaching how to make blackened mahi mahi tacos, including the seasoning rub. Grilled fish tacos are another "light" way to serve up a hearty and tasty meal!
What about YOU, darlings? Do you have any tricks to making your meals lighter yet still flavorful? La Diva wants to hear all about it! Ciao for now, darlings!
If you are in the Miami area and would like to take private cooking classes, contact La Diva for more info!
Originally posted 2011-01-30 15:19:00.