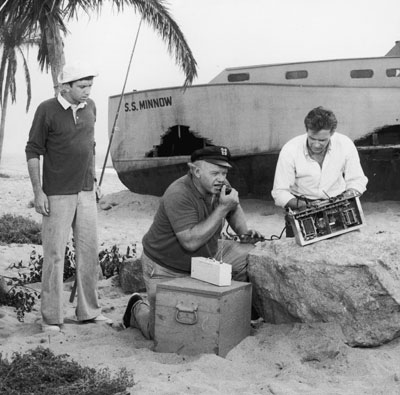 Darlings! Just sit right back and you'll hear a tale, a tale of a fateful trip, that started from this tropic port aboard a tiny ship……er, boat….
Well, you knew it was too good to last now, didn't you? La Diva and the DJ were having a wonderful, drama-free and relaxed time for two entire days in the Florida Keys….really now, would it be TOO MUCH TO ASK for three?
Indeed it would cuz that's just how things roll in La Diva's never-boring life!
It was now day three in the Keys and time to go. With the rain coming down in buckets, we checked out of our hotel in Islamorada and slowly made our way up north to
Key Largo,
about forty-five minutes away. We had to be at Pontunes by two pm for our boating excursion, so had plenty of time to kill. While most would have found the rain daunting and disappointing, La Diva knew that a LOT can change in a few hours and a few miles. Nonplussed, we stopped and had a leisurely lunch on the water at
Sundowners.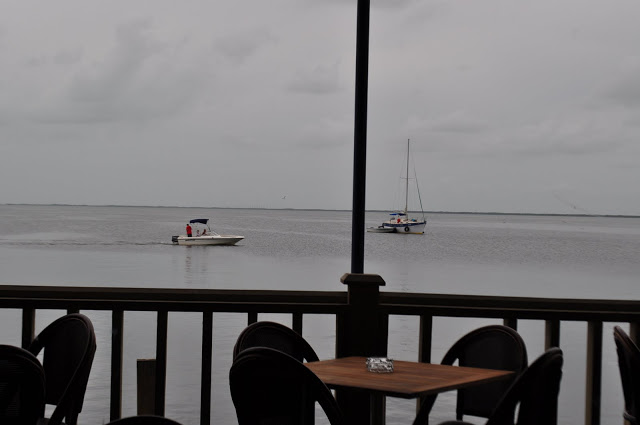 This was the view from our table at Sundowners…usually glorious on a sunny day and a great spot for sunset and cocktails. We still managed to enjoy it though as we watched large tarpons swimming just in front of our table.
A few months back I received an email through TravelZoo and what sounded like a fabulous deal: $129 for a four hour boat rental and included a $100 gift certificate for food and drink at the tiki bar. Wha? Renting boats in Miami will set you back a minimum of $300 and this deal included half a day on a boat AND food and drink? The DJ and La Diva could do a lot of damage at a tiki bar with $100. Without hesitation, I bought it for the DJ's birthday and filed it away to be used during our STAY-cation.
Now, when we first arrived at the Islander hotel, we made a beeline for their watersports hut to check the availability of their gear. The crusty old-timer on duty tried to convince us to hire him and their motor boat to take us out to the reef to snorkel instead of renting the much cheaper Hobie Cat. La Diva told him not to waste his breath, we already had our boating day booked at Pontunes in Key Largo.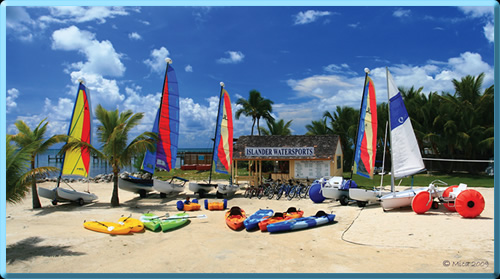 Old Timer: "I'd be careful if I was you."
Diva: "Why?"
Old Timer: "You can't trust them places. I had a friend come back after renting a boat and had to pay $200 in gas."
Diva: "Well, I already called and asked how much gas would be to go to the reef, I'm sure it will be fine."
Old Timer: "Well, how do you know you can trust them? They will try to swindle you. Say equipment's broke when it ain't. Say the gas is full when it ain't."
Diva: "Well, obviously, I guess I'll do the logical thing and check the equipment and petrol gauge before leaving the dock!"
Old Timer: "How do you know it's not broke?"
Getting highly frustrated and tired of this conversation, I said, "Listen here, do you think we are a couple of rubes? Do you think we just fell off the hay stack? I'm from Detroit and wasn't born yesterday! NO ONE is going to pull ANYTHING on ME. Good day!" La Diva stormed off and the DJ followed, unimpressed. Fear as a tactical form of manipulation NEVER works with La Diva.
Still, it planted the seed of doubt in my head and I would make sure to be very thorough when we went over our rented boat.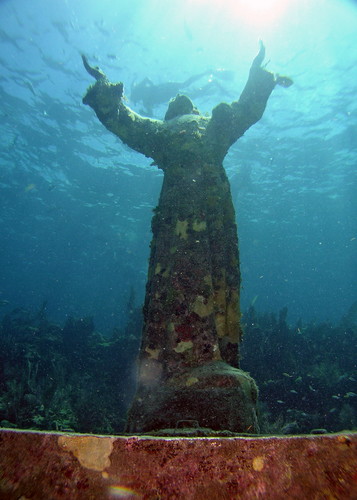 This sculpture is the Christ of the Abyss, it's one of three and was designed by Guido Galletti. It's is a popular reef destination and lives in John Pennecamp Coral Reef State Park in Key Largo.
By the time we arrived in Key Largo, the rain had dissipated and we were left with a gloomy but dry day. While it was not the best of conditions for snorkeling and boating, it was not terrible and we were not going to cancel just because it was cloudy. An overcast day on a boat can mean cool relief from the hot, relentless sun.
We got to
Pontunes Marina Tiki Bar & Grille
and I was given a pile of paperwork and began to sign my life away. There it was…the page with all the costs to replace items on the boat if anything was broken and everything was expensive. My heart started to pound…."How can you trust them?" The old timer's words echoed in my brain…I pushed it down and asked the young man serving us if we'd go over the boat's equipment. He assured me we'd go over everything with staff. "What's the weather like? I asked. "Nothing coming, you should be fine. The waves are at a two foot swell." We gathered our gear, went outside and stepped onto our little 24 ft. Sundeck.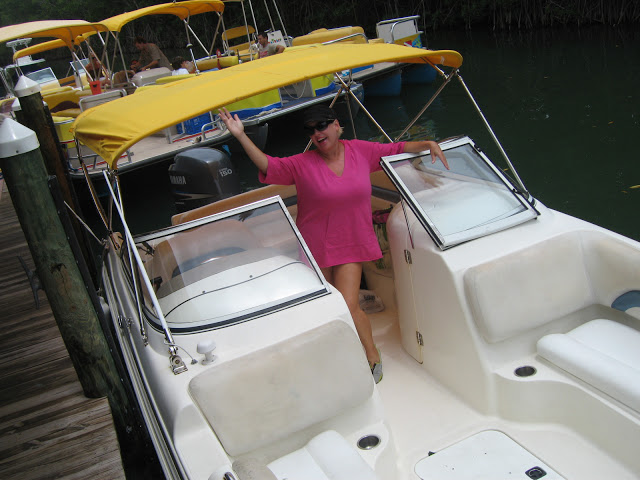 There was the GPS, first aid kit, life jackets, radio, FULL gas gauge and most importantly, the map and Pontunes business card. The deck hand pulled up the propeller and showed it to us. "It's brand new but the last couple that rented it scratched it up a bit." Gulp. Then he told us that with the GPS, they would be aware of our position the entire time and to not worry if we got lost, they'd be there to guide us. He showed us how to use the radio and what channel to use if we got into trouble. Then he went over our position on the map and advised us of which route to take to get out to the reef. "When you get out to the lake, DON'T take the canal on the right, stick to the left." Got it.
The boat hand asked if we had everything and did we need something to drink? I told him I don't really like to drink (alcohol) and boat, I like to keep my wits about me but the DJ encouraged me to relax and get the left over sangria out of our cooler in the car. I complied but knew I'd only sip it, we were responsible for this boat, we were not just lounging guests this time, and La Diva doesn't fool about when boating on the sea.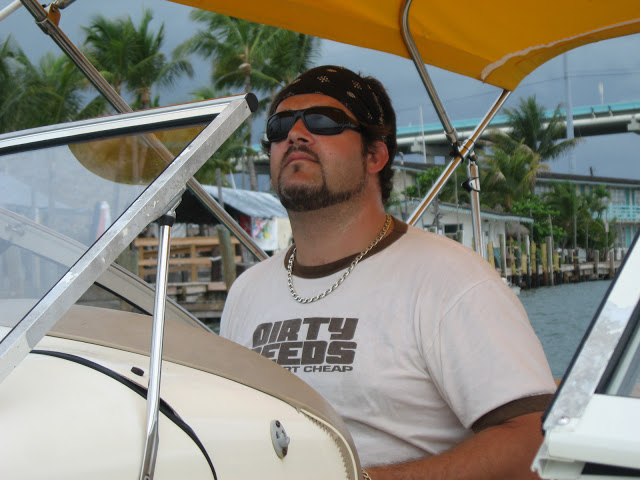 Captain DJ Nevah L8 (4 dinnah): Steady as she goes, matey!
The route to the reef was not a straight shot out to sea and would take us a good 45 minutes to get to the first reef. We would have to go past a point (where there was an A frame house), into a bay, through a cut in between houses, out to a lake and through canals through the mangroves until finally we'd get out to sea. Then we'd head straight out to the first reef, once we saw the tower landmark, we were to find a white buoy and moor to it. To drop an anchor on the reef itself would result in an expensive fine.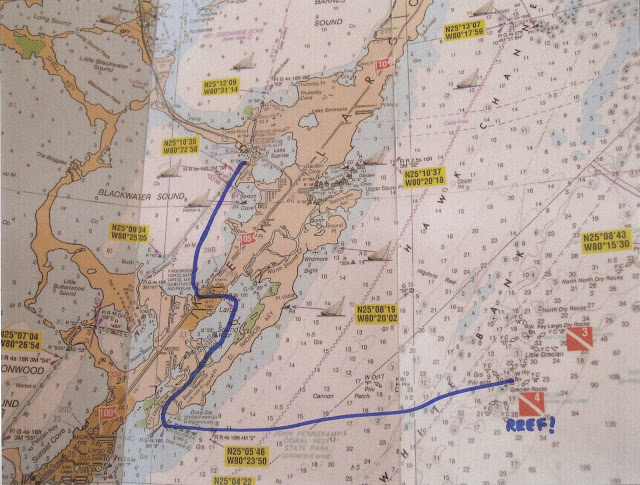 Do you know how to read maps? La Diva does, I trust a map more than a GPS, especially in a car. The red squares indicate the reef towers…not exactly a hop, skip and a jump to get to them. Go on and click on it, darlings!
And so we began our adventure out to sea.
We passed the landmark point on our left but could not see the A-frame house and we were already getting frustrated until I realized that we were not even in the right bay and the landmark was the FIRST point, not the second. Sure enough, we passed the second point taking us to the bay with the cut. We drove closer to the shore, looking for the entrance but it was not until we were right up next to the shore that we had spotted it, there it was, between houses and certainly was not easy to find. We made our way through the moored yachts and sail boats and headed into the cut.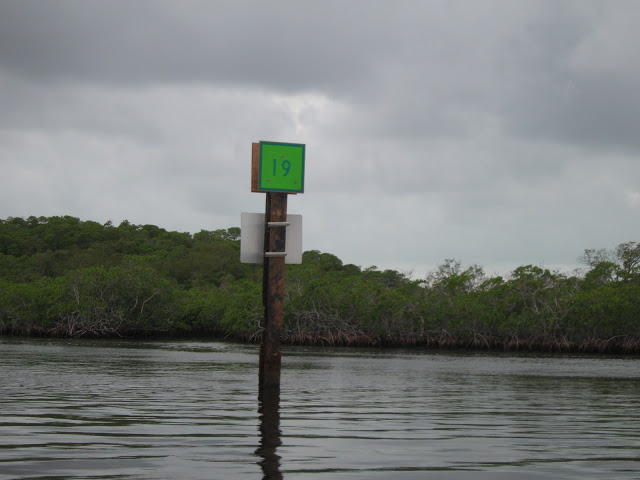 Buoy markers help guide boaters through waters and find their way, a necessity in places where everything looks the same.
The cut was lined with houses on each side and had sturdy coral sea walls. As we neared the end of the cut, I decided to take a photo of the house at the entrance, just in case I needed it for later. When one is on the water, things are easy to forget and are never what they seem.
YES! We made it to the lake, now to head across to the canals through the mangroves. There were the markers! Head to the left, not to the right…GOT IT. As we headed through the mangroves, I noticed the skies darkening and it began to sprinkle. We had come so far and only had to get through this part and then we'd finally be on the ocean.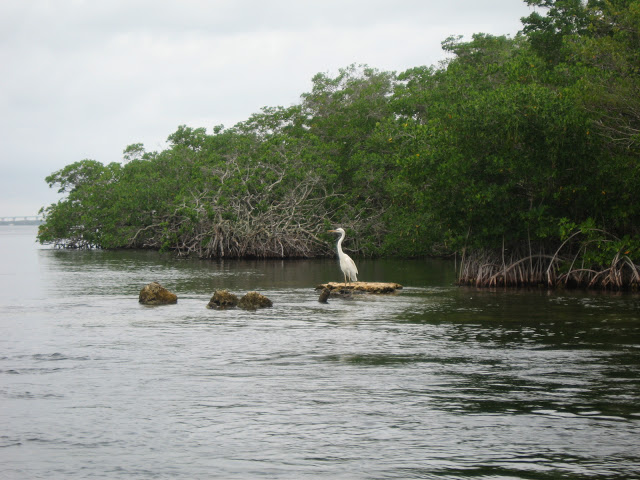 The mangroves were beautiful and loaded with gorgeous white egrets. As we made our way through the winding mangrove canals, La Diva began to notice that everything started to look the same. Instinctively, I took out my camera and began to take photos of the markers behind us. Like Hansel and Gretel's breadcrumbs, these photos would serve as a guide for when we returned, just in case.
We laughed when we passed the people that went out before us on a pontoon with a squillion kids, still yelling at them and cussing, and we were glad we had the little boat that allowed us the freedom to get to the reef. It was then that I noticed a very large boat in front of us. It was the snorkeling boat for the
John Pennekamp Coral Reef State Park
heading out to the reef, just like us. If they were still heading out in the gloom, La Diva knew it was going to be fine. But it wasn't. Stay tuned for PART TWO!!!!! (Because it's gonna be a doozy, darlings!!)
Originally posted 2011-07-26 19:50:00.