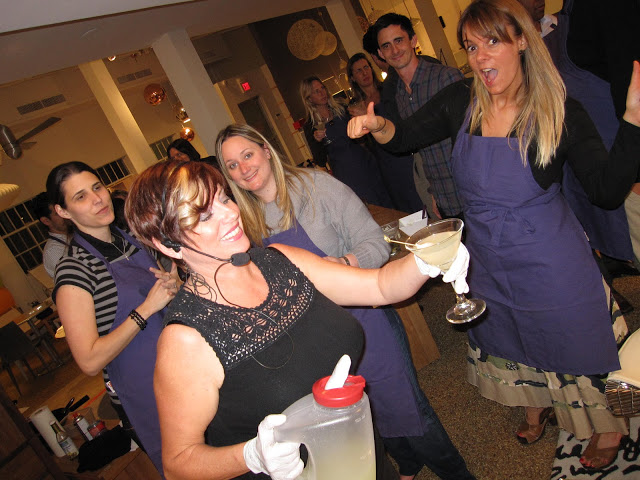 La Diva serving up a lemongrass ginger martini for Yahoo's Latin American marketing department!  Fun people, fun class!
Darlings!  What is that saying about taking the girl out of the ghetto but you can't take the ghetto out of the girl?  Don't know that one?  Ah, well, no matter, my point is that I realized only this morning two things about my life right now:
1.  My goal to live a "normal" life with "normal" hours outside of the usual grind of working weekends and nights like I used to in bars and restaurants is never going to change…La Diva Cucina Inc. IS a hospitality business.
2.  I can now count 30 YEARS as a hospitality veteran…and if you include me scooping ice cream at Baskin Robbins at a tender thirteen years old and  working at Burger Chef at 15, then add on another five, making it 35 years!
I am and always will be a hospitality worker.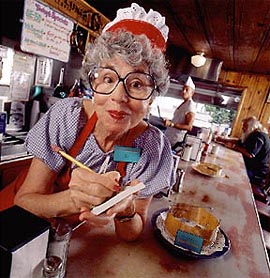 While you are out celebrating New Year's, Christmas, birthdays and dinner out, WE are all working for YOU.  And for many people in hospitality, Mondays are days off for waiters, bartenders and chefs.  
Since I left bartending a few years back, I have had a more traditional schedule and you can find La Diva on my computer almost every Monday morning at 7 am, checking emails, Facebook, blogs and what not, as I eat my breaky and have a cuppa, before I start my work day.  But as I find I am working more nights and weekends, something has got to give.  After working the last two weeks without a break, La Diva thought it was time to reinstill an old hospitality tradition:  Mondays off.
And that day, my dear readers, was TODAY.
At The DJ's insistence, today was going to be a day of "no client emails, no returned phone calls, NO LA DIVA BUSINESS."
So, after a leisurely morning futzing about and starting trouble on Facebook, I decided that a bike ride around the beach was in order.  Along the way, I'd grab lunch, eat it at the garden and pick up some glasses at CB2.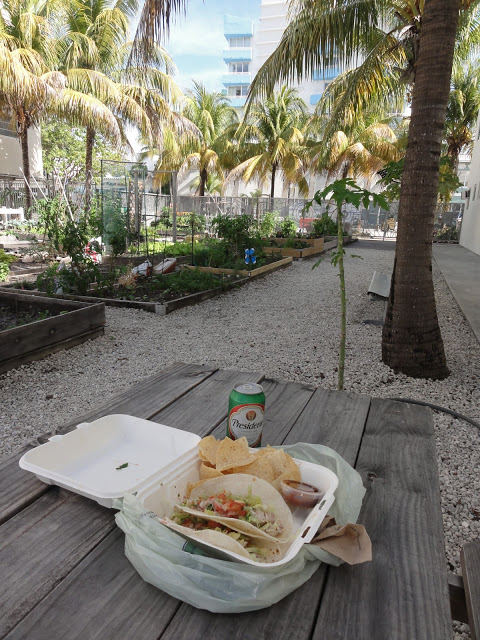 Fish tacos and a cold beer make for a pleasant lunch at the South Beach Victory Garden.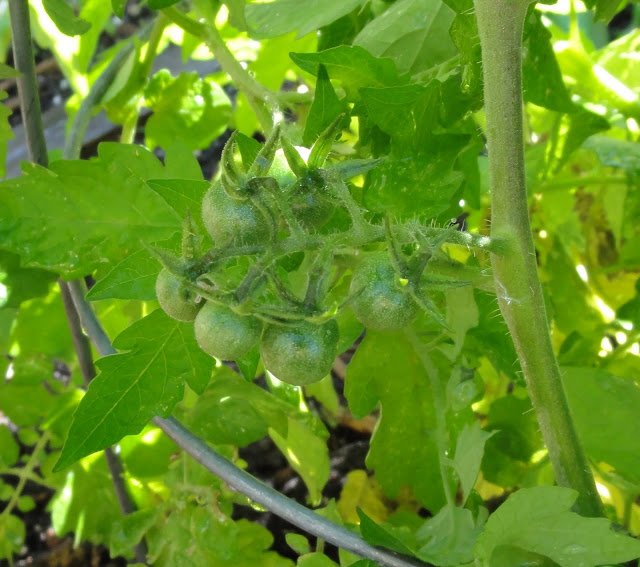 Soon, there will be oodles of lovely, tiny, sweet little tomatoes for our salads!  These are barely the size of a thumbnail!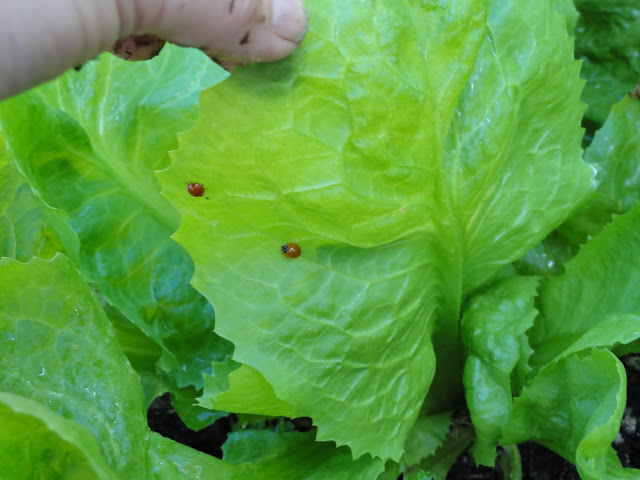 Thank you lady bugs for keeping aphids and other nasties away from my gorgeous escarole!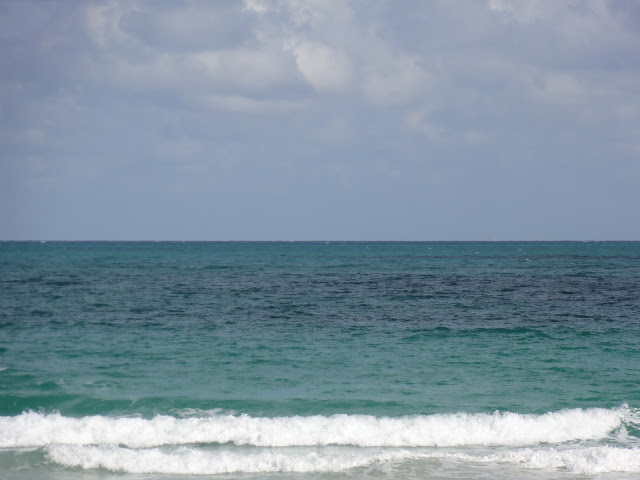 The garden is only a block away from the ocean and I scoot on over there to remind myself of why I live here.  I never take the beach for granted and am grateful to live so close to the sea.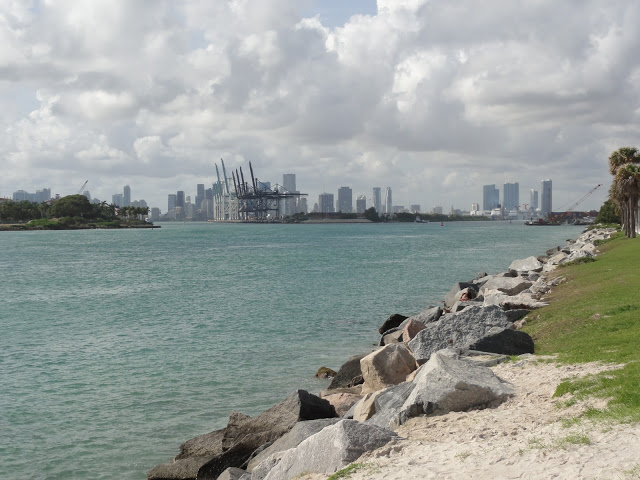 I continue riding up around the point at South Pointe with Government Cut to my left.  This is where all the container ships, cruise ships and small boats and jet skies come and and out from Biscayne Bay to the ocean.  Straight ahead is the Port of Miami with downtown Miami in the background.
As I head around the Pointe, frantic movement in my peripheral vision catches my eye.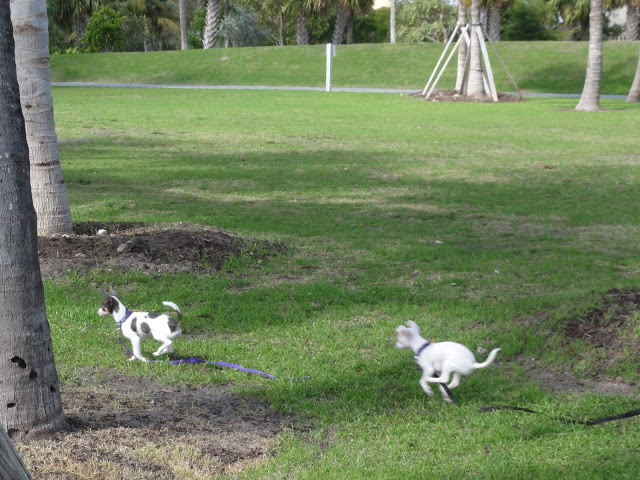 Two puppies happily prance around South Pointe Park's doggy park.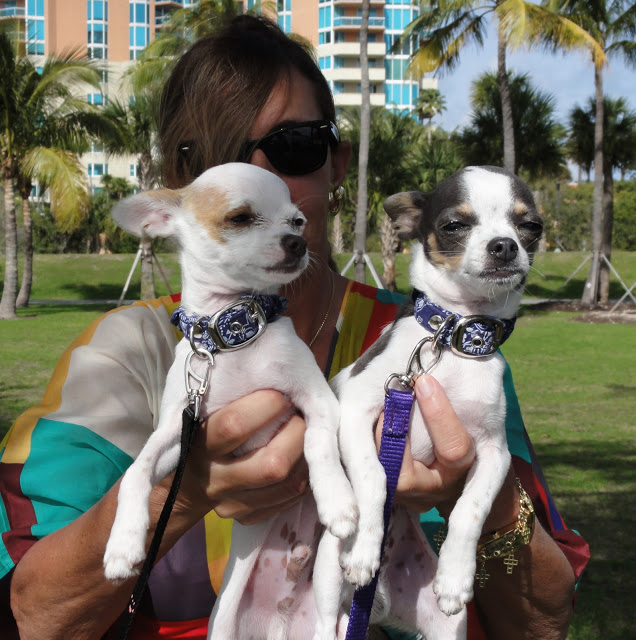 I ask the puppies to "hold still" while I take their photo but they are not cooperating!  The nice lady scoops up the little scamps and they resign themselves to being held for a photo!
Satisfied that La Diva got her "puppy fix" I get back on my bike and ride on to CB2 to pick up some stemless wine glasses.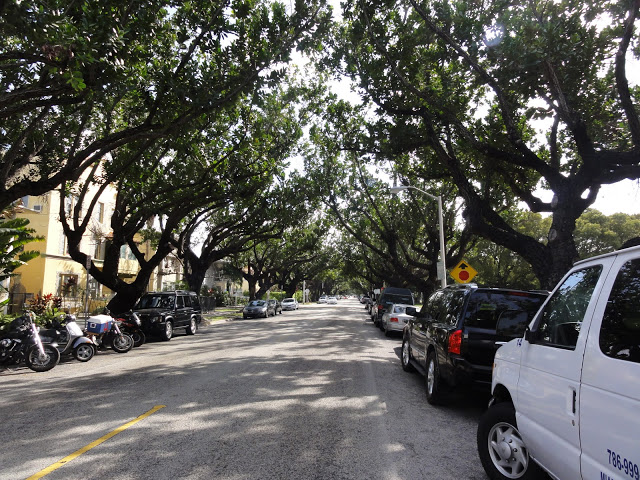 Whenever I can, I try to take Meridian Avenue as it's the shadiest street!  Lovely in the winter time but a MUST in the summer when the temperature climbs to  100 degrees and heat stroke is a real threat.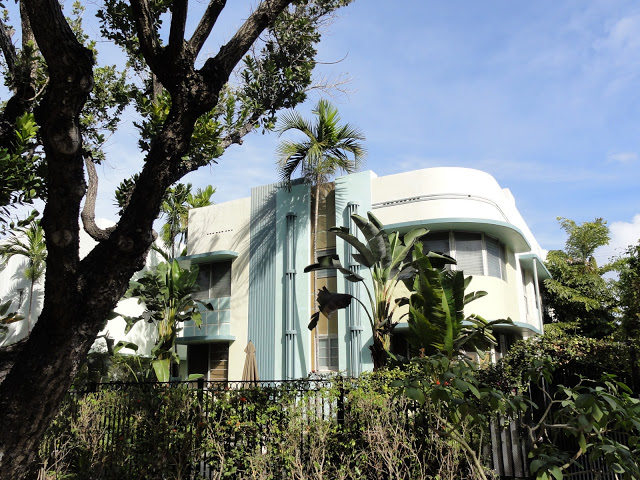 Meridian Avenue is home to many older, smaller Art Deco buildings on Miami beach and makes for a very pretty ride.  I cycle at a casual pace, taking my time to look about and enjoy the scenery.
I quickly pick up the glasses, load them into my basket and make my way home.
In 15 minutes, I am home and head straight for my office and begin to check my emails.  I start to respond to a pending client and then see one from husband:  ARE YOU TAKING IT EASY TODAY?  I save the email in the drafts folder, get off the computer and pour myself a glass of wine.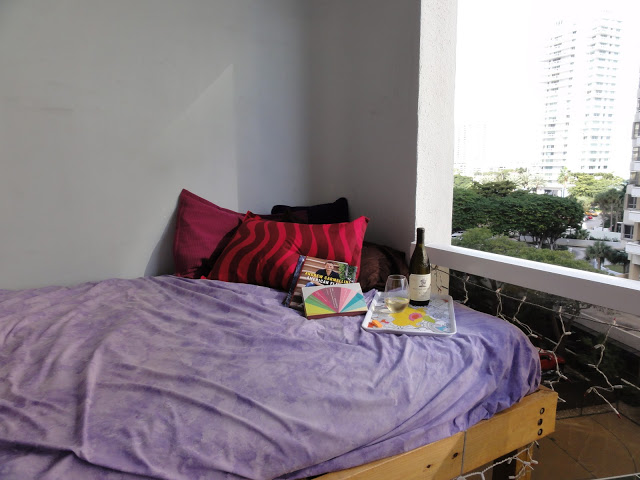 This is my favorite piece of new furniture for our house.  My platform bed.  This is why I HAD to get stemless wine glasses!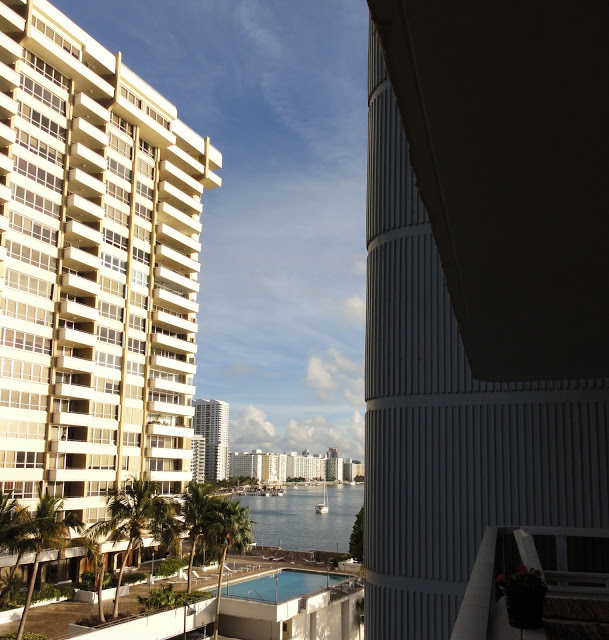 As I look out at the water from my balcony bed, relaxed and happy, I realize that my husband is right.  It's important for me to take days off where I don't do anything but everything I want to.  Even when I'm not working, I'm always doing something…repairing, cooking, fixing, cleaning, calling….etc…. and have not taken the time to just read and let my mind be calm.  After all, "business burnout" is never a good thing and La Diva has only just begun to see success!
Darlings, what about YOU?  What is YOUR favorite way to spend your day off if you could spend it any way you want?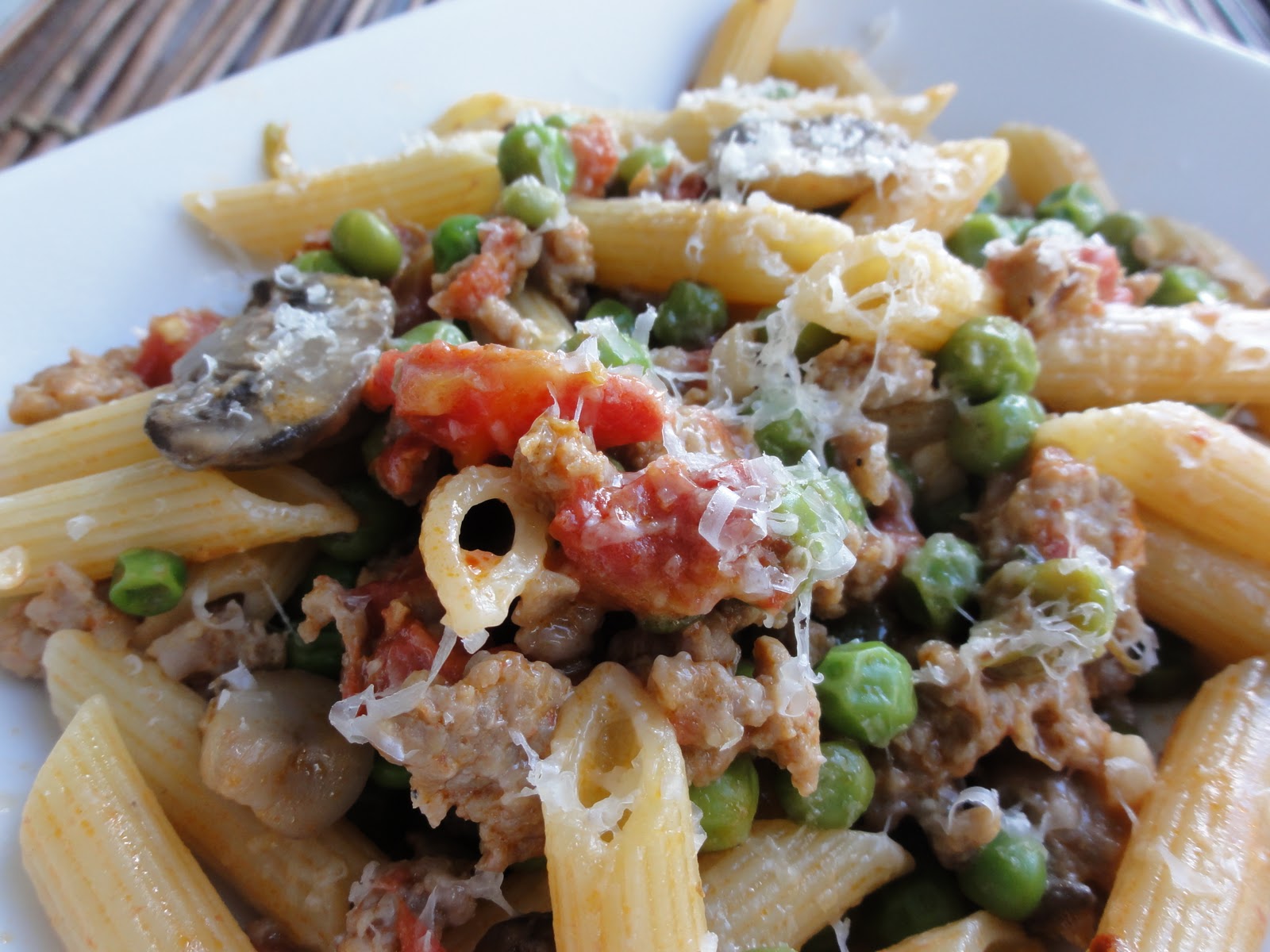 And now, a little food porn…..
  Here's my penne with Italian sausage, peas, mushrooms, tomatoes, chile flakes and a dash of cream.
Ta ta for now, darlings! xoxo
Originally posted 2012-01-23 23:58:00.