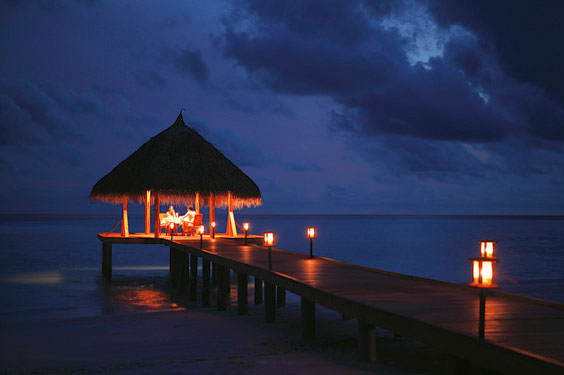 What is it about dining on the water that makes it so pleasant and romantic? This looks like a lovely spot!
Darlings! About six weeks ago I was referred to a gentleman that was asked by his wife to cook her a romantic dinner at home by their pool for her birthday. He confessed to me, "I can't cook," and being a smart guy, he did the right thing, he hired La Diva! He told me they would like appetizers (my specialty!) so I proposed a menu of small plates with a light main course and dessert.
Here's the menu I created just for their special night:
Oysters a la Carl: Freshly shucked oysters on the half shell, grilled with garlic and custard with prosciutto, arugula and parmigiano cheese
Orange and Rosemary Prosciutto-wrapped Shrimp
Grilled Diver Scallops with Macadamia Pesto over Roasted Tomato Sauce
Seared Mahi Mahi with Israeli Couscous and Zucchini in a Saffron Tomato Broth
Champagne Zabaglione with Fresh Fruit Compote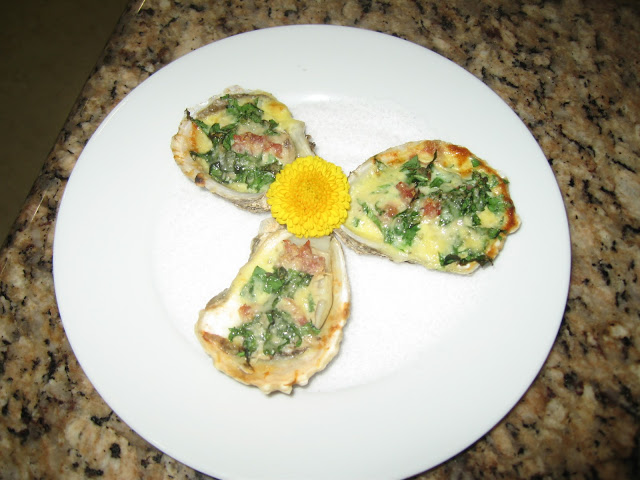 Oysters a La Carl: Three is all you'll need of this scrumptious dish but I promise you will be longing for more!
This recipe I named after my dear old boss and restaurateur, Carl. I was the cocktail bartender at his upscale brasserie in Sydney every Saturday night and we developed a close friendship revolving around our ex-pat status and a passion for delicious and decadent food. He was a dear friend that left this planet much too early, so I make this dish in his honour, since he taught it to me.
Growing up in an American family with Italian roots, we tend to not pair any cheese with seafood. But just like Oysters Mornay, this combo with parmigiano cheese not only WORKS, but is super delicious and impressive!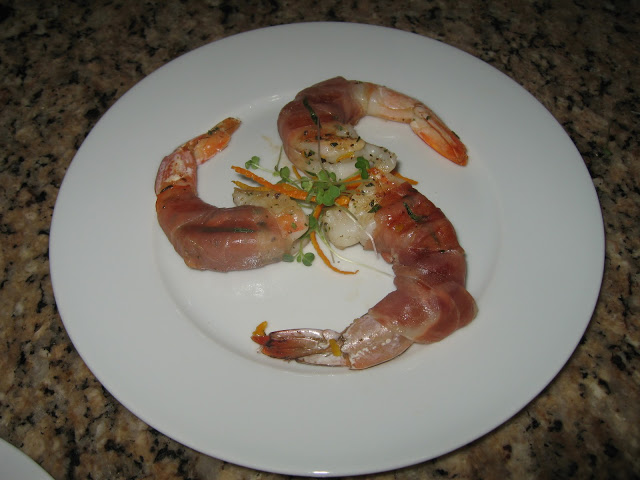 Orange & Rosemary Prosciutto-Wrapped Grilled Shrimp: THIS is NOT the time to scrimp on the shrimp! Use large shrimps leaving the tail intact and make sure the prosciutto is sliced super thin or it will overpower the delicate flavor of the prawn.
At first I hesitated to include this dish as I would be repeating the prosciutto however, the combination of the Sambuca liquer along with the rosemary and orange zest in the marinade made for a completely different flavor profile.
La Diva found this recipe over at
Sippity Sup
and it sounded so unique and tasty, I just KNEW I had to try it! Which brings me to a very good piece of advice:
never
trial a recipe for the first time for company or a client. I experimented with this dish for DJ Nevah L8 a few weeks back and he loved it! (as did my clients, thanks GREG!) For the recipe go
HERE.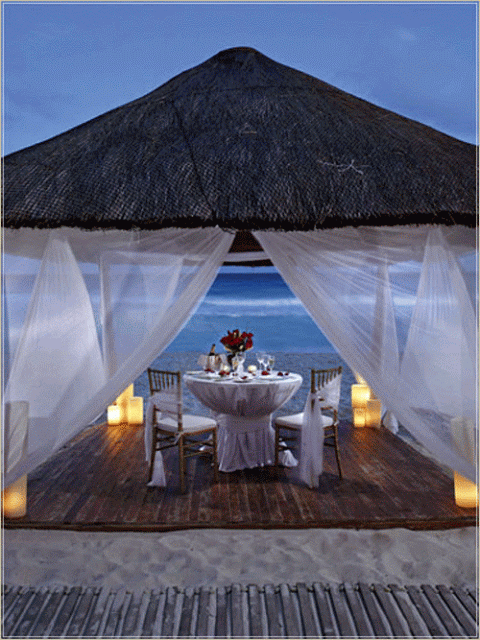 This little set up in Quintana Roo, Cancun, would do La Diva very nicely indeed!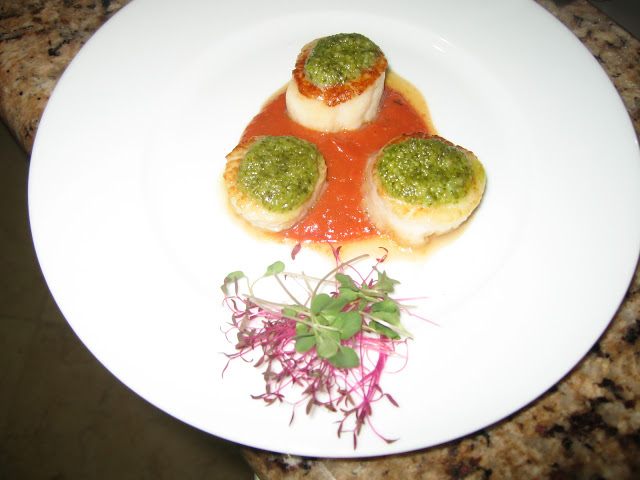 Grilled Diver Scallops with Macadamia Pesto over Roasted Tomato Sauce: I first developed this dish when living in Sydney, Australia, as scallops on the half shell and macadamias are so easy to obtain.
I would usually grill these right in their shells but since it's hard to get actual scallops that way here, I seared off the scallops in a pan, dolloped with the pesto and put under the broiler just for a few seconds to warm the macadamia pesto (sans parmigiano cheese!)
For making at home, I usually would just roast the tomatoes with garlic, wine and herbs and plate it up, but because I wanted to make this look extra special, I pureed the sauce and then strained it to give it a very smooth texture and offer a less rustic presentation.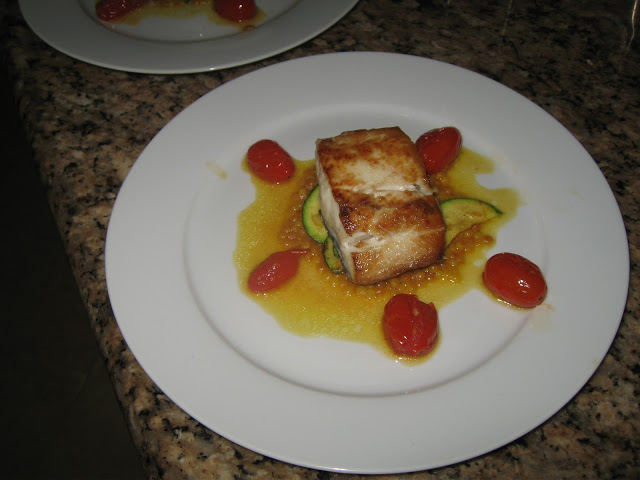 Seared Mahi Mahi with Israeli Couscous and Zucchini in a Saffron Tomato Broth: I actually had a dish of seared fish in a saffron broth with Israeli couscous at a restaurant here in Miami a few years ago and it inspired my own version of this elegant and light main course!
I would normally serve it with more broth but that only works best using a plate with more depth or a large shallow bowl. Still, all of my plates came back clean, so no complaints, only compliments!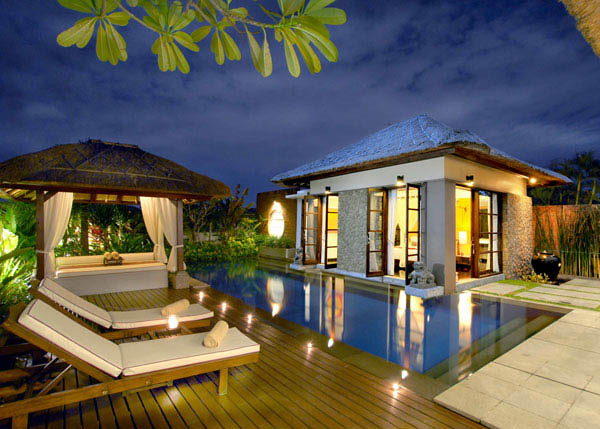 How about this private poolside one bedroom suite in Bali, Indonesia? "Um, DJ? We are ordering room service!"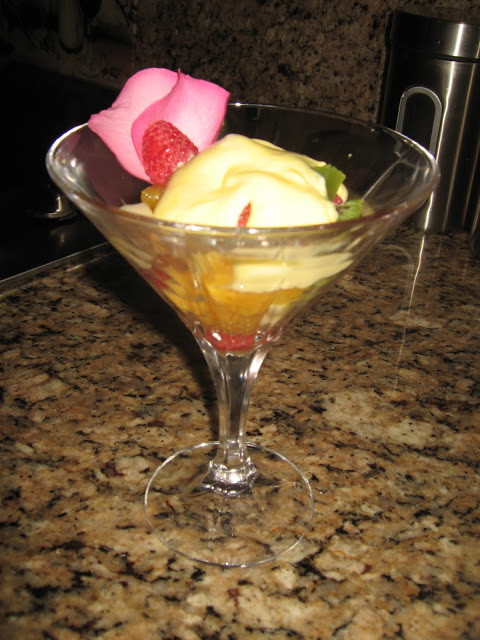 Champagne Zabaglione with Fresh Fruit Compote: A light and decadent adult dessert as the perfect ending for an elegant, romantic meal!
After four rich seafood courses, La Diva needed to finish off this meal with something that would not be too heavy. So, naturally, I asked Moi, the consummate baker and dessert lover over at The Undaunted Baker, and she recommended this zabaglione recipe. Zabaglione is the Italian version of the French dessert sabayon. It is a very light custard that is whipped but this version included sparkling wine (instead of the traditional Marsala wine) with whipped cream folded in. I served it over a fruit compote of wine-drenched kiwi, pear, orange and raspberries. Believe me when I say it was DIVINE! (and super easy!) You can find the recipe for it HERE.
Tip: Don't be cheap with the bubbly and stick by the cooking wine rule of "If you wouldn't drink it, don't cook with it!" Since zabaglione is Italian, I used an Italian Prosecco, but any DRY sparkling will do, but let it be of quality as it truly is the main flavor component of the zabaglione.
RESULT: When I asked my clients if they enjoyed the service, they said, "It was perfect!" When I asked them if they enjoyed the food, their response was "Are you kidding me?!" And the plates came back clean as my proof! La Diva was SO HAPPY to be the one to indulge and spoil this lovely couple for their celebration! And the best part for them: they are already at home, no driving and no clean up required! A perfect, romantic dinner for two.
If you require the services of La Diva as your PERSONAL CHEF IN MIAMI please click HERE for more info!
Originally posted 2010-10-30 19:32:00.