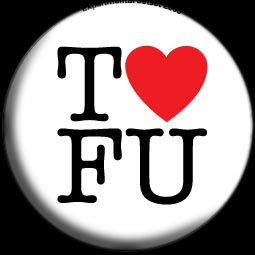 Uh, no, I'm NOT. But sometimes I act like I am. Or THINK I am. I sometimes think I can do ANYTHING and EVERYTHING! I am LA DIVA. I am SuperWoman. Pile it on, baby, I won't say NO!
Well, I did. I told Lady Boxer that I was not going to participate in her Culinary Smackdown: Tofu. You see, La Diva has five events booked this week. Five. Me. By myself. And I've still got two to go.
Friday was a dinner for 15, Sunday, another dinner for 15 and last night I did a corporate class of 17 for Yahoo! YIPPEE!
But, I've only had a day in between each event and by the next day I am already prepping for the next one! But as it turns out, I had a wee bit of time tonight to try out my killer tofu idea!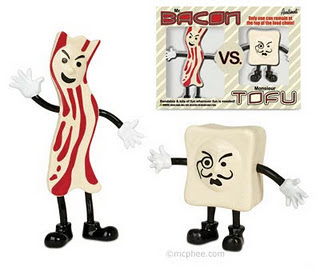 Boy, I sure am glad I went to Boxer's blog and saw she already found this hilarious photo of Bacon vs. Tofu! I'm posting it anyway, as it cracked me up. I also don't get why you can't like both? I do. I don't get the tofu hate, it's too freakin' BLAND to hate!
Anywho….my tofu idea was a bit of a melange of croqueta mixed with arancini mixed with meatball. HUH?
La Diva was thinking, wouldn't it be great if I took some TOFU and added breadcrumbs, garlic, parmigiano cheese and fresh parsley like I would my meatballs and then I would put a little ball of fontina in the middle like I would arancini and then roll them in flour, egg and panko and fry them up like I would a croqueta and then put the crunchy, yummy lot over a fresh heirloom tomato coulis?!
That would make a tofu lover out of anyone, I bet!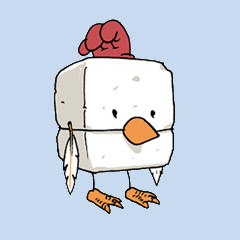 Hi. My name is Tofu and I can be anything you want me to be, baby. ANYTHING.
So, I started. Tonight. Bone tired and making a dinner out of leftover catering ingredients simultaneously. Because I. Am. SuperWoman.
I had the heirloom tomatoes on the stove, reducing them along with garlic, for the coulis.
Meanwhile, I sauteed an eggplant that didn't make it into Friday's roasted veggies, along with some diced pancetta that would go off if I didn't use it soon.
As my dinner of leftovers cooked, I started on the tofu. In the food processor went garlic, parsley and basil. Then the tofu. I used silken tofu. I put it into a bowl and added egg, salt, pepper, parmigiano cheese and a ton of breadcrumbs. It would not firm up. I added more breadcrumbs. And then some more. Still, the tofu was a gloupy mess. How would I be able to roll a meat-a-ball with this soupy tofu? I put it in the refrigerator to firm up.
The coulis was coming along nicely, the tomatoes broken down and reducing. Soon, I would puree them and then strain for a silky, divine coulis. Oooh, this was going to be GOOD!
I added a bunch of mushrooms and a chopped zucchini to the eggplant and pancetta. Then, I added the leftover, cut up lasagna noodles and would chuck in a can of tomatoes for a rustic, one bowl dinner that would use up all of the catering leftovers. I took a taste….nice!
I went and got the tofu. It was now a COLD gloupy mess. I added more breadcrumbs. I tasted it. MMMmmmm….garlic, breadcrumb tofu. It tasted ok but it was tasting more like strange bread.
Still….I could give it a shot. I tried to roll up a bit in my hand and it was like trying to roll up oatmeal. It needed to firm up. What to do? Waste even more breadcrumbs?
Add it to the pasta on the stove!
It would be just like adding a bit of ricotta to the dish! Why, I did that ALL of the time! And it's GOOD!
That WOULD work! I AM LADIVA! I AM SuperWoman! YES, I AM!
I added a bit of the tofu and mixed it through into the pasta and veggies and had a quick taste. Mmmm…pretty good so far. So, I added more. And more. And mixed it in and then, HELL, WHY NOT PUT ALL OF IT IN?!
F*ck it. I don't have all night.
Well, at least that's what it looked like!!! IT WAS DISGUSTING. Not because it was tofu mind you. But, because the garlic I had added to the tofu was uncooked and tasted, well, raw.
And because it was TOO RICH with the egg and the parmigiano cheese.
And it just wasn't pretty. You could no longer see the eggplant, the mushrooms or the zucchini, all were drowning under the weight of beige, silken tofu garlic pulp!
I ate a bowl. It was really rich and garlicky and, well, kind of flavorful but not a great texture. It was mushy. I looked at the huge pan of it left on the stove. There was A LOT. Could I eat this again? I doubted it. I knew The DJ would not touch it, leftover lasagna noodles with mushy eggplant and mushy tofu would NOT be very inviting to a man that has just come home from a 12 hour day, La Diva would be pushing him too far. And I thought about THROWING IT OUT.
And I SURE DO HATE throwing out food. But, that's what I get for trying to be SuperWoman and cooking when I'm tired and spent.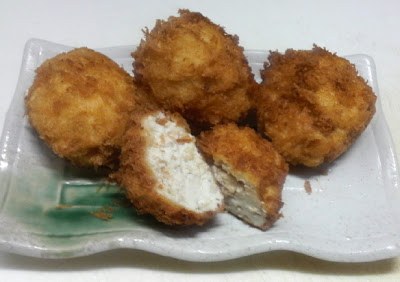 Here's what I was going for.
See?! Don't these tofu croquetas look good? Imagine MINE with fontina cheese oozing out of the middle and with parmigiano cheese and garlic and spices! Anyway, the recipe for THESE is from THIS SITE. I guess my mistake was that I didn't use FIRM tofu but silken instead. DOH.
So, I WILL try to make this again, with firm tofu, of course! But for tonight….
This SuperWoman is going to have a nice glass of wine, take a hot tub and 'CALL IT A DAY.'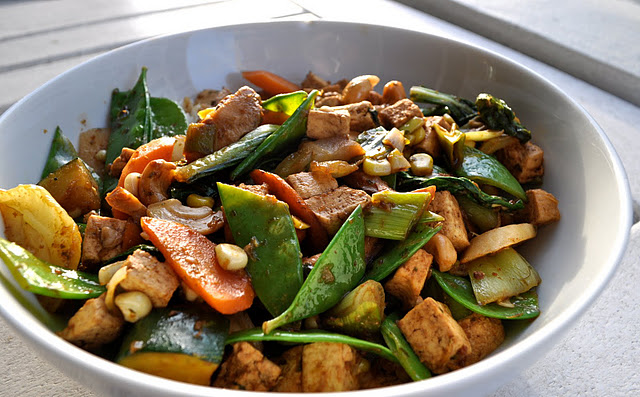 Meanwhile, DO enjoy my lovely photo of La Diva's all time fave way to eat tofu: stir fried with veggies and cashews in a spicy Asian sauce. My recipe for the dish is HERE!
THANK YOU, Lady Boxer for hosting! You can see all the entries HERE and GOOD LUCK to all! Ciao for now, darlings!
Originally posted 2012-01-19 01:30:00.