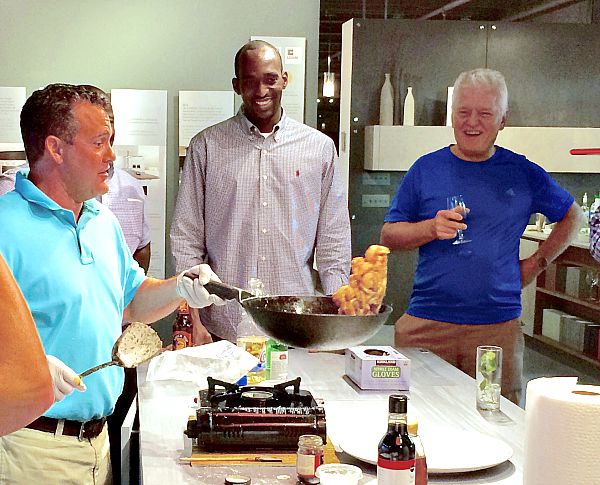 Gary is A BOSS on the wok as he flips stir fried shrimp in a garlic honey sauce!
Statoil ASA, is a Norwegian multinational oil and gas company headquartered in Stavanger, Norway. It is a fully integrated petroleum company with operations in thirty-six countries. The Bahamian and Connecticut crew gathered in Miami in August to partake in a La Diva Cucina team building with the object for guests to socialize together.  The culinary team building would take the place of a group meal as well as being educational and fun.
Guests were greeted upon arrival with platters of North African chicken skewers with yogurt lemon tahini sauce, spicy Thai meatballs in a sweet chile glaze and Italian potato rosemary parmesan frittata. Soon after, everyone jumped into making a Mediterranean and Asian-style appetizers including Pad Thai summer rolls using Vietnamese rice paper wraps.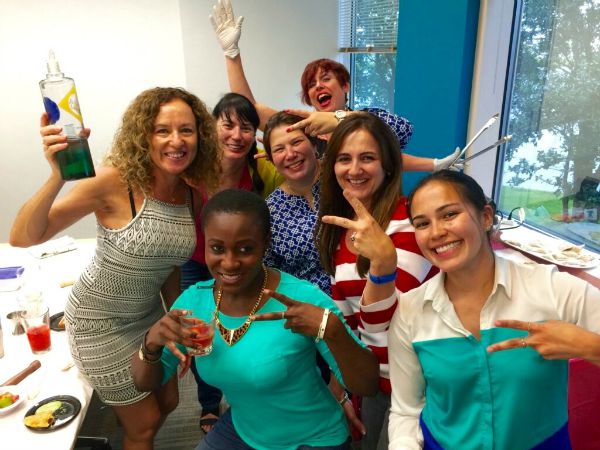 NOPE, NO FUN WAS HAD HERE!
La Diva Cucina GOES ON PREMISE to Accenture HQ for an intimate Friday Happy Hour class! Accenture is a multinational management consulting, technology services, and outsourcing company. Its incorporated headquarters have been in Dublin, Ireland and the Miami office boasts staff from the world over.
Accenture hired La Diva Cucina for a "Happy Hour" team building to show appreciation for their staff in a fun and unique way allowing  them to mingle, relax and be entertained.
For their event, guests learned to make Cuban tostones (twice fried green plantains) with a garlic mojo sauce and created their own beef picadillo empanadas which they enjoyed with Brazilian caiprinhas, enhancing the global trend for the class. Recipes and FUN come with every La Diva Cucina event!
If you'd like to do an engaging and fun event for your company, please fill out the contact form below TODAY!
[contact-form-7 404 "Not Found"]
Originally posted 2015-08-27 18:39:33.