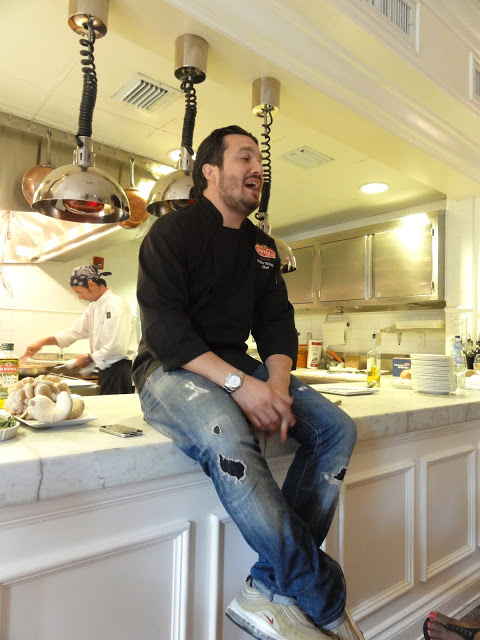 Darlings!  Well, it's been SOME TIME since I've had time to really sit, ponder, write and post my bloggity blog but here I am, finally!
Back in February, a publicist for Bertolli olive oil spotted my blog online and invited La Diva to attend a special, private demonstration of Top Cheftestant Fabio Viviani.  It was a side event for the South Beach Food and Wine Festival called the Chef Viviani Cooking Experience (sponsored by Bertolli olive oil and products)
I was thrilled!  Not only is Fabio one of my very favorite past cheftestants from Top Chef, but Casa Tua is one of the most highly regarded, romantic and beautiful restaurants in Miami.  What a WONDERFUL WAY to start the day!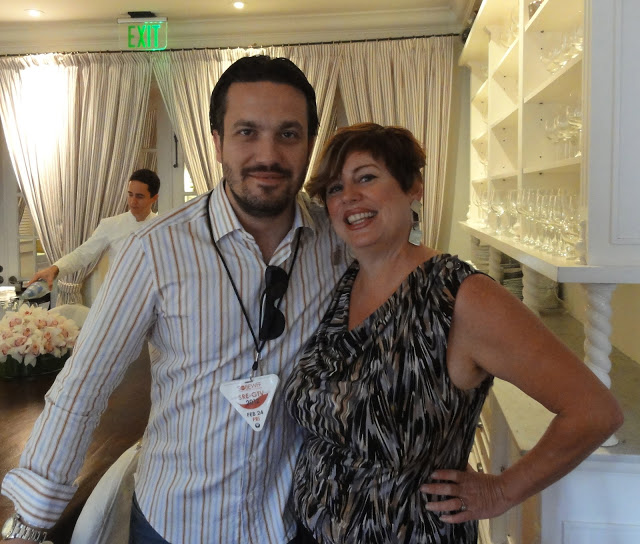 The private demo started at 9 am.  NINE A. to the M!    Though La Diva is usually up hours before 9 am, I really don't TALK before that time!  And here I was, a slightly tired, not-quite-awake-yet La Diva, chatting with Fabio, like we were old buds, about "What type of pasta he prefers, fresh or dry?"
Fabio:  "It depends on the sauce," he wisely stated!  And then went on to talk about various sauces with pastas.
"What do you think about cheese with seafood?  Traditionally, Italians don't really combine the two."<
Fabio:  "It's different for you in America…shrimp and grits come to mind, but not usually!"
I then tell him about my divine recipe for oysters a la Carl grilled with prosciutto and parmigiano (and other secret delights) which he agrees sound delicious.
While Fabio and I chatted, other bloggers and food writers began to file in and he excused himself to meet them.   We were encouraged to take a seat around a large rectangular table in front of the open kitchen, naturally, I was already near the kitchen so sat up front center!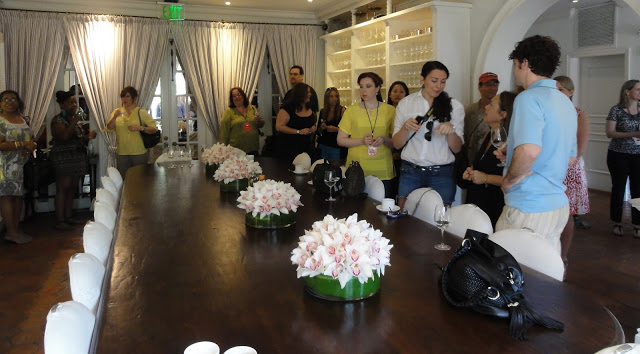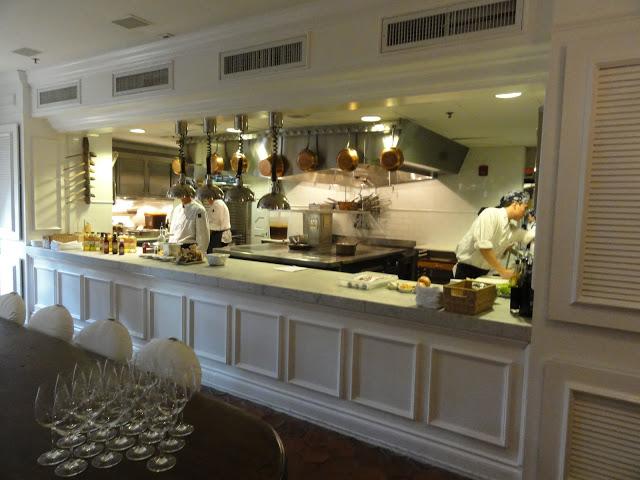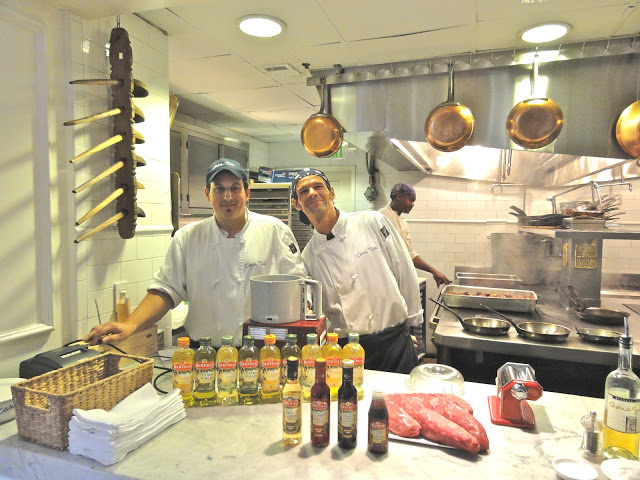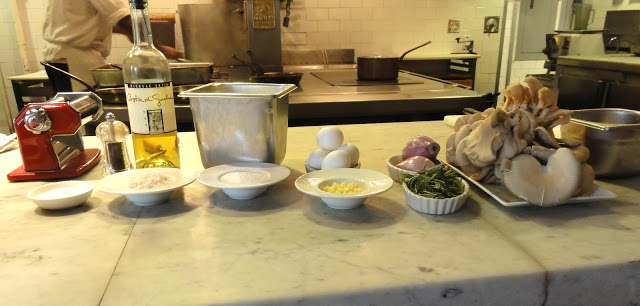 The ingredients for the fresh pasta and beef dishes are displayed.  Those oyster mushrooms are AMAZING!  Chef Viviani prefers to use oyster mushrooms as they are "perfect for roasting."
Fabio began the demonstration by speaking about HOW EASY IT IS to make fresh pasta and asked if anyone had made it before?  Surprisingly, only a few people put up their hands, including myself.  I found that I was one of the few chefs to be invited as I write AND cook….most of the attendees were reporters and bloggers and were a bit hesitant to speak up.  Fabio ASSURED US that it was super easy…
He then made the entire lot in a food processor!  Fabio explained that one egg should be used per person.  After the dough formed a ball, he took it out and put it through the pasta maker.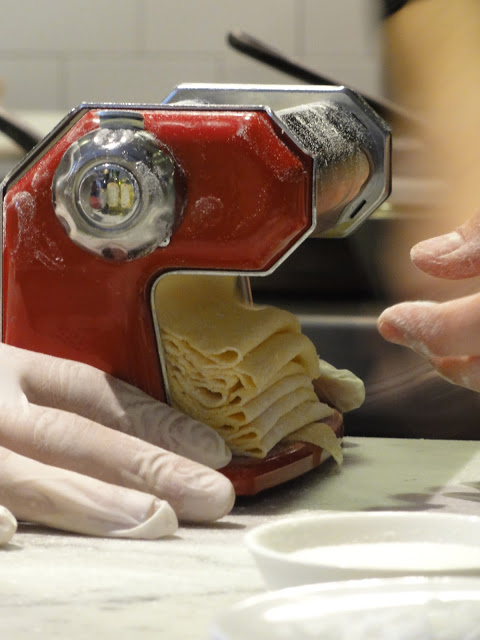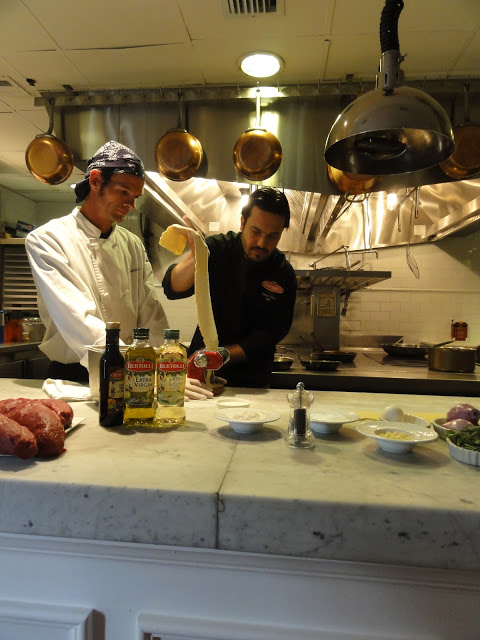 If you remember Fabio from Top Chef (and how could you forget?), you remember how utterly charming and funny he is.  Especially when he speaks with his mangled Italian pronunciations of English-American words!  He had everyone laughing when he asked the staff for a spoon and was given a very large spoon for tasting. He asked for a smaller one, exclaiming in his broken English:
"Thatza big-ass-uh spoon!"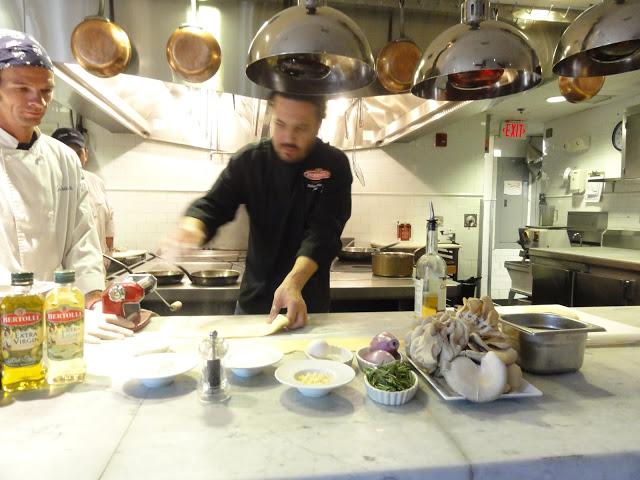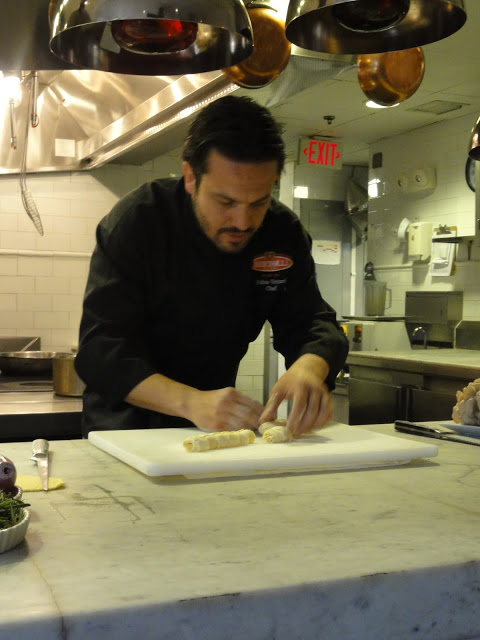 The pasta sheets are rolled up and cut into ribbons.  Then Fabio "fluffed" the pasta up, separated the ribbons and created several small nests, then put them aside.
Within a 10 minutes, Fabio had created perfect pasta  before our very eyes, indeed proving that making fresh pasta was quick and easy for even a novice.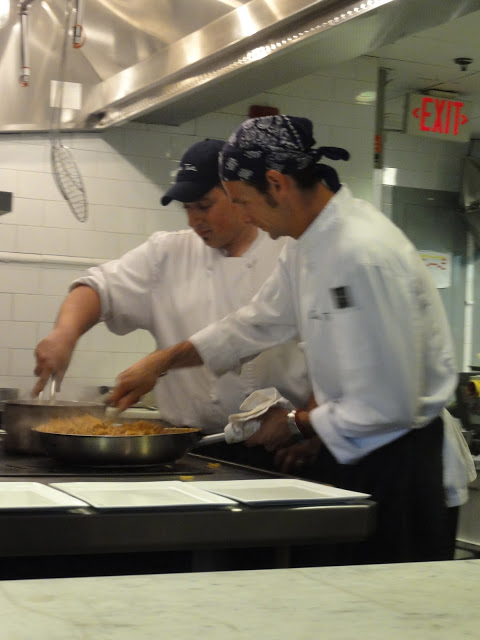 The magical kitchen elves making large pans of delicious pasta bolognese for the attendees to try.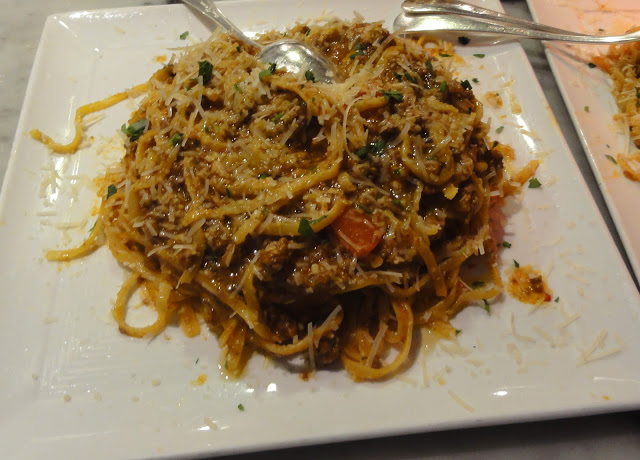 This smelled and TASTED divine!  I could have eaten the whole dish myself….
Fettuccine Bolognese
Author:
Prep time:
Cook time:
Total time:
Ingredients
5 tbsp Bertolli Classico Olive Oil
2 cups chopped onions
2 tbsp of rosemary sprig
1 & 1/4 cups chopped celery
3/4 cup chopped carrot
2 large garlic cloves, chopped
1.5 pounds ground beef
2 cups dry red wine
3/4 cup tomato paste
2 cup fresh crushed tomato from a can
1 cup freshly grated parmesan cheese plus additional for passing
1 lb fettuccine
12 heaping tbsp flour
4 eggs
Salt/Pepper
1 tbsp Bertolli Extra Virgin Olive Oil
Instructions
FETTUCCINE:
Quickly beat eggs in a food processor with a pinch of salt and pepper. (Use 1 egg per person you are feeding). Add heaping "Italian" tablespoons of flour and Bertolli Extra Virgin Olive Oil to food processor and mix until dough begins to form into a ball.
Pass dough through pasta press twice until ¼ inch thick. Roll dough onto itself into a burrito shape and chop width-wise to create fettuccine.
Add fettuccine to boiling water over high heat, stirring occasionally until it floats, approx. 5 to 8 minutes.
SAUCE:
Heat oil in heavy large pot over medium heat. Add next 5 ingredients. Cook until vegetables are soft but not brown, 12-14 minutes.
Add beef, increase heat to high. Cook until meat is brown, breaking into small pieces with back of spoon, for about 15 minutes.
Stir in the wine, tomato paste and crushed tomatoes. Reduce heat to low. Simmer until sauce is thick, flavors blend, and juices are reduced, stirring occasionally, for about 1 hour and 15 minutes. Season with salt and pepper
But wait, there's more!  Fabio was now going to demonstrate filet mignon with oyster mushrooms, rosemary and a balsamic vinegar reduction.
<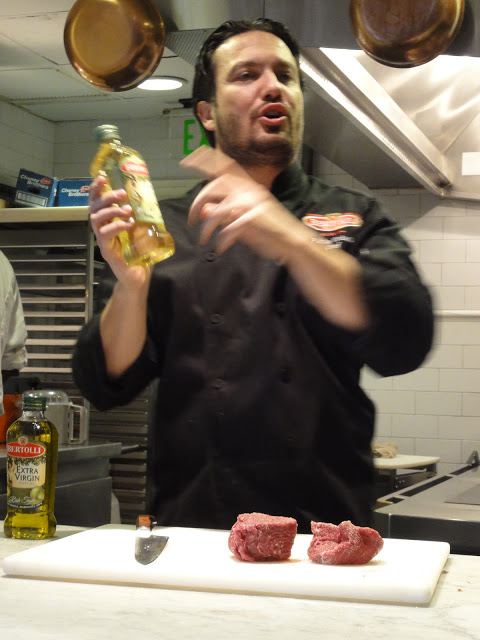 Fabio states to the guests:  "You can use any Bertolli brand you like!"  At that time of the morning, he certainly kept everyone engaged and smiling.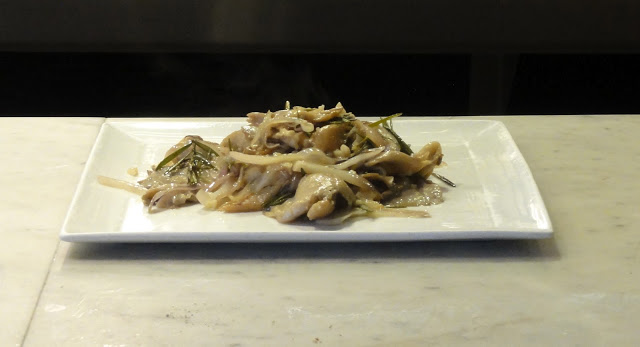 Chef Fabio says that oyster mushrooms are "perfect for roasting" and suggests blanching them first to allow them to crisp while retaining moisture inside.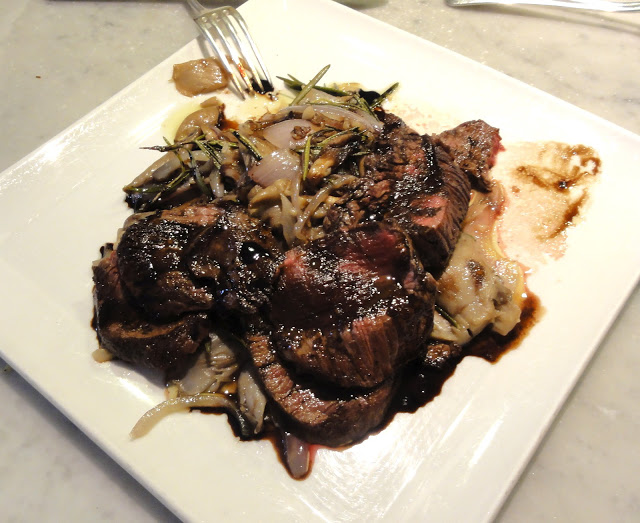 Now dat's what I'm talkin' 'bout!  Beautiful, bloody, tender meat at 10 am….sign me up!
Chef Fabio Viviani's Filet Cutlets with Mushroom
Serves 4
Prep time: 15 minutes
Cook Time: 20 minutes
Ingredients:
4 (6-oz.) pieces filet mignon, cut in half lengthwise (for total of 8 pieces)
1 Tbsp. finely chopped fresh rosemary
Salt and fresh ground black pepper
1 Tbsp. Bertolli Extra Light Tasting Olive Oil
1 lb. Oyster mushrooms, thinly sliced, or your favorite variety of mushrooms
3 garlic cloves, finely chopped
½ cup finely chopped shallots
2/3 cup white wine
½ cup chicken broth
1 Tbsp. of Bertolli Extra Virgin Olive Oil, plus more for drizzling
1 tsp. flour
1 cup Bertolli Balsamic Vinegar of Modena
1 tsp. sugar
Directions:
Pound beef until ½-inch thick. Season both sides of beef with rosemary, salt and pepper.
Heat Bertolli Extra Light Tasting Olive Oil in 12-inch skillet over medium-high heat and cook beef, turning once, 6 minutes or until desired doneness. Remove beef and set aside.
Add mushrooms, garlic and shallots to same skillet and cook, about 5 minutes. Add wine and cook, stirring occasionally, 3 minutes or until wine is reduced almost completely . Add  broth and cook 3 minutes. Combine 1 tablespoon Bertolli Extra Virgin Olive Oil and flour. Add oil mixture stirring until dissolved and cook until sauce starts to thicken, about 5 minutes.
Heat Bertolli Balsamic Vinegar and sugar in small saucepan over medium heat. Cook until liquid is reduced by a quarter.
Place mushroom mixture on serving plate. Top with steaks. Drizzle beef with Bertolli Extra Virgin Olive Oil and balsamic reduction, season with pepper.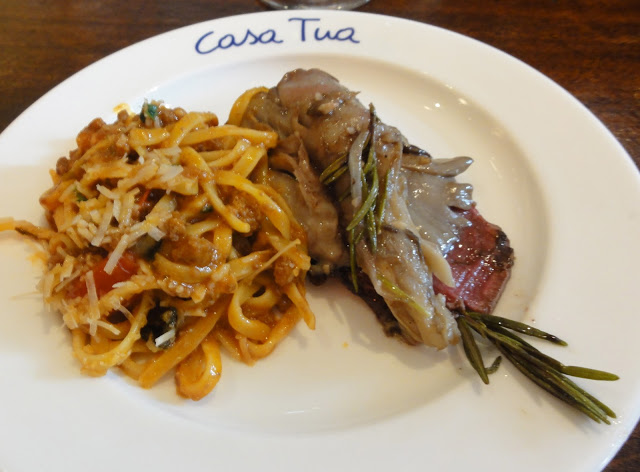 Oh man.  The food was really delicious;  simple, hearty food that let the quality ingredients shine, a cooking style La Diva heartily embraces and employs.
After the demonstration, guests mingled and asked more questions while La Diva made a bee line for Fabio's business partner, Jacopo Falleni, master mixologist at their restaurant Cafe Firenze in Los Angeles.  Jacopo creates unusual, custom cocktails and then pairs each with food.  I told him about my "small bites, BIG DRINKS" cooking and cocktail class, where I do the same, and he gave me his card and told me to "call him."  Nice guy, truly.
I talked to a few more reporters and guests, handed out cards, thanked Fabio and the publicist profusely and headed off to Casa La Diva to conduct my own demonstration for bachelorettes from the Caymen Islands, Part Two of a DELICIOUS DAY was about to begin.
You can get more info on Chef Fabio Viviani along with recipes and videos by going to his website HERE.
PS:  Darling, want to keep up on all things Top Chef? Then head over to my blogging bud's site called All Top Chef by clicking HERE!  Enjoy, darlings!
Originally posted 2012-04-29 17:17:00.