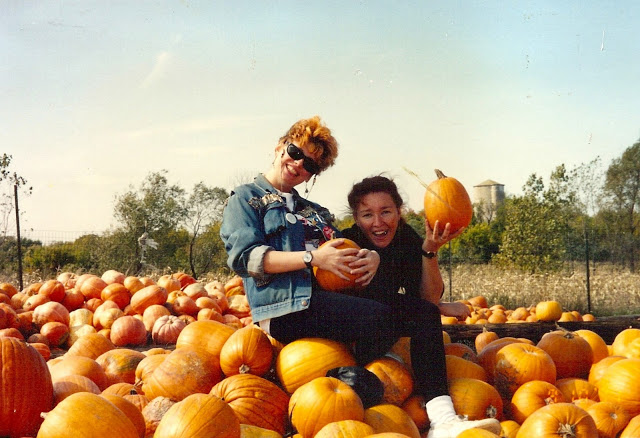 La Diva with orange hair and my dear friend Lisa at a pumpkin patch outside of Chicago at the beginning of the 90's. Lisa has since left this earth and now graces the great pumpkin patch in the sky.
I dedicate this post to Lisa Madden.


Darlings! I think it was Buzzy who said in a previous comment that because I have my new kitchen "we expect great things from you now." Ruh-roh. No excuses, it's time to pull out all the stops!
And that's ok, because I decided it was high time to challenge myself a bit and think outside of the norm with the culinary smackdown theme of
WINTER SQUASH.
So, what to do with the good ol' squash? Living in Australia for years where pumpkin, their choice of winter squash, is eaten year round in savory dishes. so I've had plenty of it outside of the standard soup or pies. I especially enjoyed it at one of my fave Thai restaurants in Sydney, Suma Lee Thai, where they saute it with giant tiger prawns and basil in a savory chile jam. DIVINE. An unexpected combination, yes, but it proves that squash DOES go with seafood too and is so much more versatile than given credit for.
As I conjured up this delightful dish in my head, it inspired me to take the common winter squash to new heights using seafood and my fave Thai flavorings in a way I've not tried before; I bring you La Diva's contribution to the WINTER SQUASH smackdown.
BUT WAIT!!!! We interrupt this post to bring you a SECOND SMACKDOWN ENTRY: Butternut Squash Waffles Pancakes with Fried Chipotle Chicken!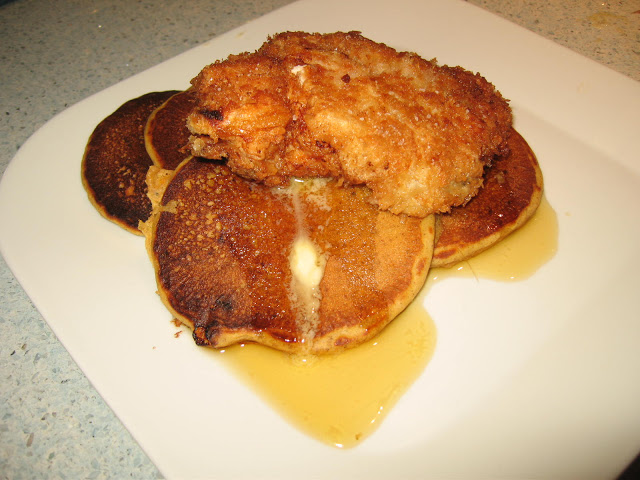 Darlings, La Diva LOVES me some punkin' pannacakes and I've been making a tried and true recipe for years. I usually make them for dinner and serve with smokey chicken apple sausages and Brussels sprouts. So, for this challenge, I thought to myself, "Why not waffles instead? And then I can serve it with some fried chickenz a la Roscoe's Style!"


But alas…it was not meant to be. Instead of using my pancake recipe, I tried another from HERE and lo and behold, the waffles was stickin' to da grill. Now, I'll have you know that La Diva was making these for Sunday brunch. And to tell the truth, La Diva doesn't have a whole lot of patience before she eats her first meal of the day. So, I added a bit more milk and oil to the batter, oiled the iron and tried for a second time…no joy. I had two waffles, one on the bottom plate and one on the top. Grrrrr…..


I got out my pancake griddle and succumbed to making pancakes instead.


Meanwhile, the night before I had taken two organic chicken breasts and marinated them in with a canned chipotle with sauce, yogurt and salt. While the pancakes were on, I took the breasts, shook off the excess marinade and breaded them in flour, egg and panko crumbs and fried the breasts til hot and golden.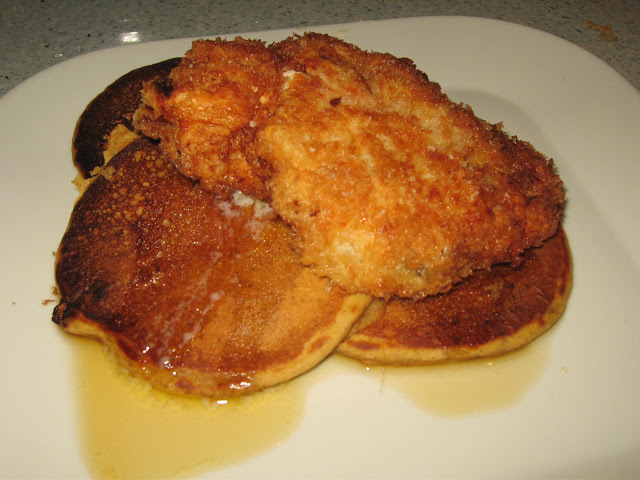 RESULT: Hmmm…..a bit monochromatic for plating purposes, a sassy little garnish of something green would have gone a long way but taste-wise, the dish was DEELISH. I am NOT kidding, if you likes the sweet, savory crunchy mix of juicy, fried chicken and waffles with maple syrup, you will LOVE this flavor combo! The spiciness of the allspice, ginger and cinnamon went great with the slightly smoky spice of the chipotle, it was truly a match made in heaven. In the future, I WILL be working on perfecting a pumpkin waffle recipe…..


And now, for my next entry…..something a bit more sophisticated.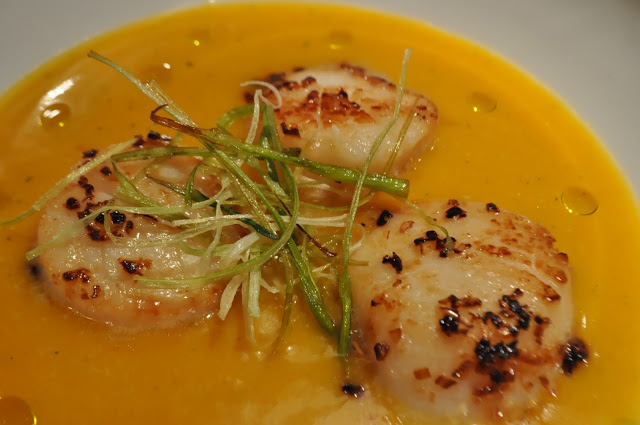 La Diva's Seared Lemongrass Scallops
on a
Thai Coconut Butternut Squash Coulis
with
Thai Basil Oil
and
Crispy Fried Eschallots
Butternut squash coulis: I sauteed shallots and garlic and then added it to chicken broth along with pumpkin chunks, ginger, fresh coriander and ground coriander seed and cooked until the squash was tender. I pureed and then strained it, added creamy coconut milk and then using a finer meshed strainer, put it through again to get a most divinely, silky coulis.
Lemongrass diver scallops: I sauteed finely chopped fresh lemongrass, shallots and garlic, seared the scallops and then finished off with Marsala wine.
Earlier in the day, I had taken finely julienned strips of eschallots (Australian for scallions!) dusted them with flour and deep fried until crispy. (Quite a feat, by the way, as they can turn brown and burn quite quickly!)
I also made an intense Thai basil olive oil by infusing the leaves in the oil over very low heat for several hours and then straining.
I carefully added the scallops to the squash puree and put a few drops of oil around the bowl and then garnished with the eschallots.
RESULT: DIVINE. Loved the addition of the marsala deglaze with the lemongrass and scallops! The silky coulis could definitely stand on it's own and the creamy, subtle coconut flavor added to the multidimensional flavors that make Asian food so complex. The basil oil and delicate essence of the eschallots added depth and nuance thus completing the dish.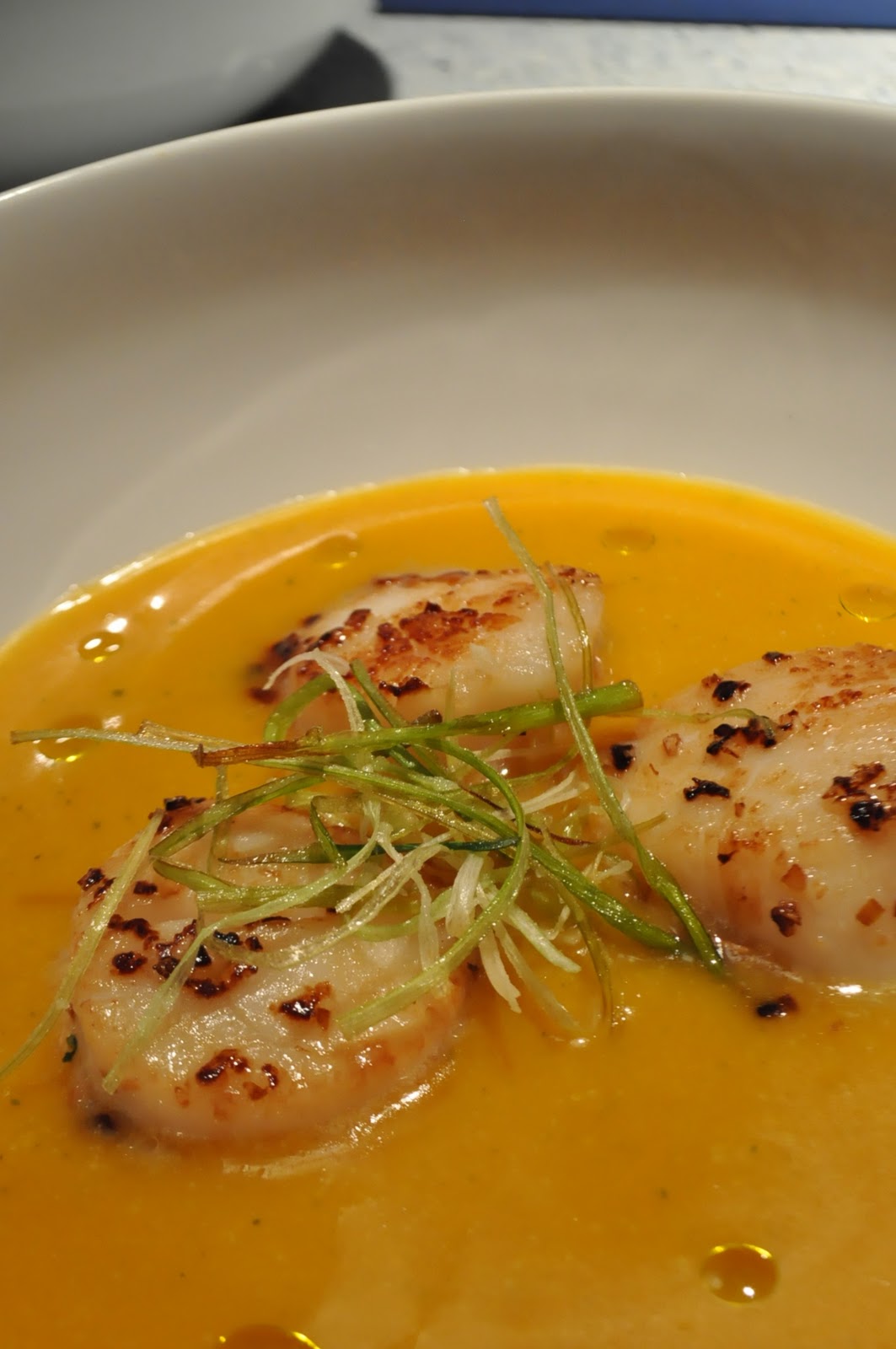 Enjoy, darlings, La Diva is BACK.
Thank you to Jen from "Our Good Food Life" for hosting and you can click HERE to see the other entries. Good luck to all! Ciao for now, darlings!
Originally posted 2011-10-31 22:23:00.