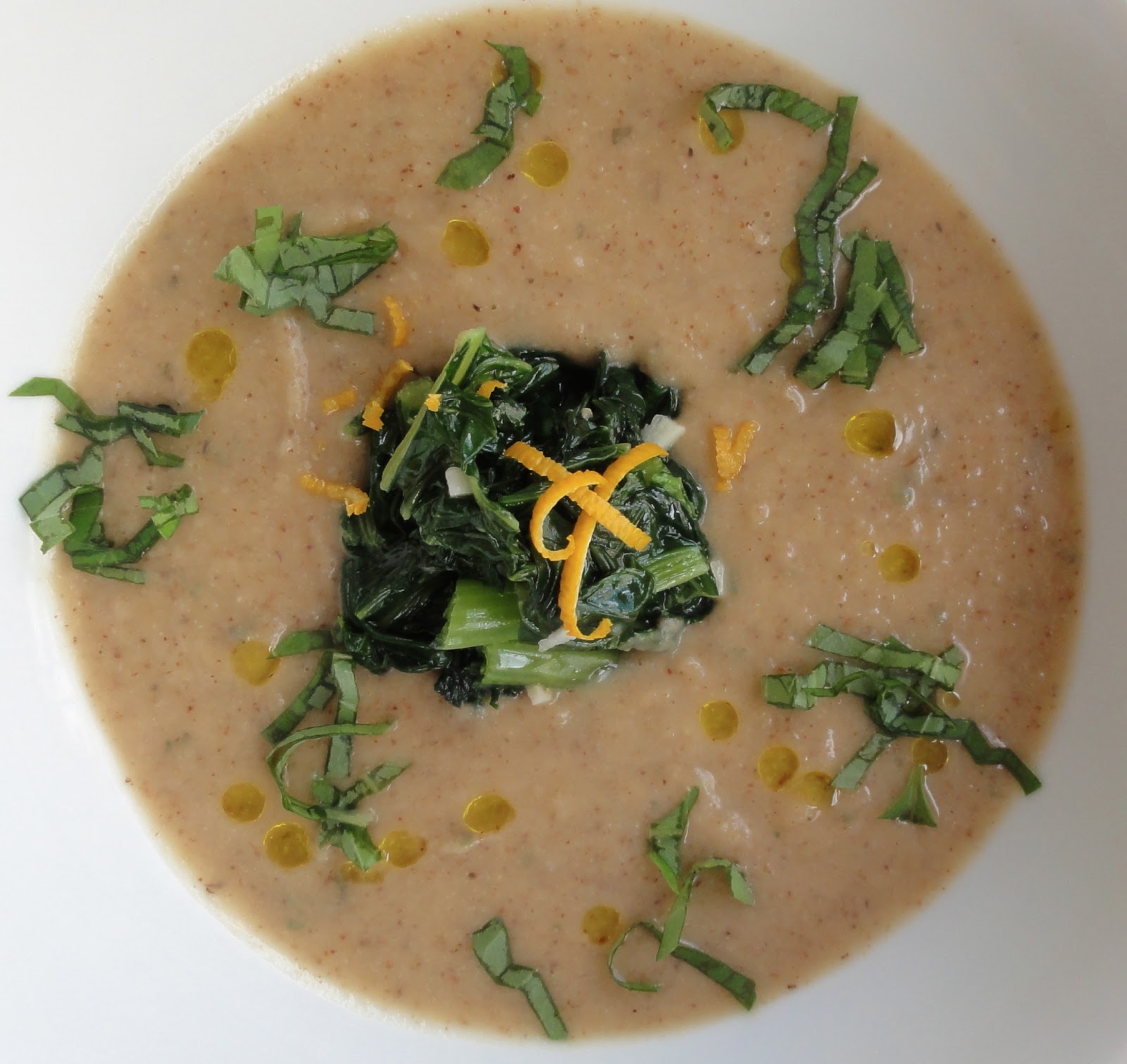 La Diva's Pureed Roasted Cauliflower, White Miso and Lemon Verbena Soup with Garnishes of Sauteed Komatsuna and Garlic with Lemon Basil Chiffonade, Extra Virgin Olive Oil and Meyer Lemon Zest!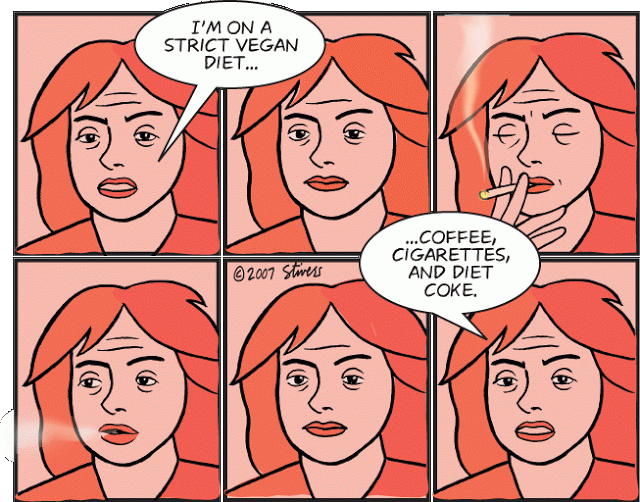 Darlings!  As if La Diva doesn't have enough on her plate, I've accepted the very kind invitation to join the Creative Cooking Crew established by Lazaro Cooks and Joan Nova at Foodalogue!  This is our first "throwdown" or "challenge" and the theme is VEGAN.
"In the spirit of eating lighter for the New Year (well, at least for a few days!!!), it's time to create a healthy VEGAN dish.  Choose one of your favorite rich, heavy, fatty animal-protein based meals and give it a healthy VEGAN spin."
I was told that this challenge isn't really a makeover but honestly, I don't eat a lot of fatty animal protein based meals……While I love to eat meat, I tend to not choose fatty cuts (once in a while a roast or ribs, maybe twice a year?) I do like my steak, chicken stir fries and pork tenderloin.  Personally, I don't really believe in "re-creating" veggies into meat, though the Chinese are amazing at it.  To me, it never really satisfies the desire to consume MEAT, it's like when someone says to a dieting person to eat an apple when they are craving chocolate.  It just can't compare.  So, I don't do it.  Meat is meat and that is that.
So, I thought about a vegetable dish laden with cheese and dairy and remembered my Christmas specialty of three cheese scalloped potatoes with blue cheese, cheddar, parmigiano cheese and milk.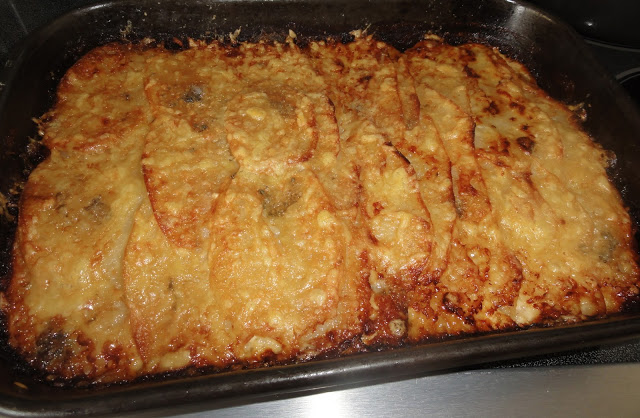 Da-yum!  Don't they look divine?!  They are and also they are divinely addictive, my husband and I could eat the entire pan (which is why I only make them at Christmastime!)
So, to put a vegan spin on the dish, I decided to do a play on the scalloped potato and do a version with pumpkin.  I sliced the pumpkin thinly and instead of adding milk with onion, I added coconut milk with shallots and crushed lemongrass.
Additionally, I added a layer of fresh rainbow chard from my garden.  For a bit of crunch on top to simulate the browned cheese, I cooked up a middle Eastern super grain, freekeh, added coconut oil, unsweetened desiccated coconut and almond flakes and scattered it on top of the pumpkin.  I baked for about 45 minutes until brown and bubbly.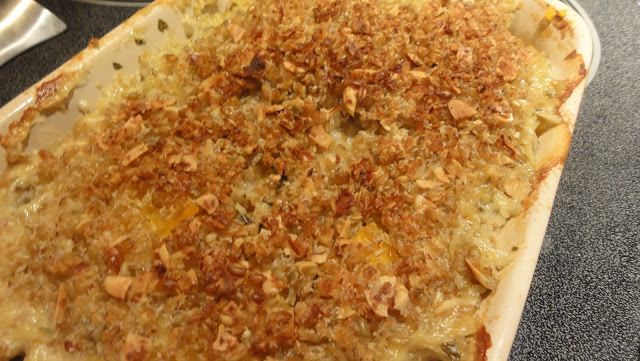 While the dish actually tasted great, the texture was all wrong.  First of all, the chard added a whole lot of water to the dish.   So much, in fact, that I had to drain a heck of a lot of it off.  Mistake.  I should have cooked and blotted the excess moisture out before adding the layer of chard.  In the end, it didn't add much flavor anyway, so I would not even bother with the chard if I made this again.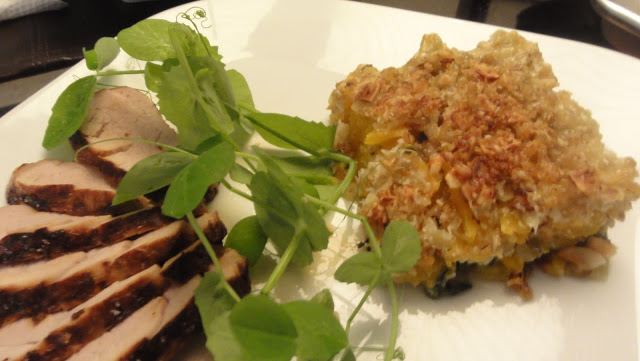 I served the scalloped pumpkin and chard with a pork tenderloin!  Husband was not fond of it.  While trying to create a crunchy breadcrumb-like texture with the freekeh, it tended to crisp up a bit too much in the oven.  To the point of not only being chewy but darn right tooth-crackin' crunchy.  Not pleasant.  Meh.
I was going to make the dish again and try to perfect it.  But with all the coconut and nuts, it was still quite a rich, fattening dish, while no cholesterol, saturated fat is saturated fat and coconut has a lot of it!
Instead, I decided to make a vegan soup that would be MUCH healthier.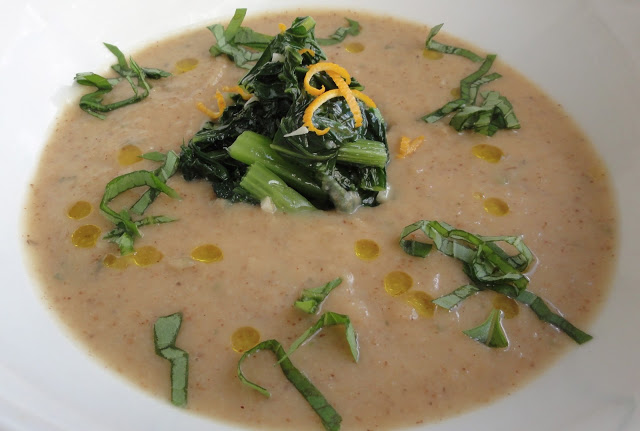 Pureed roasted cauliflower soup with white miso and lemon verbena with sauteed garlic and komatsuna with lemon basil chiffonade, drops of a fruity, green extra virgin olive oil with a Meyer lemon zest for garnish.
DEE-LISH.  So, delicious in fact, that husband ate it without complaint!  I don't mind cooking vegan, though challenging, because you can't use any butter, eggs, milk or cheese, but still entirely possible to cook great dishes without any of that, especially if you eat a lot of Asian, as I do (but watch out for the fish sauce!)
Do YOU ever cook vegan, darling?  And no, I don't mean Tofurkey either!  Spread your culinary wings and give it a try and tell La Diva all about it!
If you need a bit of help, my friend and fellow Dame, Ellen Kanner has just put a very cool, interesting vegan cookbook with a foreward by Chef Norman Van Aken!  Available on Kindle too!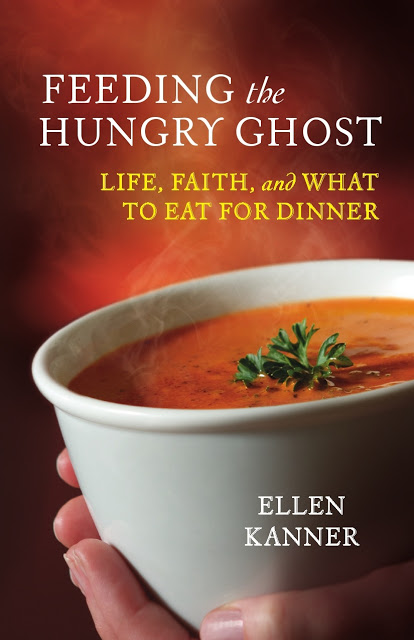 CLICK HERE to check it out and BUY!
Ciao for now, darling!
All the other vegan entries are now up and DO THEY LOOK GOOD!  Check out all the creative dishes from the CREATIVE COOKING CREW!
Originally posted 2013-01-27 20:13:00.