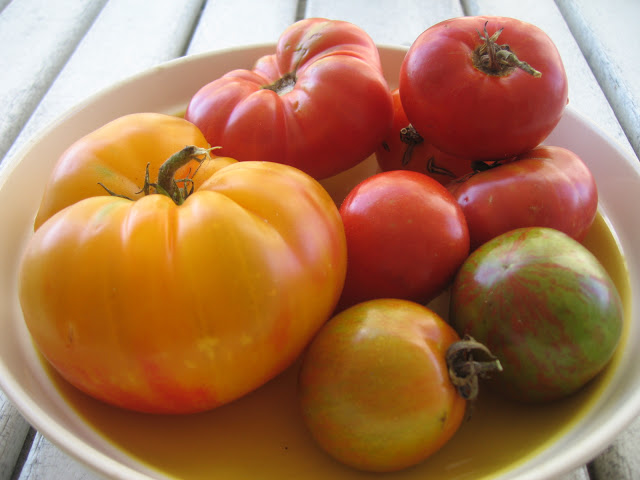 Darlings!  With a recent Spring snowfall in the Midwest, I know that some of you are not even thinking of putting your first tomato seedlings in the garden, but here in Southern Florida, we are coming to the end of our tomato growing season.  I knew Margie, my farmer friend from
Bee Heaven Farms,
must be close to the end of her crop and sure enough, I got the last couple of the big heirloom tomatoes at the market.
Aren't they gorgeous?
I grew up being a FRESH TOMATO HATER and no matter how much my dad, mom or aunts would say to me, "How can you not like tomatoes?  They are so sweet, they are like candy!" La Diva could not get past the slimy seeds and gooshy texture.
And then about eight years ago when I just came back to the States directly from my move from Sydney, Australia, I found myself mooching about at my dad's house in Michigan at the end of summer.  I had no job,  no house, no bills and no keys!   DJ Nevah L8 was still in Sydney, tying up loose ends.   The days were hot and long, and it reminded me of when I was a teenager, as that was the last time I had spent any more than a few days in Michigan at my dad's place in the summertime.  I was free and happy to be back living in the States, I was glad to be back "home."
Dad was living in a suburb that still actually had a few farm houses here and there, and one day, we picked up a bag of fresh tomatoes and sweet corn from the small roadside stand not far from his house.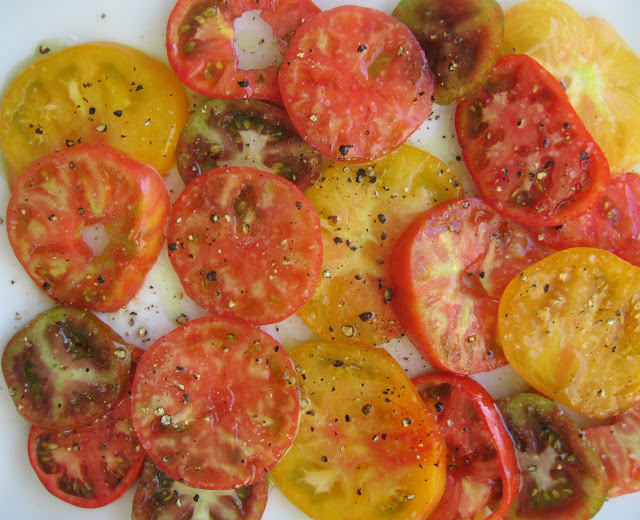 We came home and my dad immediately sliced the tomatoes up on a plate.  He added salt, freshly ground pepper and doused the lot with beautiful olive oil, covered them and sat them on the counter for a few hours until dinner.
Later, he grilled chicken breasts, steamed plain white rice, plated it and then topped it all with the lovely tomato salad.  He put a plate in front of me and said, "Here, try this," with an expectant look on his face.
Since I never liked raw tomatoes, La Diva was not interested.   But this time, something was different.  I could SMELL their sweetness and the colour was so undeniably attractive and vibrant, oozing juicy freshness, that I HAD to give them a try.  And besides, my dad was standing there waiting and you can't keep Frankie waiting.
Remembering the slimy texture, I tentatively took a bit of chicken and rice on my fork with the tomato to help me get it down.
Surprisingly, it was good.  delicious.   DIVINE!

Refreshing and flavorful, their bright taste was heightened by the olive oil and salt.  And eating them with the rice made the tomatoe's texture more appetizing.  I was hooked.  I went back to the farmstand a few more times to get  bags of my new fave fruit and ate them every day for a week.  It is this salad, with a bit of modification, that has become La Diva's simple summer time favorite.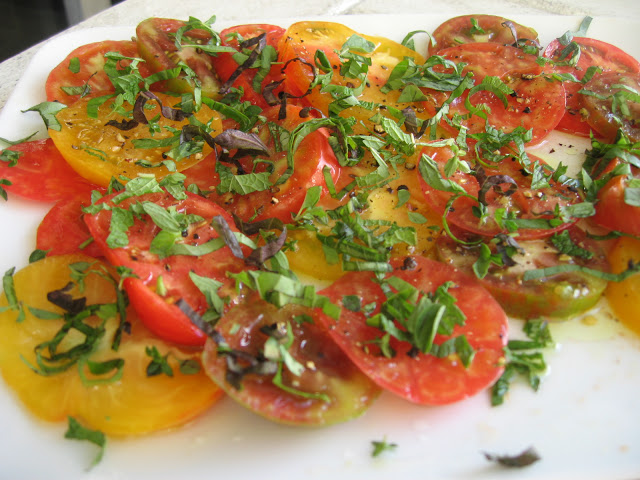 While these uber-fresh and robust fruits from Farmer Margie could certainly stand on their own, La Diva thought that a visit to the garden was in order, and I knew just what I would harvest:  sweet marjoram, organo, mint, lemon basil (Sweet Dani), lemon thyme, Italian basil and frilly purple basil.
I did a chiffonade of the basil, stripped the leaves from the thyme, oregano and marjoram, and scattered them so each tomato would have a nice, herbal bite.  I drizzled an extra-fruity and grassy extra virgin olive oil over the top, more sea salt and the SIMPLE SUMMERTIME SALAD was complete.  With produce this ripe and fresh, simple dressings using quality ingredients enhance the natural flavors and anything else is superfluous.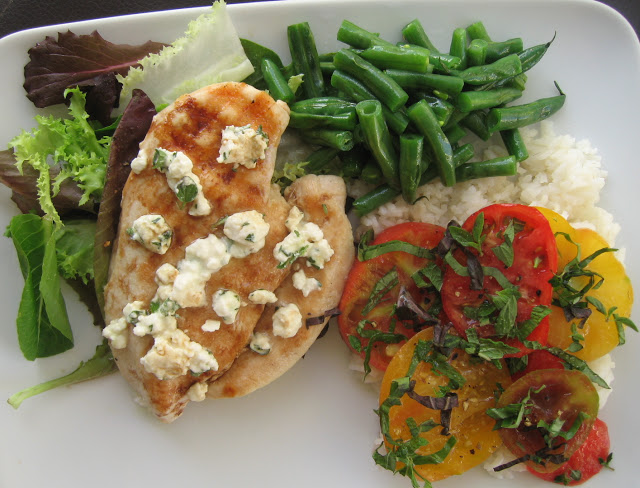 RESULT:  Oh come on.  You can't SEE that this looks so freakin' good?  Well, it was, darlings!!  I seared and grilled organic chicken breasts and then topped with more of the fruity olive oil, balsamic vinegar and feta cheese with fresh oregano.  The added greens of curly endive and baby romaine were the perfect foil to the dense chicken.  And La Diva just loves rice with this tomato salad and in all honesty, I could eat this for lunch every day!  (And probably will!)
 I know, darlings, I know.  It's time to put the damn snow shovel AWAY and get out the garden spade.  I understand, I do, and Mother Nature just does this to be spiteful!  Soon you too will be reaping the rewards of garden diligence with your own fresh tomatoes.  Or, you can just buy them like La Diva did!  Ciao for now, darlings, and have a LOVELY HOLIDAY.
Originally posted 2011-04-22 14:19:00.