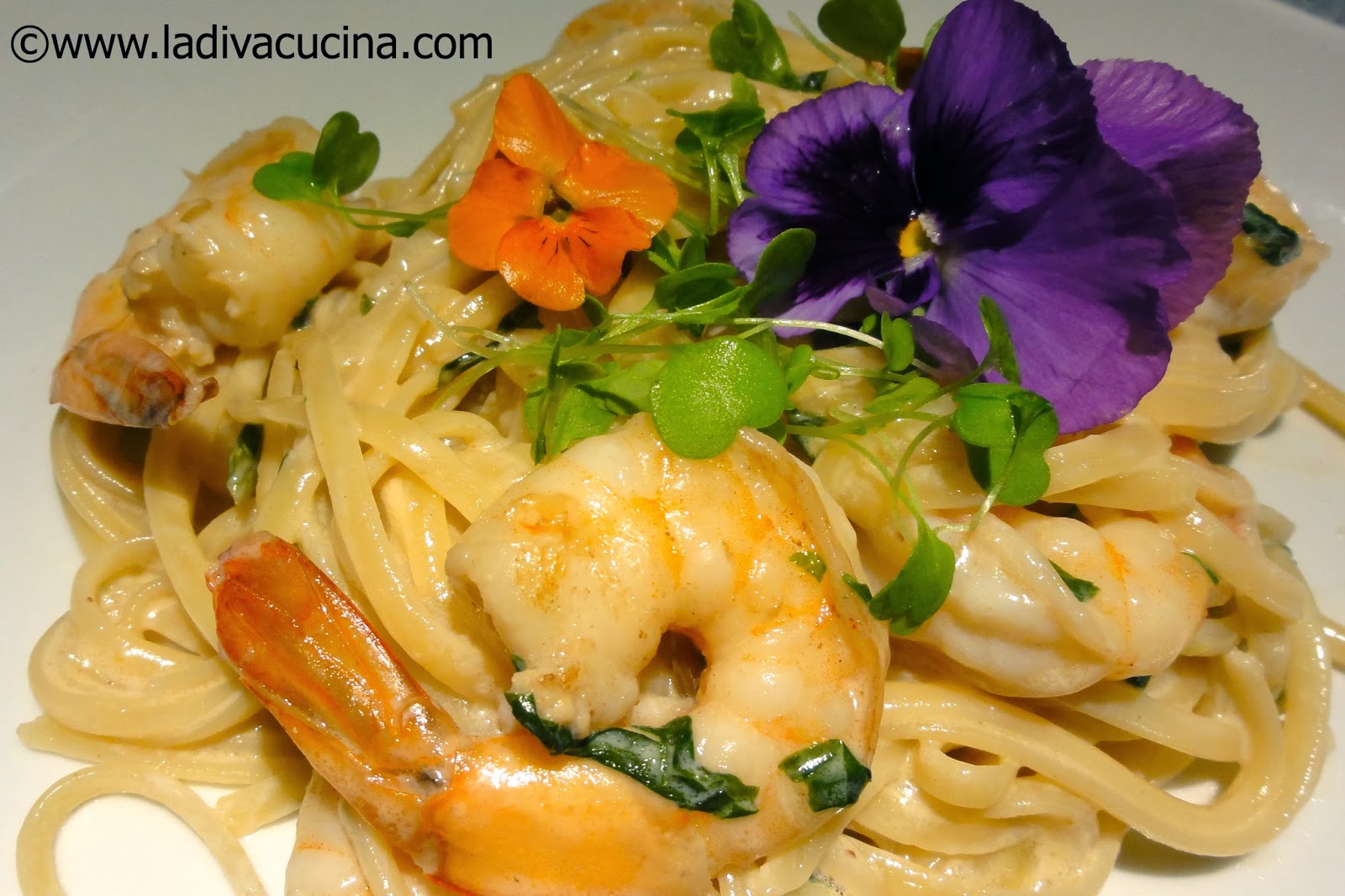 Darlings!  Last weekend when the Internet was flooded with uber-macho food dripping with cheese, pork and cured meats, I decided to make a most delicate dish for dinner.  Yes, it was SuperBowl weekend and I was rebelling.   After witnessing "taco" stadiums and "sandwich" stadiums and myriad other food that should only be consumed at 2 am while drunk or in college, I had to wonder how watching a football game with friends has morphed into this over-the-top pig-out holiday?
Oh, my delicate Diva sensibilities!
While many of you know that I'm not one to shy away from a good hearty meal
(like good steak and eggs!
) or even some good
ol' caveman cookin' (like my beef short ribs braised in red wine over pureed celeriac!
) I don't make a point of making food too complicated or outrageous.  A simple chocolate cake with chocolate icing is just fine with me, no need to add bits of candy bars, sprinkles and drizzled with caramel or on a raspberry coulis.  When I see these everything-but-the-kitchen-sink recipes, I wonder what the person is trying to cover up?  A lack of cooking skills?  I prefer cooking simple dishes with clean flavors using quality ingredients.
I also like to challenge myself by cooking with what's on hand without having to go to the grocery store.  A trip to my garden plot found me with a small bunch of rainbow chard, pansies and arugula microgreens.  In the fridge, I found a small amount of cream, lemons and white wine, in the pantry was a box of linguine and in the freezer large, peeled shrimp.
While the pasta boiled, I made a quick lemon cream sauce using butter, lemon zest, lemon juice and white wine, reduced it and then added the cream.  I cooked the chard quickly in boiling water and drained it, ready to be tossed in to the pasta at the last minute.  A large fry pan with olive oil was heated and when it got very hot, I tossed in the prawns and sauteed them until just cooked and pink and then added a bit of culinary brandy to finish it off.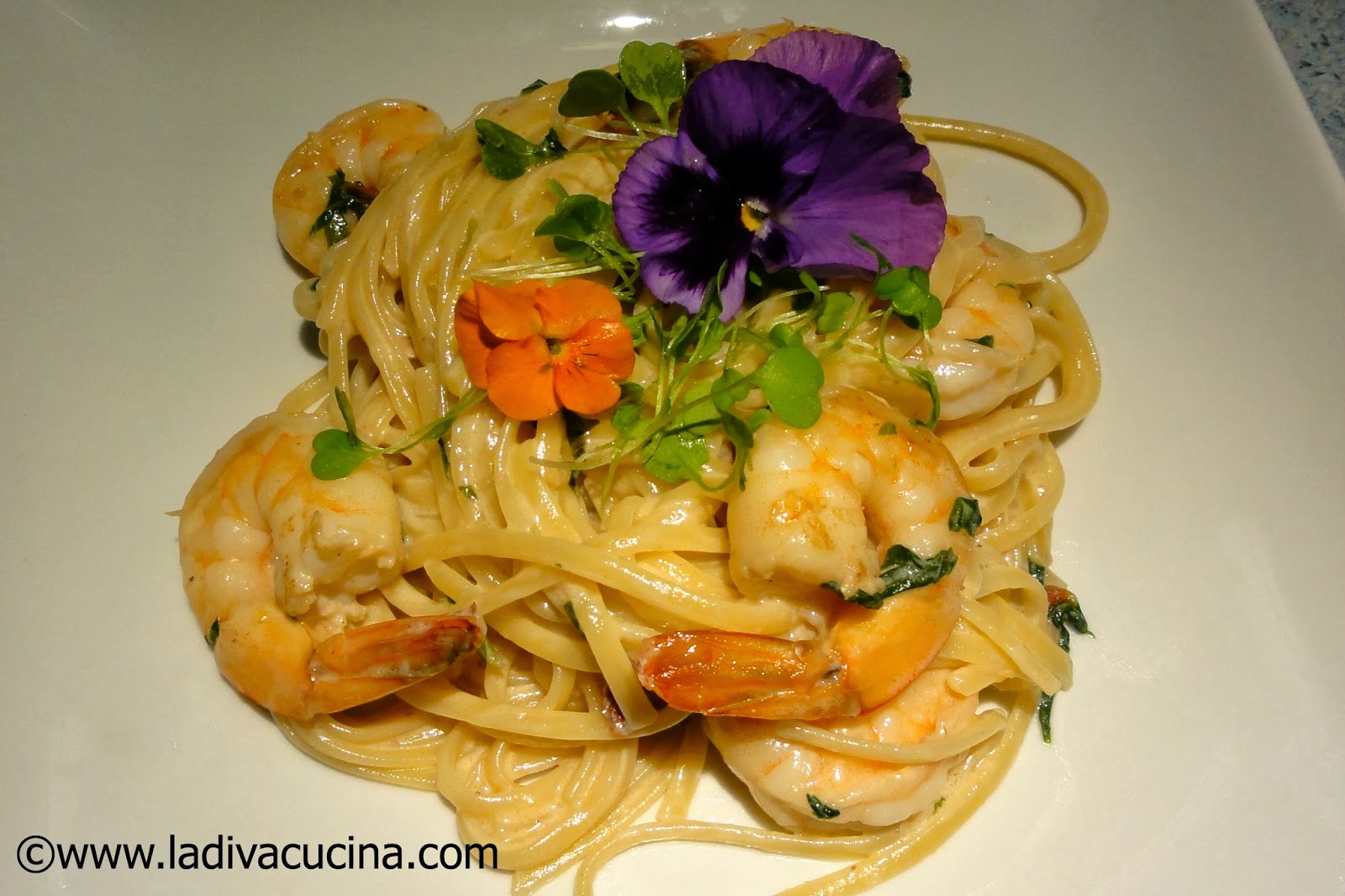 Sauteed shrimps with rainbow chard in a lemon cream sauce over linguine with arugula microgreens and pansy garnish.
I always cook my pasta sauce al dente and let it finish cooking in the sauce, so I drained it and added it to the pan with the shrimp and tossed in the chard, making sure to mix thoroughly.  I added the lemon cream sauce and tossed the pasta and served it onto clean, white plates and garnished the dish with pansies and arugula microgreens.
The Result:  Light, luscious and lemony!  This elegant dish highlighted the food that it was meant to, not cover it all up with heavy sauces or cheese or too many ingredients that are fighting each other.  The shrimp popped in my mouth with the slightest hint of brandy and lemon, while the chard added bright flavor and nutrients.  The pasta was perfectly cooked and toothsome and the sauce light, a perfect antidote to heavy food, yet still comforting and satisfying.
Originally posted 2014-02-07 21:50:00.