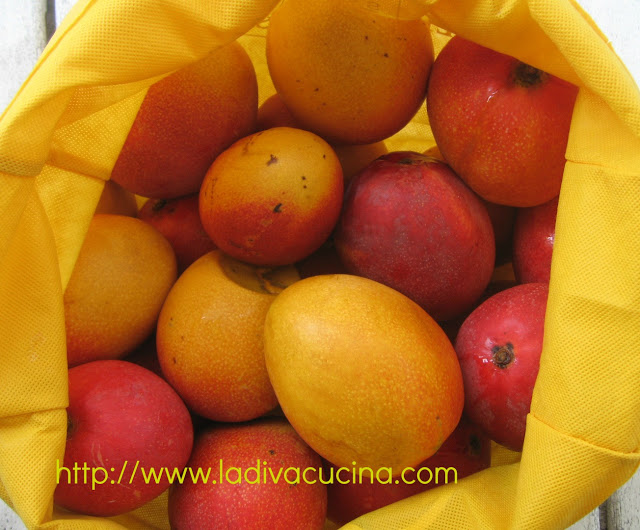 A bag o' mangoes from a friend's tree near downtown Miami
I was invited to a private pop up dinner on Monday at the fabulous Dolce restaurant at the Gale Hotel, the event was put on by Domaine de Canton, ginger liqueur.  The bar was peppered with the young and beautiful, and I was clearly the oldest, er, more "experienced" industry person attending by a good 20 years.
I tried to strike up a conversation with a young man standing next to me but he wasn't interested in why I was there.  I found this curious, seeing as he worked for the brand, that it never occurred to him to ask what I did….I went back to drinking my refreshing Canton welcome cocktail and bored, checked in to Facebook.
A few minutes later, a gorgeous "Brook-Shields-Back-In-The-Day" look alike came over to me and introduced herself as the brand's VP of sales.  How this young woman could already be vice president of a company was intriguing, but she was interested in my business and we spoke about the brand and she heartily thanked me for coming.  Ah yes, vindication.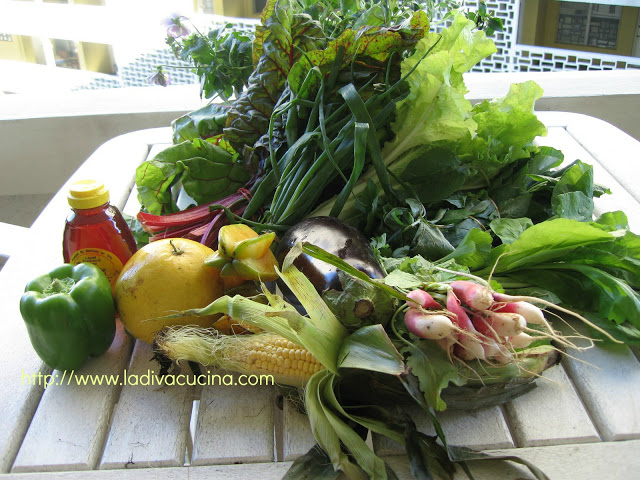 My first CSA basket from Bee Heaven Farms

We were led to the dining room and seated.  I looked about at my table partners, young, vibrant and self involved.  Again, I had to make the first move in conversing with each of them.  I found the man across from me to be a bartender at a long-established steak house, we chatted politely and I found that he'd moved here from New Jersey over three years ago.  We began talking about farmers markets and he and the pastry chef beside me began to lament the lack of them in Miami.  The bartender complained that there just weren't that many around and when they were on, he always had to work.  He said that that he and his girlfriend had even gone down to the farmland and never found one.  And when they did, there was hardly anything to choose from.  Maybe tomatoes or a few other vegetables, but no variety.
Diva couldn't listen to one more word, "What are you talking about?  I go to a number of farmers markets all of the time.  In fact, I just went down to Teena's Pride, the actual FARM, to get produce only last Sunday.  Do you realize that Teena is one of the farmers that provides produce to some of the hippest and trendiest restaurants in Miami? Maybe you've heard of Chef Michael Schwartz of Michael's Genuine?  Teena's has loads to choose from, I just picked up squash blossoms, baby zucchini and purple cauliflower!"
Cocky bartender:  "Well, I'm from Jersey.  And NOTHING beats a Jersey tomato, NOTHING."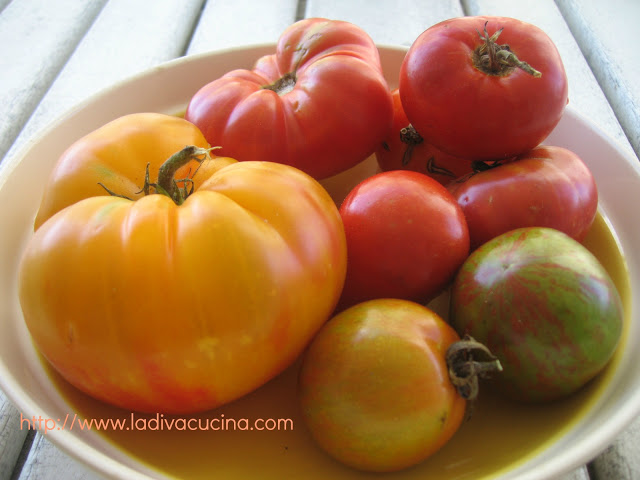 Heirloom tomatoes from Teena's Pride Farm

Diva:  "Darling, you are not in Jersey.  And you, sweetie, are not in Southern California.  Florida is a different climate with different soil, you can't expect the same produce in a completely different climate and set of circumstances.  I think you might have to become a bit more adaptable, darling.  You said there were no markets, or they are always on when you are working.  Do you work Sunday morning?"
Cocky bartender:  "No."
Diva:  "Then why not go to Pinecrest market on Sunday morning?"
Cocky bartender:  "What time does it close?"
Diva:  "About 2 p.m."
Cocky bartender:  "See, THAT'S THE PROBLEM, I want to go to the farmer's market about 4 pm.  I need my sleep."
Diva:  "Didn't you say you worked at a restaurant bar?  I mean, I can understand if you worked at a nightclub until 5 am like I used to….."
Cocky bartender:  "Well, I need my sleep!"
Diva: "Darling, the lack of farmers markets is not your problem then.  I highly suggest that you adopt the attitude of 'when in Rome…'
Conversation abruptly ends and I'm disappointed in this young man's smug sanctimony, wondering why someone like him, a fledgling in the food industry, wouldn't WANT to learn more about what is locally produced where he LIVES?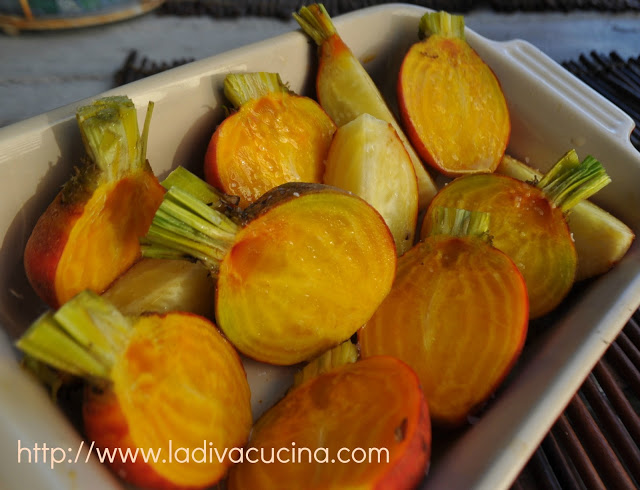 Golden baby beets from the Pinecrest Farmers Market

In all honesty, I understand his disappointment.  Seven years ago, I moved to Miami from Southern California and expected the produce to be the same.  It's NOT.  And when I learned more about the local, exotic produce and adapted to my new land, I got a very deep appreciation for what Southern Florida could offer a foodie, cook and avid gardener like myself.
I just have to wonder though, do they have stone crab claws, lychee honey, sugar cane, mamey sapote, sapodilla, callaloo, canistel, star fruit and giant sweet, green avocados at the farmers markets in Joisey???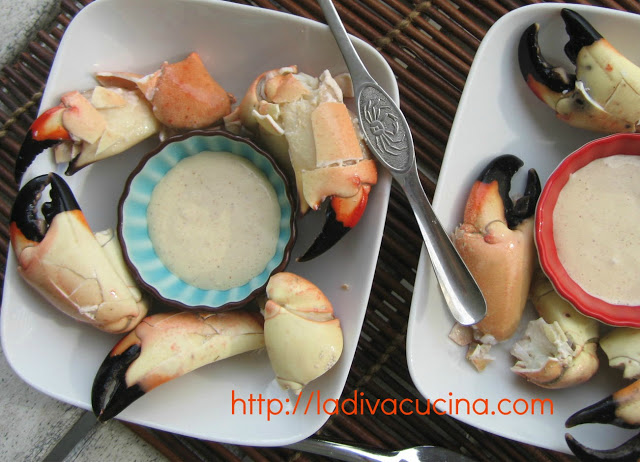 Stone crab claws with mustard sauce from Pinecrest Farmers Market
FARMER MARGIE OF BEE HEAVEN FARM COMMENTS:

Ah, yes. There's precious few of us actual farmers at local markets, but we ARE there (mainly during the growing season, of course, which is now rapidly ending). For example, we'll be at the Pinecrest Market for just two more Sundays. We'll return in the fall. Too often, the chefs come out to the farms, look around, claim they want everything, and do not follow up. They don't have/make time to check out the emails and order in a timely fashion, or to actually go to a market to shop. They want everything delivered. That's OK-I know they're busy, and there are a couple of local farmers (Paradise Farms is one) and food foragers (Farm to Kitchen is one) who DO provide that service. But please don't lament that you can't find a farm or a market – that's disingenious. You need to ask yourself: "do I REALLY want the locally-grown food, or am I just giving lip service to the local food trend, but really only want the convenience?" "am I ready to try unusual veggies, common to tropical areas, or am I stuck in the temperate produce rut of the rest of the country?" "am I ready to celebrate the UNIQUENESS of South Florida, or do I want my food to be like the everybody else's?"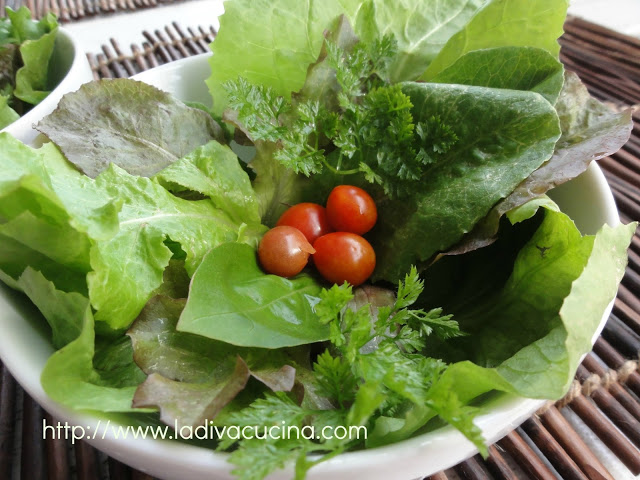 Herb and organic mixed greens and cherry tomatoes from my garden at the South Beach Community Victory Garden (three blocks from the beach!)


Laura Lafata:  Obviously, all he wanted to do was sleep in.  I LOVED when I got my first CSA from you…it FORCED me to try new veggies this Michigan girl was not familiar with.  It also made me look at unique ways to cook and utilize vegetables I hardly ever bought, like radishes!  And lastly, it made me THINK about creating a meal around the fresh produce I got, challenged me, actually, instead of creating a meal around the MEAT or protein.

Farmer Margie:  Thanks, La Diva!  That's always been my mission-we have such a diversity of food here, and most folks visting a grocery store NEVER SEE 90% of the variety available.  If I can help expand local food horizons, even for a relative few…word spreads.  It's a long-term chain reaction, a tumbleweed that grows over time.  Chefs have a unique opportunity to participate and educate.  I can count on one hand (at most two) the few that have TRULY taken up the challenge here and stuck with it!


Originally posted 2013-04-17 15:38:00.