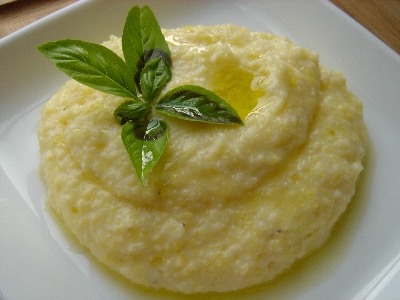 Super versatile polenta can be served creamy like mash or spread into a tray, cooled, sliced and fried or grilled as well as layered and baked!
Hello, darlings, do you like my little play on words? Seeing as I come from Italian ancestry, I am allowed to say
"dago"
without offending! Haha! Well, this post is going to be short and sweet as me and the DJ have been sick with the flu for over a week. Snotty, achy, crabby, tired, you know the routine. We've been living on Chinese takeaway, pretzel rods (for the sorest of throats) and the amazing (but not exactly healthy!)
Racine Danish Kringles,
that a dear friend sends us every year at Christmastime. Finally, on Sunday, I felt well enough to cook some decent food for us.
But what to make?
The fridge was dismally bare. I managed to scrounge up a bag of dandelion greens (that, amazingly were still 'good' after an entire week) some cream, a handful of grape tomatoes, a few leaves of wilted lettuce and that's about it. I knew I had some chicken in the freezer and took out a couple of organic breasts. Then, I went into the pantry and pulled out the polenta. Yep. I had all the makin's for a nice Eyetalian dinner! La Diva made
Sauteed Spicy Dandelion Greens with Garlic over Creamy Polenta with Breaded Italian Chicken!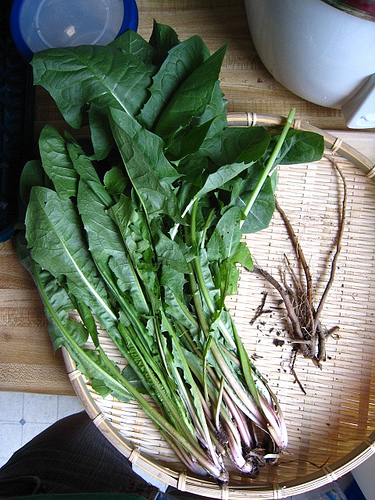 You can use spinach or kale for this dish as well. Make sure to wash the greens well in a sink full of water and make sure you cut off the tough stems at the bottom.
Polenta: Boil 1.5 cups water, add a teaspoon of mushroom stock and whisk in a half cup of polenta. Switching to a wooden spoon, stir continuously until cooked through and smooth, about five minutes. Stir through knob of butter, 1/4 cup grated parmigiano cheese and 1/4 cup cream. Polenta should be the texture of mashed potatoes. Remove from heat.
Dandelion greens: To a hot saute pan add olive oil and red pepper flakes, turn down heat to medium and add greens, constantly stirring. Add one minced garlic clove and as soon as greens begin to wilt, remove from heat.
Chicken breasts: Pound two breasts until even at a 1/4 of an inch thick. Bread with flour, egg and panko Japanese bread crumbs* seasoned with Italian seasoning, garlic salt and freshly grated parmigiano cheese. Pan fry in olive oil in hot pan until cooked through and golden brown on both sides.
*DON'T tell my Papa I used Japanese bread crumbs. He'd cry. When I told him what I was going to make, he said, "Ya got any Progresso? They make THE BEST breadcrumbs. Make sure you get the seasoned ones." "Okay, Papa, okay." I'd hate to have his 70-year-old heart broken by you tellin' him Progresso DON'T make the best. So, let's keep this between us, capiche? Papa will NEVER understand.
Now, distribute polenta evenly to both plates, pile on greens and then chicken on top. Mangia!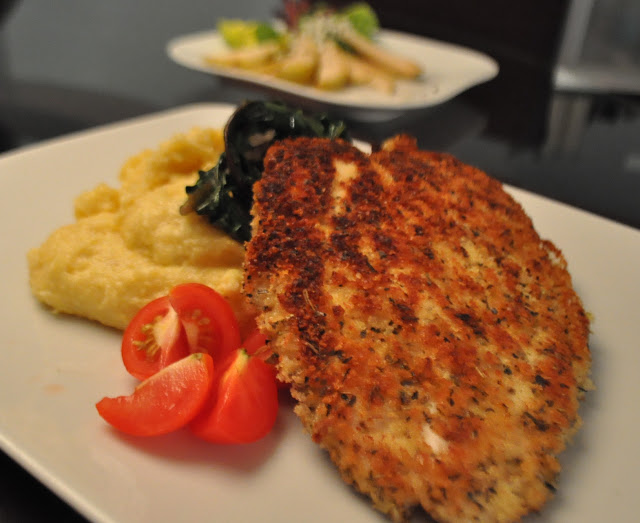 RESULT: You know, sometimes, I can't believe I can cook up something so flavorful and satisfying out of nothing! Especially when I'm just not feeling 100%. Just goes to show you that if you keep a well stocked pantry, you can create a very tasty dinner with little or no vegetables. I served the entree with a pear and gorgonzola side salad to complete the meal. The panko added such a nice crunch and was the perfect foil for the soft polenta texture. The bitterness of the dandelion greens was offset by the creamy polenta with just the right amount of tang from the cheese. And the chicken, cooked to perfection, was moist and delicious.
Darlings, the next time you think you have "nothing" to cook and are tempted to order out, take another look in your pantry and freezer. I betcha, I just betcha, you'll be able to whip up something just as tasty from 'nothing!'
Here's a little video that reminds La Diva of her Christmas' past with the Eyetalian side of my family back in Detroit! I'll never forget my great Auntie Ann, holding her little chihuahua Rocky in her arms, and coaching him to howl while she crooned: "Where's papa? Where's papa?" Her favorite name for my great uncle (whom dad insisted looked just like
George Raft
) was "That Summabeetch." Nice.
Originally posted 2010-12-20 22:53:00.