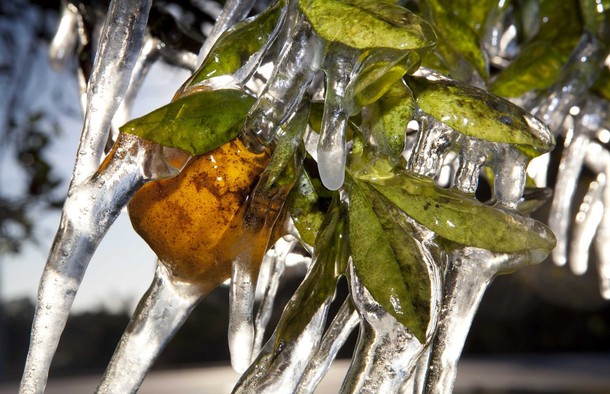 Darlings, Wednesday was a cold, windy, gray day here in Miami Beach. And by cold, I mean 63 degrees. Okay, okay, I know you are calling me a big ol' whiner, "THAT'S NOT COLD," you say, "You should be in (Fill in the blank) __________________________ (Suggestions: New York, Chicago, Philadelphia, Cincinnati, Boston, Atlanta), "NOW THAT'S COLD!" Yeah, yeah, I hear ya. I'm from the Midwest and spent many days of my life freezing my little Diva patootie off, so I KNOW what REAL cold is, so shut yer piehole! But, La Diva has acclimatized and the combination of gray, wind and cool temperatures sends La Diva spinning back into the vortex of her mind, remembering those endless Siberian-like winters in Chicago where I would "hole up" and "nest" for days, not leaving the house or getting out of my pajamas and ordering endless take away.
And Wednesday felt just like that. I had been away for a few days and needed to get some fresh veggies and was about to go to the farmer's market but it was icky out. I didn't feel like driving. Or being cold. And most importantly, I had a good parking spot! (You city folks will understand!)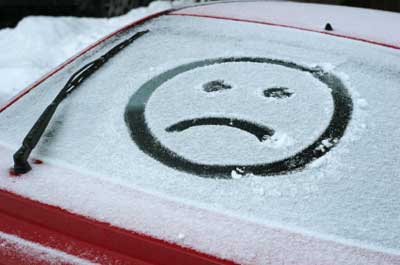 So, instead, I went to my fridge to see what I could scrounge up for dinner and checked my inventory. And you know what? I thought to myself, "I think I can get by til I can get to the Sunday farmer's market, yes, I can!" Here's what I had:
Refrigerator:
3 carrots
A half a bag of shredded carrots
A few potatoes
1 sweet potato
2 parsnips
A handful of sugar snap peas
Half a zucchini
A couple of stalks of celery
A few brown onions and a couple of cloves of garlic
A half a pint of cherry tomatoes
Walnut parsley pesto that I had made for another recipe
Pantry:
Can of coconut milk
Spaghetti pasta
Angel hair pasta
Half a bag of brown lentils
Half a bag of whole, raw peanuts
Basmati rice
Freezer:
Mahi mahi fillets
Half a bag of baby peas
Organic chicken breasts
Here's what a little ingenuity can do for you when you are cold, don't want to leave the house and got "nuthin'" to eat.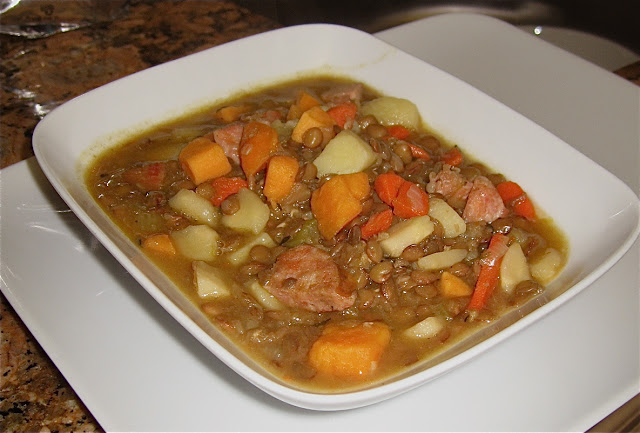 Wednesday night: Hearty Lentil soup with Root Vegetables and Keilbasa
I used an onion, celery, potato, sweet potato, two parsnips, two carrots, the brown lentils, kielbasa and some mushroom stock paste, bay leaves, marjoram and thyme. Nothing warms you up like a nice hearty bowl of soup with sausage!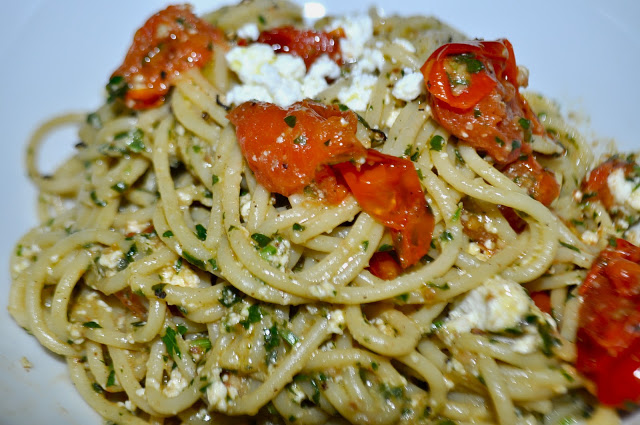 Thursday night: Spaghetti with sauteed tomatoes with walnut parsley pesto and goat cheese.
This was super fast, filling and very delicious! The walnut pesto was leftover from a spaghetti squash disaster over the weekend. (hint: DON'T microwave a whole spaghetti squash, it will cook unevenly and retain a lot of water….uh, thanks, Gourmet!) Luckily, I had the foresight to realize disaster was imminent and didn't bother to add any more of the pesto to the soggy squash and saved it, with a nice, protective coat of olive oil, for another time!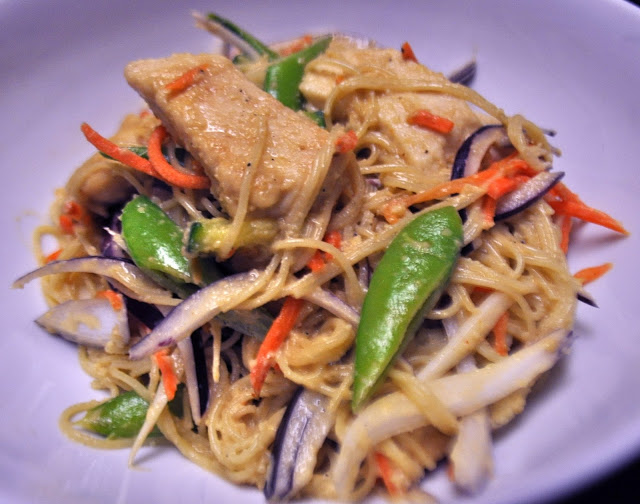 Friday night: Chicken and veggie stir fry over noodles in a peanut sauce.
I used the organic chicken breasts, angel hair pasta, shredded carrots, sugar snap peas, zucchini and the red onions in the stir fry and made a sauce out of the raw peanuts with garlic, fish sauce, ginger and brown sugar in a food processor thinned with a bit of water. Mmmmmmm….peanutty, crunchy, Asian noodle goodness!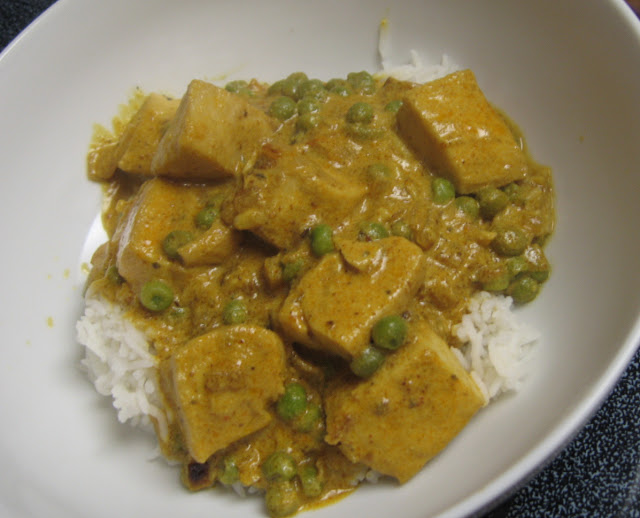 Saturday night: Indian coconut curry with mahi mahi and green peas over basmati rice.
I used two mahi mahi fillets and the frozen peas with the canned coconut milk and
Patek's Mild Curry Paste
with onions, garlic, ginger and a dash of chile all served over fluffy basmati rice. This was the fastest comfort food ever! Just a quick saute of the onions, garlic and curry paste, add the coconut milk, the fish and extras, and voila! Indian comfort food that is satisfying but not heavy in fifteen minutes!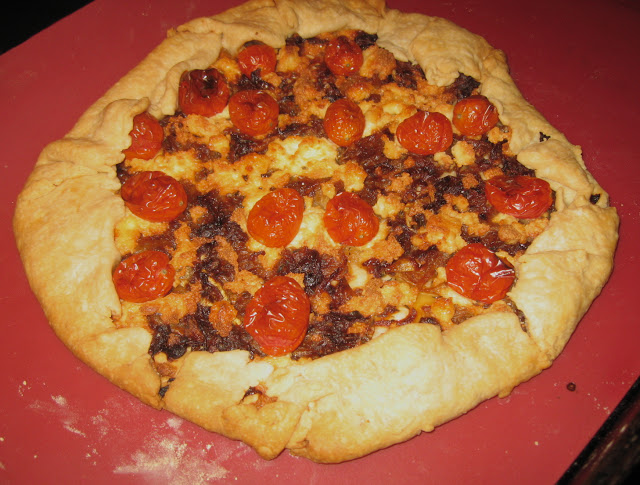 AND…..I made a BONUS galette with caramelized onions, goat cheese and the rest of the tomatoes!
Well, now, lookit that! Are you seeing a pattern here, darlings? I managed to get ONE SAVORY TART AND FOUR delicious, different, healthy and most of all, warm and comforting one-bowl meals without going to the market! It's not that I'm trying to be super frugal or lazy, but I realized as someone that loves to cook so many different foods, I have SO MUCH right here at home. Lately, I have seen a lot of waste from over-buying fresh produce or buying MORE pantry items, when I could easily substitute something else. In the past four days, I've managed to use what I had on hand instead of spending MORE MONEY needlessly! (and now there's more money for wine!)
While people are talking about being "green" and buying "green," one of the first steps to LIVING GREEN is to reduce waste! I'm learning to be much more conservative with my spending and buying, and as enticing as all the farm-fresh produce is at the markets, I am using restraint.
So, what about you? What do YOU do to scrounge up a meal when the weather is inclement? Or to save money and "make do" with what's in your pantry, fridge or freezer? Better dash, darlings, I MUST get to the farmer's market, now the cupboard is definitely BARE!
Ciao for now, darlings!
For more recipes and cooking class info go to my website: https://ladivacucina.com
Originally posted 2011-01-16 13:09:00.