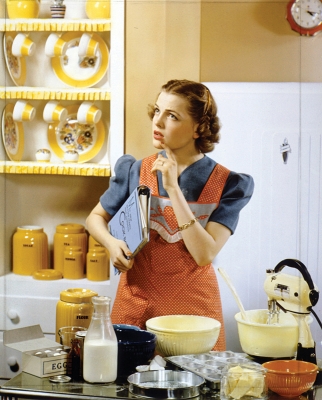 Darlings! Stumped over supper? Done deciding dinner? Let La Diva assist you, dear, with suggestions for uncomplicated and satisfying meals that are quick enough to make during the week. Take a peek at what La Diva eats!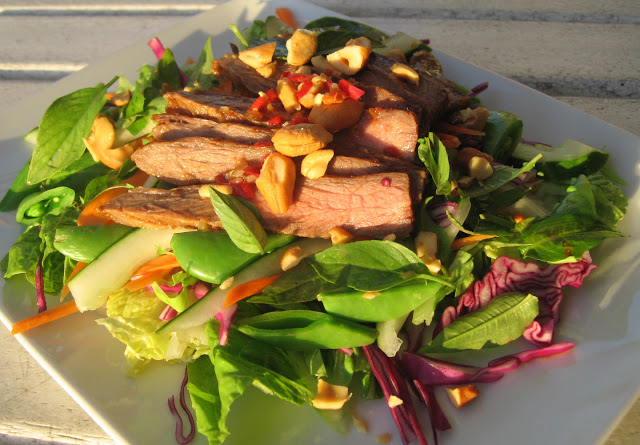 Satisfying, crunchy and bursting with flavorful nutrients, here's La Diva's Spicy Thai Beef Salad: Flank steak is marinated with Thai spices, grilled, sliced and served with greens, carrots, red cabbage, cucumbers, snow peas, fresh Thai basil leaves and garnished with cashews and dressed with a zippy lime dressing. Want to give it a shot? The recipe from a previous post is
HERE.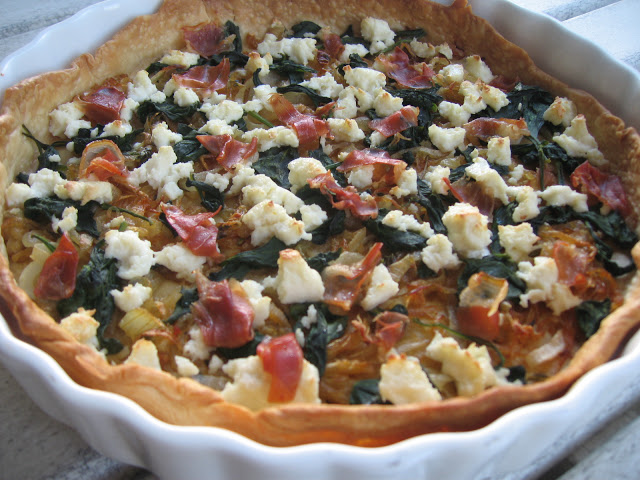 This divine and savory tart hits the spot for an easy and elegant Sunday lunch: caramelized onions with lemon thyme, spinach, prosciutto and artisanal goat cheese from
Hani's Mediterranean Organics!
La Diva has to admit: it's Hani's wonderful cheese that really made this tart special! Perhaps it's his Lebanese influence when feeding his goats, as Hani's cheese imparts the very distinct flavor of cinnamon, and is not strong at all, but mellow and unique.
By keeping ready made dough in the freezer, tarts like this can be made in a flash and
as La Diva ALWAYS suggests, use what YOU have on hand like regular ham in lieu of the prosciutto or feta cheese if you don't have any goat cheese in the fridge.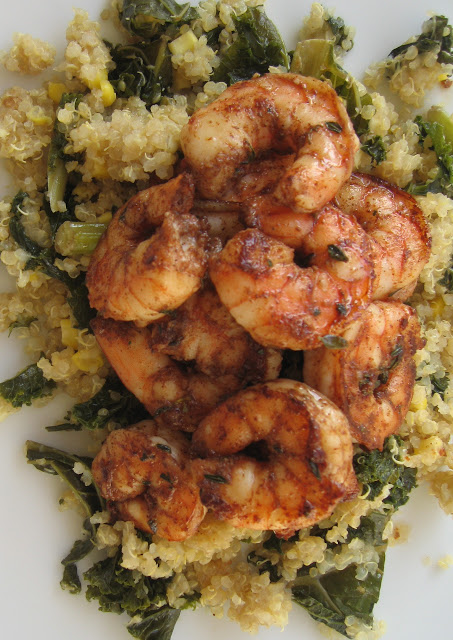 Instead of the usual rice, La Diva made supergrain quinoa with home made chicken broth, sauteed kale and fresh, Florida sweet corn as a base for spicy and succulent jerk shrimp. The jerk seasoning was super quick: I made a simple rub using cinnamon, allspice, garlic salt, cayenne pepper and a bit of oil, slathered it on the shrimp and then cooked it immediately. Another detour from tradition included sauteing the jerk seasoned shrimp, instead of the usual grilling, and then flambeing with sipping tequila! The muy picante prawns pair well with the buttery and mild quinoa and vegetables.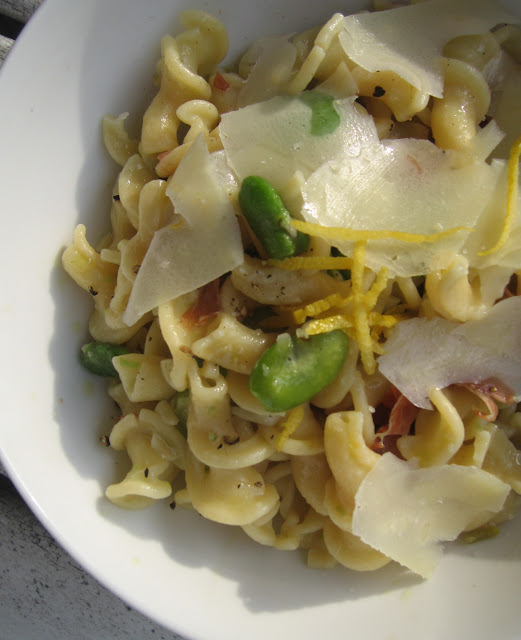 After looking at luscious photos of fabulous fava beans paired with shaved parmigiano cheese while researching my last post,
(click HERE)
La Diva was inspired to try the enticing combo. I paired the bean with a gourmet pasta called Fiori, or "flower" pasta that was a hearty, spiraled trumpet shape, and instead of the parmigiano cheese, I added freshly grated Italian pecorino, a drizzle of fruity green extra virgin olive oil and further brightened the flavors by topping with lemon zest!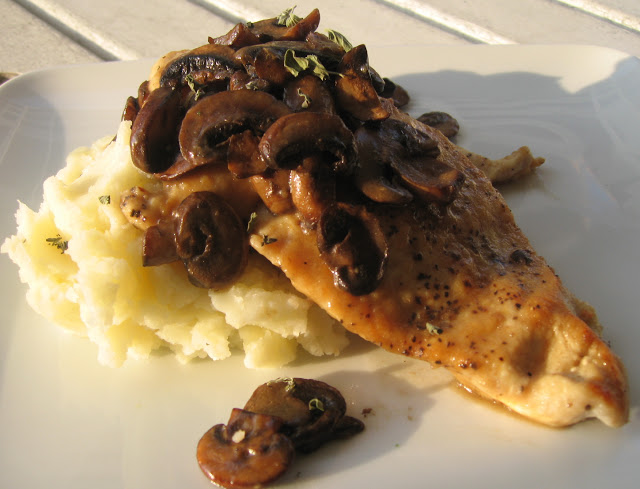 Chicken marsala is a classic and really so easy. Organic skinless and boneless chicken breasts are split lengthwise and lightly pounded, floured, seasoned and then browned and finished with a lovely Italian Marsala wine and baby portabello mushrooms. I stacked the lot over beautifully fluffy mashed potatoes and served with a young and tender spinach leaf salad with feta, tomatoes, cukes, carrot and red cabbage! Simple, quick and man-pleasin', this is one of our fave family meals. (Yeah, I said that, if Man not pleased, Man whine. Not good when Man whine. Or worse yet, Man go to shop and get junk to eat because he didn't like his dinner! Make Diva mad! Ha!)
Darlings, I DO hope this post will inspire you to add something NEW to your weekly dinner repertoire! What quick and divine dishes do YOU make each week? Tell La Diva ALL about it!
cooking class, cocktails, parties, cocktail party, Miami, coral gables, events, bartending class, cocktail class, Laura Lafata, Miami Beach, miami cooking classes, bachelorette parties, bachelorette party, personal chef, corporate events, catering, personal chef, party entertainment, www.ladivacucina.com, top chef, next food network star
Originally posted 2011-06-08 14:36:00.