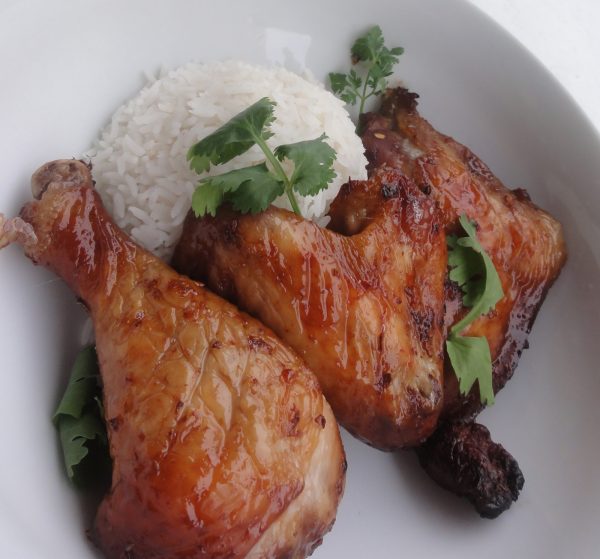 Darling, you like chicken, yes? Who don't like chicken?!  Everybody love dee chicken!
Especially this spicy, sticky, finger-lickin', bone-suckin', why-is-there-only-two-wings-in-dis-heah-chicken I just made?! Day-yum.
The Process:  
A bunch of freshest, hottest little chiles you can get your hands on, a bunch of peeled nekkid garlic cloves, as much as you can take….and an inch long knob of fresh ginger.  (If you can take more than an inch of ginger, then by all means, darling, DO IT.) Process until well chopped and then add 2 tablespoons of brown sugar, 1/4 cup soy sauce and 1/4 cup fish sauce and process until well blended.  Oooh yeah, it smells soooo good!  (Since I first wrote this post, I've added the formatted recipe with print option at end of the post but this is a fun read anyway!)
Take one whole organic chicken and cut into pieces. Add chicken and marinade to a zip lock gallon bag, securely seal and then massage chicken pieces to make sure they are thoroughly coated with marinade.   Take your time and DON'T rush, there's NO hurry….can you feel the chicken sliding between your fingers? Isn't that nice?
Wait for it…
Now, put entire bag in large bowl and refrigerate for two days, turning it over each time you remember to.  Yeah, I said TWO days, so wait for it, no BEG for it….You'll get it when it's ready.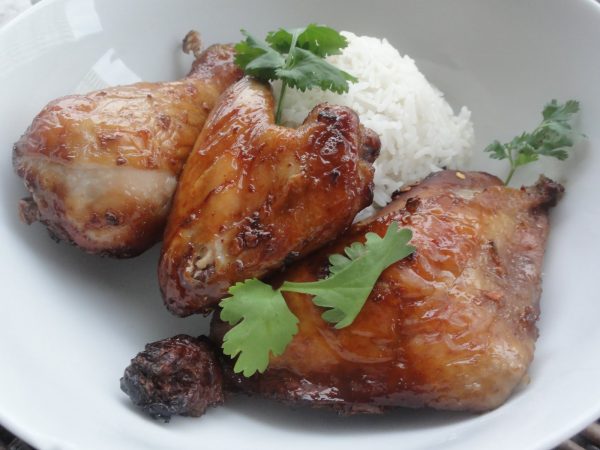 Has it been two days? Really? I'm proud that you did what you were told and waited like I told you to, you are a very good little bloggie reader and you shall be aptly rewarded.
Bake it or barbecue it NOW:
Put chicken on rack over foil-lined baking tray, coat rack with cooking spray and make sure each piece of chicken does not touch each other…yet.  Bake in a convection oven at 350 for about 40 minutes, turning half way through. Bake until each piece is cooked through and the skin is an enticing golden brown.
Get out the towels and plan on a shower after eating this sexy, succulent triple happiness sticky finger chicken dee-light!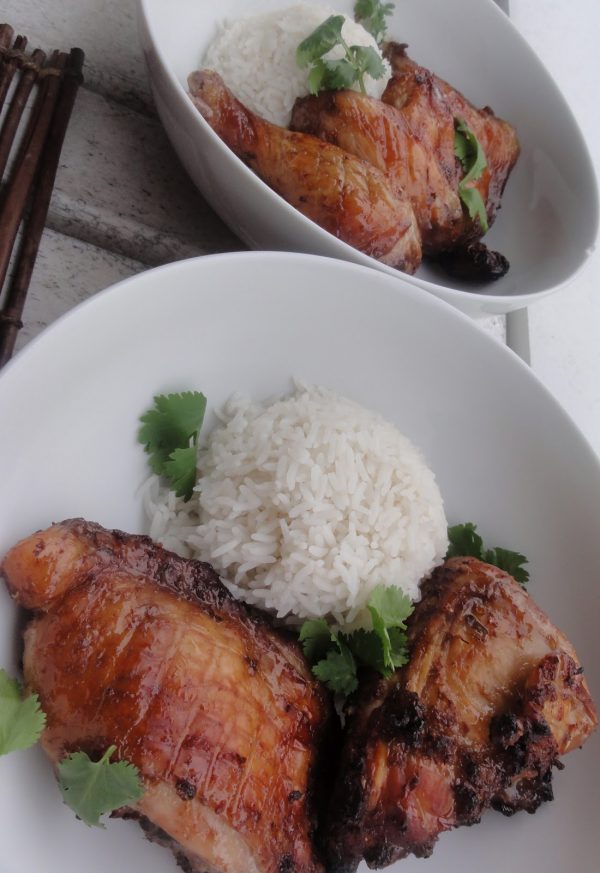 EAT baby:
Serve it up with plain white rice and a cilantro garnish.  OR….you can also serve it with brown rice, if you swing that way, that is.  If you're feeling more adventurous than "plain ol' vanilla" and like things "muy caliente," then enjoy with a side of sexy, exotic Asian sriracha sauce to make it hot hot hot!  And feel free to call a friend or two over to enjoy…there's plenty for a three way.
Now say THANK YOU, Mistress Diva.
Originally posted 2017-08-02 14:02:32.