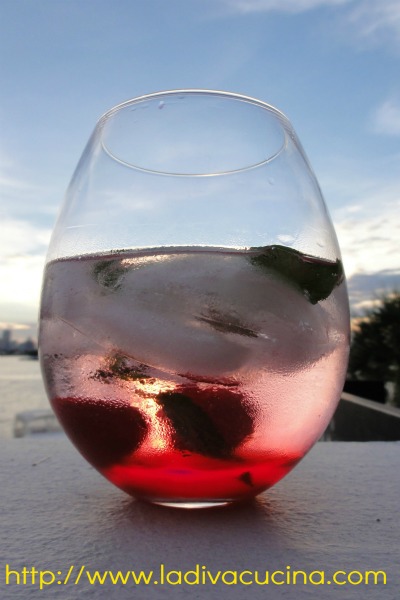 Darlings!  When the Creative Cooking Crew deemed the challenge for the month of September to "pickle it," I immediately frowned.  I'm not a pickle-food type person.  I am constantly pulling them off burgers and leaving the dill spear dejectedly in my deli basket while ploughing into a good corned beef sandwich.
I bought a jar of bread and butter pickles once and enjoyed them on a rare sandwich, but once they ran out, I never replaced the jar.  And I've had fried pickles before and really enjoyed them, but let's face it, you can batter and fry just about anything and I will eat it!
Pickles and pickled food?  I can take 'em or leave 'em.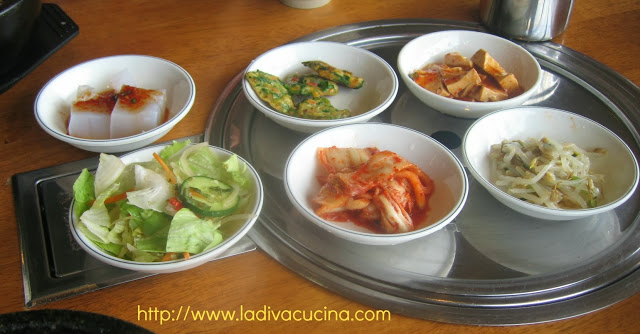 Upon researching this post, I had thought that Korean kimchi was pickled.  WRONG!  It's actually fermented!  Pickled and fermented vegetables and tofu to accompany my bibimbap from a Korean restaurant in Chatswood, a suburb of Sydney.  My Aussie gal pal tells me that fermented vegetables are all the rage there.
But I refuse to let my own pickle snobbery and trepidation stop me.  No matter what challenge the Creative Cooking Crew throws my way, I look at  it as a good excuse to escape my culinary comfort zone.  So, I gave the whole "pickle it" idea a LOT MORE THOUGHT and in doing so realized that I do love something pickled and vinegary:  chili peppers!  La Diva loves jalapenos, pepper rings and even giadiniera!   And once I realized that quick pickling counts for the challenge,  more foods and doors were open to the pickling process. Now all I needed to open was my mind!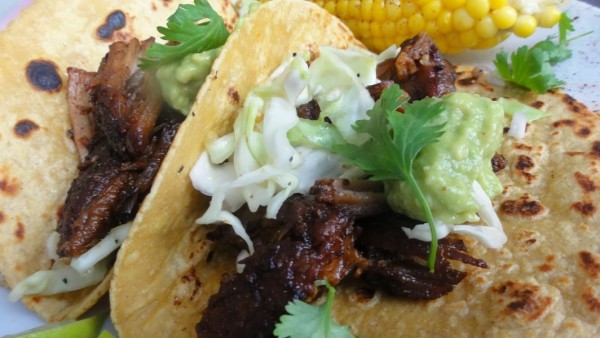 One of my most successful dishes:  pork carnitas with a quick pickle cabbage topping consisting of freshly shredded green cabbage, home-made habanero-garlic vinegar, salt, sugar and freshly-crushed coriander seeds.  The cabbage is utterly delicious with the rich, melt-in-your-mouth pork, especially when you bite into a lemony coriander seed.
But like many of my fellow CCC members, I am competitive and wanted to go beyond pickling the typical vegetable.  So, I decided to make a
SHRUB,
which in this case is a sweetened vinegar fruit syrup made from pickled fruit.  Shrubs were used centuries before for flavoring drinks and preserving fruits.  It's the original soda pop syrup!
I actually got the idea from a recent food magazine and you know La Diva, I'm all about "the bevvies!" (did you
really
think I'd pickle a food over making something for a cocktail, darling?!)  As any creative cocktail bartender, I enjoy learning about anything new or recycled to create exciting cocktails and drinks.  Apparently, the "shrub" has been rediscovered and is
becoming popular to the modern mixologist at trendier restaurants.
So, La Diva began to research "shrub" flavorings and was excited to see some very interesting choices:  blood orange, black raspberry, elderberry, fennel apple rhubarb, even tomato.  La Diva began to imagine the possibilities!  As I probed further, I discovered even more unique shrub cocktails including:  beet and lemon, bourbon and peach and mint champagne shrub cocktails!
A few articles said that berries worked very well and as raspberries were on sale, my shrub decision was made.   I followed the directions carefully, sterilized my mason jar and put the washed berries into the jar and with the heated vinegar.  Apparently one must be careful and extra hygienic due to the chance of bacteria or mold forming.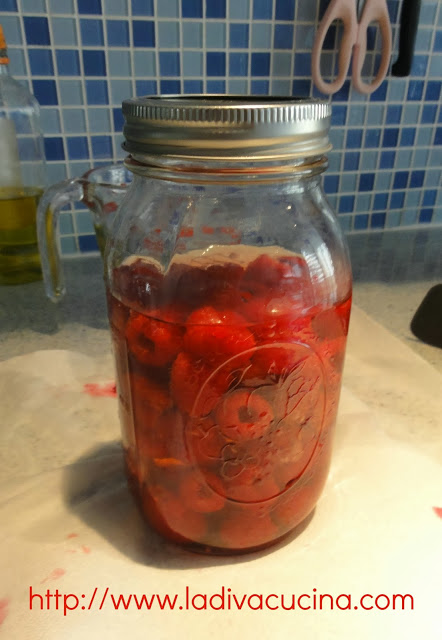 The berries in the hot vinegar and sterilized jar, ready to go into the dark closet for three weeks!
I screwed the lid on tightly, put the jar in the corner of my office closet and waited.  After a few days, I checked on it and so far it looked good, no mold or bacteria seemed to be forming.  I left the berries there for over three weeks, the longer I could keep it, the stronger the shrubs flavor.
And then, it was TIME!!!!  Step two was to strain the berries and add sugar to the liquid, 1.5-2 cups of sugar was suggested.  I tasted the shrub with 1.5 cups and it was still so tart, it made me wince!  So, I added the additional half a cup and then allowed it to cool completely.  I threw out the berry mash, even though the article said the pickled fruit was good for chutney.  When I tasted a pickled berry on its own, it was unedible, the vinegar taste harsh and strong.
I poured a bit of the syrup into a teaspoon and tasted it.  And just like the  flavor combination of sweet and hot (think mango chili salsa) I found the taste very more-ish.  I liked it.  I immediately put some in a glass and topped it with soda and ice.   It was refreshing and sweet though not overly cloying.  The vinegar taste was noticeable but gave the syrup a depth of flavor not found in an herbal or fruit simple syrup.
The first combination I tried was vodka and the shrub topped with soda and garnished with mint.  It was very nice and refreshing, the shrub certainly carried the drink with the bland vodka.  The DJ tasted it and stated that it was a "very adult drink.  The vinegar takes it to another level."  I agreed.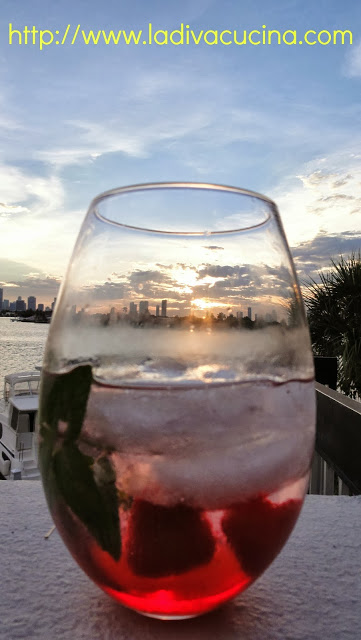 I find that it's difficult to photograph drinks, so I like to use natural day light as much as possible.  We had a late afternoon gale and I was hoping to get some sunshine for this photo shoot.  My prayers were answered and I managed to get the last rays of sun over downtown Miami!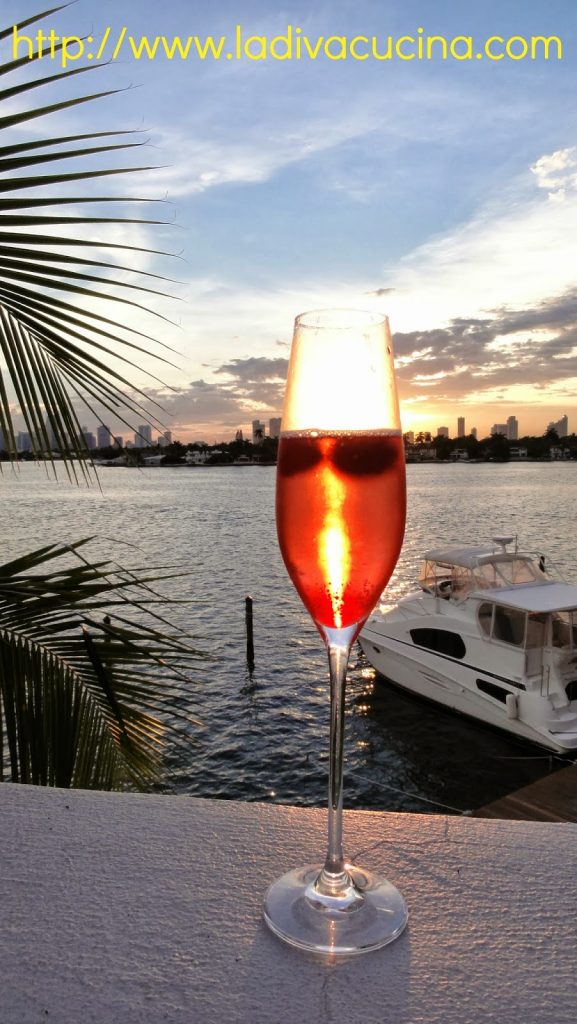 The second shrub cocktail I made was the shrub syrup topped with Prosecco.  Wow!  This was also a great drink.  Any bitterness from the Prosecco was erased leaving my palate with bubbly berry triple happiness!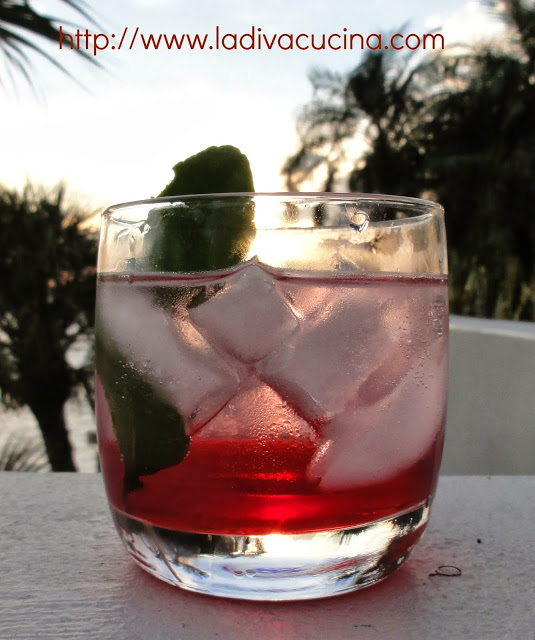 My FAVORITE shrub cocktail included the raspberry shrub syrup, Bombay Sapphire gin, soda and a kaffir lime garnish.  I lightly crushed the lime leaf before putting into the drink to release its heady scent when I took a sip!   The floral aromatics in the gin paired perfectly with the slightly sour shrub. Heavenly!
My ONLY regret is that I played it a bit "safe" by using the berries alone.  Next time I'll be adding crushed kaffir lime leaves and trying a tomato basil shrub!  La Diva thinks she'll be making many more of these shrubs (and wouldn't they make a divine dressing for salads?!)
JUST ADDED!!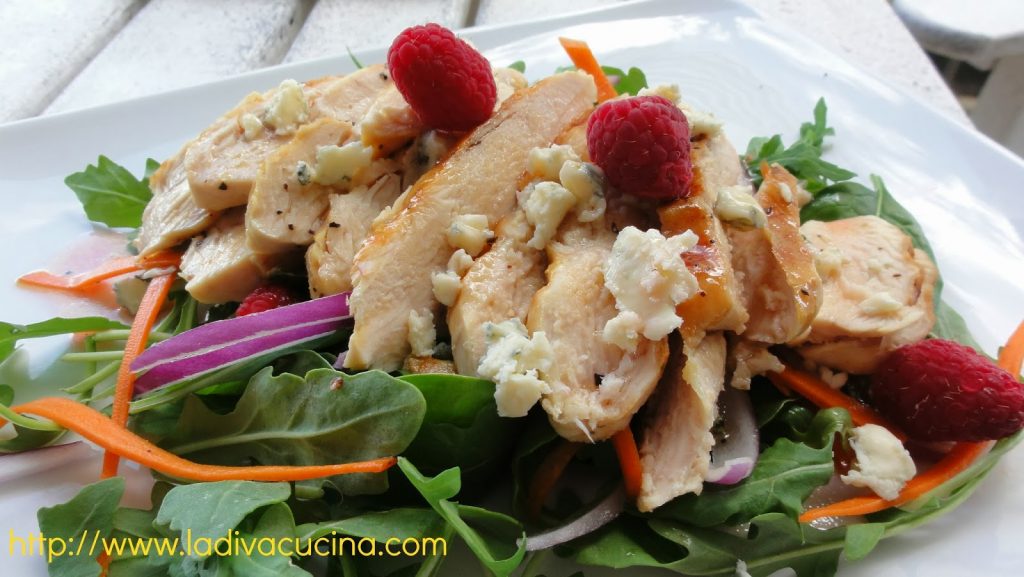 Just tried the raspberry shrub in a dressing:  DIVINE!  It was a little sweet, so I added home made tarragon-garlic vinegar!  It was perfect on this salad of grilled chicken and blue cheese with raspberries over baby spinach and arugula!
Here's THE LINK
to the recipe I used to make the shrub, I suggest you try it, it's so easy and the result was well worth the waiting time!
CLICK HERE TO SEE ALL OF THE PICKLE IT ENTRIES FROM THE CREATIVE COOKING CREW!  Enjoy and ciao for now, darlings!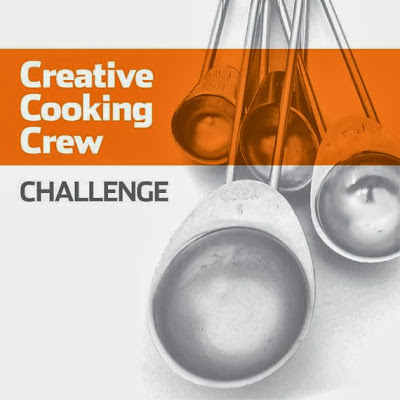 Originally posted 2013-09-26 15:19:00.