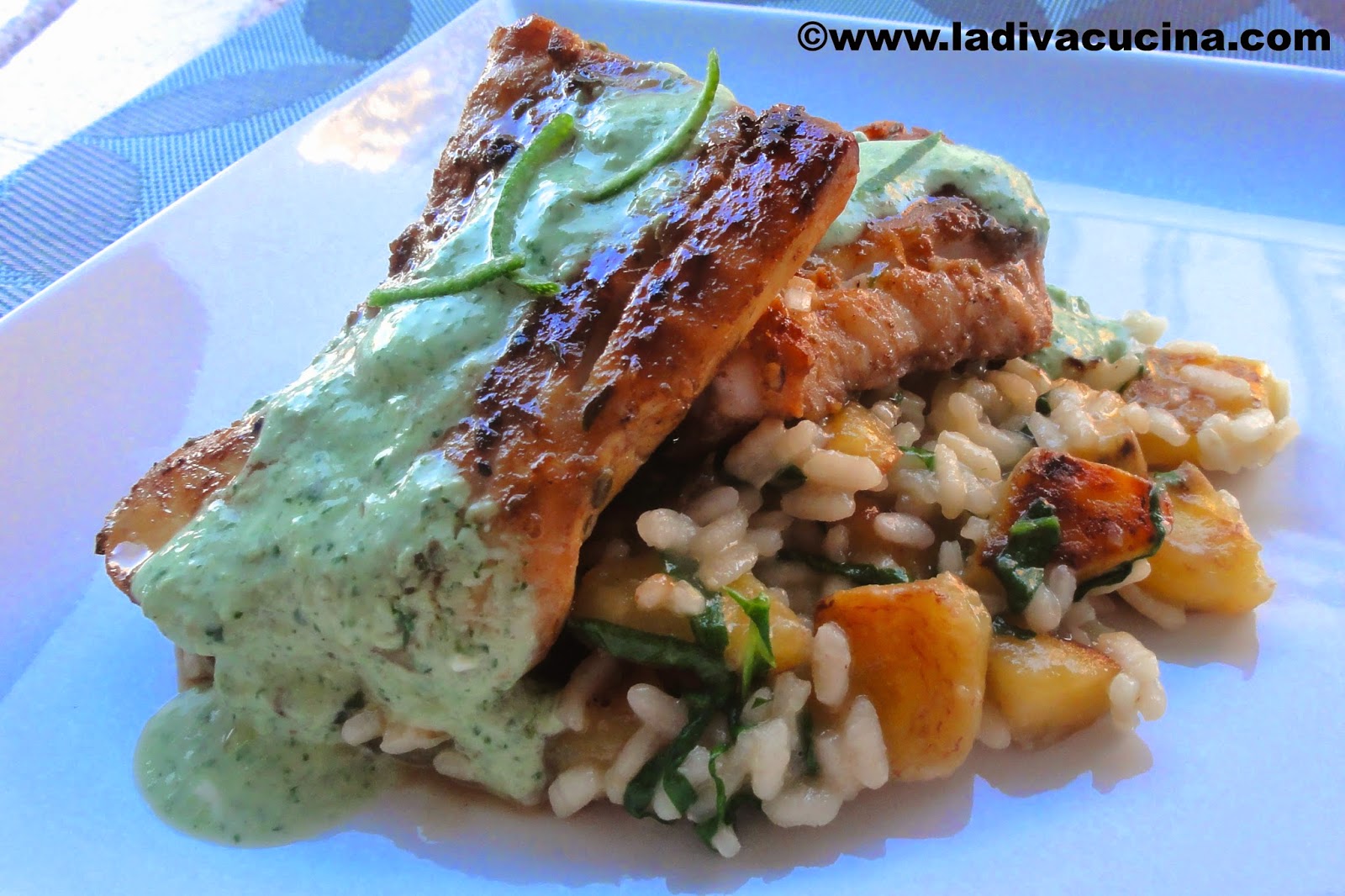 My perfect bite for tonight:  Sweet plantain and spinach risotto with coconut milk, cod with jerk spices and a cooling yogurt, lime and cilantro sauce.
Darlings!  Once again the Creative Cooking Crew have offered the monthly theme and this time, Joan Nova of
Foodalogue
asks,"  The Perfect Bite:  What tickles your tastebuds?  Tell us….Show us."
The PERFECT BITE….instantly I thought about my time on ABC's "The Taste"back in September of 2012.  La Diva, along with 60 other contestants, was picked from over 7000 people to audition for the show.  The idea was to put forth to the judges the FINEST, TASTIEST BITE OF FOOD that could fit into one Chinese porcelain spoon.
I thought about all of the one bite dishes I'd made for guests and friends over the years and one kept coming back to me:  Oysters a la Carl.  Taught to me by my restauranteur boss Carl, an-ex pat from New York living in Sydney, and a dish I've made many times since.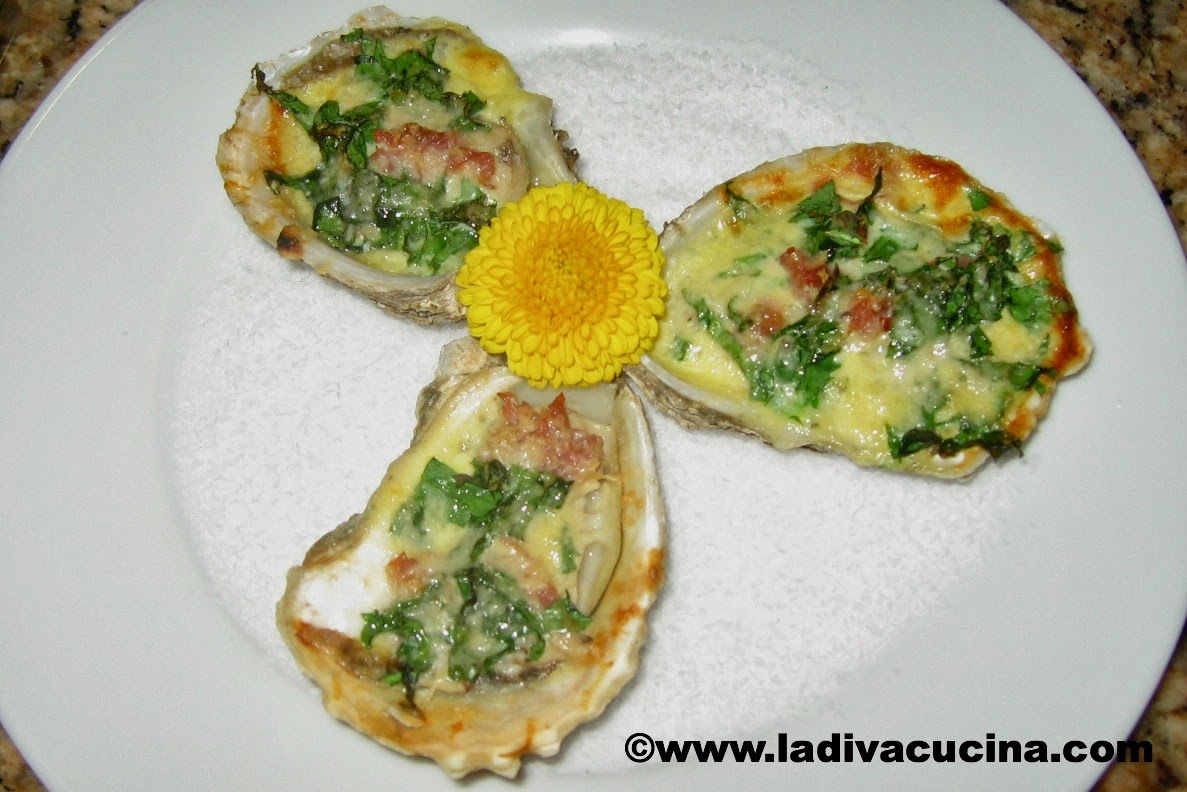 Oysters a la Carl:  Oysters grilled with a garlic egg custard, olive oil, prosciutto, chopped arugula and parmigiano cheese.
I thought I had the perfect bite.  I thought I was a shoe-in!  While everyone and their mother was making Asian scallops or overly-fussy bites, my entry was an Italian version of oysters Rockefeller.  I HAD to get on the show!
The day had finally come.   With aplomb and confidence, I made my dish for the judges.  When it was my turn, the assistants took my dish for the judges to taste and I was led to a box on the set where the judges couldn't see me.  While I stood quietly in the box, they tasted my dish and I heard smacking, "oohing" and "I taste the sea…."  I beamed.  They liked my dish!  But it wasn't meant to be, the door opened and after a brief conversation, I got slammed for using seafood and cheese together (By Nigella Lawson!  Since when was she so dang picky?!)  Then Anthony Bourdain asked me if I was a professional chef?  (Hey, he thinks I'm a pro!!!)  But then immediately deflates me by telling me that I made the same mistake many professional chefs make, I "over-complicated" the dish.  "An oyster is a perfect thing…"
ARGH!!!  You can read the whole sordid tale
HERE!
 And if you want to argue with me about pairing cheese with seafood, you can do that
HERE!
Anyways, darlings, I'm NOT bitter, not in the least…..*%$$# Nigella %*#@in' stupid judges…..
Back to the challenge at hand…..
So, I started to think of a perfect bite and thought about food that I like together in a combination, it didn't have to be an appetizer.
Some perfect bites I love are:
The day after Thanksgiving sandwich with soft, white bread stuffed with sage dressing,  thick turkey slices and lashings of luscious gravy……mmmm….that carb on carb bite…..
Al dente spaghetti twirled 'round your fork and impaling a moist, tender meatball full of parmigano cheese, basil, garlic and parsley all drowned in a tangy tomato sauce.
Succulent braised short ribs, so tender that you can cut it with a butter knife, and onto your fork you skewer roasted parsnip and swipe some pureed celeriac swimming in a rich red wine and onion gravy.
Or how about something as simple as the most dense, rich chocolate cake with dark chocolate ganache with a spoonful of pure vanilla ice cream?
 A crunchy cannoli case oozing with creamy, sugary ricotta dotted with freshly shaved chocolate with a hint of orange essence?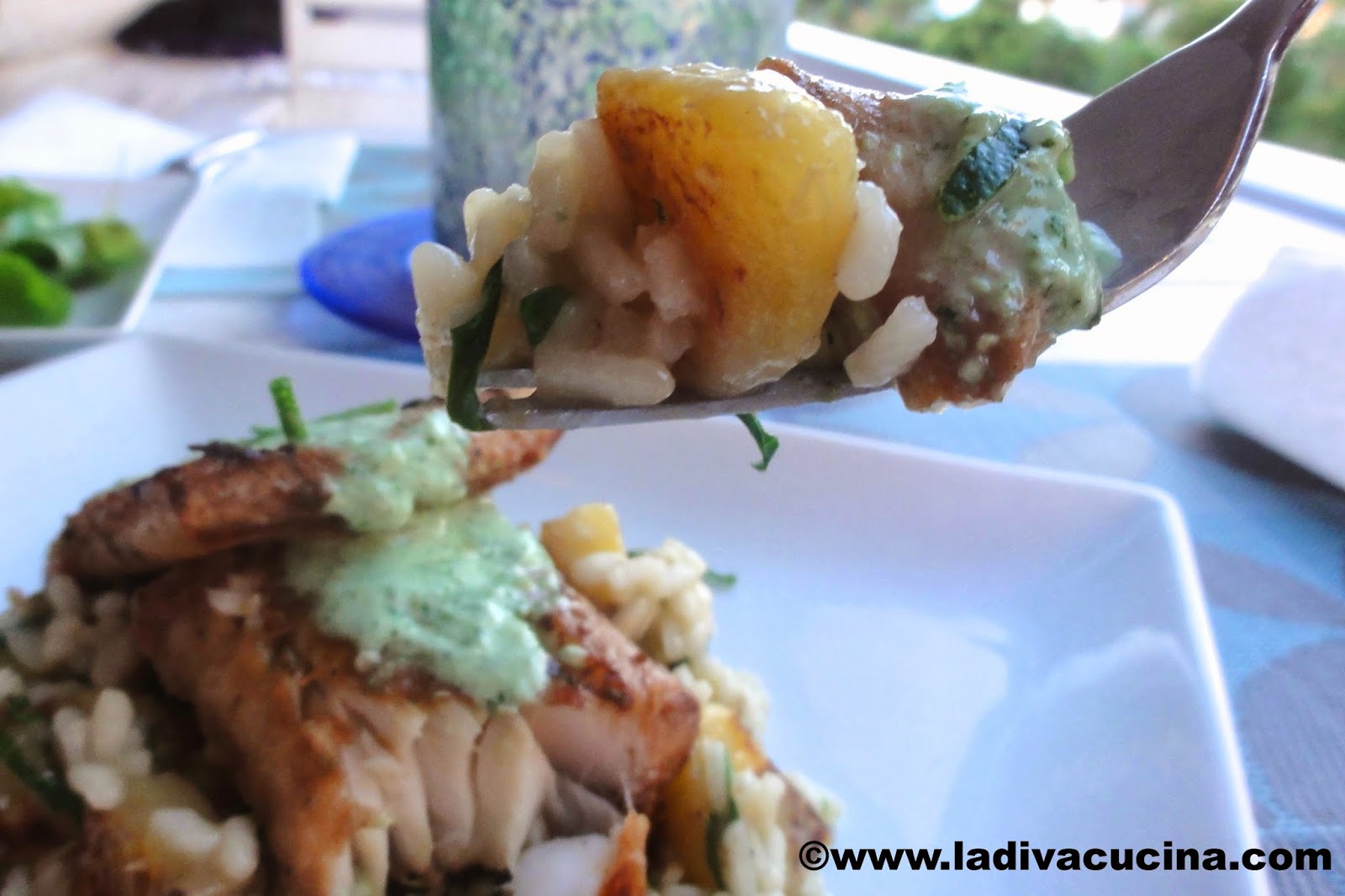 Darling, you see where I'm going with this!  To me, the perfect bite is the perfect bite ON YOUR FORK in combination with other flavors, textures and sides.  And if you are one of those people that don't like their food to touch on their plates, well, I just don't understand you; you will never comprehend the DIVINITY of a perfectly combined bite on a fork!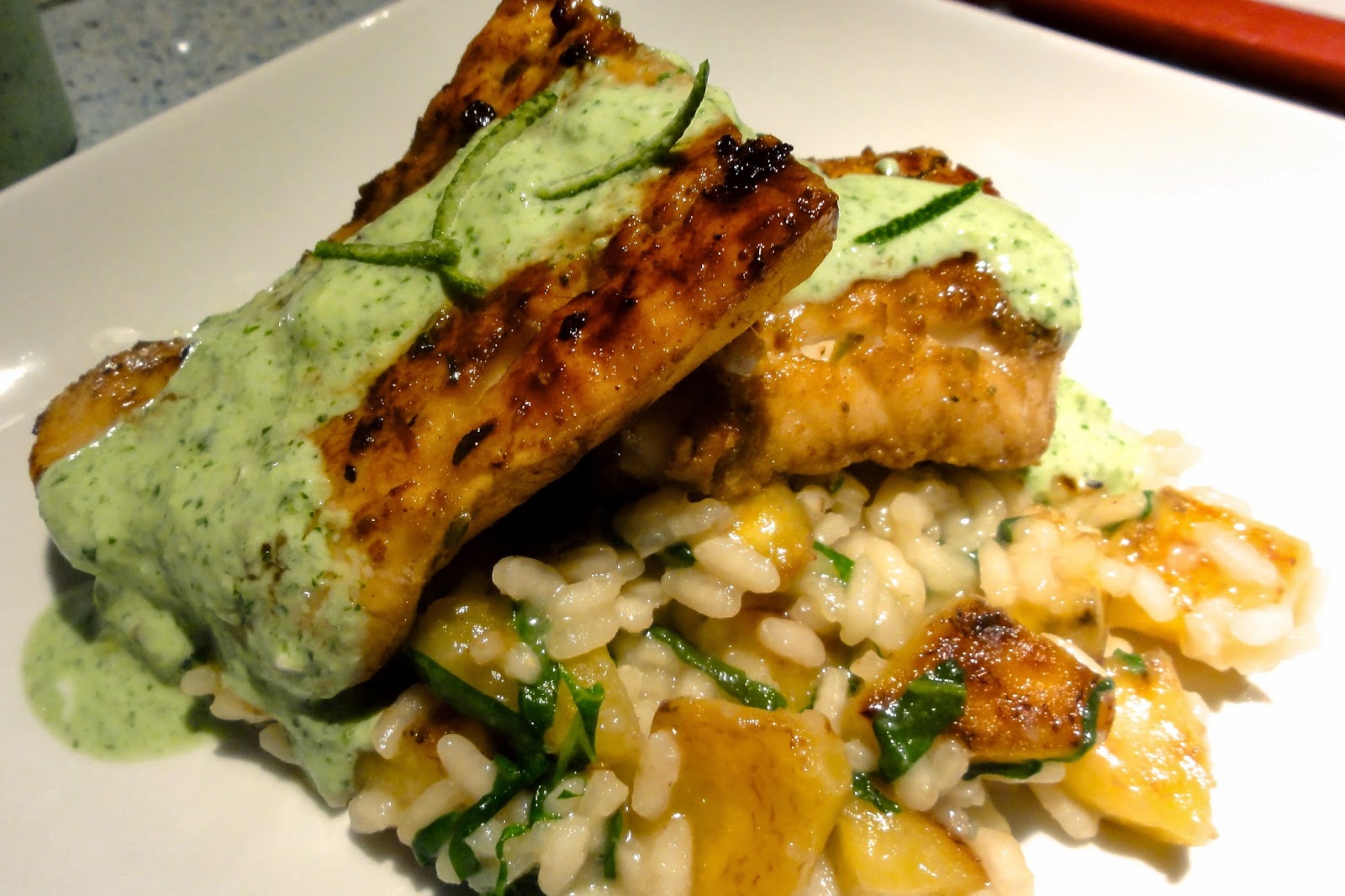 I had a plantain that I bought from the farmers market and I was wondering what to do with it.  This plantain, I found, was not a regular run of the mill plantain but a
rare breed from Hawaii called the "hua moa,"
and it was shorter and stockier than the plantains I was used to getting at the local grocery.  For some reason, I thought it would be delicious in a coconut risotto.  I began to think about flavor combinations and what would go with my tropical risotto.
In my Flavor Thesaurus, there is no entry for plantains, so I looked up 'banana,' and found that chicken would go very nicely with it…so why not a mild flavored fish like cod?
I marinated the fish in a home made jerk sauce and then whipped up a cilantro yogurt sauce with a grated onion, lime juice and seasonings.  For the risotto, I toasted the rice with a bit of coconut oil and used chicken broth and coconut milk adding the broth first and then the coconut milk at the end.  I cut the yellow, ripe plantain into small slices and fried them in coconut oil as well.  Once the risotto was cooked, I added the plantain and spinach chiffonade and stirred through lightly.   Instead of grilling the fish, I quickly seared it in more coconut oil, keeping the coconut flavor consistent throughout all of the components.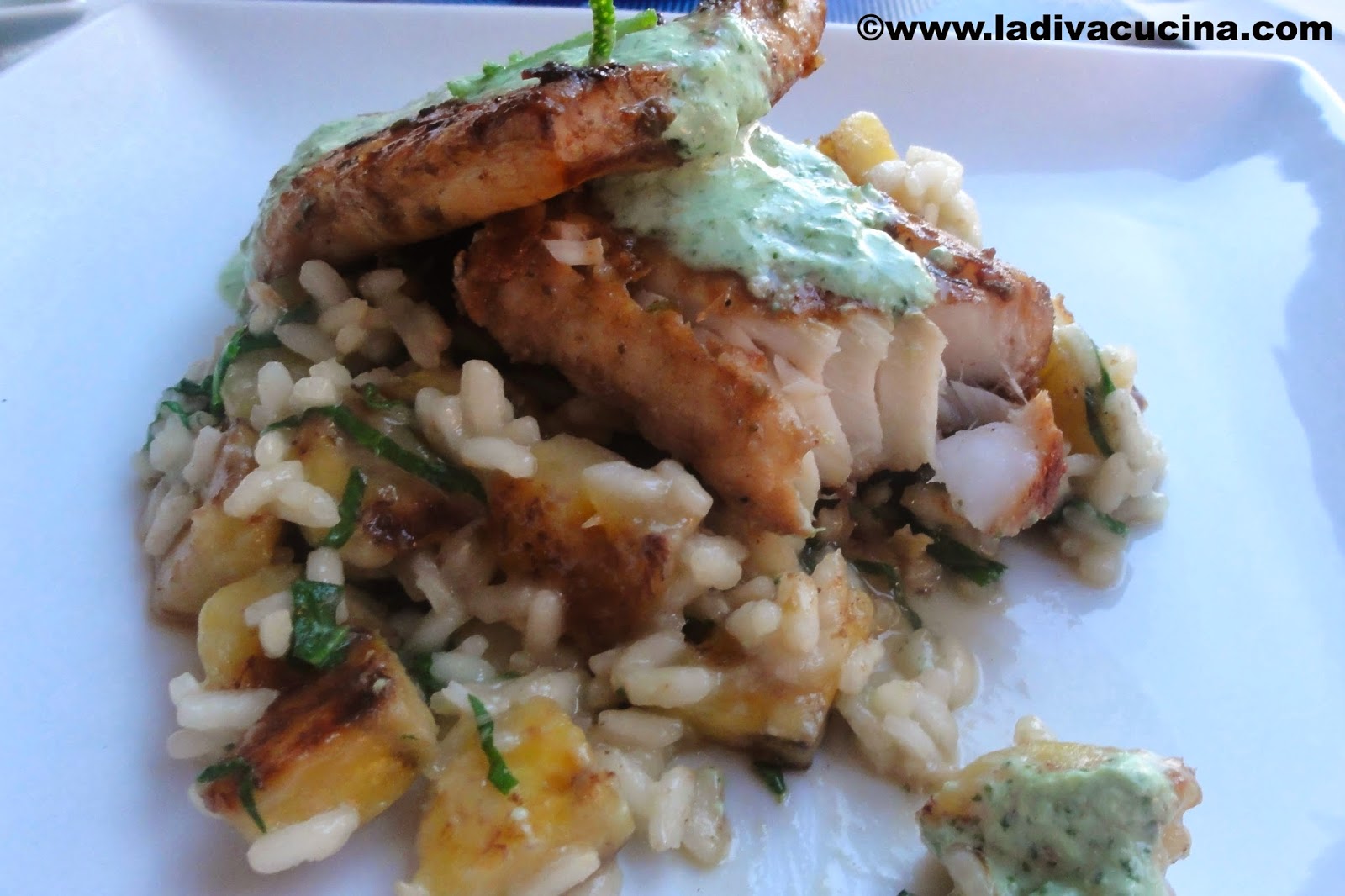 RESULT:  I was really so pleased with this dish!  The coconut rice was delicious and the plantain had just the right amount of sweetness and was not too cloying.  The jerk fish added heat that was a good foil to the luscious risotto and the yogurt and lime added a cooling element.  The perfumed and toothsome risotto topped with the flaky, juicy and spicy fish and smothered with the cooling lime cilantro yogurt sauce all together in ONE PERFECT BITE was a tropical delight.  All of the flavors really worked and I loved the texture too.  Of course, I always try to improve my dishes and next time I will cook the plantains in bigger pieces and then mash them up lightly, like I do pumpkin, in order to blend it into the rice for more thorough plantain flavor.
I think my Perfect Bite was a success!  Of course, a perfect bite is completely subjective, so darlings, what is your perfect bite?  Tell La Diva all about it!
CLICK HERE TO SEE THE ROUND UP OF ALL THE ENTRIES!
Ciao for now, darlings!
Originally posted 2014-03-18 19:24:00.