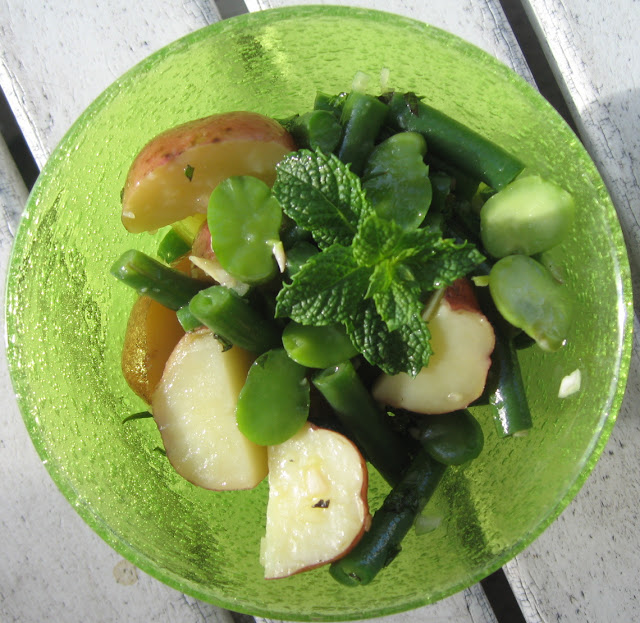 Darlings, darlings, DAH-lings! Today La Diva has heard from family in Michigan that Spring has sprung, gone and done, and Summer is here, EARLY and in yo' face! Papa Frankie said it was in the 90's today! But that doesn't mean you still can't savor the assortment of late Spring vegetables that are in season now.
Pierre Auguste Cot's "Spring" 1873
One of La Diva's Springtime favorites are fava beans also known as broad beans. WHAT? You've never had them? Darlings, you don't know what you are missing! Diva's going to have to change that right now!
Though not terribly common in the United States, these meaty beans make their way into a variety of dishes from a multitude of countries including Greece, Italy, Egypt and surprisingly, Ethiopia. La Diva loves their hearty texture and nutty taste and truly, nothing says spring like a vegetable that explodes in bright lime green, adding a verdant lusciousness to the new season plate.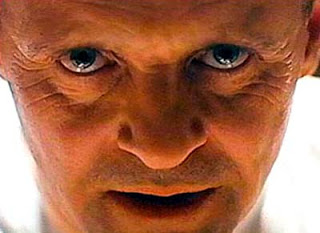 Not sure what to do with your fava beans, darling? Why not follow Hannibal's lead and serve with a lovely Chianti and liver (However, a more conventional recipe would include a COW'S liver!) Even better, why not check out
La Diva's version of this colorful and flavorful spring salad
with fava beans instead?!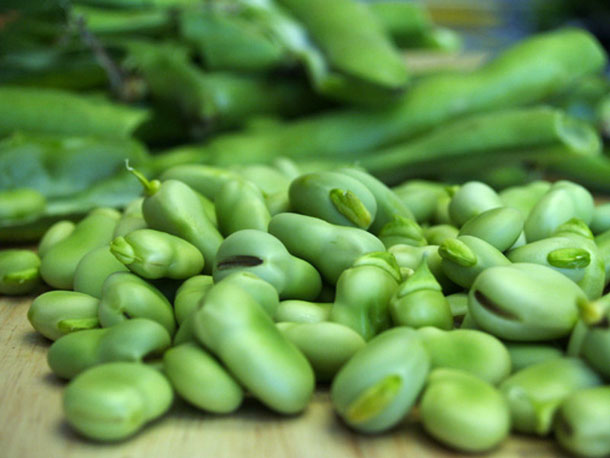 In spite of the numerous times
I've HAD fava beans at restaurants, and as much as I love 'em,
La Diva has only made them with this particular recipe. As fleeting as Charlie Sheen's attention span after a huge line of Tina, fava beans seem to come and go so quickly in a season that I usually only get around to making them only a few times a year. Oh yeah, and also because the little bastards are pretty labor intensive to prepare too!
Fava and Green Bean Salad with New Red Potatoes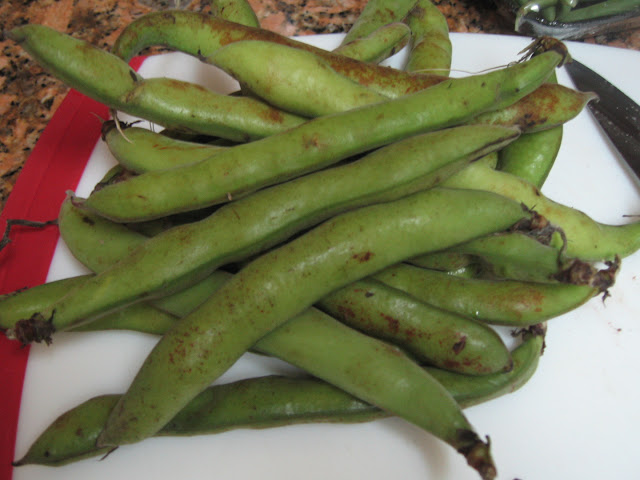 Fava beans are big. These pods are a good half a foot long (and grow even bigger) and most likely what Jack was growing when he had his troubles with The Giant. The actual bean is inside the pod and needs to be removed. La Diva finds it easiest to nip off the end of each pod with her nail, pull and peel back the fibrous string along the top and then split the pods open.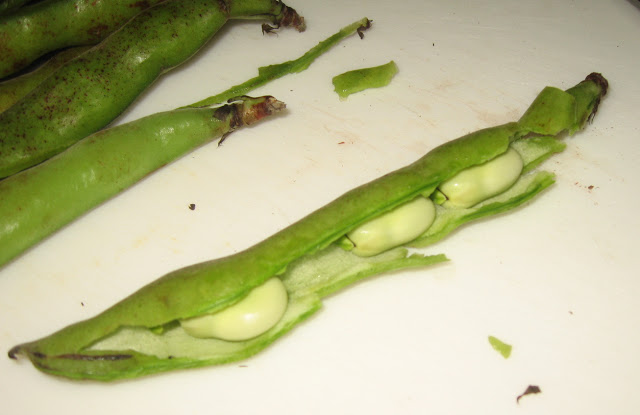 You'll usually get between three to five beans per pod of varying sizes. Remove the pale beans and once you've finished all of them (finally!), boil them in a pan of salted water until just tender, for only a few minutes. Strain and let cool while you prep the potatoes and beans.
Take a pound of scrubbed, unpeeled organic, new red potatoes and quarter them. Trim and halve a half pound of washed green beans. In order to make less clean up work, La Diva uses a pot with a fitted steamer with the potatoes boiling in the bottom, while steaming the green beans on top. Boil the potatoes until just tender, about 10 minutes and the beans will probably take half of that time if they are really fresh.
Strain the potatoes and put into a large bowl, then add a generous drizzle of a fruity extra virgin olive oil and kosher salt and allow the Italian salty goodness to soak into the hot spuds. Remove the green beans from the steamer and allow to cool.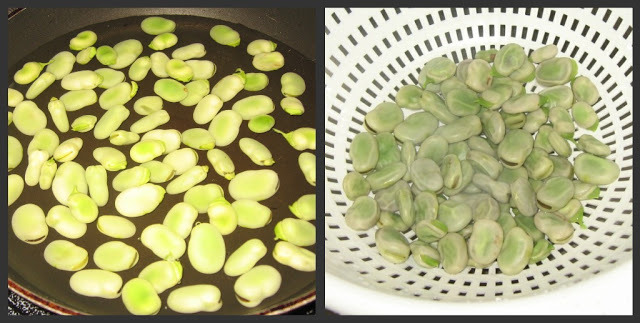 The raw fava beans on the left look like large lima beans and cooking them helps to loosen the waxy, outside coat, which needs to be removed. This is the labor intensive part, these suckers need to be shelled twice.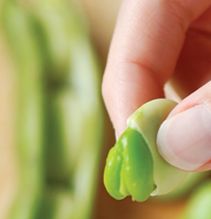 It's easiest to remove the outer skin of the fava bean by pinching a bit of the skin away and gently squeezing to remove the slippery bean inside. You can leave them whole or split them in half again. Add to the salad with the green beans.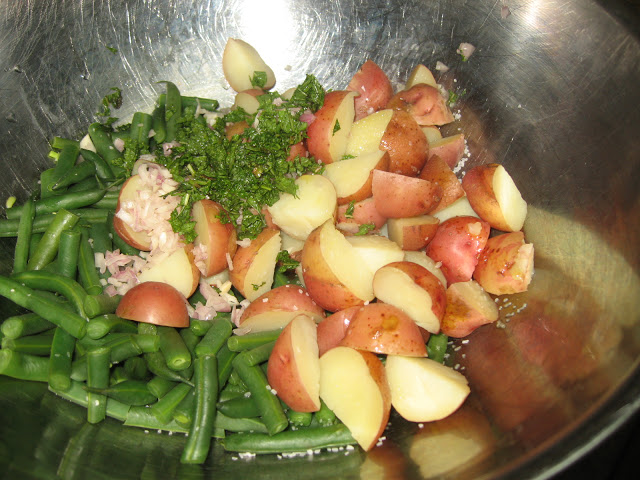 I doused the lot with more extra virgin olive oil, mixed gently and salted again. Now add minced shallots and a good handful of fresh mint chiffonade. Carefully toss to blend the ingredients and check for taste. Adjust seasonings if needed and serve slightly warm.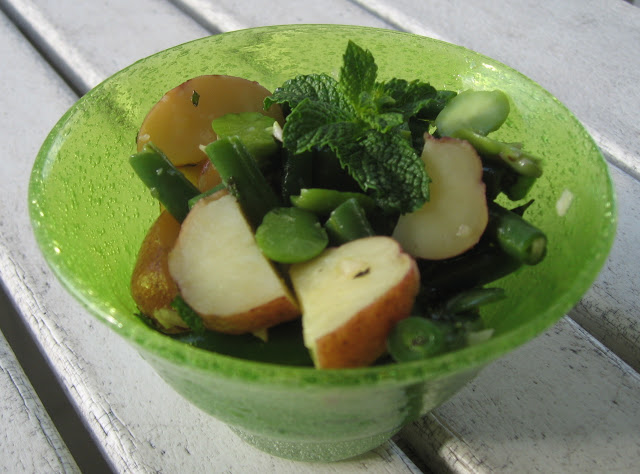 RESULT:
Well, now, ain't that just the prettiest salad?! Actually, I initially looked up this recipe as a way to use purple potatoes but only found them at the store once! Learning to make and enjoy fresh fava beans was an unintended perk. Imagine the purple potatoes with the lime green fava beans?! Gorgeous!
The fava beans buttery texture complements the warm and tender new potatoes while the green beans add another textural element. The shallots offer an unassuming, mellower -than-onion flavor, and the mint is actually quite subtlety enhancing. A good quality olive oil is important, as it is the main flavor component bringing all the ingredients together.
This hearty salad makes a great side but also could be quite satisfying as part of a vegetarian meal. My favorite way to eat this is freshly made and still warm, so make sure to bring leftovers to room temperature before serving again.
Darlings, what do YOU do with fava beans? Do you use them in savory dip? Put them in pasta with some freshly shave parmigiano? Have you had them in a restaurant? Or with liver and a lovely Chianti? DO tell La Diva, I want to hear all about it!
cooking class, cocktails, parties, cocktail party, Miami, coral gables, events, bartending class, cocktail class, Laura Lafata, Miami Beach, miami cooking classes, bachelorette parties, bachelorette party, personal chef, corporate events, catering, personal chef, party entertainment, www.ladivacucina.com, top chef, next food network star

Originally posted 2011-05-31 23:50:00.