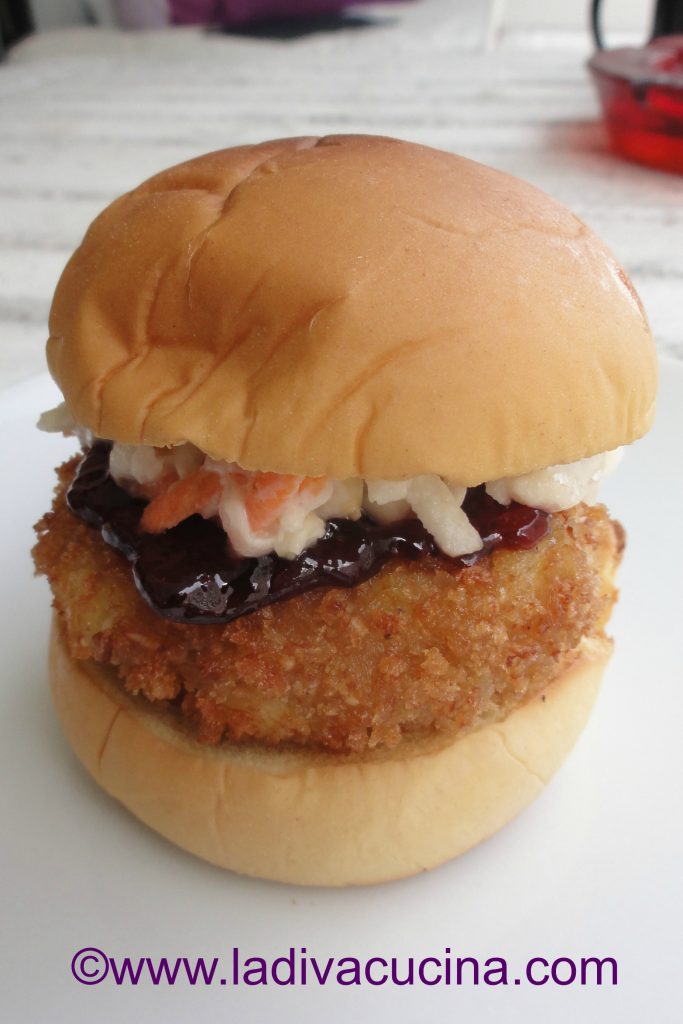 Darlings! I didn't think it would happen so quickly, especially since I've been flat chat with work, but my burger idea for this month's challenge for the Creative Cooking Crew came after my usual thought process for creating a unique dish. The La Diva Cucina thought process goes like this:
Hmmmmm….what burgers have I done before that I've loved? I've done the Thai chicken kaffir lime burger with peanut sauce before, man, that's good but done, done and done. I DO LOVE my lamb burgers with tzaziki sauce in pita, and no one did lamb years ago when I first started making them (unless you are in Australia!) but neither of those burgers would be considered unusual in a time where everything's been done burger-wise, and the more over the top the better.
Hmmmmm….there have been all sorts of burgers done, especially lately with those crazy burgers made with Krispy Kreme doughnuts. But I HATE over the top food with a million ingredients……
Hmmmm….let's think more about over the top food. What are some over the top combos you DO love? Peanut butter and banana sandwich, Elvis loved them fried…..
Hmmmm….I've GOT IT! A peanut butter and banana burger with jelly on a sweet bun!
Now how to make that a reality?!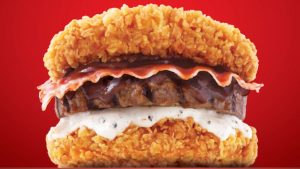 Ah yes, this Kentucky Fried Frankenburger reminds me of many hours I've spent on this site:  This is Why You're Fat
After several attempts at binding the ingredients to form a solid patty as well as tweaking the seasonings and condiments, I found the perfect delicious combo that The King himself would not be able to stop from stuffing down his gullet!
Introducing "The Elvis Burger," in honor of Presley's famed fried banana and peanut butter sandwiches! Because Diva KNOWS if The King were alive today, he'd be eating my new version and probably top it with bacon to boot! (now that eating like a deranged glutton is perfectly acceptable.)
The BURGER ingredients:
Mashed firm yellow ripe banana
Cubed firm yellow ripe banana
Fresh minced red Thai chili
Chopped raw peanuts
Powdered peanut butter
tapioca powder
Honey
Salt
Panko bread crumbs
The BURGER toppings:
Smuckers concord grape jelly, unadulterated
Slaw:
Granny Smith apples
Jicama
Carrot
Mayo
Lime juice
Honey
Salt
Chopped raw peanuts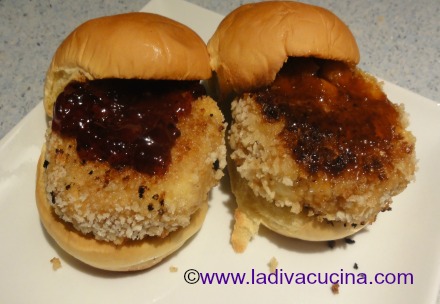 The first time I pan-fried the burger, the panko-crusted sides remained un-browned and unappetizing. So, having a WWED moment (What would Elvis do?) I knew it was imperative to deep fry the burger! It paid off.   Not only did the burger have a lovely, consistent brown appearance, but the deep fried panko breading added a much-needed crunch to the burger's texture. Also, after considering what I find to be the biggest failure of most veggie burgers is to be their mushy consistency, I added chopped peanuts to both the burger and the slaw for even more crunch.
Every burger needs a good topping and I had thought of using the green apples and jicama for their crisp texture and refreshing flavor along with traditional Concord grape jelly. In my first trial, I sampled both honey and the grape jelly as condiments.   While I LOVE honey, peanut butter and banana on toast, the honey's flavor was subtle compared to the "In-Yo-Face" cloyingly sweet jelly and brought memories flooding back of that classic flavor combo from childhood.
And finally, I thought a sweet burger deserved a sweet bun.  So, I'd put my Elvis burger on a Martin's potato roll slider, small, delicate and fluffy.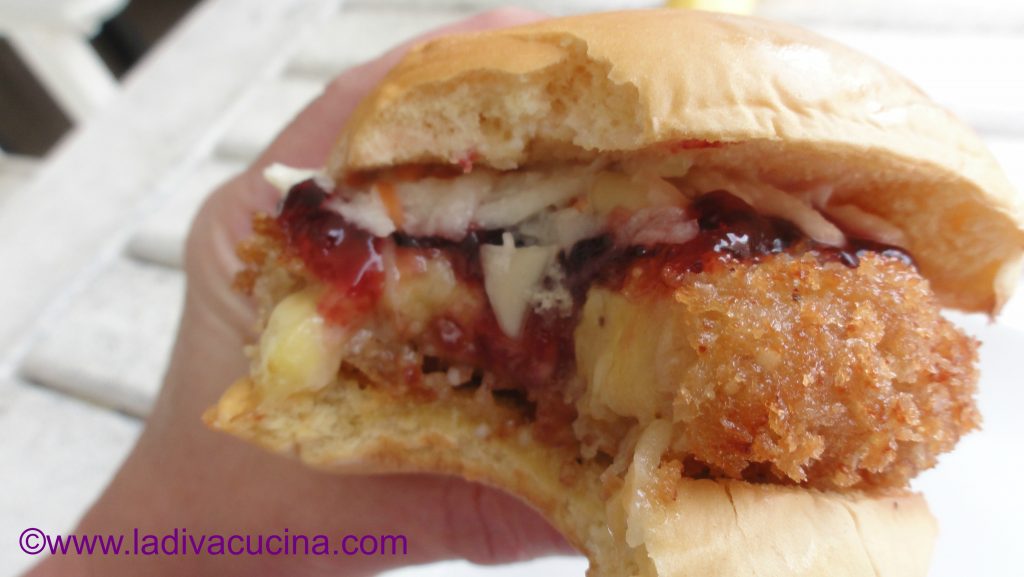 Initially I tried binding the banana with a potato starch and it worked well, however the flavor was just not quite there. I searched on line and found a list of acceptable binding ingredients including tapioca, and a quick query to fellow blogger and CCC participant Wendy from The Upstart Kitchen suggested the same: tapioca. Tapioca is an ingredient I rarely work with but only because I always forget about it's binding properties for fruit pie fillings. I mixed quite a fair bit of it into the mixture and let it sit for 15 minutes. It worked like a charm. I sprayed my palms and fingers with oil and got to work making small patties and chilled them for 15 minutes and then I deep fried them in vegetable oil until golden brown.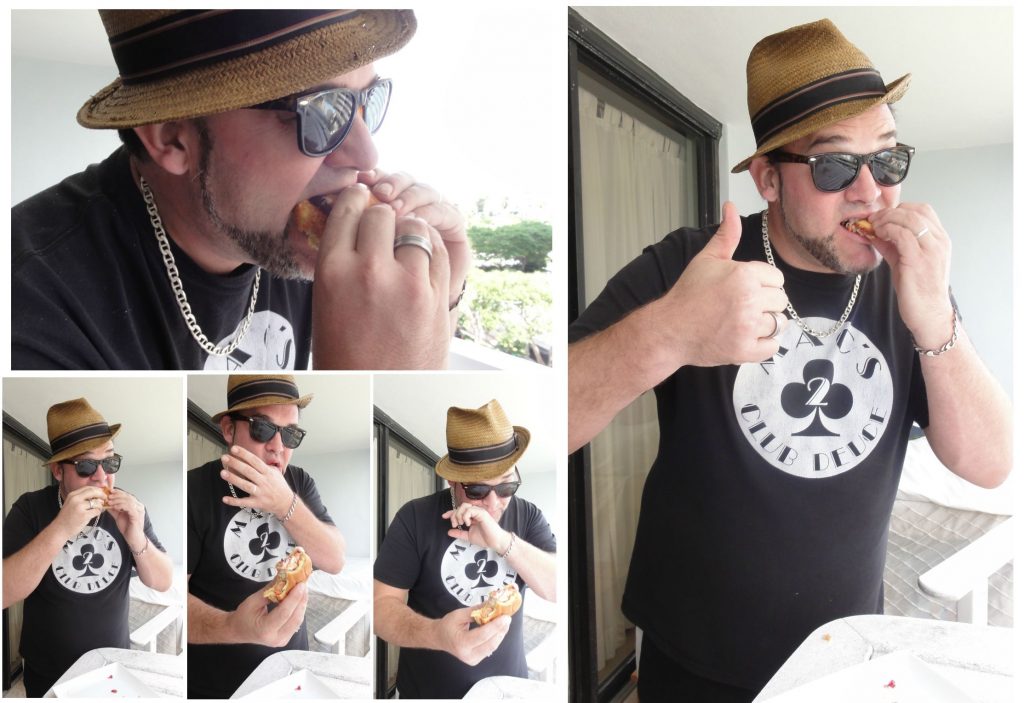 RESULT: Damn. DAMN! I think I like these! Yes, they were still a bit mushy but the crunch of the panko breading really made the banana burgers more into a croquette. As I sifted through the flavors I was tasting, I got a hit of the chili and then the peanut butter and MAN, they tasted good! The honey flavor in the burger and slaw took a back seat to the prominent grape jelly, as it should and the slaw did the trick as a palette pleasing refresher. Sweet and crunchy and peanuty and banana-y! I liked them. In spite of that, I could only manage to eat one slider but still craved more of the sweet, warm crunchy banana…..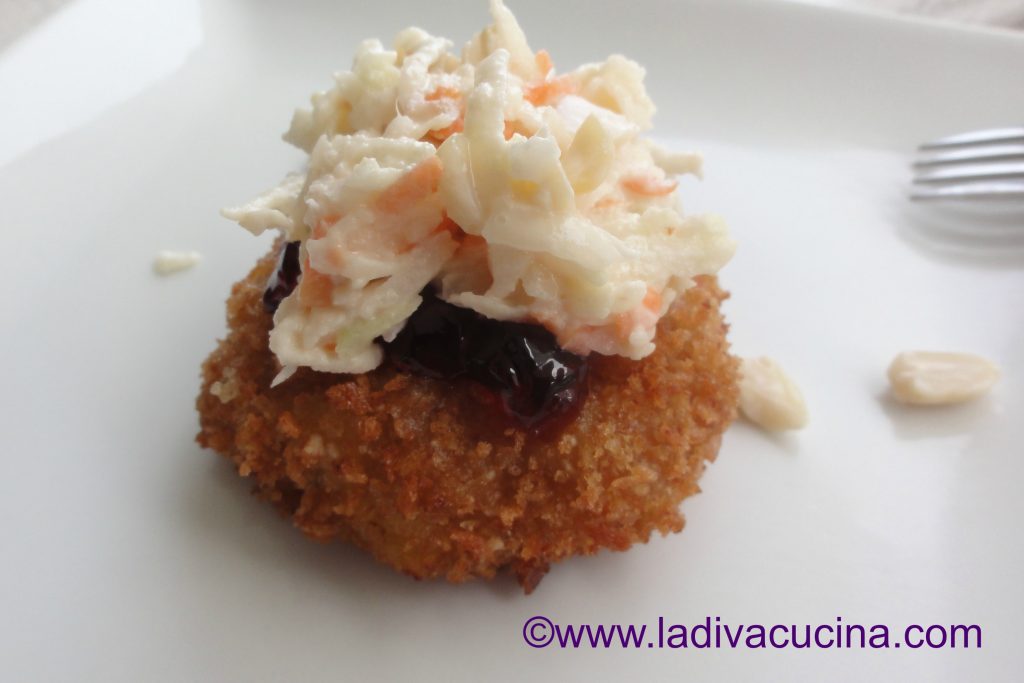 So, I ate the next one topless! And liked it even more.
At the end of the challenge, I asked myself, "Did anyone make a banana burger before?" I HAD to google it! After scrolling down a few pages of various "banana burger" searches, I found all of the banana burgers to be served with a meat patty or bacon WITH banana, but not one where the burger WAS the banana. TRIUMPH! Another query: "Would Elvis have eaten it?" Yes, I think he would have scarfed down these little banana bites. Would I make these again? NAH! My favorite burger to make and to eat is simply ground chuck, salt and pepper, American cheese, ketchup, mayo, sliced white onion and iceberg lettuce on a regular hamburger bun!
Darling, what is the CRAZIEST BURGER you've ever made or eaten? Do tell La Diva all about it! Check out ALL OF THE CREATIVE COOKING CREW ENTRIES BY CLICKING HERE.

Originally posted 2015-02-09 00:25:17.