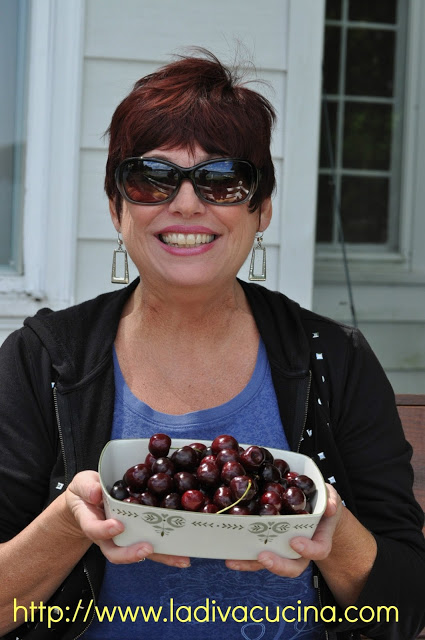 Darlings!  I've just come back from the most glorious vacation spent in my home state of Michigan.  For one week, I stayed in a cabin on Walloon Lake in the Northeast corner of the state with my husband and cousins, enjoying the fresh lake water and clean air, campfires under the myriad stars and each other's company….without television.  It was enchanting.
The food in that part of the country is incredible.  The produce is outstanding. And with it being early August, cherry season was in full swing and I had let everyone know that the ONLY THING I WANTED on this trip was a good old fashioned, flaky, cherry pie from
Traverse City, the tart cherry capital of the world.
 Shouldn't be too hard, right?
On our first day traveling up to Walloon Lake, I had noticed cherry stands everywhere, selling "washed" cherries for $7 a quart.  We stopped at one and I spoke to the salesgirl about the cherries, asking where was the best place was to get a pie.
She said, "Well, usually, I sell my own cherry pies, and they're pretty good, but I'm getting married next week and have been too busy to bake them.  I won't be here the next few days."  After telling her how rude and inconsiderate it was of her to go and get married and to stop making pies, I laughingly got into the car with the sweet cherries and immediately began to delight in their decadent, dark flesh, spitting the pits out the window along the way.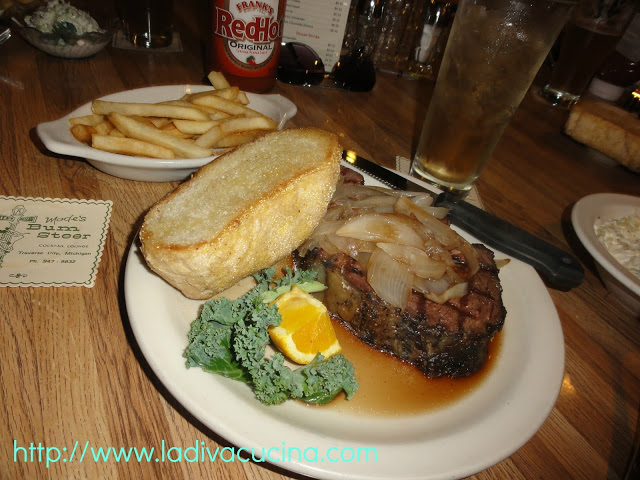 The 16 oz. char-grilled prime rib at Mode's Bum Steer, LEGENDARY steakhouse and voted Michigan's #1 Restaurant.
The next day, we had all piled into the car for a day trip to Sleeping Bear Dunes National Park and I found we had to pass through Traverse City to get there.  We stopped at the legendary Mode's Bum Steer for lunch and after a mammoth  meal, took a walk through downtown Traverse City to find me some cherry pie!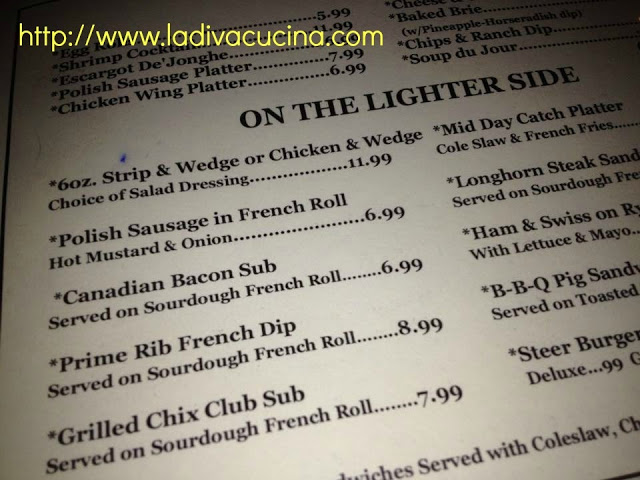 You know you're in Michigan when Polish sausages, bacon subs, barbecue pulled pork and burgers are considered "light" fare.  I had the prime rib French Dip and it was AWESOME!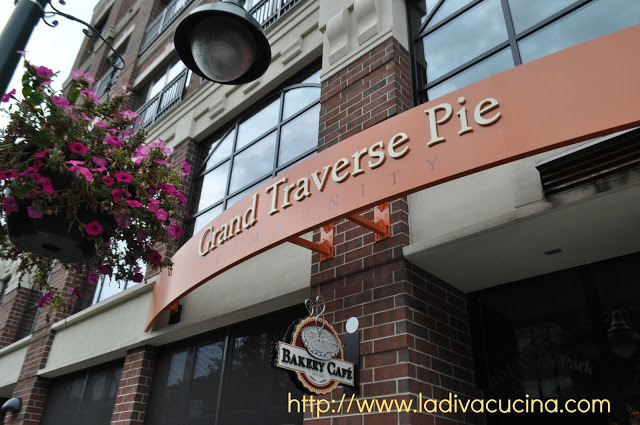 I'd heard A LOT about the Grand Traverse Pie company.
"Their pies are the best!"
I hadn't been to Traverse City for a good 15 years and I was longing to dig into a flaky, delicious and tart cherry pie from some rustic bakery or roadside stand.  But, everyone told me "how good" the pies were at the Grand Traverse Pie company.  And as luck would have it, there was a store only blocks from the restaurant on the main street.  We slowly made our way down, looking in the shops and buying souvenirs.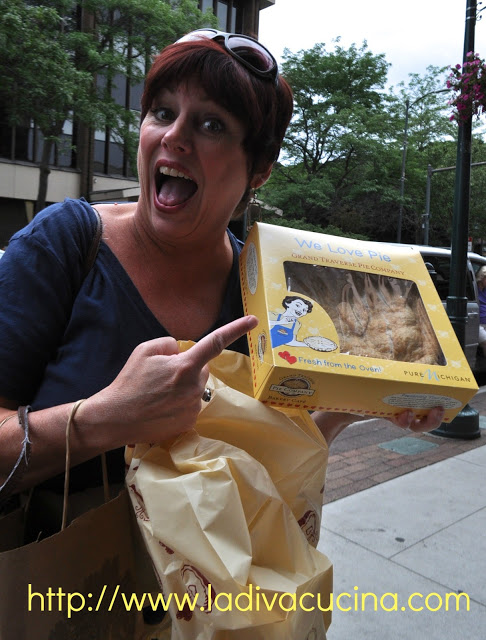 Lo and behold, thar it was!  MY PIE!  I looked at the pies and pastries in the case, all of them looked over-the-top delicious!  The pie looked home made too with a rustic crust heart baked on the top.  The place was packed, people eating in the cafe and buying baked goods.  Finally, I ordered my pie and paid a hefty $16 for it.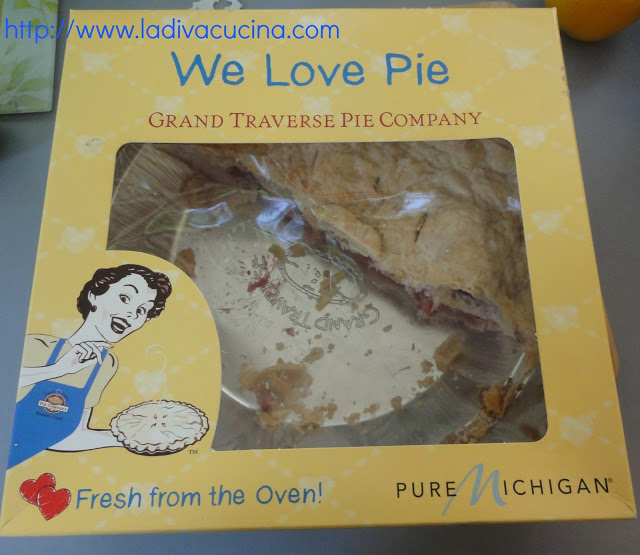 The pie box was a fabulous retro design, perfect for my retro cherry pie experience.  I couldn't wait to dig in!
That night after dinner, I cut into the pie and found I had a hard time getting the first piece out.  The crust on the bottom was quite tough.
Uh oh.
I took my first glorious bite of the pie.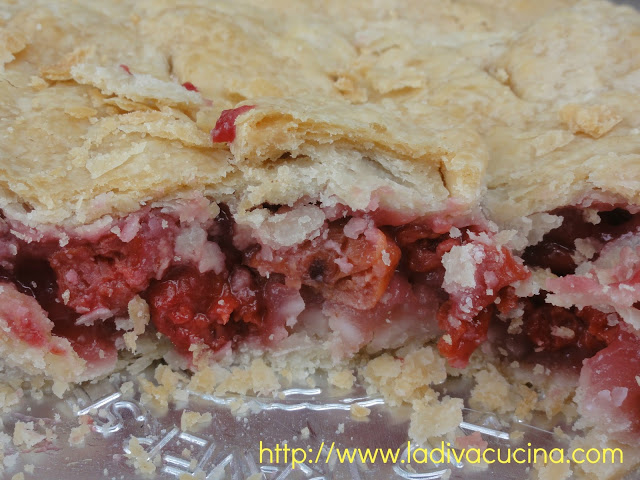 Does THIS look like good cherry pie to you?  Me neither.
It was
sour
gummy
tough
dry
and just downright NOT GOOD.
I had just paid a whopping $16 for this pie, this highly touted pie and it just didn't taste good.
I couldn't believe it!  After all the hype, this pie was not only not good, it was downright awful.  I was ticked off.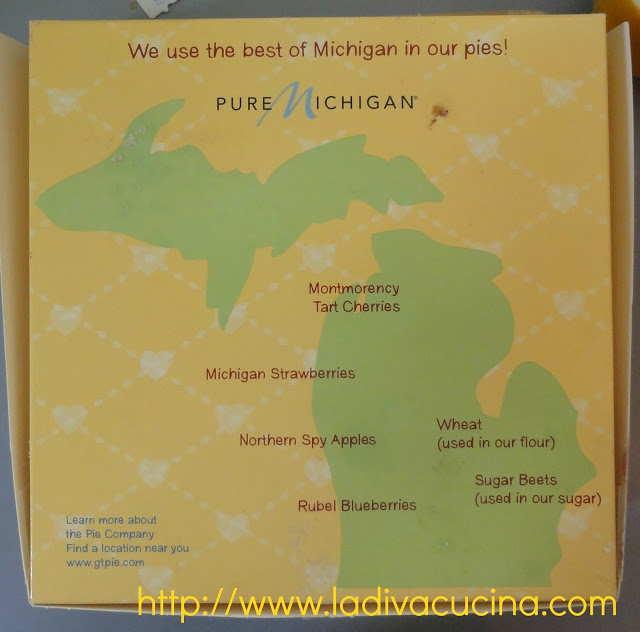 Here's the back of the pie box.  The company is using all sorts of great, local ingredients, so what gives?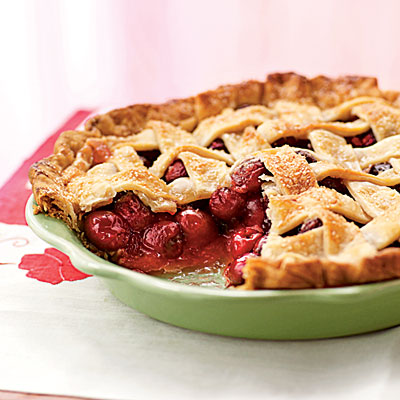 Photo courtesy of Cooking Light
Now THIS is what a good cherry pie should look like!  I want to see red cherries OOZING out of the crust.  To me, they simply did not put enough fruit in nor did they use enough sugar.
Now I had a bee in my bonnet!  I came all this way and can't even get a good cherry pie at the famed Grand Traverse Pie company?  I was damned well determined to get me some good cherry pie on this trip, even if it killed me.
So, when I headed into the village grocery store at Walloon Lake, I noticed they had berry pies on the counter.  I bought a blueberry pie for $12.  It better be good, Diva was losing patience.
I cut the first piece of blueberry pie.  It looked full of fruit and the crust was flaky.  I took my first bite…..HEAVEN!!!!!  The pie's crust was flaky and light, not soggy, the fruit sweet and the right texture, they certainly didn't scrimp on the blueberries!  The local shop was doing a GREAT JOB of making a good old fashioned pie!  YIPPEE!  Perhaps tomorrow they'd have a cherry one for me?
So, the next day, I went into the shop and told the clerk how much I'd enjoyed their pie!  He said to me, "Can I tell you a secret?"  "Sure,", I said.
Clerk:  "We don't make the pies."
Diva:  "You don't?  Well, a local baker does?"
Clerk:  "Nope.  They are made by Chef Pierre."
Diva:  "So, he's a local chef that makes them?"
Clerk:  "Nope.  We get them frozen from GFS*!"
Diva:  "WHAT?!  You've shattered my dreams!  You've broken my heart!  How COULD YOU?!"
Clerk, non-plussed:  "Funny thing is, every time I tell that to a customer, they never buy another pie."
Diva:  "Then stop telling your customers!"
I  left the store in a huff and was completely disappointed and flabbergasted.  I got into the car and told my cousins and husband about the pie debacle.  They all laughed.  My cousin said, "Well, it's good to know that I can get that pie back home and you can get that same pie down in Florida too!"
Diva wasn't laughing.
*GFS = Gordon Food Services is a huge, national restaurant supplier and food retailer.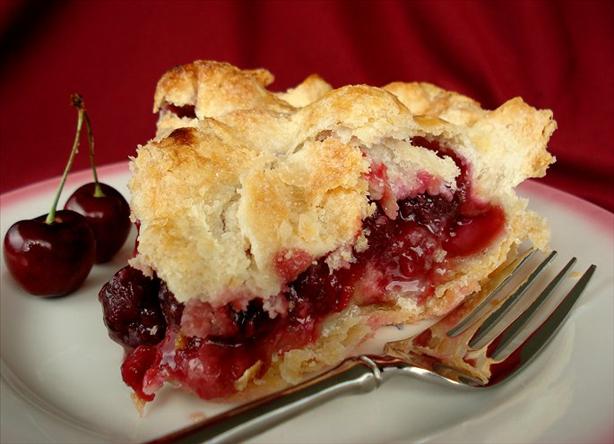 Photo courtesy of Food.com
Compare the two and tell me what you'd rather eat….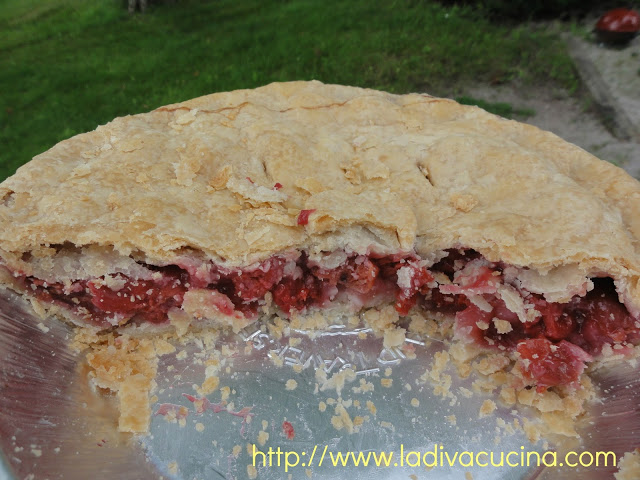 We threw the rest away.  I've never thrown away half a pie before.
In spite of all of this, I STILL haven't quenched my desire for a lovely, flaky cherry pie!  So, this weekend I'll be heading to Publix…either for cherries or for their delicious fruit pies, which are $9.99.
This was the only bad food I'd had during my travels, so make sure you come by for my next post that will highlight ALL the fabulous produce and food from the region!  Ciao for now, darlings!
Originally posted 2013-08-15 17:59:00.