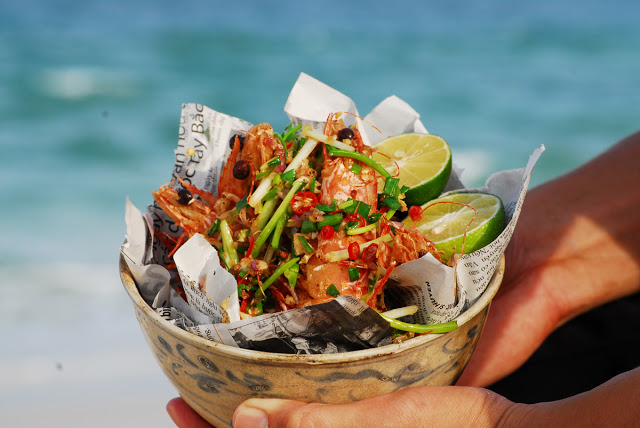 Cooking Channel chef Luke Nguyen's Salt and Pepper Tiger Prawns! Click HERE for the recipe!
Darlings! Have you checked out any of the cooking shows on the Cooking Channel? La Diva is loving it! Why? Because they air cooking shows, current and past, from all over the world bringing a more unique and global perspective than the boring pap that is currently being offered on the Food Network. YAY! Finally, some food La Diva can RELATE TO!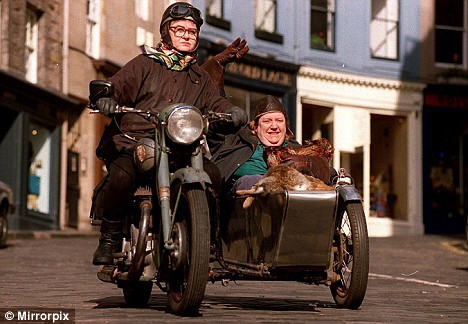 One of my fave shows is a blast from the past from when I lived in Australia back in the '90's. In fact, when I left Chicago in 1993, there WAS no Food Network, so La Diva was weaned on cooking shows from the UK. Watching Australian television is where I first learned of Jamie Oliver, Nigella Lawson, Rick Stein and the Two Fat Ladies aka Clarissa Dickson Wright and the chain smoking, long, red varnished nail wearing Jennifer Paterson.
With Jennifer at the wheel of a motorcycle and Clarissa in a doublewide sidecar, the two chefs would galavant about the English countryside, stopping at schools and clubs, to make a feast using traditional culinary methods and only the best of local ingredients, while shunning supermarket produce.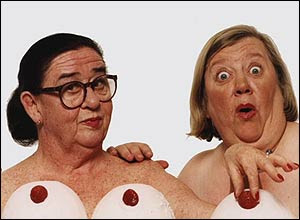 For more background info on these hilarious ladies and the beginnings of their unique show, click HERE.
Living up to their names, the large ladies are fun to watch and teach La Diva about a way of cooking that seems to be slipping away with today's busy cooks. The meals they demonstrate are old time dishes like "deviled kidneys," "apple pandowdy"and "watercress mousse" and many recipes feature ingredients like lard, treacle, offal and game. Sadly, Jennifer passed away in August 11, 1999, after succumbing to lung cancer. For more information on the Two Fat Ladies show and air times, click
HERE.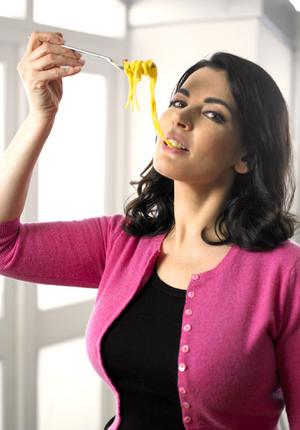 Nigella Lawson of "Nigella Feasts" and "Nigella Express," brings food porn to new heights. It's not because she's cooking anything truly gourmet, complicated or amazing, it's the sultry way she speaks, the descriptive words she uses and the luxurious attitude she has for cooking foods that satisfy her enormous cravings. La Diva adores Nigella for these reasons and also for the fact that the gal offers no excuses for her ample curves and during her show there is NEVER any mention of calories or reduced fat, only scrumptiously tasty dishes that will satisfy. Click
HERE
for air times and recipes featuring knockout Nigella.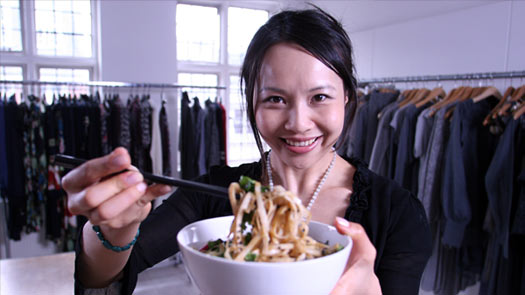 Chinese Food Made Easy features Ching-He Huang, a Taiwanese born food writer and television chef. With her show filmed in the UK, Ching-He demystifies Chinese cooking by using fresh local ingredients and updating and simplifying traditional Chinese dishes. La Diva loves this show for a very simple reason: The Food Network is sorely lacking in the Asian cooking show department and between
Vietnamese chef Luke Nguyen's "Luke's Vietnam"
and "Chinese Food Made Easy," La Diva is able to get her ASIAN FOOD FREAK ON. Check out Ching-He's show and easy recipes by clicking
HERE
or you can go directly to her own website by clicking
HERE.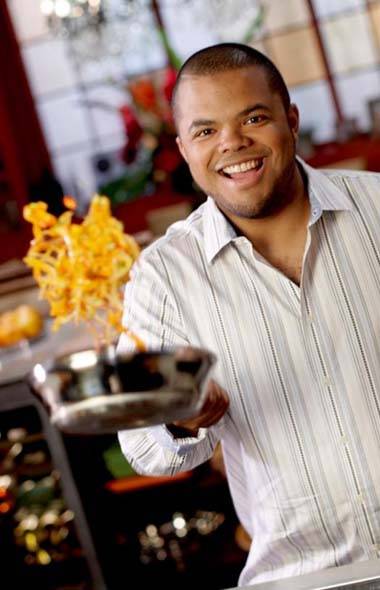 Everyday Exotic, hosted by Canadian chef Roger Mooking, is another La Diva fave because his cooking style is most like the way I enjoy cooking: loads of spices while fusing various ethnic styles to produce highly flavored yet simple, comforting meals. With family roots from China and Trinidad, Mooking's cooking approach melds exotic spices with every day dishes. In each show he will feature an "obedient ingredient" like lychee, okra or star anise, and use the ingredient in three different dishes. He's also quite a talented singer with a pleasantly raspy voice and a restaurateur in Toronto. Check out air times and recipes by clicking
HERE.
Darlings, what show on the Cooking Channel do YOU like and WHY? Tell La Diva all about it, I am dying to know!
Ciao for now, darlings!
The next La Diva Cucina small bites, BIG DRINKS class will be held at Fairchild Tropical Gardens on Thursday, December 9. We will be doing "old school" apps and cocktails with a tropical twist! Click HERE for more class info!
cooking class, cocktails, parties, cocktail party, Miami, coral gables, events, bartending class, cocktail class, Laura Lafata, Miami Beach, miami cooking classes, bachelorette parties, bachelorette party, personal chef, corporate events, catering, personal chef, party entertainment, www.ladivacucina.com, top chef, next food network star
Originally posted 2010-11-26 16:03:00.