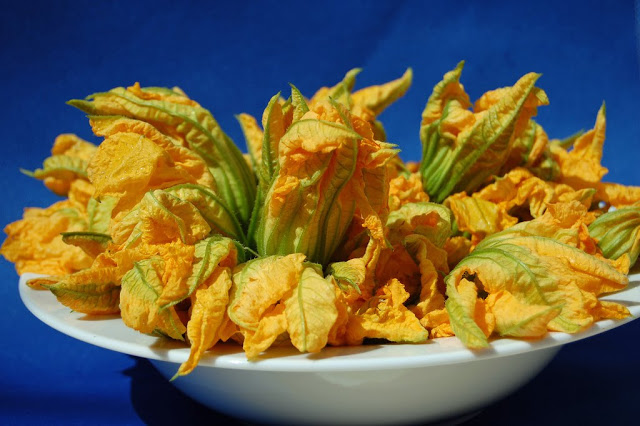 Calabaza blossoms are what La Diva got for stuffin'! Calabaza is a type of hard squash grown in Florida and the Caribbean and so naturally features in dishes from Puerto Rico, Cuba, Jamaica, etc. The squash I get down here is round like an orange pumpkin but has dark green skin with yellow stripes.
Darlings! Well, dear readers, like many of you, La Diva was getting very inspired by Chef Doggybloggy of
ChezWhat?
and Chef Dennis of
More than a Mountful-A Culinary Journey,
for all their deliciously creative posts using zucchini blossoms! One post after another, I saw the blossoms stuffed, fried, put into lasagna and even into muffins.
And boy did it make La Diva MAD!!!
Why is that? I hear you ask.
Because La Diva wanted to play with zucchini blossoms too and I could NOT FIND THEM ANYWHERE! And I was getting mighty jealous that those lovely flowers were available in abundance up North and here in Flo-duh, not a petal to be procured or a flower to be found. Another post would appear and another twinge of envy would creep in. Damn. I not only wanted to cook with them but I was now craving them. After all, the last time I had a stuffed zucchini blossom was back in March at a fabulous Thai restaurant in Sydney. Darling, those blossoms were so delicious that I DREAMED about them for weeks and would wake up with the pillow stuck to my face from all the drool! (And believe me, a drooling diva is not a sight to see!)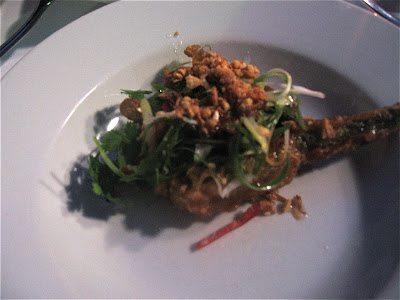 From Yok Thai in Sydney: zucchini flowers filled with minced prawn, battered and fried and garnished with chile, green onion, cilantro and peanuts! Crunchy, spicy, sweet delightful YUM.
Yes, darlings, La Diva would do her best to recreate that divine appetizer but without the blossoms available at any of the grocery stores, what was I to do?
How could I get my hands on some of those tasty, delicate flowers?
La Diva did what I always do when I need to source something, I asked my Facebook friends! And, wouldn't you know it, my fave farmer Margie from
Bee Heaven Farms
came through by telling me she had just delivered some farm-fresh calabaza blossoms to the Whole Foods Markets!
The flowers looked exactly like zucchini flowers but included only the blossoms with no tiny squash attached. I got two packages of five, a small container of crab claw meat and a piece of tilapia, it was time to go home and PLAY!
Here's what La Diva did:
I steamed the tilapia and let it cool, then refrigerated for about a half hour.
In a mortar, I pounded
3 cloves garlic
1 red bird's eye chile
2 inch stalk lemongrass
1/2 inch ginger, grated
2 T grated palm sugar
zest from one lime
6 kaffir lime leaves cut into tiny strips
I poured half of the small container of crab meat into a bowl and then blotted the excess moisture out with a paper towel. Using half of the fish as well, I flaked the tilapia, blotted with a paper towel and added to the crab. Why didn't I just use the crab meat? Because La Diva finds crab to be very rich and I wanted to extend an expensive product by adding the bland tilapia. The crab claw meat also has a stronger flavor, so lends itself to this adaption perfectly. It's also the most cost effective crab meat without using canned.
Of course, I didn't use lime juice but only the zest as I didn't want the acid from the juice to turn my crab mixture into mush! The zest added the perfect amount of citrus brightness. The kaffir lime leaf is a KEY COMPONENT to authentic Thai flavorings and if you can get your hands on some, triple wrap them in plastic and keep them in the freezer to be used as needed.
I mixed all the ingredients together in a bowl, being careful not to break the crab up too much, and added the egg white to help bind the mixture and then carefully, pulled the stamen out and stuffed those little buggers! I found another blogger called Taste Buddy that goes through the stuffing process very well, you can see how she did it step-by-step by clicking
HERE.
Be very careful not to rip the delicate petals. I twisted the ends of the petals to "seal" them and then put in the fridge for about 15 minutes for them to chill and set.
I also borrowed Taste Buddies batter recipe:
2/3 cup flour
1 c soda water
I whisked the batter in a bowl and set it aside while I heated the oil in my wok. When the oil was hot, I carefully dipped the flowers in the batter and then lightly fried them and drained on a paper towel.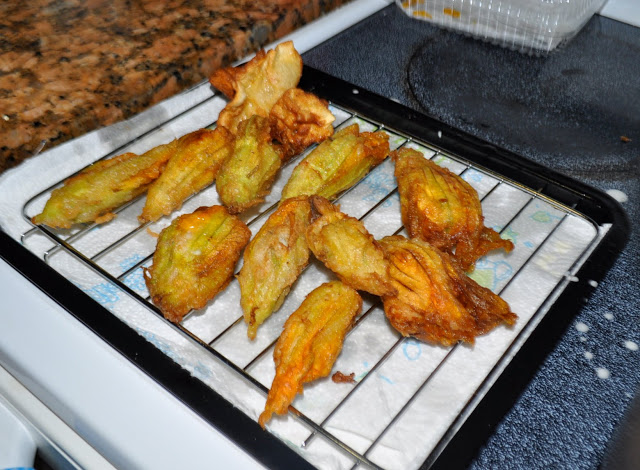 It just so happened that I had bought a green papaya at the Asian market the other day so I made some
som tum
or Thai green papaya salad. I'm sure you've had it at the Thai restaurant before? It's basically a papaya "slaw" with Thai dressing of lime juice, fish sauce, garlic and chilies and topped with crushed peanuts and it can be served with raw green beans and tomatoes. The salad has the Thai flavors of sour, hot and a bit of sweet and is delicious, crunchy and fresh, a perfect combo for the rich crab and fried batter texture.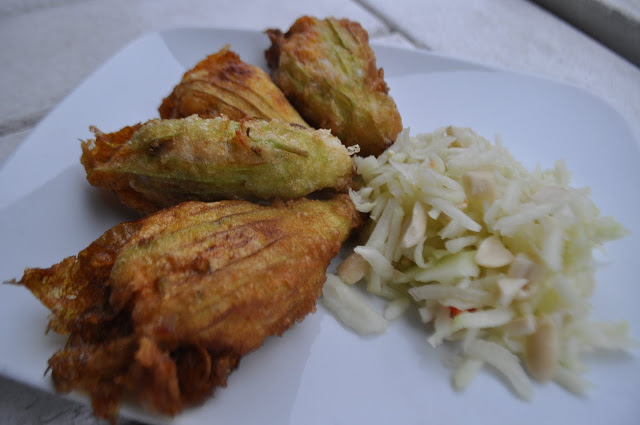 RESULT: Like I said, DAYUM. AND I MEAN DAYUM!!! This was more-ish, gorgeous, light yet rich tasting and very flavorful. The stuffing tasted like it was entirely of crab and was quite mild. The kaffir lime and lemongrass flavors really came through and La Diva hit a home run for authentic Thai tastes. The refreshingly crisp salad was the perfect foil for the battered blossoms and though this would be served as a starter to a main course, we had this for our dinner. It was luxurious and very satisfying.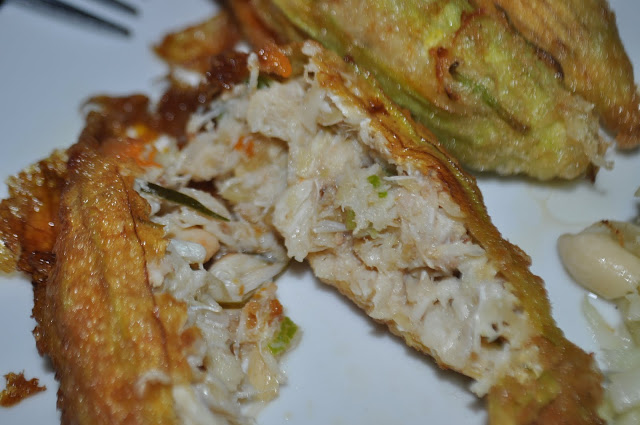 Now doesn't that look DIVINE, darlings? La Diva's Thai-style crab stuffed squash blossoms!!
And now, Jealousy's ugly head has been squashed down to the darkest depths of my psyche and La Diva can once again visit Chefs Doggybloggy and Dennis' blogs without stabbing pangs of SQUASH BLOSSOM ENVY. And best of all, I still had half of the crab and fish mixture left. What did La Diva do with it? Come back to my blog for the next post where you can see my Thai style crab doing double duty! Ciao for now, darlings!
Want to learn how to make delicious Asian dishes paired with sassy cocktails? Take my Asian cooking and cocktail class, you can get info by clicking
HERE!
cooking class, cocktails, parties, cocktail party, Miami, coral gables, events, bartending class, cocktail class, Laura Lafata, Miami Beach, miami cooking classes, bachelorette parties, bachelorette party, personal chef, corporate events, catering, personal chef, party entertainment, www.ladivacucina.com, top chef, next food network star

Originally posted 2010-08-12 20:49:00.