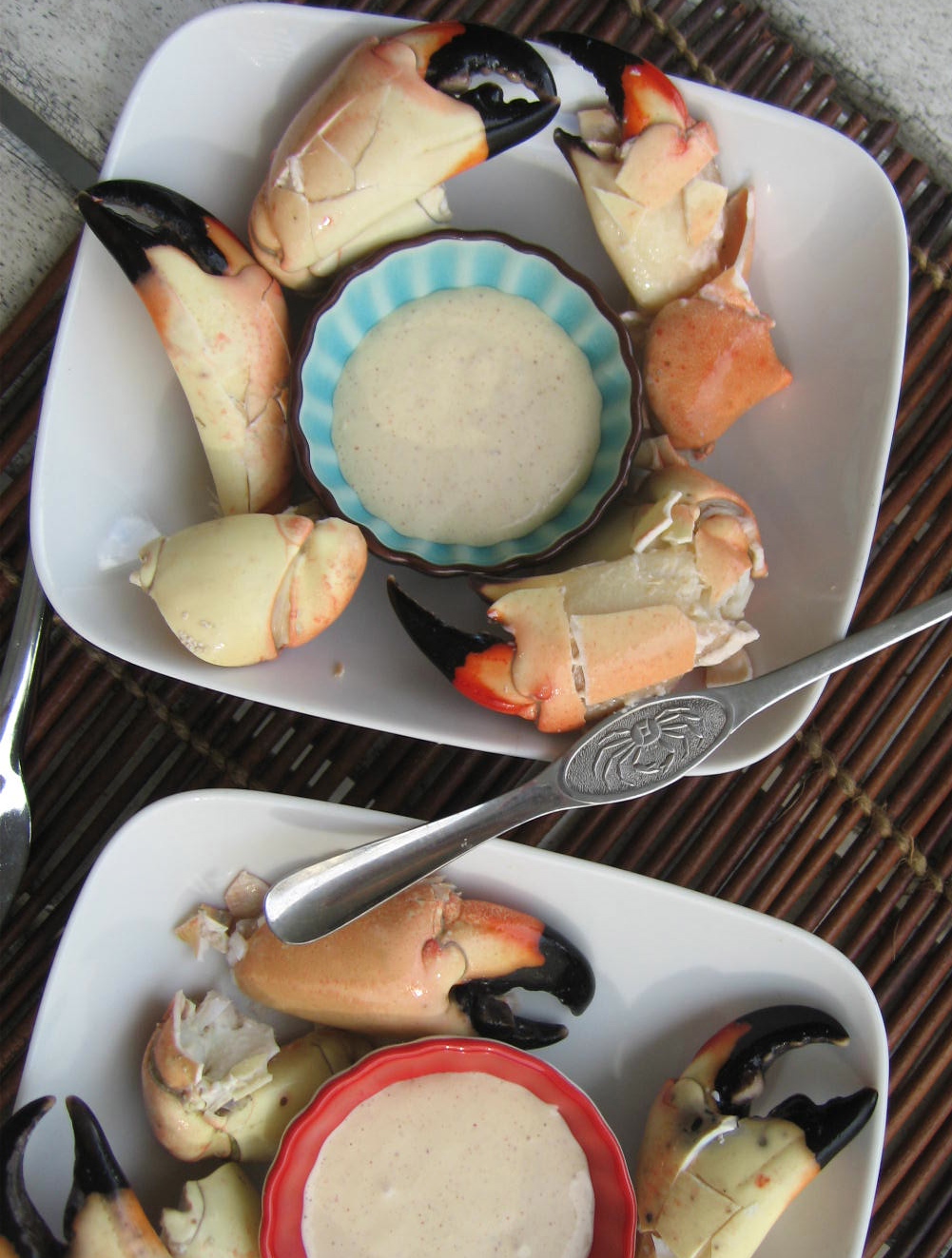 Darlings!  Yippee!  Hooray! Woo hoo! The Southern Florida growing season has begun!  The Farmer's Markets are back!  And stone crab claws are in season!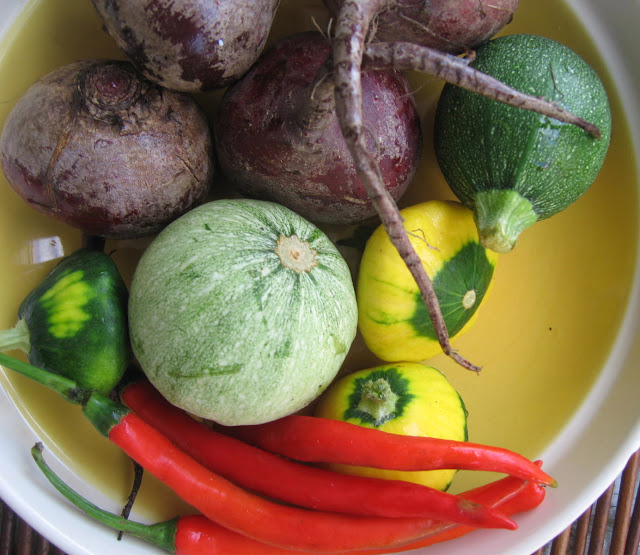 At the farmer's market I picked up:  beautiful baby beets, a variety of globe zucchini and patty pan squash along with some very hard to find Thai chiles.
I am thankful I live in a place that has stuff that grows while elsewhere it snows!  (30 years living in the cold is enough, don't you think?)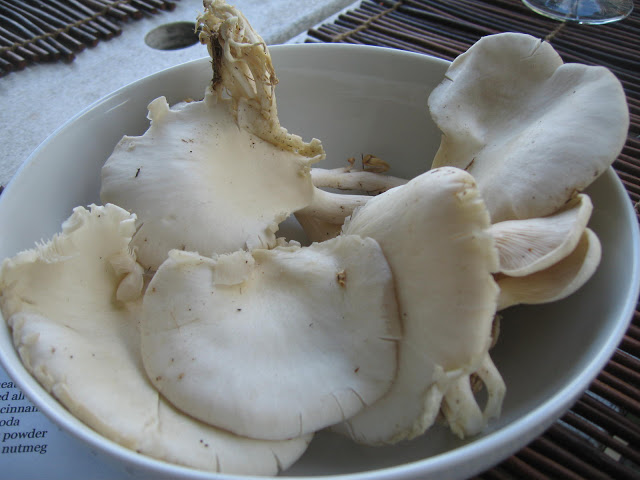 These organic oyster mushrooms are delicate in texture and flavor.  I'm going use these as a garnish with pearl onions in a chicken fricassee!
I am thankful for our new, spacious home and that I have a loving partner to share it with.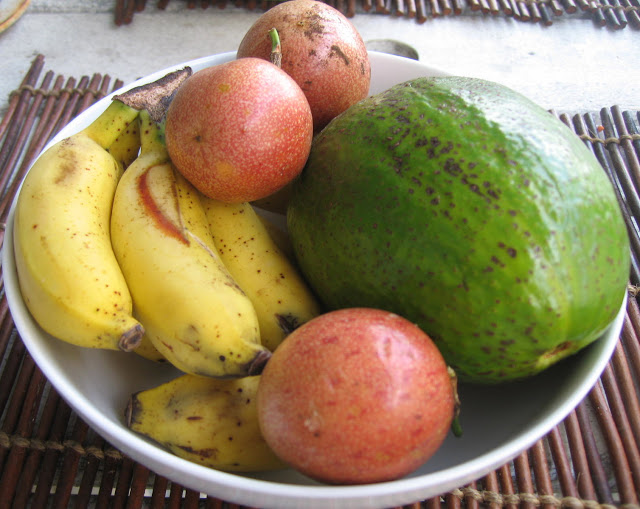 Num  num!  Tropical fruits:  Florida avocados (much larger than Haas, and some can be quite sweet!) passionfruit and divine, sweet bananas all straight from the farm!
I am thankful for my good health and my strength of body, mind and soul.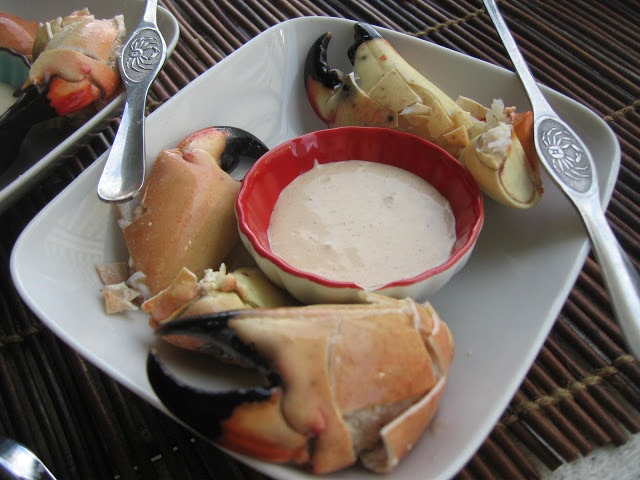 Stone crab season runs from October until May each year and I have to say, La Diva did not eat nearly as many as I should have last season!  (I loves me some crab!)  The crab claw is where all the meat is and is usually served with a creamy mustard sauce.  For a decadent treat, whip cream and fold it into the sauce and serve!
I am thankful for possessing the ability to position myself in life to live in cities that are vibrant and inspiring.  (and grow palm trees!  Oh, and near an ocean!  I have to live near an ocean, an ocean full o' crabs!)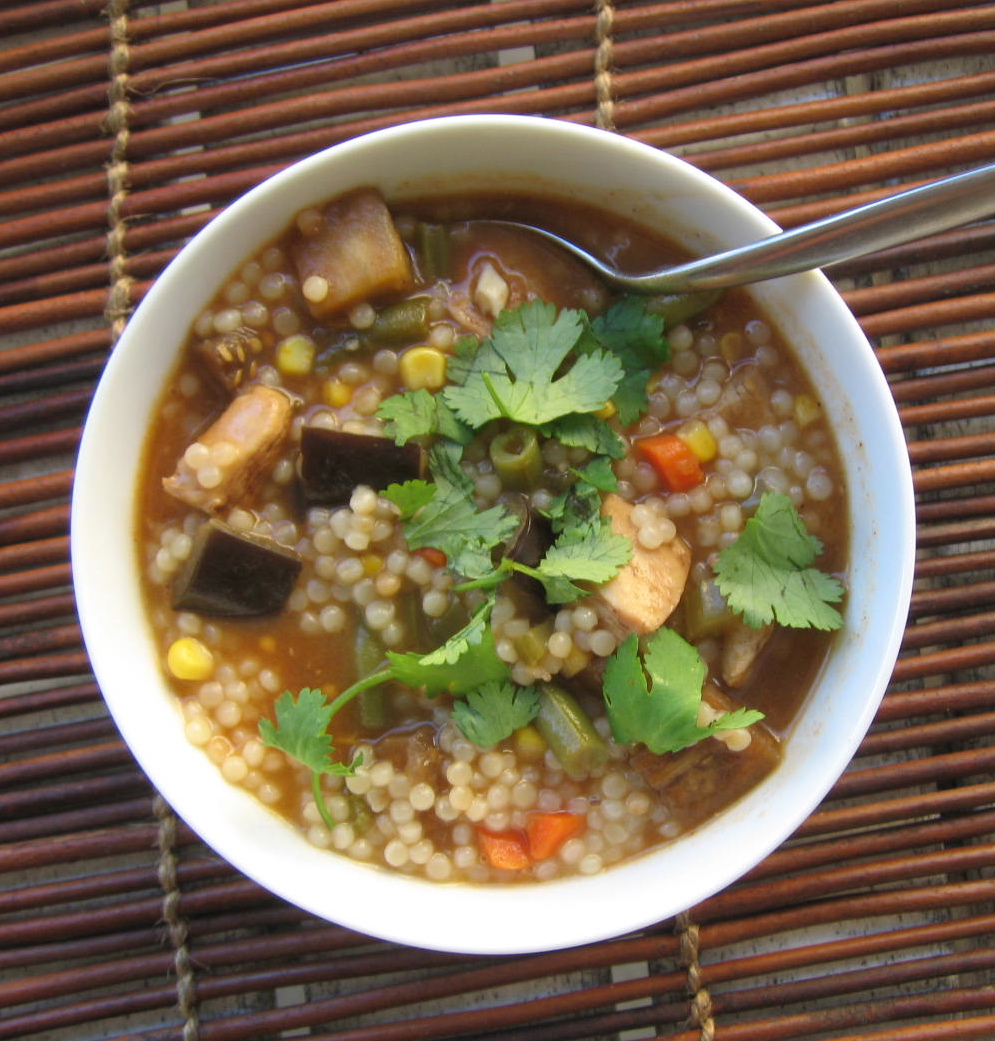 Easy and quick Moroccan chicken tagine with vegetables and Israeli cous cous using Herbie's Tagine Spice blend made the dish authentic and flavorful with just a few spoonfuls!
I am thankful for my friendships with people I've met and shared many great times with in the past and today as well as the many wonderful friendships I've developed online with people I HOPE to meet in the near future! (or might not ever meet but you sure do make my day sometimes!)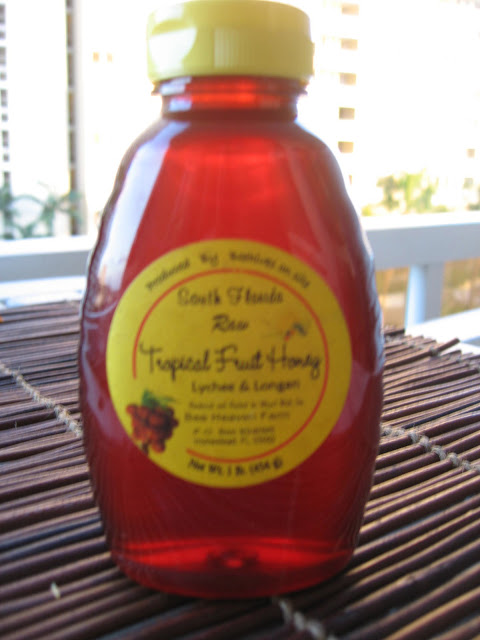 This is honey made from tropical lychee and longan flowers from the beekeeper down at Bee Heaven Farms.  It's organic and has a slight cinnamon spice taste to me!  It's my favorite and I can't get enough of it!  (ok, the tupelo and orange blossom honeys are pretty good too!)
I am thankful for my family and my in-laws in particular, who have done so much to contribute to our happiness in so many ways.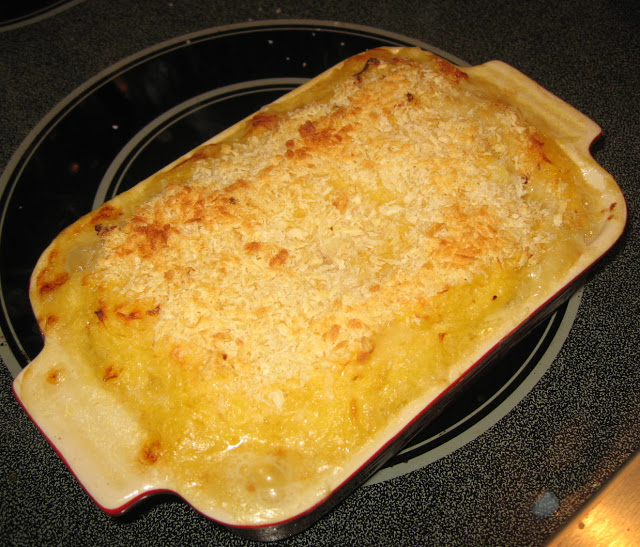 Spaghetti Squash with Mornay Sauce
Last night I wanted to try something different with spaghetti squash and decided to make kind of a gratin with it!  I didn't realize at the time that what I actually made was a mornay sauce for the squash.  What's mornay sauce, you ask?  Why, it's simply a bechamel sauce with cheese added to it!  What's bechamel sauce you ask?  Why, it's simply a white sauce made with butter, flour and milk, super easy and the mother of all French sauces!
This is what I did:
I took the whole squash and put it on a foil-lined baking tray, poked a few holes in it and baked it on 350 until the fork went in easily.  I cut it open, scooped out the seeds and then put the squash fruit side down on the tray and baked another 15 minutes.  I allowed the squash to cool a bit and then using the tines of a fork, I shredded the squash into long threads.  (you can do this part several days before)
Made a roux with 2 tablespoons of melted butter and 2 tablespoons of flour.  Mix well and form a paste, constantly stirring and cooking.   With a whisk, stir in one cup of milk.  Stir well until thickened and voila, you have white sauce!  Then I added 1/2 cup of grated parmigiano cheese and 1/2 cup of fontina to turn it into a mornay sauce.
Add the sauce to cooked spaghetti squash and put into a casserole and top with bread crumbs.   I could have added buttered breadcrumbs or more cheese on top but I felt the dish was rich enough and just wanted a tad of a crunch, so I added simple, plain panko crumbs.  Bake at 400 F until bubbly and brown!
RESULT:  Holy Cow!  What  a wonderfully, scrumptiously, rich side dish for what could be considered a boring vegetable!  This would make an elegant but easy side dish for Thanksgiving turkey and in fact, would be a nice break from the usual baked acorn or butternut squash with brown sugar and butter.
The dish was creamy and more-ish with a sharp taste hit from the parmigiano cheese, and surprisingly enough, the DJ liked it too!  (he doesn't usually care for squash too much.)
And most of all, I'm thankful that you read my blog! 
La Diva will be spending Turkey Day NOT cooking but with dear friends at multiple dinners (!) and enjoying myself!  What about you?  Happy Thanksgiving, darlings!! xoxo
Originally posted 2011-11-21 14:14:00.