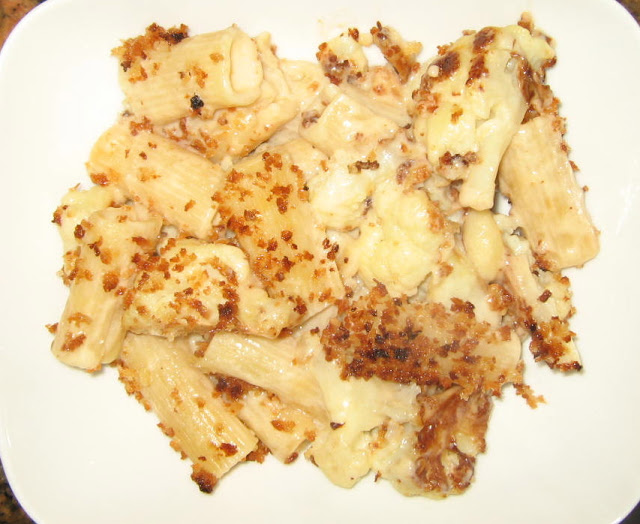 Rustic Roasted Cauliflower Rigatoni with Fontina Cheese and Toasted Truffled Breadcrumbs: Another meatless wonder that hubby inhaled without questioning, "Whar's the beef?"
Darlings! La Diva is back in the kitchen and cooking with a vengeance. Oh yes she is! And there is something driving me to baking cakes and cooking classic suppers. Perhaps longing for simple comfort food is another way to heal thyself? Or maybe it's the weather? What is it about the gray, cloudy days hovering endlessly in Miami that seem almost "winter-ish" and slightly depressing? These dull days initiate a submerged yet familiar feeling inside that reminds my body clock of times past in snowy Illinois and Michigan. Is this part of the desire to prepare and eat savory comfort foods? Who knows? All I know is that La Diva has been cooking up a storm and the recipient of my efforts is one very happy and neglected DJ.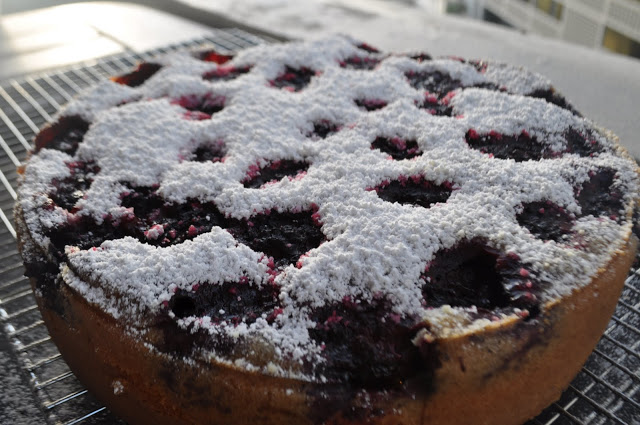 Blackberry buttermilk cake from this month's Buon Appetite. Fruit cakes are my fave!
One night, we dined on grass fed steaks from
Gaucho Ranch
with sauteed shitake mushrooms, mashed potatoes with lashings of white truffle cream, fresh baby spinach with garlic; all washed down with a hearty and peppery Aussie shiraz called
Henry's Drive.
Perfectly cooked, the flavorful and juicy steaks practically melted in our mouths, steak and mash is one of our favorite meals. So, where's the money shot? Where's the food porn? There is none. We were too hungry to stop and take a photo. Sorry.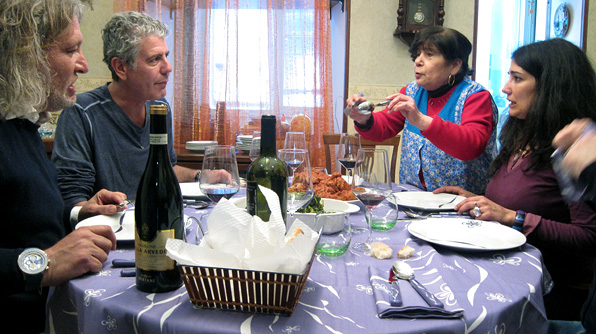 Tony Bourdain snags a dinner invite for traditional Sunday ragu at mama's place in Naples, Italy.
And then, inspired by the recently aired Naples episode of "No Reservations," La Diva conquered a five hour pork and veal
ragu
made with
San Marzano tomatoes
,
all while conjuring up images of the chain smoking matriarch on the show. She reminded La Diva of my long departed, sailor-mouthed Auntie Ann, who every Sunday, dripping with diamond rings, made the traditional Italian ragu with pork, chicken,
braciola
, Italian sausage with finocchio seeds (fennel) and
mostaccioli.
In her tiny basement, an assembly of dinner tables were pushed together and three generations of family would sit and eat with much laughter and arguing!
Savory, rich and delicious, La Diva's ragu was something my Auntie Ann would have been proud of, the sauce was more-ish and induced intense cravings. Just from after breakfast, all I could think about was when we would be eating it again and how soon was dinner? I realized this was why people in our family have heart disease and tend to be on the, ahem, "plump" side. Another winning dish and yet, La Diva took no photo even after serving it two nights in a row. Sorry.
Both dinners were divine. But did I bother to take you on a food porn journey with either of the succulent suppers? No. Greedily, the DJ and I tucked into our laden plates, not stopping to talk, allowing a sip of wine here and there, and plowing through until our plates were clean. There are no photos, there will be NO forthcoming blog post.
Instead, I give you a rustic and simple dish I made up based upon a craving.
Let's talk for a minute about cravings…..La Diva has been having a lot of them lately, for some reason. Perhaps it was the myriad cooking shows I watched endlessly over the last four weeks during my infirmity? Of that, I'm certain. In any case, I gots a lot of cravings. And with cravings, I sometimes find that having the meal or dish you crave doesn't actually satisfy you and makes you want to eat it all over again. And again. What you thought would satisfy you really makes you want more. You just know in your heart of hearts that you are almost better NOT succumbing to the craving to begin with (as experienced when La Diva had a problem with severe cravings for freshly baked Southern biscuits.)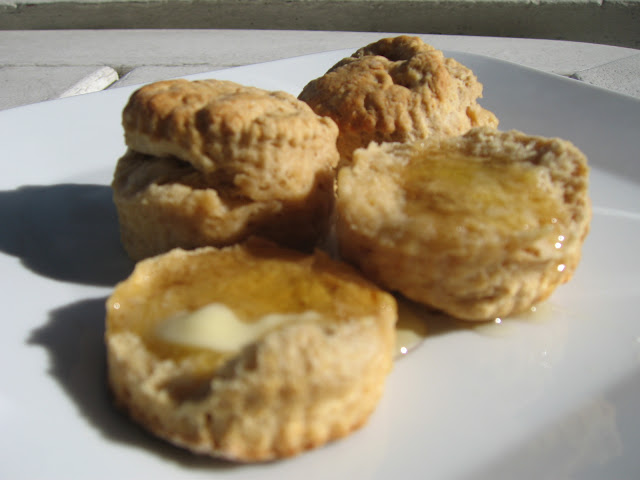 These freshly baked biscuits only took 15 minutes to prepare before they were in the oven. Making them myself was much easier than calling out to the DJ every few seconds: "Biscuits." "Biscuits." "Biscuits." For some reason me annoying him with my repetitive plea did nothing to propel the man into action to make me some. Hmpf.
And then there are the cravings that are passed on to you….someone mentions an excellent dish they recently enjoyed that gets you to thinking…and craving. Believe it or not, my
passed on craving
came from a student from one of my recent classes that ate at a high end vegetarian restaurant, raved about their beautifully baked breaded cauliflower and wondered "did I know how to make it?"
No. I did not. Unfortunately, La Diva has not eaten every thing at every restaurant (though I try!) But it got me to thinking about tasty breaded cauliflower, something I love but never make.
Which led to me thinking of a bubbly, cheese-y bread-crumb-y cauliflower gratin.
Which led me to think of a rustic mac and cheese with a toasted buttery, crunchy bread crumb topping.
Which led me to combining all the flavors and textures into:
Cauliflower Rigatoni with Fontina Cheese Sauce and
Toasted Truffled Breadcrumbs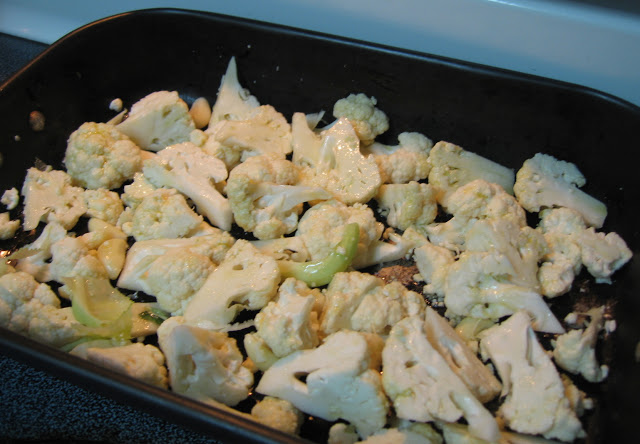 Heat oven to 450 degrees Farenheit and heat up a large pot of water to cook the pasta. Cut up one small or half of a large cauliflower into even chunks, douse with extra virgin olive oil and sea salt. Stir together to coat well, put into oven and bake for 15-20 minutes. When cauliflower is brown, turn over to caramelize the other side, continue cooking until brown and fork tender, another 10-15 minutes. Remove from heat.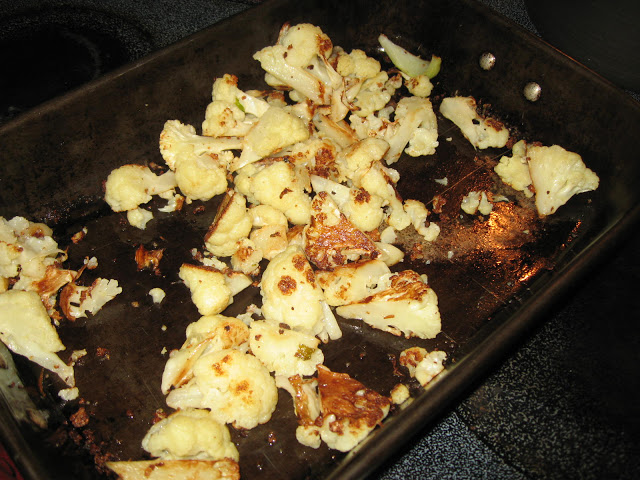 The browning of the cauliflower releases the vegetable's sugars and lessens its slightly bitter taste.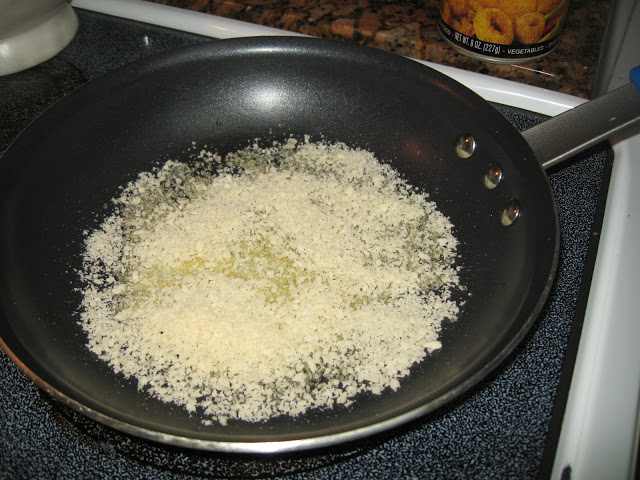 In a skillet, melt a knob of butter with a dash of olive oil. Add fresh or panko breadcrumbs to the pan and toast until evenly browned. Remove from heat and put onto a plate to stop them from over-browning. For a bit of decadence and flavor, La Diva added a few drops of white truffle oil and mixed through.
When the water begins to boil, add rigatoni and set timer for two minutes less than al dente. Salt the water. When done, drain and add to the cauliflower.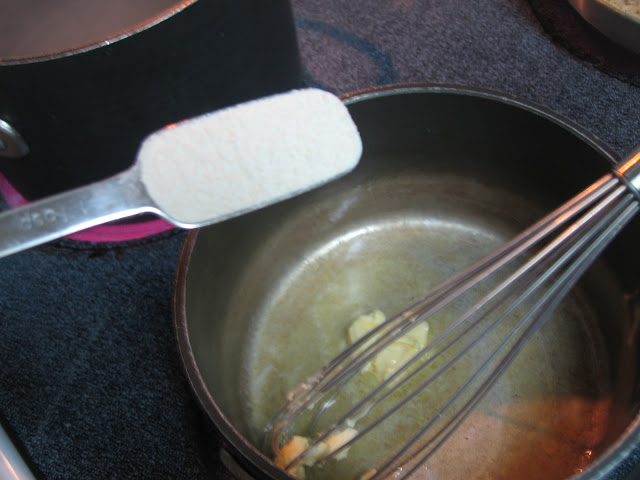 Now it's time to make the cheese sauce: Melt a few tablespoons of butter and then add equal amounts of flour, stirring with a risk and forming a "roux."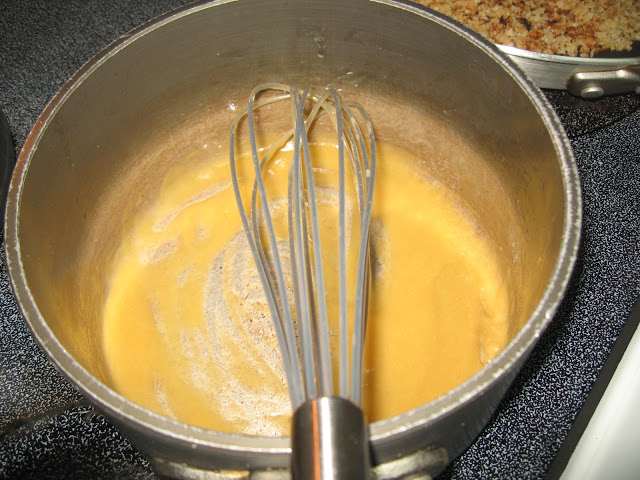 Cook the roux until golden. Then add one cup of milk, whisking continuously. Stir in 3/4 cup fontina and parmesan cheeses. The sauce will thicken, taste it and season with salt and pepper. La Diva had some white truffle and porcini cream, so I added a good heaping spoonful to the cheese sauce. Mmmmmmmmm mellow, salty, creamy cheese sauce loaded with umami!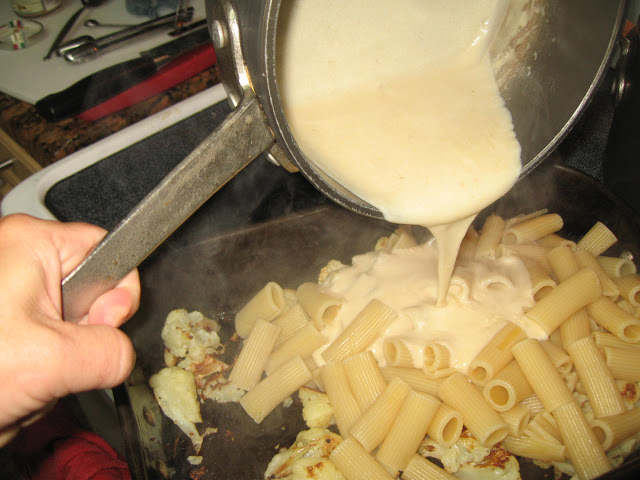 Pour the cheese sauce over the pasta and cauliflower and then mix through to make sure its all well coated.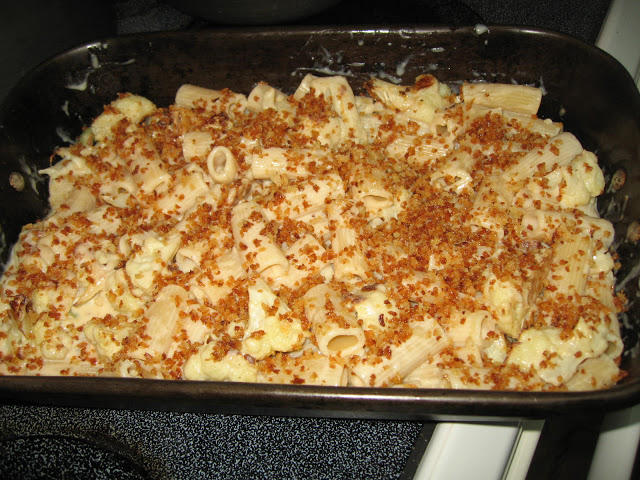 Turn off oven and set broiler to high. Sprinkle pasta evenly with bread crumbs and put under broiler until brown and bubbly, just a few minutes. Keep an eye on it to make sure you don't burn it!!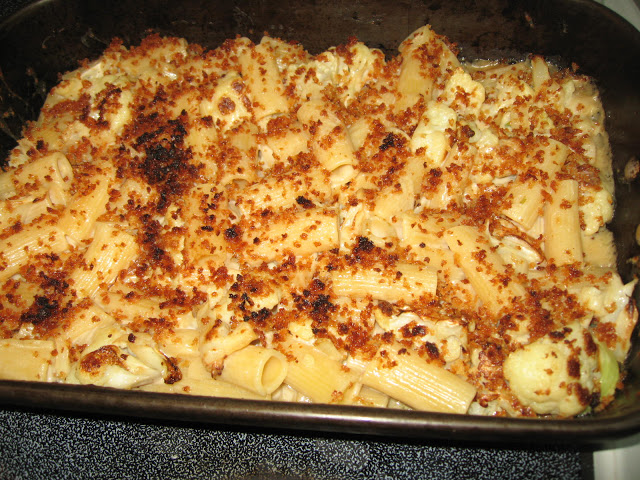 RESULT: Delicious. Scrumptious. Divine. More-ish. You know, darlings, La Diva usually does not approve of "carb on carb" dishes (the breadcrumbs and the pasta) NOR do I care very much for baked pasta dishes (darlings, I don't know about you, but La Diva has suffered too many bland and mushy mac and cheese and baked ziti dinners far too many times!) However, cooking the pasta less than al dente allowed for the pasta retain a perfect, still-chewy texture when removed from the oven. And for that reason, rigatoni is one of my favorite noodles. It holds up so well and has a robust, ribbed texture that captures the sauce.
The crunch of the toasted, truffled bread crumbs combine with the pasta to add another layer of toothsomeness to this hearty dish. The truffle's taste was subtle, the slightly bitter flavor of the cauliflower mellowed, and the sharpness of the parmesan cheese was tempered by the creamy fontina. All in all, this dish is WINNING!
Do cravings inspire YOU in the kitchen, darlings? What are YOU making this week? Please tell La Diva ALL ABOUT IT! Ciao for now! xo
PS: The bank accepted our offer for the short sale. We closed on our condo last Monday and got a great deal. My level of responsibilities just got waaaay bigger and the DJ and I are thrilled! So, please excuse me if I don't get around to commenting as much as I'd like to. Off to patch, prime and paint!
Originally posted 2011-08-15 21:59:00.