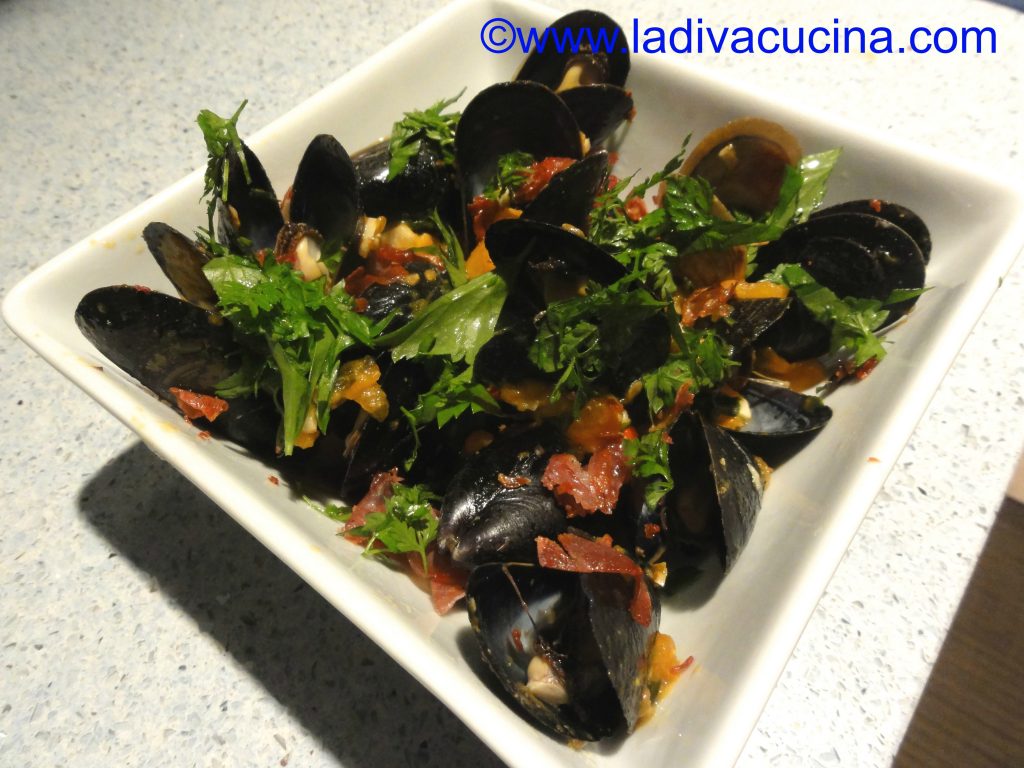 Darlings, it seems that an old idea has become new again: repurposing. Yes, your grandma and grandpa did it and perhaps, if one is of a certain age, perhaps your mom and dad did it too. For those that want to live a more sustainable life, or live "green" or hate waste like La Diva does, to repurpose is not a fad but a way of life.
The fact is, I've been re-purposing for years. Back when I used to buy vintage clothing, I'd constantly give new life and modernize an old coat or dress just by adding a new collar, stylish buttons or even letting up or down hems.
But today with food so expensive and me working in events where there COULD be a lot of waste, I find I repurpose food more than anything else. And so for a fitting start to the New Year, the Creative Cooking Crew has challenged us all to make meals with the theme of "Repurposing leftover or how many meals can you get from one?"
Definition: REPURPOSE:
transitive verb  = to give a new purpose or use
One of my favorite meals to repurpose is chili with beans. The first night we eat the chili with corn bread or brown rice. The next night it might become a filling for an omelet, topping for a taco salad or baked potato. If there's any left, I puree it in the food processor, heat it up, add some grated cheese, a dollop of Greek yogurt and sliced green onions and then serve it with corn chips! Now THAT's stretching a meal!

Of course, we all get challenged to repurpose food during the holidays. Christmas included shrimp cocktail, baked glazed ham, deviled eggs, pimento cheese dip and a vegetable platter. Some of the ham turned into Cuban black bean soup, frittata with potatoes and then into a batch of fried rice along with a few left over cooked shrimp. Piemento cheese and other dips turn into sandwich spread. Deviled eggs turn into egg salad. Carrots, red peppers and even cucumbers from a crudite plate were all boiled with stock and Asian seasonings, curry paste and coconut milk to become a luscious vegetable Thai curry soup.
With my La Diva Cucina team building and cooking class business, I throw a lot of events. And if a certain theme or dish gets popular, I tend to have the same ingredients on hand again and again. It's great if I have back to back events, but what if I don't? Many times I might have food left over from both the prep for the event and the event itself.
A few months back, a new event planner hired me to do a salsa making competition along with a ground beef (picadillo) empanada demonstration. The table was laid out for the competition with a variety of fresh tomatoes, roasted tomatoes, chilies, cilantro, corn, black beans and onions. As my chef's helper and I sat waiting for the guests to arrive, the phone rang and it was the event planner telling me they were running late. Fifteen minutes later, I was told to break down the event, no one was coming. (She did warn the client NOT to book an event on the last day of the conference, after all!) So, while my helper was cleaning up and putting things away, I dumped the beans, corn, roasted tomatoes, chilies and a few more tomatoes into the picadillo. I let it cook as we worked and within a half an hour, I had created a fantastic chili. I gave half to my helper and took the rest home, knowing I'd use the tomatoes, onions and chilis again soon.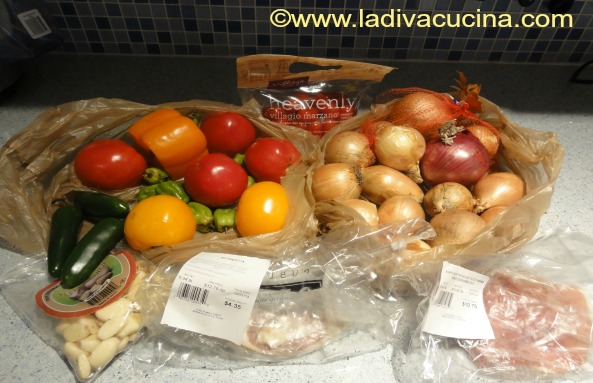 So, the question remains: Is it really re-purposing if you are using raw ingredients for food you never intended to make? In my case, I'll say that's a definitive yes! Since New Year's day, I've been doing one-two events per week, so instead of going grocery shopping for what I'd like to make, I tend to use what is left over! And that can be trying with the same ingredients again and again and again.
The onions could keep for a few weeks but what would I do with all of these tomatoes, chilies and a few measly ounces of cured meat?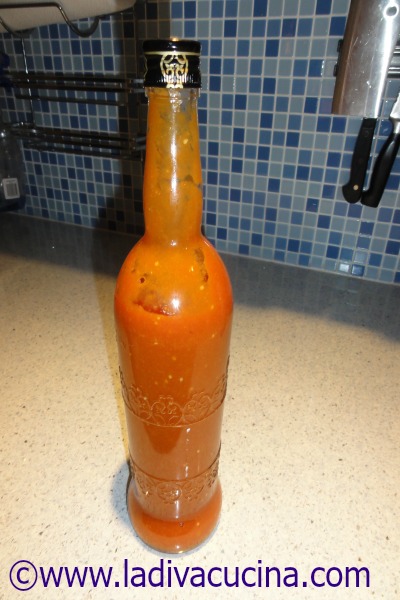 I got to work and decided that I could make a killer spicy ketchup and began to boil roughly chopped up tomatoes, pepper, the chilies, some of the garlic and the ginger. I added sugar, salt and a good dose of apple cider vinegar and then let it cook down for an hour or so. Once done, I pureed it, adjusted the seasonings and then put it into a bottle! It was good! And the ginger came through with a bit of unexpected heat and flavor. This would be great on eggs, burgers and stir-fries!
For dinner that night I would use the last half of yellow tomato along with garlic, another chili and make mussels! All I had to spend was a few dollars as mussels are inexpensive and filling. I cooked down the tomatoes and garlic and then added the mussels with a bit of chicken brother (leftover) and garnished with a slice of prosciutto that I'd crisped up in a pan and then diced along with chopped cilantro. The dish was very more-ish, low fat and tasty, the prosciutto adding a hit of salty crunch that I loved.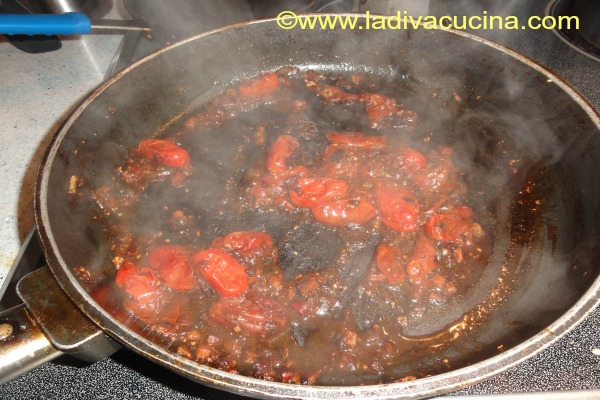 I still had the half a piece of pancetta, the grape tomatoes, garlic, onions….so instantly I thought of bucatini all' amatraciana, a classic Italian dish using pancetta, tomatoes and bucatini pasta. As I cooked the onions, add the pancetta, the garlic and then tossed in the grape tomatoes and put on the lid. I'd done this plenty of times before with shriveled grape or cherry tomatoes when they were past their salad prime.
I went to work on the salad when I smelled something burning….and it was too late. My last dish of the trifecta of "leftovers" was ruined. I tasted it anyway. Yep. Nothing like the bitter taste of garlic to to permeate a dish! Into the trash it went. Now what? I was ticked off at myself for not paying more close attention. Grrrrrr….So I did what I always do when I'm frustrated and without any ideas. I left it for another time, hoping for inspiration before the deadline for the challenge.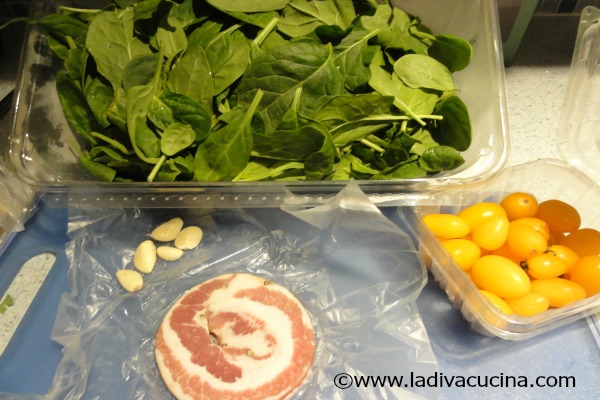 Another week and another event with more leftovers found their way into my fridge for inspiration. This time I had a whole box of spinach, more pancetta, garlic and sliced onions, cucumbers and red peppers. Of course, I made a spinach salad with the fresh sliced vegetables, and the onions went into the base of an Indian vindaloo curry. But I decided that I'd try the pasta again and this time I'd pay attention. Just before the sauce was finished, I tossed in a few handfuls of chopped spinach and then served it up with a drizzle of extra virgin olive oil, a dab of butter, basil and a bit of parmesan.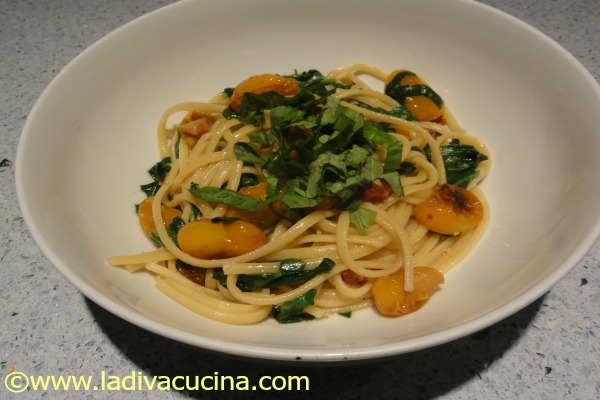 Now THAT's what I'm talking about! With the pasta only just cooked and the tomatoes sweetened from being cooked down, this dish came out simply delicious.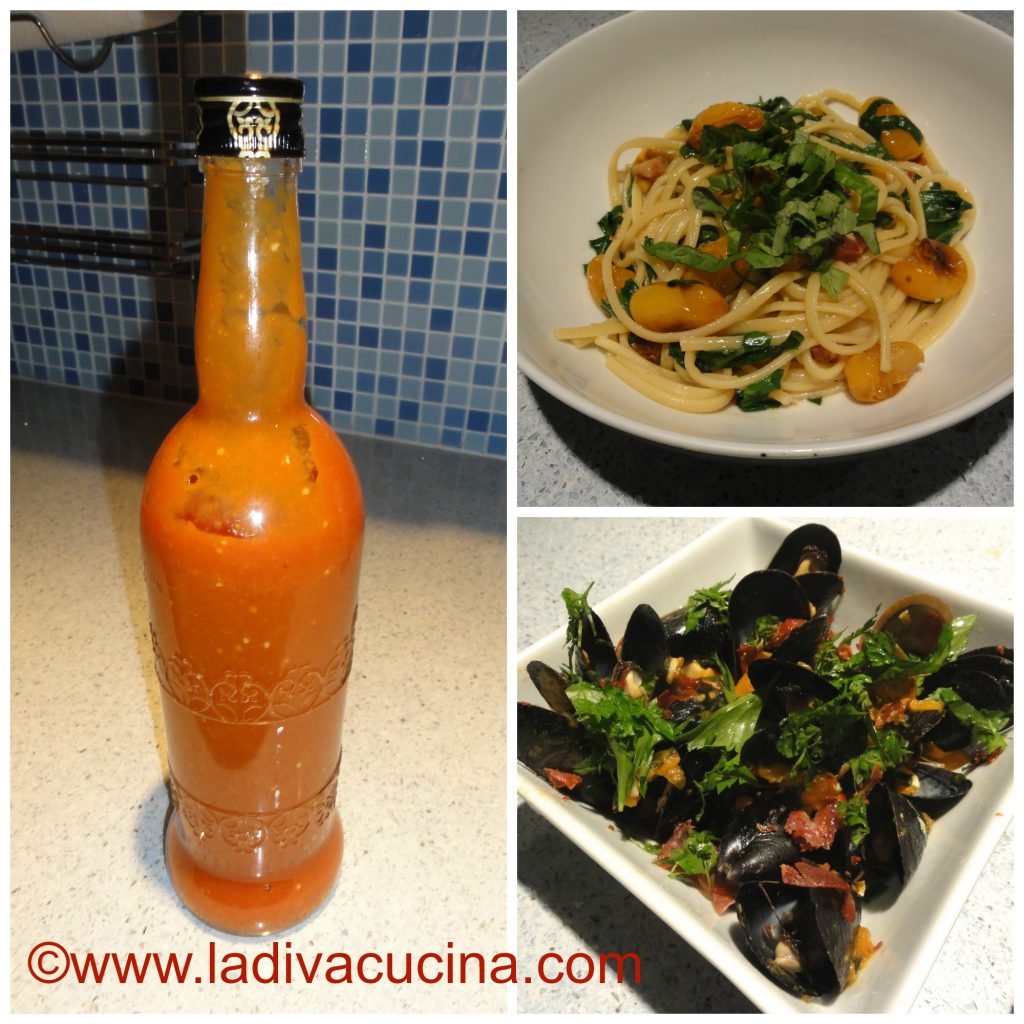 So a bagful of onions, chilies, tomatoes, garlic along with a handful of ginger, basil, cilantro and an ounce or two of cured meats produced three completely different outcomes: spicy ketchup, pasta with tomatoes, spinach and pancetta and mussels with tomatoes, garlic, cilantro and prosciutto. What do YOU like to repurpose from your kitchen, darling? Do tell La Diva all about it!
Ciao for now and remember to CLICK HERE for the Creative Cooking Crew round up to see all of the entries!  Ciao for now, darlings!

Originally posted 2015-01-28 12:39:40.