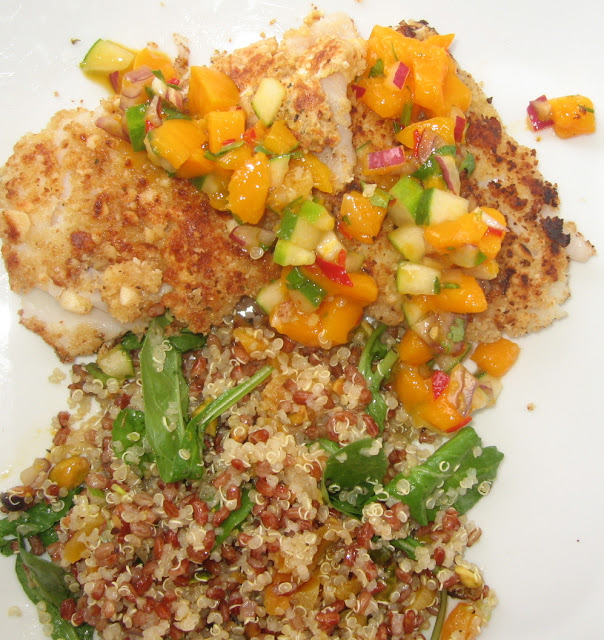 Unusual and flavorful red rice pairs with nutrient powerhouse quinoa, arugula and pistachios for a chewy, nutty and delicious salad. It's served here with macadamia crusted cod and mango chili salsa.
Darlings! Remember a while back, La Diva wrote a post about a wonderful cookbook from Ottolenghi in the UK that offers divine Middle Eastern-inspired dishes made with seasonal ingredients? Of course you do, darlings, but you can always refresh your memory by clicking
HERE.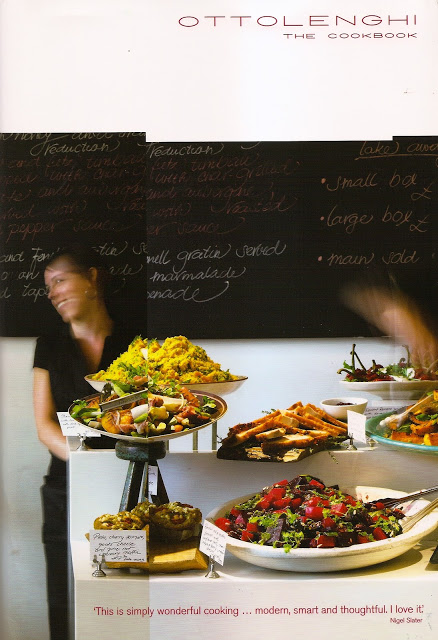 Well, A few weeks ago while La Diva was traipsing through Whole Foods (as you do) when I came upon this most interesting red rice.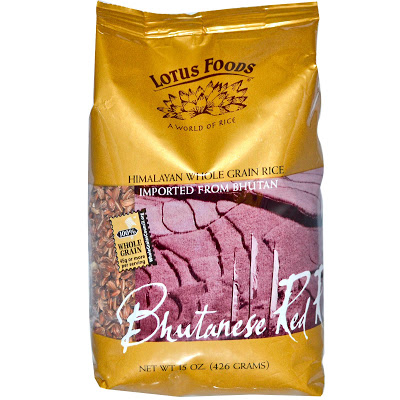 More Bhutanese red rice info and recipes can be found
HERE.
A staple of the Bhutanese people, the rice is a medium grain
japonica
rice that cooks more quickly than brown rice and has a slightly sticky texture. It's the only agricultural product imported from Bhutan in the Eastern Himalayas. Cool!
So, naturally La Diva bought it! Now, what to do with it? I realized that a high quality and unique rice like this deserved to be featured in a recipe, not a merely used as a component, and I remembered reading about a salad with red rice from the Ottolenghi cookbook.
I looked it up and noticed that the recipe actually calls for a French red rice called
Carmague
,

(but we shant split hairs) and think the Bhutanese red rice a fine substitute. And as La Diva is trying to eat more of the protein-packed quinoa,
thought it would be a perfect pairing.
Camargue Red Rice and Quinoa with Orange and Pistachios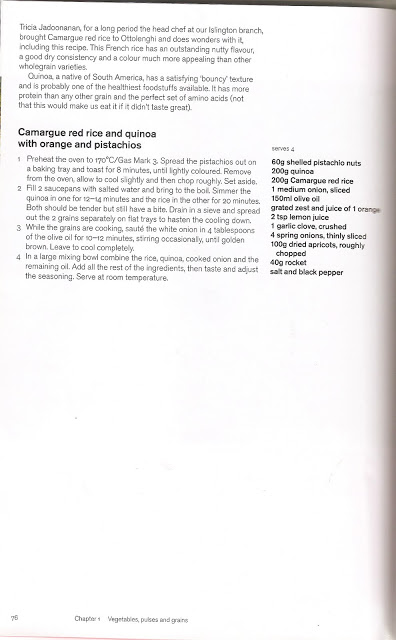 Go on and click on the image to biggify, darlings, I can't read it either!!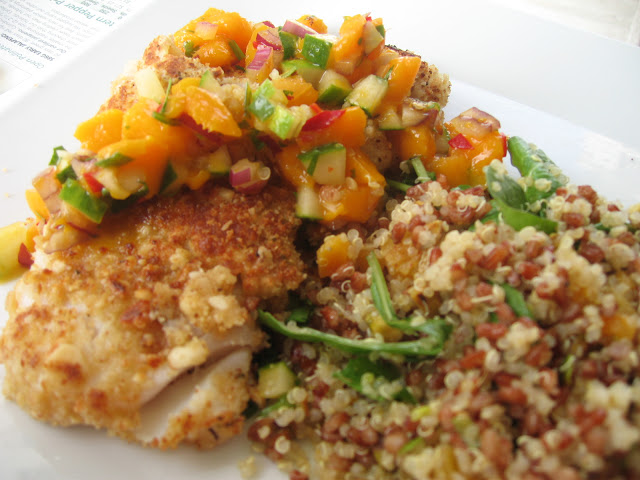 RESULT: La Diva found it interesting that the recipe calls this salad a salad of "orange" with orange juice and orange zest but also has delightful dried apricots as well.
And even though you have to prepare the grains and onions all separately, all the flavors and ingredients combine in a divine manner, making it worth the extra time and steps.
The salad is slightly chewy and toothsome, the quinoa pops in your mouth while the red rice lingers a bit with it's nutty nuances further enhanced by the pistachios. The caramelized onions add a wonderfully mellow flavor while the green onions and arugula add a peppery bite! The piquant flavors of the onion and orange mirror the mango salsa and the buttery cod and macadamias….DIVINE!
If you are looking for a unique summer salad to serve with grilled meats, seafood or vegetables, look no further! This complex salad of whole grains is gorgeous as an accompaniment to summer fare and because it's best eaten at room temperature, its perfect for picnics and barbecues. The salad is definitely tastier the next day when the flavors really meld.
Enjoy, darlings, and ciao for now! xo
Originally posted 2011-06-19 19:24:00.