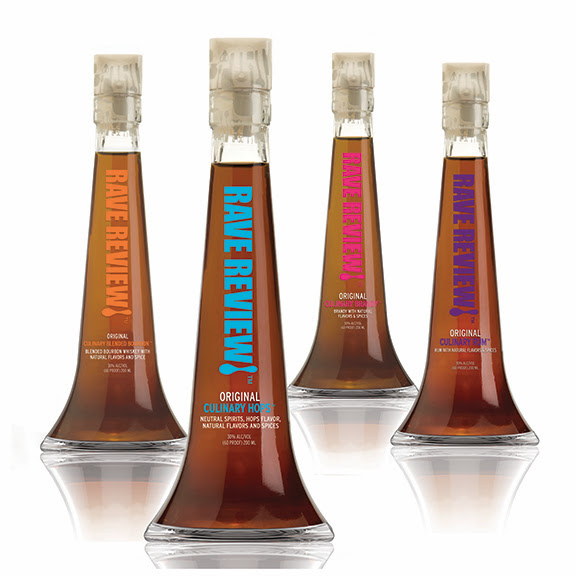 Darlings!
One of the perks about being a blogger is you get invited to events in order to review products, chefs or restaurants.   After my 
last post about cooking with spirits titled "COOKING WITH BOOS,"
  I was approached by a PR firm in New York representing a new spirit line for use in the kitchen only.   A lunch would be prepared at the lovely French restaurant 
La Gloutonnerie 
by Chef Christian Testa highlighting the new product line in his dishes and would I be able to attend?  I have to admit, I am pretty picky about whom or what I will write about and the main prerequisite to be reviewed is that I MUST like the product, so it's pretty rare you will find a review on this blog, but my curiosity was piqued.   A few days before I went to the 
Craft Spirits and Beer Show
 and was bombarded by whiskey producers from states you'd never associate whiskey production with like New York, Texas and Illinois, but this was a new and interesting spirit product:  Spirits I could cook with without losing flavor.  I RSVP'd to attend.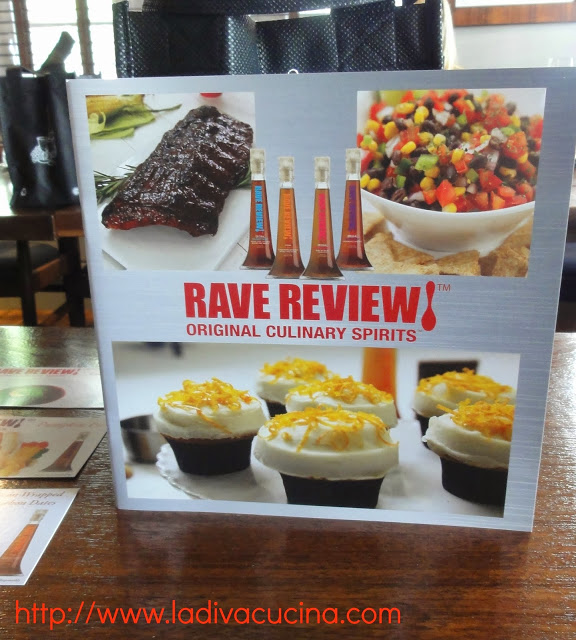 From the company website:  Rave Review!™ Original Culinary Spirits  were designed by chefs to fulfill the need for premium culinary spirits in the kitchen. Unlike any other spirit, Rave Review!™ Original Culinary Spirits are the first family of spirits crafted for cooking.  Whether you are a professional chef or someone who enjoys the pleasures of cooking you will notice the difference when you add Rave Review!™ Original Culinary Spirits to your cuisine.
Rave Review!™ Original Culinary Spirits combine artisan tradition with scientific innovation to make the world's first culinary spirits. Our ingredients are all natural and each spirit is heat stable, has no alcohol bite, low in congeners and low in sugar.  You will find each flavor to be balanced and consistent in cooking as any quality ingredient should be.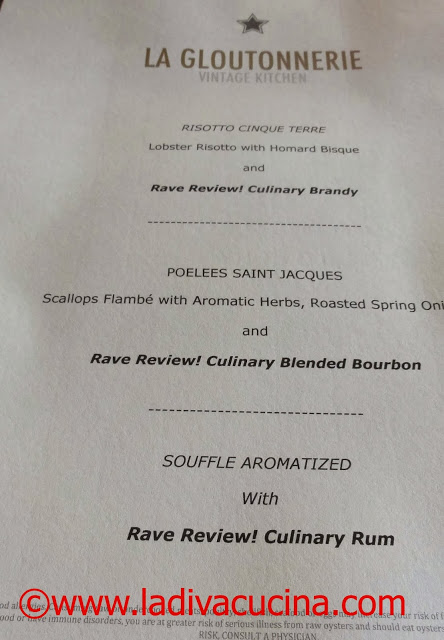 On the table for each person was a gift bag, a media kit and the menu.  As freshly baked rolls, pate and butter were set out, I ogled the menu, imagining the treats that awaited me in the chef's kitchen.
As we ate our bread, we talked to the inventor of the product, Jim Lindner, a scientist who explained how purchasing an old church in Nova Scotia, Canada and thus learning about the local bootlegging history of the area, had intrigued him to the point of spurring him on to create a new spirit product to which chefs could cook with.   He began to talk to chefs about cooking with spirits and the problems associated with it and then approached food chemists to see if his idea was even plausible.
Thus started the invention and multitudinous testing of Rave Review Original Culinary Spirits by talented and creative chefs from around the nation including Top Cheftestant Ron Duprat and Miami local Tim Andriola of Timo's Restaurant in Sunny Isles, FL.
Trinity, the brand's marketing manager, receives a sample of cognac and passes around one for each of us to try.  Meanwhile, the restaurant's manager heats up more of the same cognac to 190 degrees Fahrenheit.  We are encouraged to sample both.  I find that the cooked cognac has no depth of flavor and has lost it's wonderful, spicy vanilla notes.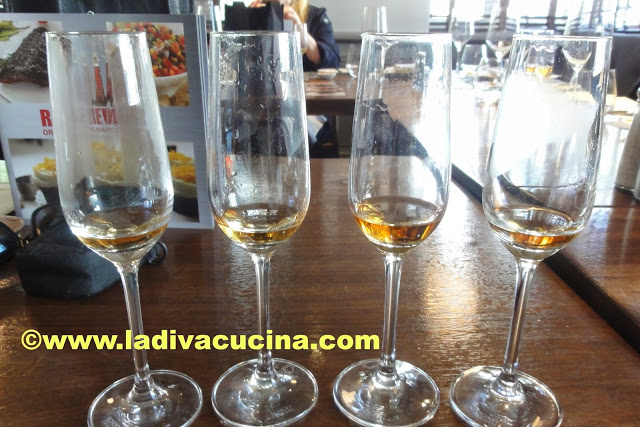 Then, a sample of the Rave Review brandy is served while more is heated to the same temperature as the cognac.  We are given both to sample, all of us noting that there is no loss of flavor or depth, both samples tasting exactly the same whether heated or not.  The demonstration illustrated the loss of flavor by cooking with regular alcohol where one is essentially "re-distilling" the product by heating it up again.  It was a very good example of how their product is superior when used for cooking or baking at high temperatures vs. regular spirits.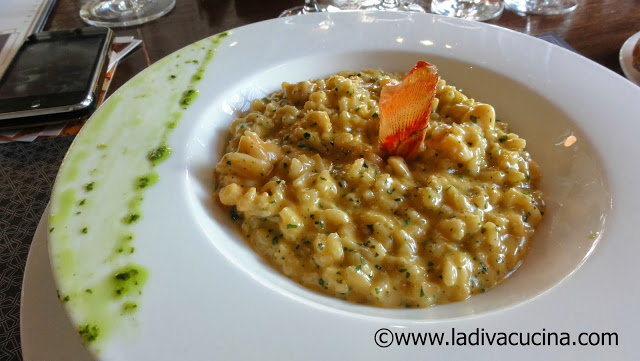 The waiter brings out the first course:  creamy lobster risotto cooked with brandy.  It is just as delicious as it looks and the brandy flavor is detectable, though not over powering.  After eating up every bite of the chef's delicious risotto, we are invited to the kitchen to watch the chef demonstrate the next dish prepared with the product.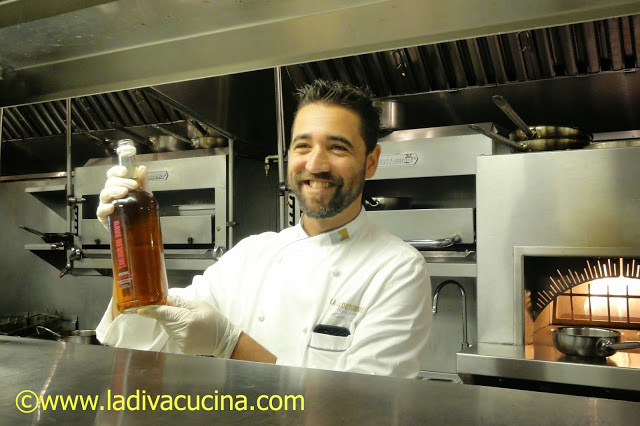 Chef Christian Testa showing us the bourbon flavor of Rave Review Original Culinary Spirits for use in cooking diver scallops.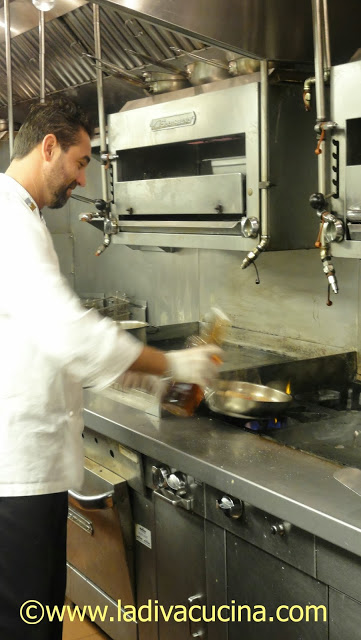 After searing the scallops in butter and olive oil, Chef Testa adds green onions and grape tomatoes and then flambes with the Rave Review Original Culinary Spirits Bourbon flavor.  Just like when one cooks with traditional liquor, the pan ignites and flames shoot up as we all "ooh" and "ahh."  The aroma was just incredible.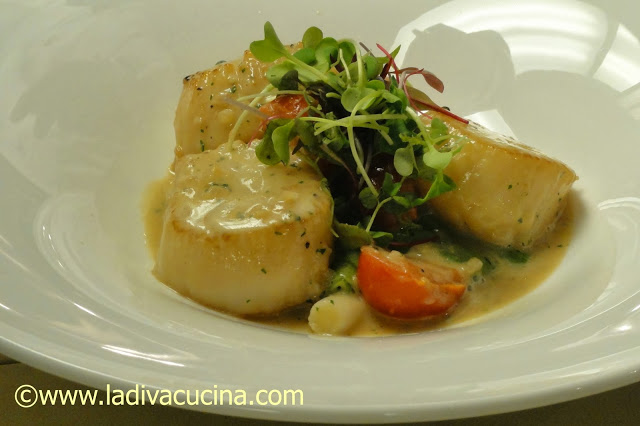 The plated demonstration dish:  Seared diver scallops with green onion and tomato, veloute
sauce with bourbon flavored Rave Review Original Culinary Spirits.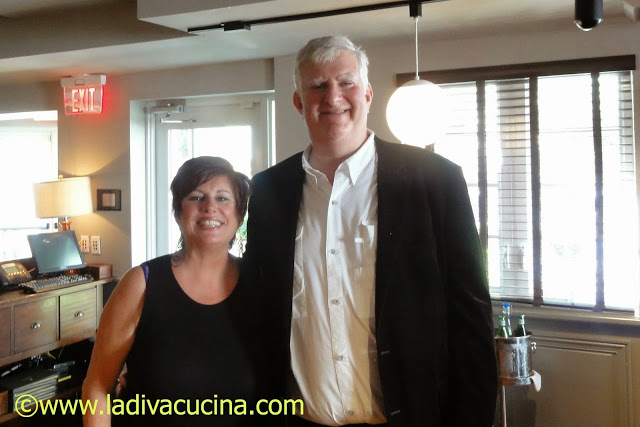 La Diva and inventor Jim Lindner.  Jim was affable and friendly, and obviously enjoyed answering our questions about his product line.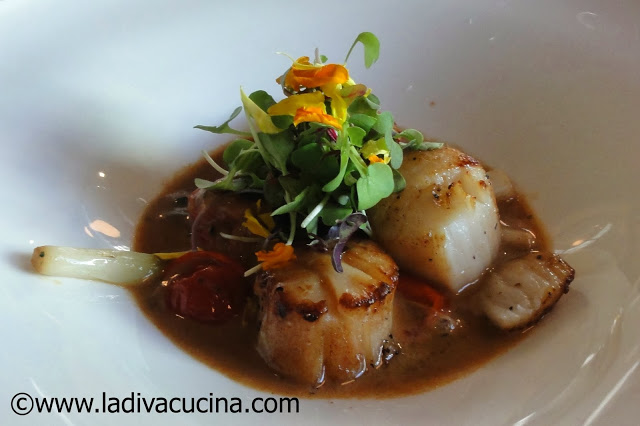 The same dish is served to the guests and it tasted decadent and divine.  Again, the bourbon flavor is evident yet subtle and absolutely delicious.  I mopped up every last bit of sauce with bread!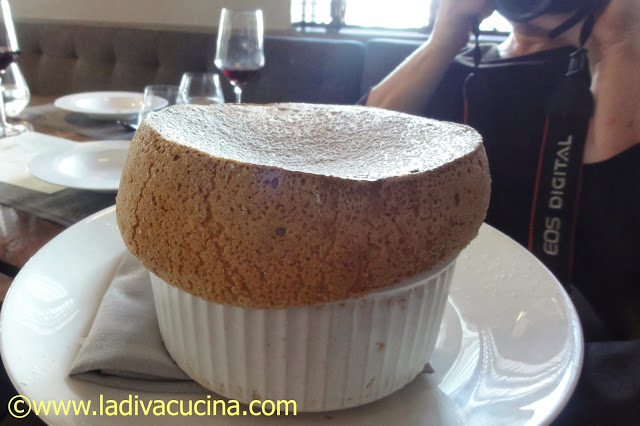 The highlight of the lunch:  a vanilla rum souffle!  When this was put down next to me, I greedily thought the entire dish was for moi!  HA!  The waiter served La Diva and then poured over a rich creme anglaise sauce, which he wisely left on the tabl
e.  
All of the courses were decadent and delicious, but more importantly, each highlighted what the Rave Review Original Culinary Spirit product was capable of.  Chef Testa did a remarkable job in using the product in classic dishes and elevating their flavors.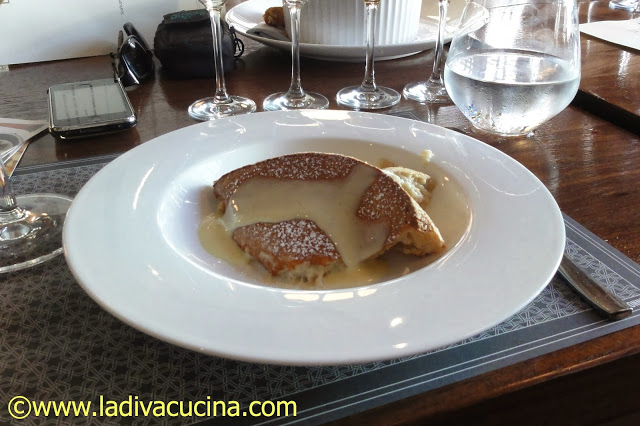 Currently, the Rave Review Original Culinary Spirit line comes in four flavors:  brandy, bourbon, hops and rum.  Other flavors are in the works, though Jim explains that more traditional spirits will be considered first, like wine over a spirit like tequila (Yes, I asked!)  Additionally, Jim is experimenting with spice liquors such as cumin, star anise and saffron.
Frankly, the product tastes great and I can't wait to experiment!  Another chef who attended has already been using the product and loves adding the brandy in her bread pudding and the bourbon with her short ribs.  Some recipes from the website include hops bread, Belgian waffles with hops, bourbon apricot pork tenderloin, grilled strawberries with brandy whipped cream and bourbon barbecue sauce.  I already have myriad ideas on how to use the product and will post the results here!
Rave Review!™ Original Culinary Spirits
 are produced in Florida and are available retail in convenient 200ml size and for purchase for your restaurant's kitchen in special 1 liter bottles.  To learn more about the product as well as purchasing for home or professional use, check out the super-cute website for Rave Review Original Culinary Spirits by
clicking here.
Darling, what spirit would YOU use out of the line and in what dish?  Do tell La Diva all about it!  Ciao for now!
Originally posted 2013-11-15 19:42:00.