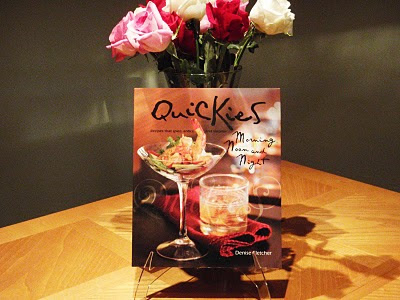 Denise's new cookbook can be purchased here.
Now, my entry is NOT a new cocktail, in fact, La Diva invented it last summer during cherry season!
It's my cherry whiskey lime sour, an updated spin on the classic whiskey sour, and is now known as
THE HEARTTHROB!!
Me and the DJ liked it soo much, that I made the whiskey again this summer and the
HEARTTHROB
has been our refreshingly, tart drink of choice all season.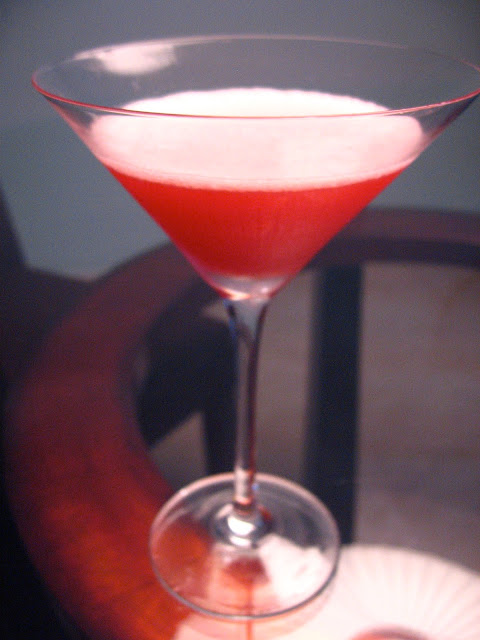 La Diva says the Heartthrob is tres sexy because:
Everyone knows that cherries are super sexy!
It's slightly sweet, a little tart and definitely STRONG, the way any sexy poquito cocktail SHOULD be. (besides, EVERYONE NEEDS A LITTLE TART!!)
Whiskey makes you frisky!
And finally, my gorgeous 21-year-old nephew from Australia loved drinking them! (and he's a heartthrob, so he should know!)
Last June, when I posted this photo of him on Facebook enjoying one on our balcony, several of my girlfriends, (ahem, COUGARS!) indicated he was HOT and asked if he was AVAILABLE? Which of course made the lad blush but he indicated to his Auntie, that HE DOES INDEED prefer a more, how shall we put it, "experienced" lady!!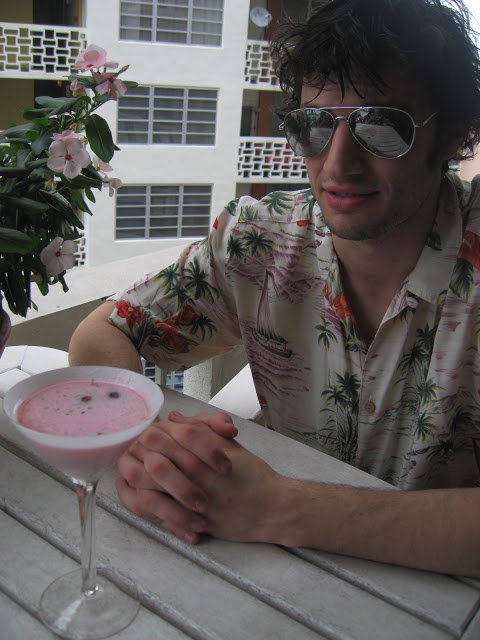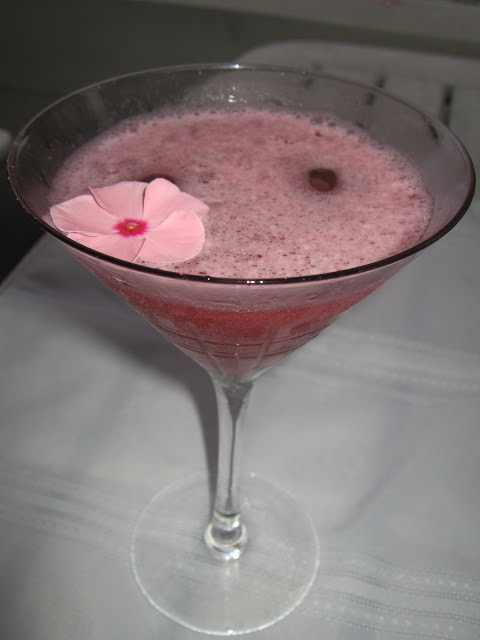 La Diva's Heartthrob
2 ounces cherry whiskey*
1 ounce freshly squeezed lime juice
1 tsp. powdered sugar
1 tsp. raw egg white (use organic free range eggs!)
1 scoop ice
Put all ingredients in a shaker and vigorously shake until frothy. Strain into chilled cocktail glass and enjoy! (Garnish with a cherry or two but watch for pits!)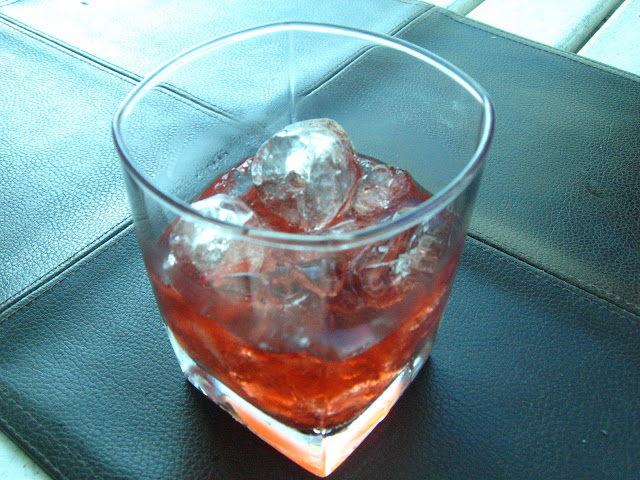 This is what the cherry whiskey looks like on the rocks! La Diva's Cherry Whiskey has just enough summer cherry sweetness to be enjoyed without mixer. Just add ice!
La Diva's Cherry Whiskey:
1 750 ml bottle of Canadian or rye whiskey like Seagrams 7 or Canadian Club (bourbon has too strong of a taste and definitely DON'T use Scotch)
1 lb. cherries, washed and halved (don't worry about taking out the pits)
Put whiskey and cherries in a large jug, cover and keep in the refrigerator for two weeks. THAT'S RIGHT TWO WHOLE WEEKS! (so be patient!) Also, for best results: Keep the whiskey well hidden from untrustworthy housemates, husbands, house guests, bears, lushes and drunks or it will disappear before it is ready. After two weeks, strain off the whiskey and use as needed.
The leftover cherries can be used as a garnish in the cocktail but be sure to warn imbibers about the pits! Also, you can put the cherries in a sassy little fruitcake or serve them to guests as CHERRY BOMBS!!!!! (Whew, dey shore is strong!)
La Diva's Dating Service: Tall, dark and handsome and no girlfriend! HUH?! Any interested LADIES who'd like to meet this strapping Aussie lad, let La Diva know! (must be willing to fly to Sydney, Australia!)
So, what do you think, darlings? (NOT about my nephew, darlings, THE DRINK!) Do you think La Diva should win for sexiest cocktail? Deadline for entry is midnight September 27, so there is still time to enter. Click
HERE
to see all the entries and may the sexiest cocktail win!
Ciao for now, darlings!
Darlings if you want to learn how to make DIVINE cocktails like this, come to my small bites, BIG DRINKS cooking and cocktail class in Miami! More info
HERE!
cooking class, cocktails, parties, cocktail party, Miami, coral gables, events, bartending class, cocktail class, Laura Lafata, Miami Beach, miami cooking classes, bachelorette parties, bachelorette party, personal chef, corporate events, catering, personal chef, party entertainment, www.ladivacucina.com, top chef, next food network star
Originally posted 2010-09-26 13:05:00.