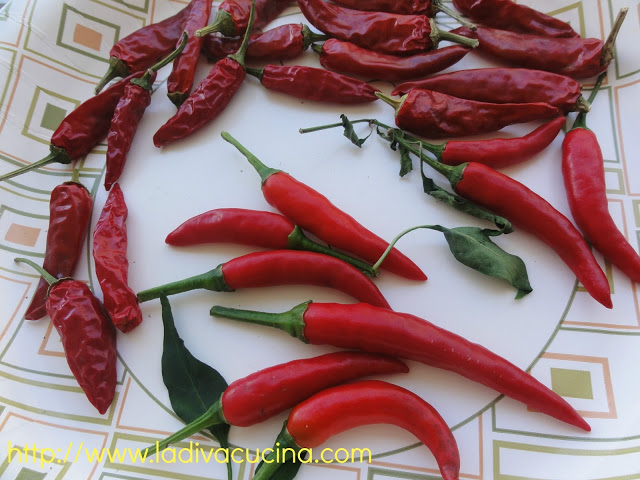 Darlings!  I LOVE cooking with fresh herbs and because of that, they feature prominently in my garden.  All throughout the growing season, I've enjoyed herbs that one cannot easily get at the grocery store like chervil, Vietnamese coriander and lemon verbena.  Eventually, the relentless sun and rain of Miami's summer season is too much and most of the herbs die off.  This is when I gather the seeds for the next season's planting as well as preserve as many of them as I can until the growing season starts again.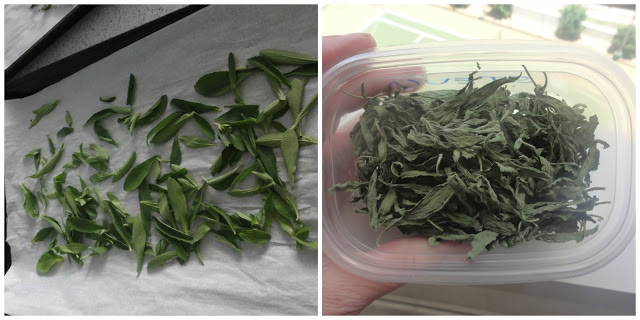 Stevia to be dried vs. dried stevia.  Stevia is a natural sweetener that I like to use in my iced tea.
One of the easiest ways to preserve herbs is to dry them.  But take note, not ALL herbs are best dried.  Parsley, tarragon, chives and coriander (cilantro) have the best and strongest flavor when used fresh.  Take a taste of dried parsley and you'll wonder why you even bothered!  Basil is excellent fresh but I dry it also and use it in customized herb blends, it has a decidedly "minty" flavor.
Other herbs are actually quite strong after drying and just as good dry as fresh, if not better.  Some good herb choices for drying are rosemary, marjoram, thyme, oregano and sage.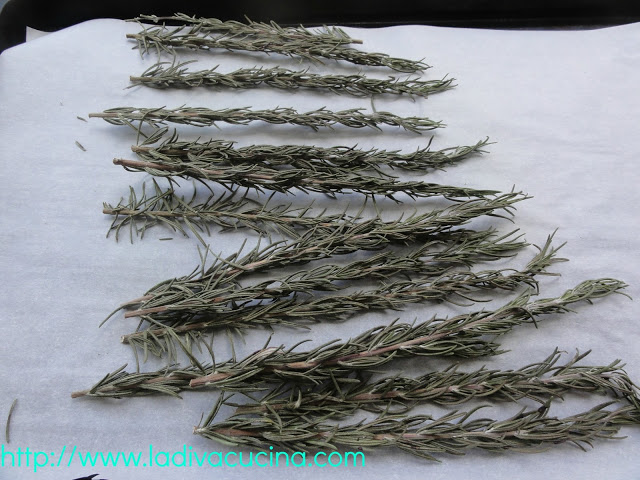 Rosemary is the only herb I keep on the stem when drying.  They say you can thread chicken on rosemary stalks (with leaves removed, naturally!) and grill, though I've never tried it.  I think it would make sense to poke the chicken first with a regular wooden skewer and then thread on to the rosemary using the same pre-made holes, as the rosemary stalk tends to be brittle and will break easily.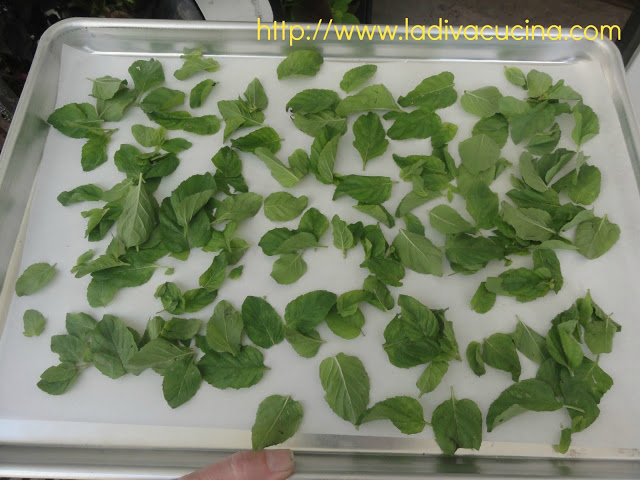 Orange mint makes a wonderful tea!
Besides herbs for cooking, I also dry herbs for teas including lemon verbena, chocolate mint, orange mint, spearmint and lemon balm.  When drying herbs make sure they are well washed to get off any excess dirt and they are dried in a lettuce spinner.  If needed, blot any excess moisture with a paper towel, you want the herbs to dry and not go moldy.
I pick off the leaves and then lay them on a baking tray covered with parchment paper.  The paper comes in handy after they are dried, simply pick up the paper, crease and guide the herbs into a jar.  Place the tray in a corner of the kitchen where they may dry undisturbed for several days.  Make sure they are BONE dry, otherwise they will get moldy if you seal them in a jar.  The herb should crumble easily between your fingers, if not, dry a few days more.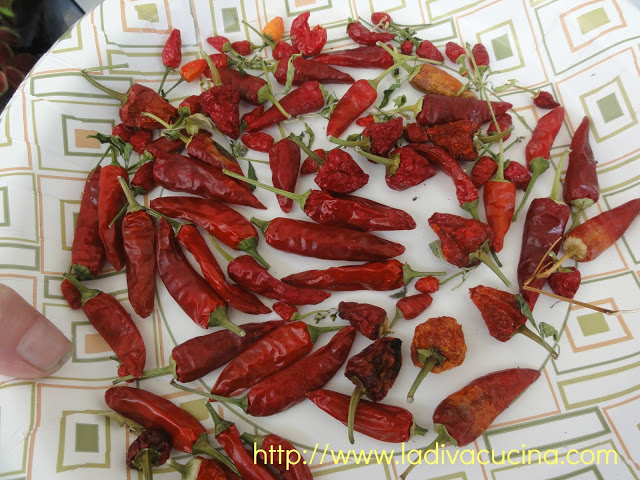 While not a herb, I also dry a variety of chilies.  It's important that you allow chilies to dry completely too, to prevent them from becoming moldy.  These chilies are in various stages of drying.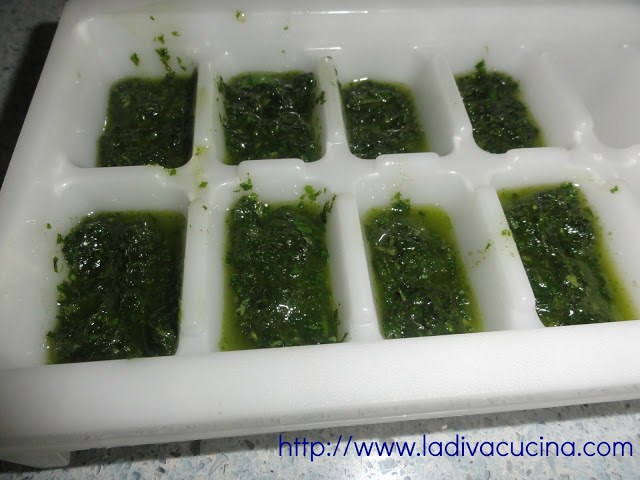 To preserve basil, tarragon, parsley, chives or any other herb that does not preserve well by drying, simply process in a processor with a bit of salt and olive oil and then spoon into ice cube trays.  After frozen, I wrap them individually with Press N Seal plastic wrap and then pop them all into a zip lock bag and put back into the freezer.  When I want to season a sauce or soup, I simply take one out of the freezer, unwrap it and then plop it in, still frozen.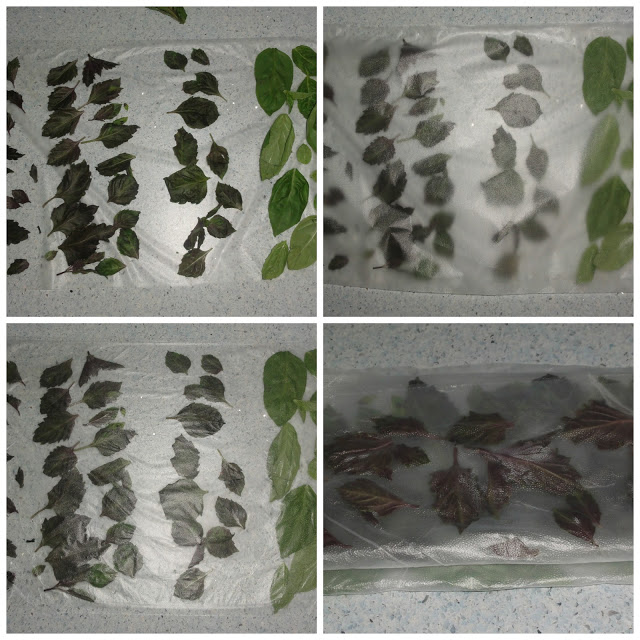 Another method I've had great success with is to preserve the leaves between layers of Press N Seal.  I lay the film out sticky side up.  Then carefully place the clean leaves in sections on the film.  I cut out another piece of film the same size and gently place the film over the top, sticky side down.  Then I get all of the air out by sliding my hands lightly over the top to create a good seal with no air pockets.  Then I fold up the sheets and pop them into the freezer until needed.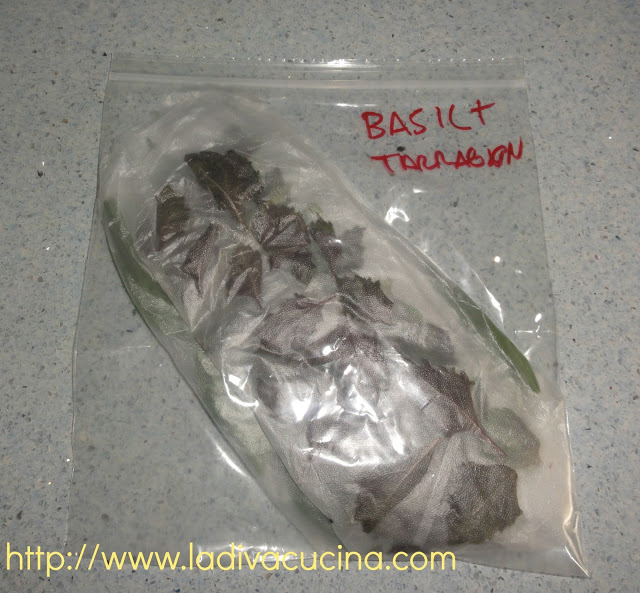 I've done this method successfully with basil, tarragon and curry leaves.  I found no discoloration and good flavor.  These will last in your freezer this way for a few months.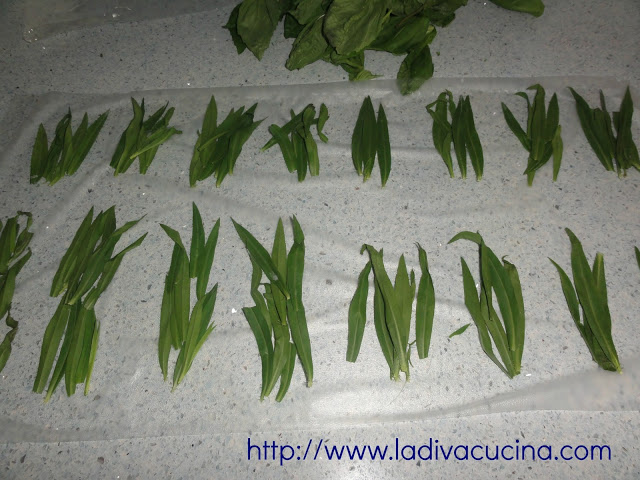 Tarragon being preserved between Press N Seal film.
Creating your own spice blends:
Darling, you don't need to buy Mrs. Dash No Salt blends, you can easily make your own, even if you don't grow your own herbs but buy them.  You'll need a small pepper grinder, I use this old Spice Islands Grinder and refill it with my own combination of dried herbs.
Some good combos:
Mediterranean:  marjoram, thyme and basil
Lemon:  lemon balm (or verbena), mint, lemon thyme, sage
Savory:  rosemary, sage, thyme, chili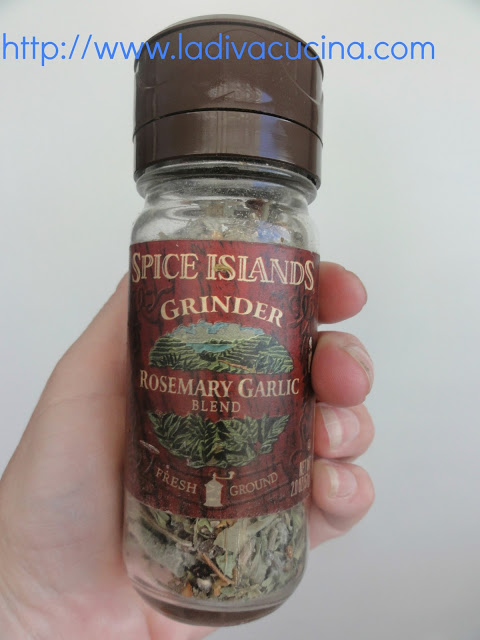 I have a combination that includes:  sage, rosemary, marjoram, thyme, birds eye chilies, hot chilies, peppercorns and lavender!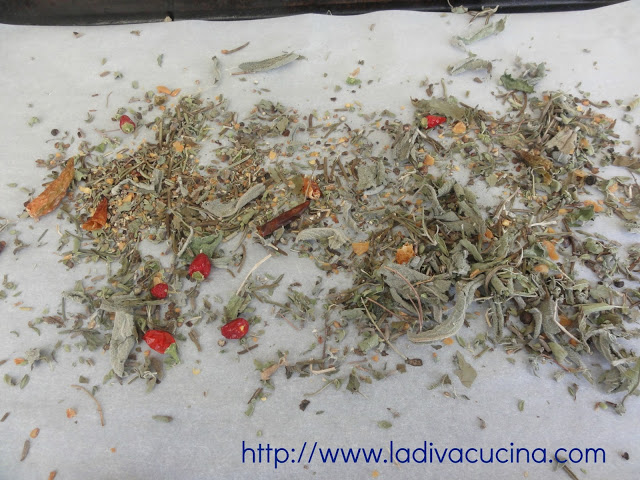 All of these herbs and chilies fit into my spice grinder.  When I need a hit of flavor, I simply grind the herbs onto the dish, releasing their oils and flavor by being ground as needed like fresh peppercorns!  This combo adds an interesting flavor and heat to scrambled eggs, grilled chicken, corn on the cob!
There are many ways to extend your garden's bounty including herbal vinegars, oils, honey and butters!  Preserving your own herbs is not only economical but the flavor can't compare to store bought dried herbs and blends.
Ciao for now, darlings!
Originally posted 2013-07-01 14:45:00.