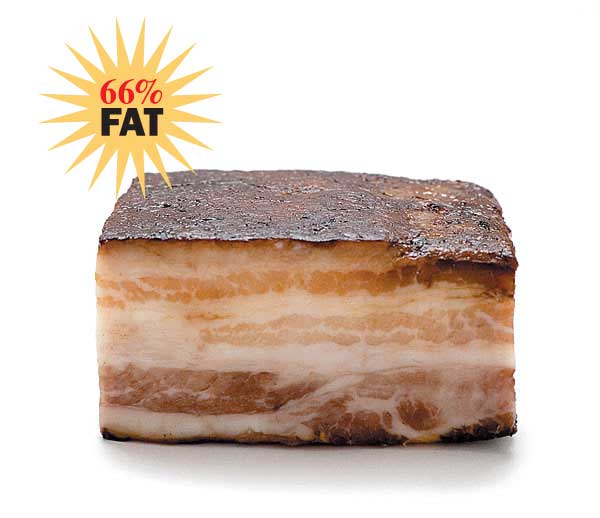 Disclaimer:  If you do not like reading or talking about perfectly natural bodily functions, read no further!  Usually, I do not ever approve of such talk on a food blog but here, I make an exception.  Read on, if you dare!
Darlings!  I can see you shaking your heads in disbelief….Is it true?  How CAN pork belly be someone's nemesis?  After all, EVERYONE likes pork belly?  And La Diva?  WHA?    I mean, after the bacon craze started where a foodie was required to devour bacon on everything, including in chocolate and five dollar cupcakes, it seemed only a matter of time before pork belly became the Next Big Thing.  And it did.
But I can't stand it.
Oh, I've tried to like it, really, I have.
Well before the pork belly craze hit America, La Diva found it on the menus of many an Asian eatery in Sydney, Australia well over ten years ago.  And the funny thing is, no one thought anything of it.
I tried it when I lived there when I went to Chinatown, where it was all crispy skinned, looking divine and lovely resting on top of Chinese soup laden with hand pulled noodles.
I've had it at people's homes, braised and cooked with tender, loving care.
I've had it only a few weeks ago at Chef Michael Schwart'z place here in Miami, Michael's Genuine.
All with the same, sad results:
It makes me sick to my stomach.
There, I've said it.  I can't standz pork belly and apparently, neither can MY belly.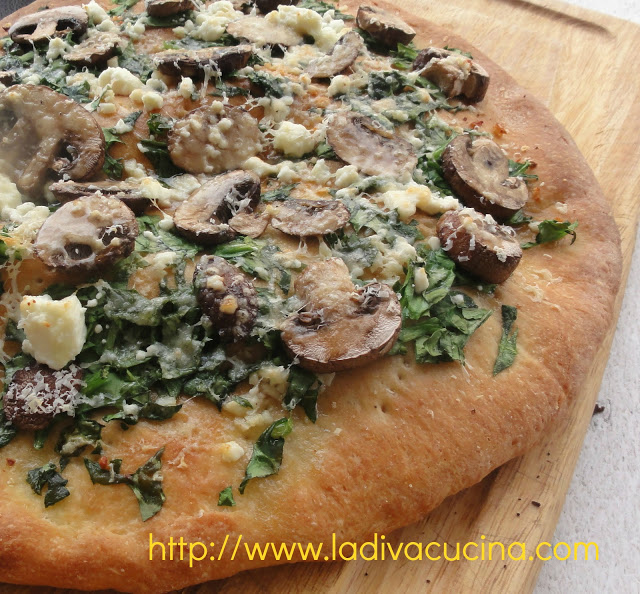 La Diva's version of pizza isn't drowning in greasy cheese……
In fact, I've found a number of rich foods that I can't seem to digest including soft shell crab, ultra rich and buttery cream sauces, fatty baby back ribs, some ice creams and even….PIZZA!!!
WHAT THE?!
I know.  Sad, isn't it?
I'll never forget when I went with my sister and her kids to Stone Cold Creamery for the first time a few years back, keen to try a product that I'd been making since I was a kid at birthday parties and would mix my cake into my ice cream.  But an hour after ingesting a not too crazy combo, I was in the ladie's room….
Another time a few months ago, after eating fried chicken thighs with a very rich tasting mashed potato at a friend's house, I ended up in the toilet again in the middle of the night.  I called him the next day, lauding the chicken and asked how he'd prepared it.  After telling me he'd fried the chicken in vegetable oil, he took the drippings and put them into the mashed potato.  Blech.  Why?  Why would you do such a thing?  All fat in everything isn't always good.  I advised him against doing that, butter and milk or cream is certainly enough, it didn't add flavor but GREASE.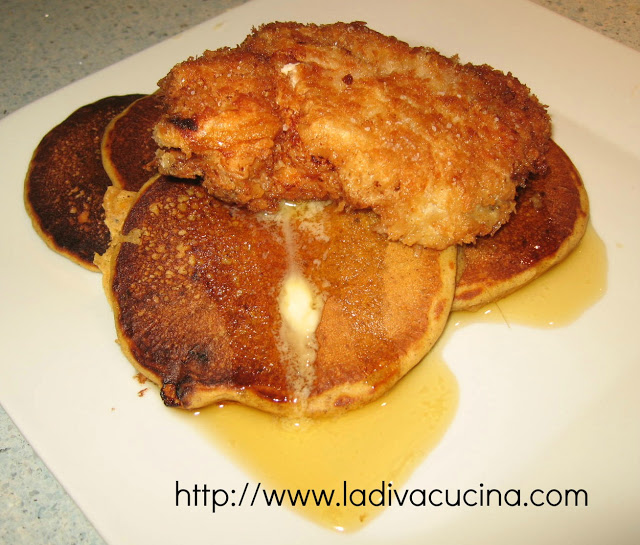 La Diva's version of fried chicken and waffles, er pumpkin pancakes!  What's the difference?  NO CHICKEN SKIN….and don't add grease to mashed potatoes, please…..
And this natural aversion to chicken fat and fatty foods in general is probably why I've NEVER IN MY LIFE made traditional Southern fried chicken nor do I ever buy it, order it or eat it.  When I went to the famous Los Angeles chicken shack of Roscoe's House of Chicken and Waffles, yours truly took the crispy skin off and ate the chicken!
La Diva loves pizza!    There is a wonderful place here on Miami Beach that does a great pizza:  good quality crust that is crispy and slightly chewy, tasty, high quality cheese, delicious tomato sauce and most importantly, very well cooked pies.  But in the middle of the night, you guessed it, La Diva is in the bathrrom again, sick to my guts.  And what's on the pizza you ask?  Mushrooms.  That's it.  No MEAT LOVERS pizza.  No greasy pepperoni or sausage.  Simply sauteed mushrooms and by the way, ordered "light on the cheese, please."  When I was a kid, I would pull the cheese off of pizza and just eat the dough and crust.  Did my young body know something then that it has since forgotten that I needed to be reminded of?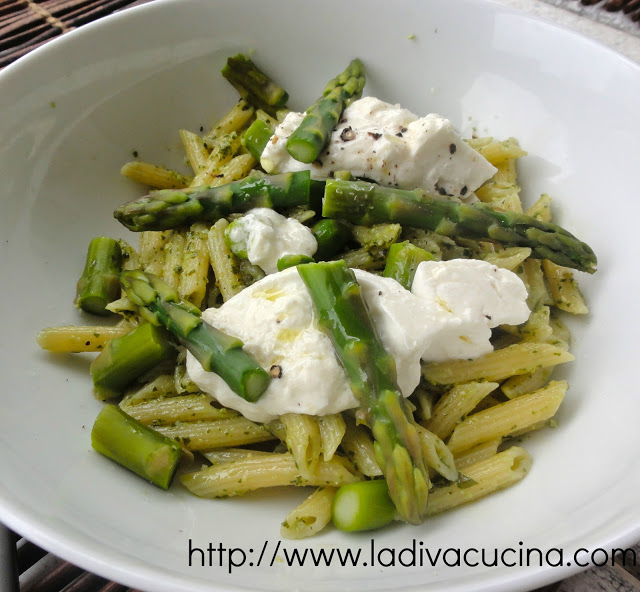 A fresh Springtime pasta with pesto, asparagus and buratta cheese eaten with nary a problem
So, what's the deal?  Lactose intolerance?  I doubt it.  I've been tested for milk allergies by my allergist, no food allergies of the sort.  I eat cereal, put milk in my coffee and occasionally enjoy a good tomato salad with a lovely mozarella.   Hell, I've even been making my own pizza!   But for some reason, THAT pizza makes me sick but not every time I eat it…I can't figure it out.  Hmmmm….
Even my cocktail palate leans towards the lemon/sour side as opposed to the creamy options!  You can have your Midori Splices and White Russians, I'll be the one having the Negroni, Manhattan or Margarita, thank you very much.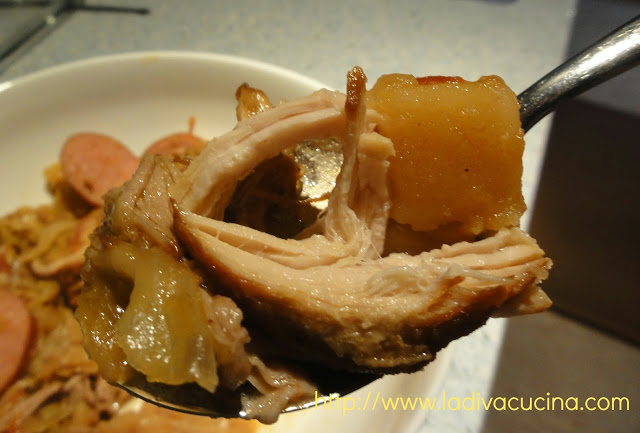 A Polish stew called "kapusta" with cabbage, potato and country-style pork ribs…a cut of pork I can eat!
For two years in a row, I've come home from Thanksgiving dinner and had to lay down on my bed, clutching my stomach  at 10:30 pm while we give up late night plans to meet neighbors for a nightcap.  Both years, I've gone to a dear friend's house for dinner, a fabulous home cook, but methinks she loves her cream and butter too much.  After all, I only had very small portions of the turkey, mash, gravy, stuffing and sides but I think that all together it is just TOO RICH.  I am now calling off Thanksgiving and am going to be a non-participant.  I just can't eat that kind of food, even for one day.
In fact, it was only the other night that I'd made a lovely risotto where I finely diced some pancetta, fried til crisp and then sauteed the zucchini and mushrooms in the fat and added it all to the risotto.  It was LOVELY!   It tasted DIVINE!  And then, YES, in the middle of the night, I was in the bathroom sick to my guts!  MY mistake?  Should have drained the fat off, dumbass….how many times do I have to go through this before I learn?  After all, pancetta IS PORK BELLY!  *Head slap*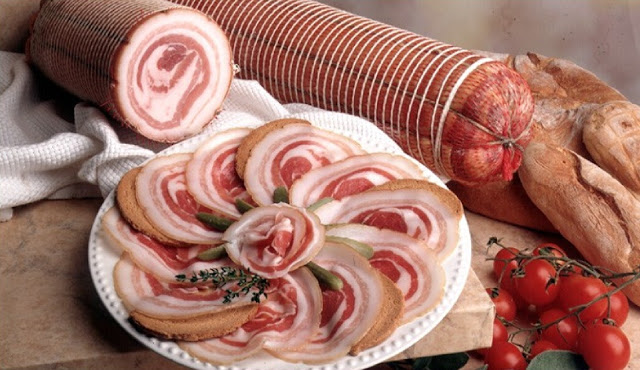 via Ifood.tv  Pancetta is thinly sliced and served up with bread, a way I could never possibly eat it.
After complaining about the incident to a galpal, she said to me, "That's me!  I had my gall bladder taken out and I can't eat fatty or rich foods either.  Maybe THAT'S your problem?  Have you had your gall bladder checked?"  The thing is, I have no pain, none.  I think it's just my body's way of telling me that I SHOULDN'T eat this way.  Like Jack Sprat.
Whenever I'm served a fatty bit of meat, I cut off the fat.  When I'm served pork belly, I tend to eat the meat itself, the gelatinous fat is too unappealing and I cut it off.  "It's the best part!"  foodies say.  I cut away the fat in steaks and even when I lived in Australia, where we enjoyed a different cut of bacon with a rind, I would actually cut it off too!  In fact, I only started eating "American" bacon a few years ago and it MUST be cooked to be very crisp…..  I don't enjoy heavily marbled meats either.  While gourmands galore are shaking their heads in disgust by me turning down a well marbled and aged steak, I would rather eat the leaner New York strip…oh dear, Anthony Bourdain, DON'T hate me and look down on me!
At Michael's Genuine restaurant,  after taking a few bites of my pork belly, I scraped the rest onto my husband's plate and said to the server, "Now I need some real meat, I didn't like that."  He laughed, thinking I wasn't serious.  Indeed I was and he was shocked.  "No one has ever said they didn't like the pork belly here!"  Well, it's not YOUR pork belly, dear, it's ANY pork belly.  I ordered the beef shortribs.  To my dismay, it came to the table and all I could taste was fat.  Even though it had been rendered away, the rib was too rich for my liking.  I didn't enjoy it or eat it either.  I much prefer my home made beef shortribs.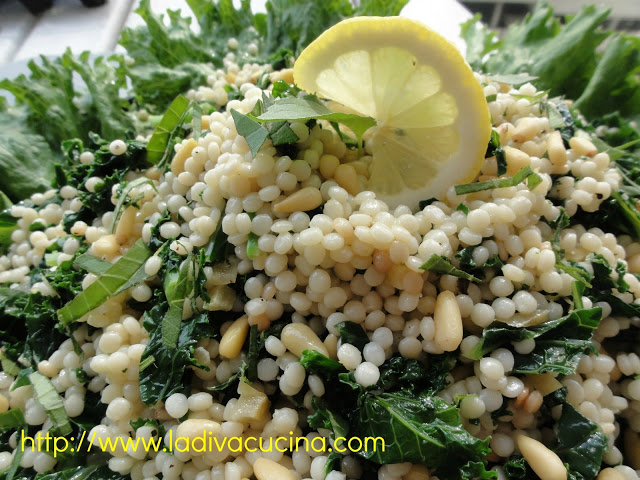 A La Diva fave:  Lemony kale salad with israeli couscous and pine nuts
Is it any wonder then that when I plan and make my meals, I naturally gravitate towards the flavor profiles of Southeast Asia, the Mediterannean, North Africa and the Middle East?  These are cuisines that embrace dishes without a lot of heavy sauces or creams….but instead highlight the clean flavors of good quality olive oil, garlic, lemon, ginger, lemongrass, chili, yogurt, sheep's milk and goat's milk cheeses.  THESE are the flavor profiles that get me excited and I seem to be able to naturally and easily cook simple dishes influenced from these cuisines with seasoning coming from fresh herbs, pastes and spices but NOT drowned in fat, breading, heavy cheese, butter or cream.  OR BACON.
And sad as that may seem to a gastronome, my body is healthier for it.   And I'm not in the bathroom in the middle of the night.
The fact that Diva don't eat no pork cracklin', chicharonnes, fried chicken or anything cooked in bacon fat means that I'll never truly be a Southerner.  And I can live with that….for a long time.
Originally posted 2013-05-03 13:42:00.