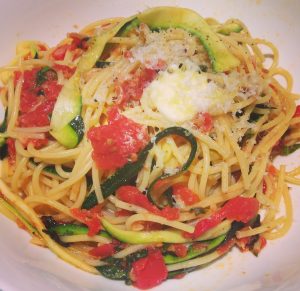 Last week I published a delicious, simple and easy recipe that highlights the flavor of the season's ripest tomatoes and best of all, YOU DON'T HAVE TO COOK IT! Here's another idea for that wonderful sauce using freshly cooked spaghetti and raw zucchini ribbons. The flavor comes from the pre-made sauce helped along with fruity extra virgin olive oil and parmigiano cheese. The zucchini is "cooked" when you add it to the hot pasta!
This is a perfect Meatless Monday dish that is so flavorful and satisfying, your family or partner won't even notice it's vegetarian!
I hope you enjoyed my three part NO-COOK tomato series!
Ciao for now!
La Diva
Pasta with Tomato Ammogilo Sauce and Zucchini Ribbons
Author:
Prep time:
Cook time:
Total time:
Using fresh, no-cook tomato ammoglio sauce is the key to this quick and tasty vegetarian meal. HINT: If you are using left over ammoglio sauce, let it come to room temperature first.
Ingredients
1/2 box spaghetti
1 cup tomato ammoglio sauce (CLICK ON LINK ON PHOTO ABOVE FOR RECIPE!)
1 zucchini
1 clove garlic, minced
Extra virgin olive oil
2 dabs of butter
Parmigiano cheese (for passing)
Salt and pepper to taste
Instructions
In a large pot, boil water for pasta according to instructions.
Using a u-shaped peeler, peel one side of the zucchini until you see seeds.
Once you see the seeds, turn over and peel that side until you see its seeds
Repeat until all four sides of the zucchini has been peeled.
Cut the peelings lengthwise into ribbons.
Add to a bowl and toss with salt.
Use the leftover zucchini for another dish.
Cook pasta to your preference (al dente is preferred)
In a large bowl or pan, toss the hot pasta with the sauce, fresh garlic and zucchini, evenly distributing all of the ingredients.
Season with salt and pepper to taste.
Spoon the hot pasta into bowls.
Add a dab to butter to each.
Drizzle with extra virgin olive oil.
Pass with parmigiano cheese.
Mangia!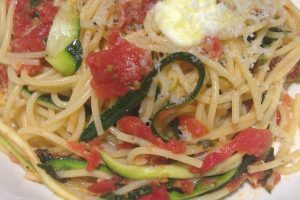 Originally posted 2015-08-17 19:09:39.