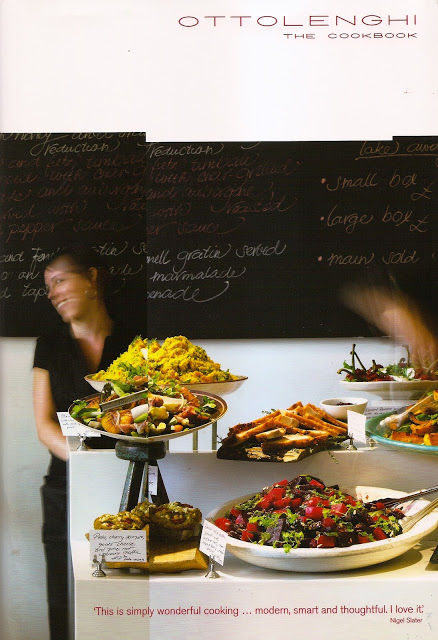 Darlings! Another few months go by and another FABULOUS cookbook comes La Diva's way. This time, my lurverly new sister in law sent this tome over as a Chrissy present from the UK. Customs was especially thorough on overseas packages this year and it took almost six weeks to get here, a mystery since a book from a book purveyor would appear to be quite obvious, but yet the huge jar of stinky and very suss mussel tablets from the DJ's mum Downunder made it in just a few days without incident. Go figure.
I open the cookbook and read: "Ottolenghi: A food shop, patisserie, deli, restaurant and bakery." Intrigued, I read on.
"Our food impulse: We wanted to start this book with the quip, 'If you don't like lemon or garlic….skip to the last page.'"
"Hmmm"….I chuckled to myself, "Garlic and lemon AND a sense of humour? We are off to a good start!"
The third page states the chefs' philosophy: "We love real food, unadulterated and unadorned. A chocolate cake should, first and foremost, taste of chocolate. It doesn't have to involve praline, raspberries, layers of sponge, sticky liqueur and hours in the freezer. Give us a clean chocolate flavour, a muddy, fudgy texture and a plain appearance."
Wha?! Ok, that's it! Who ARE these guys?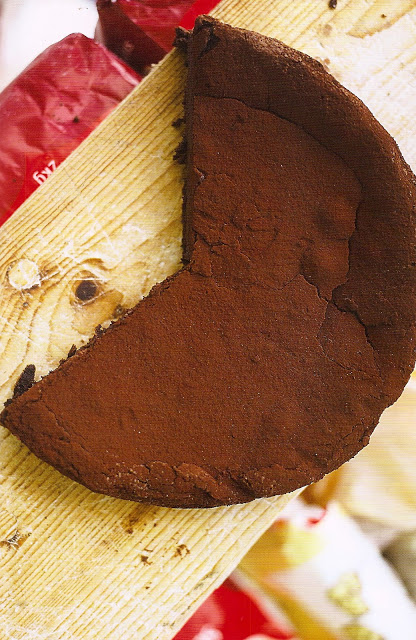 With all the over the top, complicated and fussy dishes being lauded by the food world currently, this is a joy for La Diva to read! I, too, love pure, clean flavors and adore UNADULTERATED CHOCOLATE CAKE. La Diva seems to recall an entire decade (the 80's, naturally) where I could never get a plain ol' slice of PURE chocolate cake. Every time La Diva would order a piece at a restaurant for dessert, it would be littered with strawberries or drowning in a pool of raspberry coulis. To La Diva, the addition of the tart berries changes the chocolate experience entirely. I'm sooo digging their attitude so far!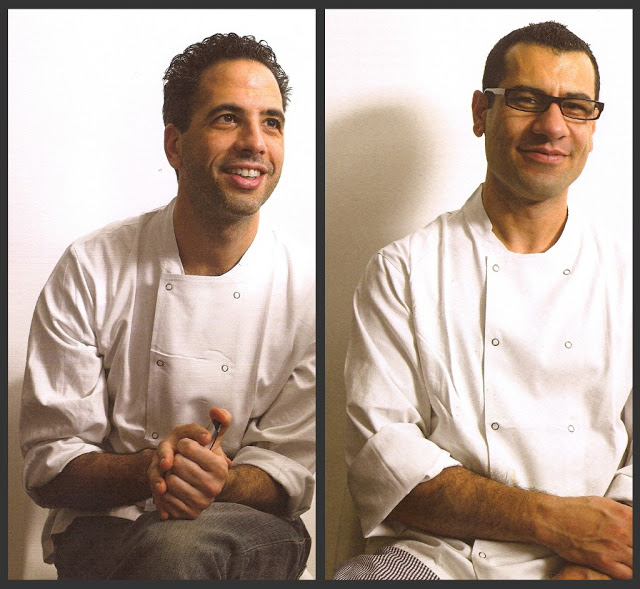 Curiosity fully piqued now, I continued reading and found that both chefs and purveyors of Ottolenghi are Yotam Ottolenghi and Sami Tamimi, two gay men who hail from the same city of Jersualem, but come from opposite cultures, one a Jew and the other a Palestinian. Both moved to Tel Aviv but did not meet until years later after they had gone on to London. They found each other and developed a friendship bound by their love of food and the shared ingredients they grew up with. Crikey, the recipes haven't even begun yet and La Diva is already caught up in the exotic mystery of the authors! Their meeting was so interesting that Gourmet did an entire article on it. You can read about it
HERE.
I skipped over to their favorite ingredients list and found in order: salt, garlic, lemon and olive oil. It takes some cojones to admit to loving salt these days but to proudly give it high praise as your very fave ingredient? Cool. Further down the list was tahini, pomegranate, za'atar, passion fruit, maple syrup and feta cheese! I have each and every one of those ingredients in my kitchen as I write this. Wow.
In the next section of the book, the chefs address "the fear of baking!" Wha? Did they write this book just for lil' ol' La Diva? I was beginning to wonder…
But, darlings, I shan't tease you anymore, we MUST get to the recipes of this fabulous tome! There are three sections to the book, Vegetables, Pulses and Grains, Meat and Fish and Baking and Patisserie.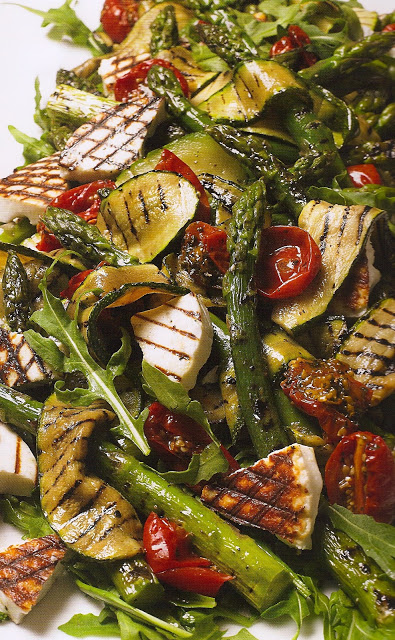 La Diva just loved the styling of this photo of chargrilled asparagus, zucchini and manouri cheese, a Greek cheese made from feta whey.
Vegetables, Pulses and Grains:
Peaches and speck with orange blossom
Figs with young pecorino and honey
Aubergine (eggplant) wrapped with ricotta gnocchi with sage butter
Roasted butternut squash with burnt aubergine and pomegranate molasses
Caramelized endive with Serrano ham
Crushed new potatoes with horseradish and sorrel
Puy lentils with sour cherries, bacon and gorgonzola
oh my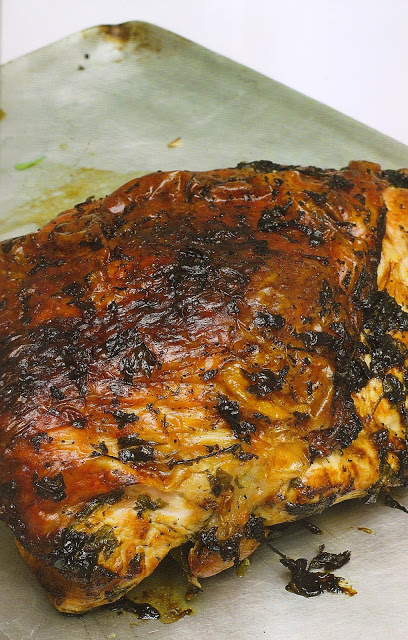 This marinated turkey breast with cumin, coriander and white wine looks so much tastier than the insipid, gray piece of rubber that came out of my oven on Christmas eve last year!
Marinated rack of lamb with coriander and honey
Lamb cutlets with walnut, fig and goat's cheese salad
Roast chicken with saffron, hazelnuts and honey
Seared duck breast with blood orange and star anise
Seared tuna with pistachio crust and papaya salsa
Fried scallops with saffron potatoes, asparagus and
samphire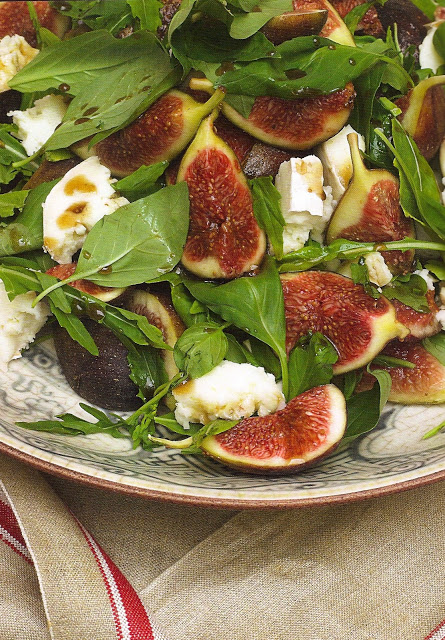 The Ottolenghi philosophy on serving their food room temperature, prepared and served so fresh, no refrigeration is needed: "It is a chilling experience to eat a cold sandwich, yet so many of us routinely do, and are almost oblivious to it because it is considered to be a necessary evil. With most things prepared fresh, really fresh, there is no need to chill." La Diva loves this as I loathe cold fruit, bread, cheese, salads, tomatoes, pie, cake, cheesecake….I guess I never really realized it until someone else put it into their words on paper, but I too prefer my foods to be room temperature so I can actually TASTE the pure flavors!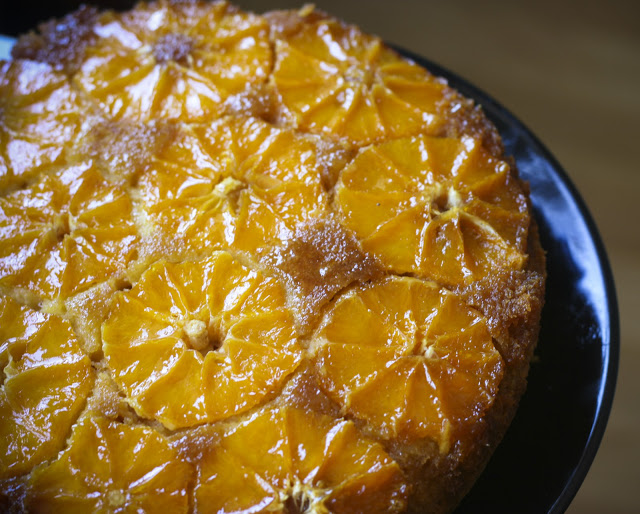 Ottolenghi's orange polenta cake makes you want to reach in and take a bite! Imagine the bright, citrus flavors combined with the dense texture and flavour of polenta? DIVINE!
Green olive loaf
Sweet potato galettes
Parmesan and poppy biscuits
Caramel and macadamia cheesecake
Pear and amaretto crumble cake
Pistachio shortbreads
Salty peanut and caramel macaroons
Individual plum clafoutis
La Diva is so utterly thrilled with this cookbook, (even though I've yet to make a recipe!) because it is the first cookbook that truly mirrors many of my own cooking philosophies and culinary point of view. I love to cook Asian but the other style I heartily embrace are the clean, lemony flavors of Mediterranean/Middle Eastern/North African recipes and styles. As I was traipsing around the Internets and doing research, I noticed that some of Yokam's cooking was being identified as
Roman Jewish.
Considering that Yotam's grandmother was from Tuscany and his last name is Ottolenghi, oy, it makes perfect sense.
What about YOU, darlings? Do you have a distinguishable culinary point of view? Or a fave cookbook that mirrors your cooking philosophies? Tell La Diva all about it!
NEXT COOKING CLASS: Valentine's Day: theme LOVE YOURSELF FIRST! Everyone welcome!
cooking class, cocktails, parties, cocktail party, Miami, coral gables, events, bartending class, cocktail class, Laura Lafata, Miami Beach, miami cooking classes, bachelorette parties, bachelorette party, personal chef, corporate events, catering, personal chef, party entertainment, www.ladivacucina.com, top chef, next food network star

Originally posted 2011-01-23 15:41:00.