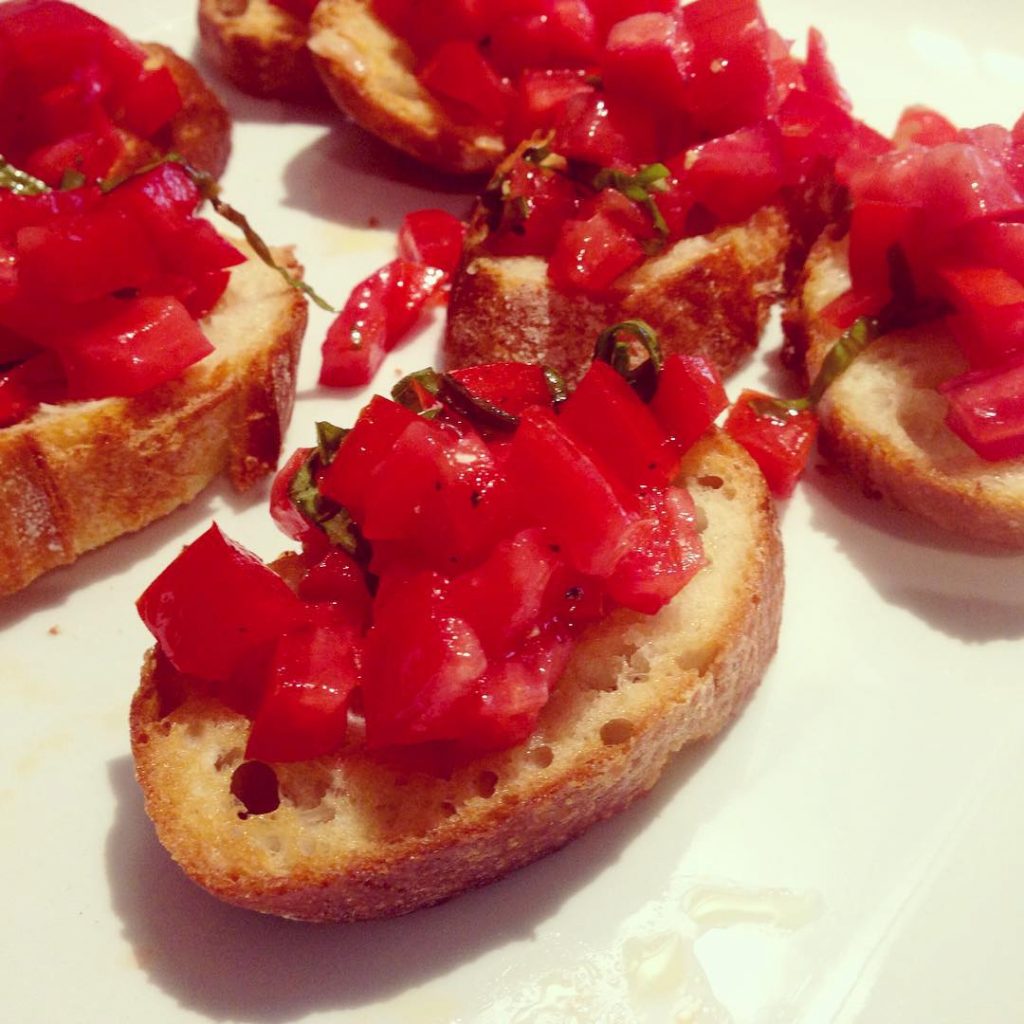 Italian bruschetta (pronounced BRUCE-SKET-TA) is a wonderful way to enjoy tomatoes that are at their peak of ripeness.  Traditional bruschetta is simply toast with olive oil and garlic but when you add fresh tomatoes, it transforms into a simple yet stellar appetizer or snack.  Because the tomato is the star of this dish, you must make sure that you choose the best tomatoes.  Here are some hints:
Choose tomatoes that are not bruised or have soft spots but are firm (not hard) and have deep color.
Pick up the tomato and smell it.  The tomato should be fragrant, otherwise leave it behind.
If the tomato is a bit underripe, keep it on the counter top for a few days until it has fully ripened.
Don't refrigerate your tomatoes.
This recipe is quick and easy and makes a perfect summertime snack.  I'll be posting more "no-cook" tomato dishes so you can keep on enjoying the season's bounty of fresh tomatoes!
Ciao for now,
La Diva
NO-Cook Tomato Dishes: Fresh Tomato Bruschetta
Author:
Prep time:
Total time:
A delicious and healthy appetizer for using fresh tomatoes at their peak of ripeness
Ingredients
1 small day old crusty Italian baguette
2 ripe tomatoes (heirloom, plum or regular)
2 cloves peeled garlic
6 fresh basil leaves
1/2 cup + 2 tablespoons extra virgin olive oil
Sea salt and freshly ground black pepper
Instructions
Preheat oven to 350 degrees.
Wash tomatoes and then cut into wedges.
Slice away the inner flesh and seeds, leaving the flesh with the skin only.
Discard or reserve the inner flesh for another use.
Dice the tomato and add to a medium size bowl.
Take the basil leaves and stack them together.
Roll them lengthwise into a tube shape.
Cut them into fine strips (chiffonade).
Add to the tomatoes.
Add two tablespoons of extra virgin olive oil.
Mix together.
Add salt and pepper to taste, adjusting seasonings if needed.
Cut the bread diagonally into one inch slices (this gives the bread a larger topping surface!).
Spread slices on a baking tray.
Using a pastry brush, spread olive oil thinly on each slice of bread.
Bake in the oven until golden, 10-12 minutes.
Rub the garlic clove over each slice of toast.
Top each slice with tomato mixture by mounding with a spoon.
EAT!
Originally posted 2015-08-03 15:12:09.