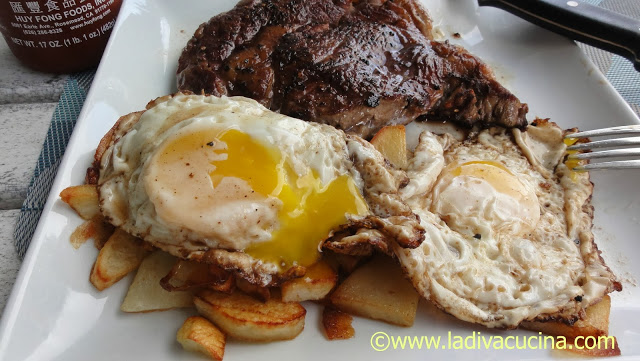 January 3, 2014
Darlings!
This is what happens when you don't eat enough food to line your stomach before five hours of drinking on New Year's Eve.  You get up at 9 am New Year's Day and make the extra steak that you'd been wondering when you were going to cook because you are STARVING and after inhaling it all, head back to bed!
I fried potatoes and then seared the boneless rib eye in a cast iron pan on both sides and then put into a 500 F oven for 3 minutes.  Fried up a couple of eggs in the steak pan and basted them and here's the result:  Hangover food fit for a caveman! (er, WOMAN!)  Yeah…..!!!
Nothing like meat and fried potatoes and eggs to "do the trick."  You think I would have known better, being on older side of 50, I'm a "pro" at New Year's Eve partying.
But, alas I did not line thy stomach with proper carbs, only protein and salad and paid the price.  Cheap champagne and vodka shots, two libations I KNOW better than to ingest, helped contribute to my downfall.
So, in spite of creating a lovely dinner the day before for New Year's Day, we ate macaroni and cheese and meatballs out of plastic containers from The Fresh Market for our first dinner of the New Year.
Shame, shame, that ain't no way to start the New Year!
So, the next day, I made the meal I had planned for the day before.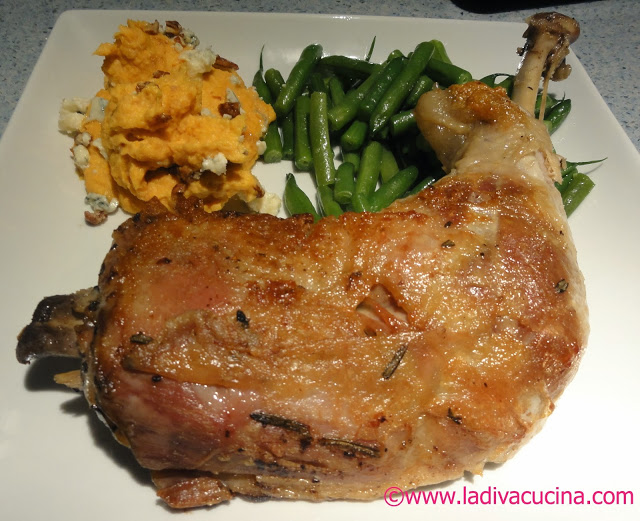 Turkey legs confit cooked in oodles of duck fat and then I crisped up the skin in more duck fat in my trusty cast iron skillet.  DIVINE!!!  This was my second time attempting the confit technique, the first time the turkey tasted great but I had problems with the skin getting all sticky and adhering to the pan.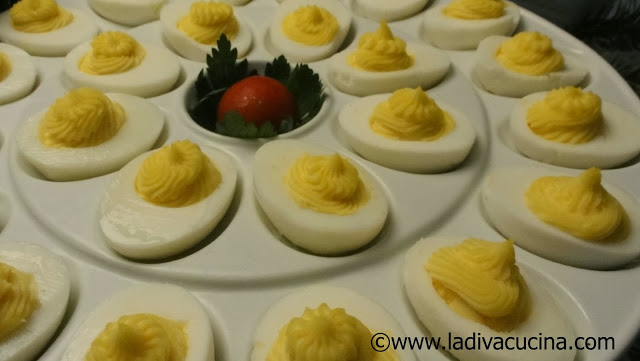 These deviled eggs made only with mayonnaise and a hint of the controversial white truffle oil were a hit on Christmas Eve and New Year's Eve!
This time, the skin crisped up perfectly without sticking and the end result was a delectable, melt in your mouth turkey with a lovely salty, herbal flavors and crispy, crunchy skin.  And because of that, I am now an official DARK MEAT LOVER!  I served this up with roasted sweet potatoes pureed with cream cheese and topped with blue cheese and praline pecan pieces.  The "just-cooked" green beans were a nice foil to the rich potatoes and turkey.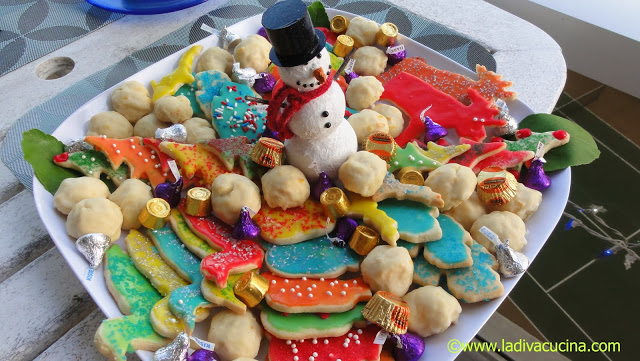 ONE of the Christmas cookie platters I made including vanilla iced sugar cookies and Italian ciambellini (Italian Love Knots) made with fresh blood orange juice.
The next day, sandwiches with the left over turkey on crunchy, ciabatta was absolutely heavenly!  This was a VERY SPECIAL TREAT and something I definitely wouldn't make all of the time.  I had to use 64 oz of duck fat to cover the turkey and the only reason I had that much was because I had purchased some for a client!  It's been strained for re-use and into the freezer it goes!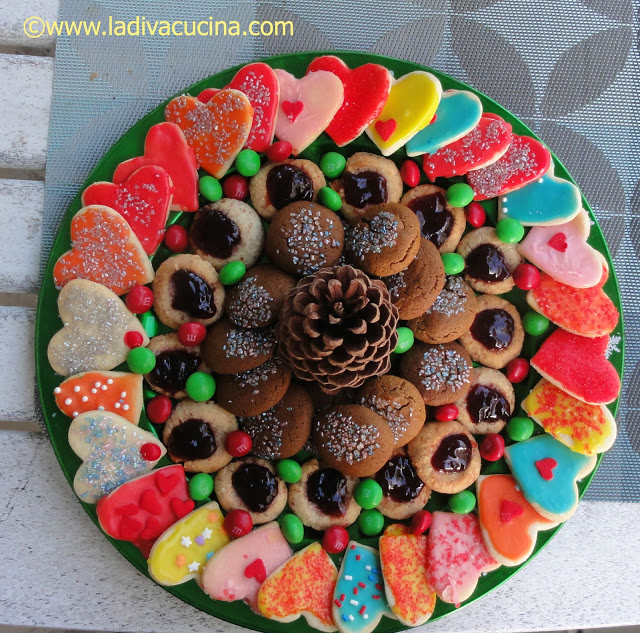 This festive cookie tray included more vanilla iced sugar cookies, molasses crackles and the ever popular almond jam thumbprint cookies!
And now, after swilling buckets o' al-kee-hol and eating rich foods, the diet is finally starting….tomorrow!  So enjoy this bow-chick-a-bow-bow food porn now…..while I lighten things up!
Darling, what did YOU eat to start off your New Year?  Are you lightening up in the 2014?  Do tell, darling, La Diva wants to hear ALL about it!
Ciao for now!
Originally posted 2014-01-03 22:41:00.