Darlings!  Welcome to La Diva's little green garden!  My small plot is part of a community victory garden on South Beach that I was lucky to be assigned last May.  After a brutally hot, steamy and rainy summer, along with the negligence resulting from my leg injury, La Diva wasn't feeling too hopeful about achieving any success with my dismally overgrown  plot from summer.
But after enriching the soil twice with organic compost, time, love, water and a nice dash of fish fertilizer, my garden is really coming along nicely!
Besides the rainy, humid summers, Southern Florida gardeners have to contend with harsh winds from tropical storms and hurricanes, poor soil quality and salt from the ocean, my garden is only one block away from the sea!
You see, I'm from Michigan and the growing season there is very short.  This does not stop, however, farmers around the state having huge success in their harvests and I've eaten many an ear of Michigan sweet corn, beets and tomatoes from road side stands by my dad's house over the years.
When I lived in Chicago, I had a beautiful garden out back on one side of the yard I shared with my neighbors.   Obviously, I was already well versed on what would grow as its the same climate and zone as Michigan. One year, I grew giant sunflowers that a cheeky little squirrel would sit atop, stuffing his mouth with the seeds in late August.
Then I moved to Sydney, Australia and got the shock of my life.  I saw vine-like geraniums so big that they were growing up the side of telephone poles!  I marveled at HUGE rhododendron and azalea bushes as high as a house!  I had NO IDEA that those plants could actually get so large, but having a longer growing season, mild winters and not a lot of frost or snow all contributed to this.
At my last house in Sydney, I had a large yard and planted a wonderful herb garden and a cutting flower garden.  I was lucky the yard was already adorned with a large mulberry tree.  Just when I thought I had a handle on gardening in Sydney's climate, we moved to Los Angeles, and I was going to be gardening in another climate altogether!
I found gardening in Southern California to be the easiest yet.  I remember enjoying loooong sunny days, not a lot of humidity, cooler nights and dry summers, wet winters.  As I lived in apartments without a yard, container gardening was the way to go.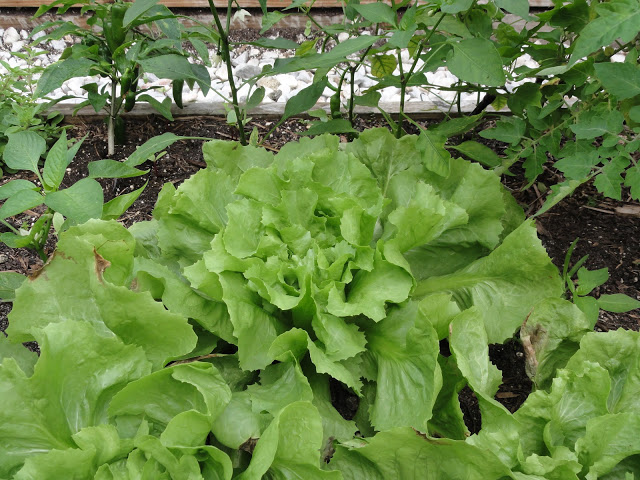 I grew my garden here in Miami Beach with these considerations mind:
It has to be something that I use a lot but never that much of at the same time (like mint, it's expensive at $2.99 a bunch and I throw half of it away!)
Or it has to be something that I could enjoy eating all of the time (fresh baby salad greens and tomatoes.)
An Italian classic:   white bean soup with escarole.  I like to add sliced, browned, spicy Italian sausage with mine.  Some say escarole is too bitter but straight from the garden, it's much more subtle in flavor.  Also, the escarole leaves stand up to cooking much better than spinach or even arugula.
Originally posted 2012-02-05 16:55:00.