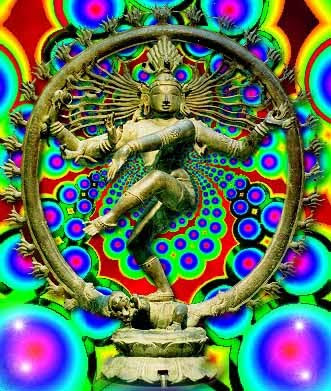 Darlings, darlings, DARLINGS!!! La Diva has been busy, busy, busy! And here it is, sleepy summertime, and what is known as the "slow season" in Miami, and yet La Diva has been working her little culinary tail off! And sometimes when you cook for a living and are busier than normal, the last thing you want to do is cook a complicated meal for dinner.
As per usual, what is in the fridge from my organic vegetable box dictates what I prepare for mealtime. Today, I found myself with bits and pieces of veggies that begged to be used at once but was not really enough for a stand-alone side: one fat carrot, a zucchini, a half cup of freshly shelled peas, redskin potatoes, green beans that were getting old and one lonely, tired turnip. What to do, what to do?
And then it hit me: a nice warm and spicy Indian vegetable curry would hit the spot.
"An Indian curry," I hear you say? "Won't that be a bit a bit heavy for hot summer days?"
Honey, have you ever BEEN TO INDIA? What do you think THEY eat in the heat? I guarantee they ain't eatin' a delicate bowl of white gazpacho chilled soup!
Truth is, La Diva loves a good curry anytime of the year, it's easy, it's filling and so very tasty! Top it off with a cooling raita yogurt sauce, serve over basmati rice and perhaps a chilled, peppery mango lassi and honey, you'll feel like you doing the mambo in Mumbai.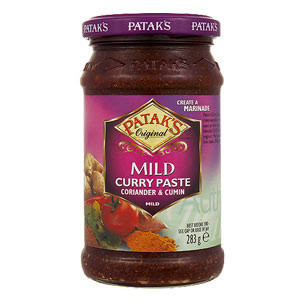 I often use Patak's curry pastes for quick Indian inspired dinner with authentic flavors.
Here's what La Diva did:
La Diva's Coconut Vegetable Curry
Serves 4
1 small white onion
1 medium turnip, peeled and diced
1 large carrot, peeled and diced
1 handful of green beans, trimmed and cut into bite size pieces
4 medium redskin potatoes, cut into 1 inch chunks
1 large zucchini, cut lengthwise and cut into 1 inch chunks
1/2 cup peas
2 T Patak's mild curry paste
1/2 cup water
1/2 can coconut milk
2 T vegetable oil
Heat oil in Dutch oven or large pot and saute onion until translucent. Add curry paste, fry for 30 seconds while stirring, and then add water. Add veggies in order: turnip, carrot, green beans and potatoes. Add coconut milk and bring to a boil and then immediately reduce to a slow simmer. Cook, covered for 30 minutes or until just fork tender. Add zucchini and peas and continue cooking with cover off until zucchini is just cooked, 10 minutes. Grate ginger over curry, stir through and then take off heat. Adjust salt as needed.
Meanwhile, make enough basmati rice for four people.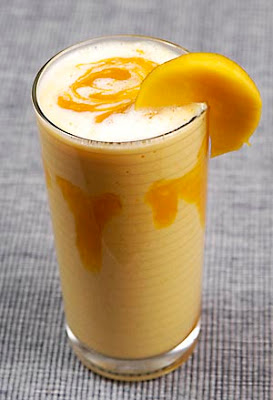 Indians use yogurt to cool off their tongues and palate while eating spicy curries! Another way to cool the palate is with the popular mango yogurt drink lassi. This refreshing drink is easy to make and mangoes are in season now! Click
HERE
to take you to a simple recipe.
1 c plain Greek yogurt (low fat or non fat, I prefer Fage)
1/2 cucumber, peeled, seeded and cut into small dice
1/4 white onion, grated into bowl
1 t mint (dried or fresh)
1/2 t ground coriander
While the curry is cooking, mix all ingredients into a small bowl. Salt to taste and serve over curry as needed.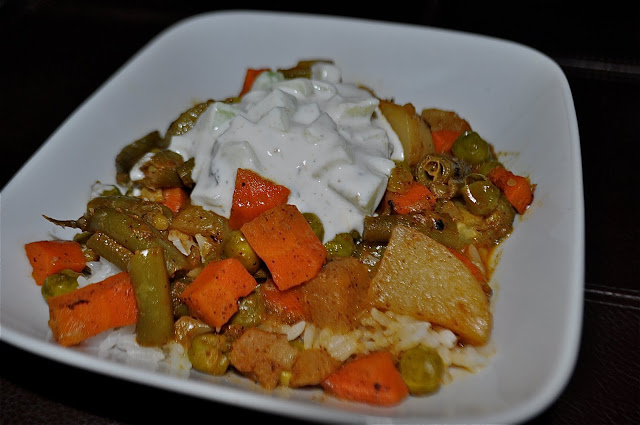 La Diva's vegetable coconut curry over basmati rice with raita.
RESULT: Mmmmmm…. such a warm and comforting dish to La Diva and her DJ Nevah L8. The mild curry spice is further mellowed by the addition of the coconut milk without any reduction in flavor. I add a bit of spicy mango pickle to make mine hot and then put a dollop of raita on to cool it all off! Yes, I make it hot to cool it off! The turnips, usually bitter to me, lose their intensity under the curry spice, the potatoes are buttery and the carrots are sweet. The dinner was an easy triumph and now my veggie drawer is empty and ready for today's veggie delivery!
Ciao, darlings!
Do you want to learn more about ethnic cooking styles? My small bites, BIG DRINKS cooking and cocktail classes focus on various ethnic inspired dishes from around the globe! Go HERE for more info.
cooking class, cocktails, parties, cocktail party, Miami, coral gables, events, bartending class, cocktail class, Laura Lafata, Miami Beach, miami cooking classes, bachelorette parties, bachelorette party, personal chef, corporate events, catering, personal chef, party entertainment, www.ladivacucina.com, top chef, next food network star
Originally posted 2010-08-02 22:45:00.