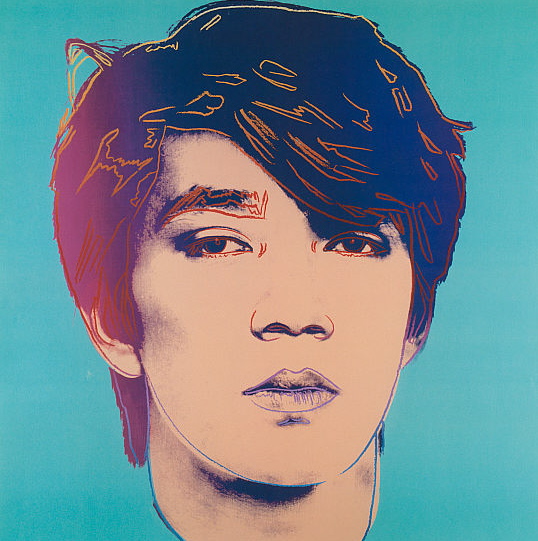 Darlings, do you remember in the 1980's how American trendoids were fascinated with ANYTHING that was Japanese? La Diva remembers the new wave band The Plastics, David Sylvian's band Japan, the multi-talented Ryuichi Sakamoto, and deconstructionist and avant garde fashion designers like Issey Miyake. Along with the trends bowing towards Japanese pop culture came the mainstreaming of wasabi.
Wasabi, a Japanese horseradish usually served as a spicy accompaniment to sushi only in Japanese restaurants, made its way into snacks, dressings, oils, mayonnaise and most notably, into mashed potatoes. At the fashionable restaurants of the time, La Diva remembers chefs pairing wasabi mash with blackened, seared ahi tuna steaks. The spicy hit of the wasabi in the creamy mash was a flavor surprise that complemented the strong taste of the tuna perfectly.
With the New Year in full force and La Diva definitely dieting, I've decided to use this classic pairing for a more waist-friendly, lighter, yet still satisfying version of a heavy and high caloric meal, good ol' steak and mash.
Here's La Diva's version of
Seared Tuna Steaks with Wasabi Mash and Steamed Sugar Snap Peas dressed in Sesame Oil.*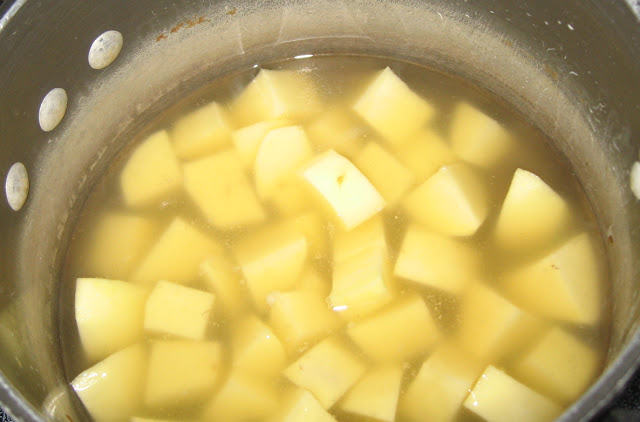 Lightened mashed potatoes with wasabi: Boil cubed potatoes in stock (I used mushroom) until fork tender. Strain and keep some of the broth in the pan and as well as a bit on the side. Mash potatoes with broth and a smidgen of low fat milk, adding salt and wasabi paste to taste. Mash until a smooth texture is realized and moisten with more broth as needed. The texture of the mash won't be as creamy as if you are using butter, cream or full fat milk, but you won't miss it one bit as these taters are so highly flavored from the stock and wasabi.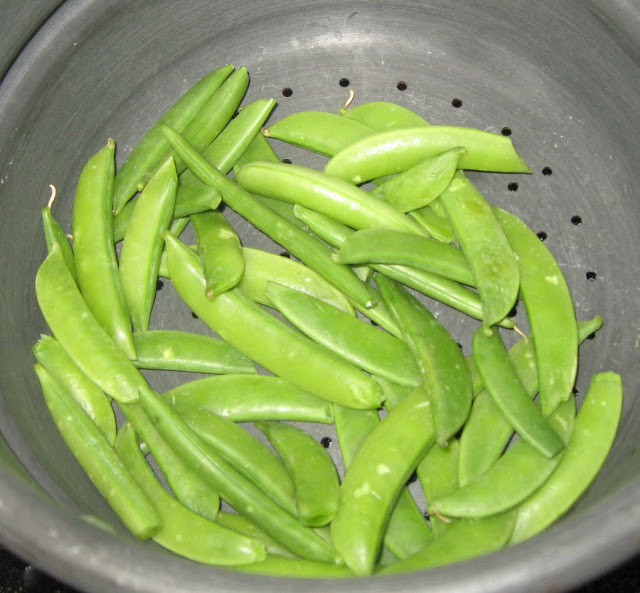 Lightened sugar snap peas: Take stringy bits off peas and steam on top of potatoes until just tender, only a few minutes. Over a plate, lightly sprinkle with sesame oil and sea salt. The concentrated flavor of pure sesame oil means you don't have to use as much for full on flavor!
Lightened ahi tuna steaks: Get FRESH, blood red tuna steaks, not frozen. These will be expensive but just like you don't eat a good quality steak every day, it's nice to splurge on a high quality protein like ahi tuna. When buying the tuna, ask the fishmonger if you can smell it. If there is any fishy smell, do not buy it. For this kind of dough, you want it to be FRESH FRESH FRESH! If they are already packaged, look at the packing date or have them open it for you. Why not? These two steaks were $20!
With a paper towel, blot any excess moisture from the tuna, lightly oil and season with salt and freshly cracked black pepper. Bring a heavy bottomed pan to smoking and add a bit of oil to the bottom of the pan (Diva forgot she was not blackening her tuna but searing it and forgot the extra oil and almost ruined her tuna steaks!) Cook on one side without disturbing, about 2 minutes. As you can see, the steaks are cooking from the bottom up, it's time to flip them over! Carefully flip and allow to sear for another 1 1/2 to 2 minutes. DON'T OVER COOK! Remove the tuna to a cutting board, the fish will continue cooking while resting.
For authentic Japanese flavor, sprinkle tuna with sesame oil and spicy
togarashi
, a blend of seasonings including Sichuan peppercorns, chile, black sesame seeds, orange peel and nori. Allow to rest a few minutes before slicing and plating.
Carefully slice tuna and fan over wasabi mashed potatoes. Prudently season tuna with more sesame oil and soy sauce. Serve immediately.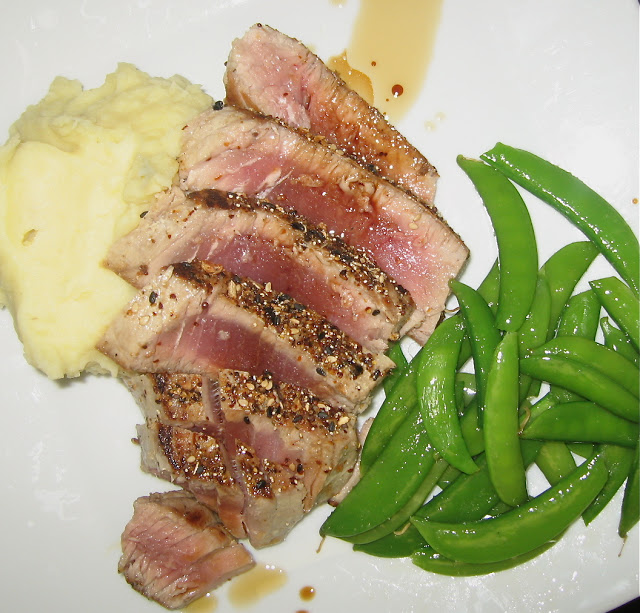 Result: This is one of La Diva's ALL TIME FAVE MEALS. The tuna is so hearty and takes on a steak-like texture with a nice crunch from the seasoning mix. The mash, while subtle in heat, is a mellow component that complements the spicy tuna. This tuna is cooked medium rare and will MELT IN YOUR MOUTH and not have a fishy taste and a firm texture if you bought the tuna fresh. The addition of extra sesame oil and soy sauce drizzled over the tuna imparts a sashimi-like flavor to the fish. The peas add a nice crunch to the plate, enhancing further the sesame flavors from the tuna. A hearty, highly flavored and satisfying meal with a lot less calories and cholesterol than your average rib eye dinner with creamy mashed potatoes! And, it's *Big Bear Man approved!
What do YOU do to lighten up your meals? Tell La Diva, I need all the help I can get! (PS: Diva highly disapproves of fake chemical diet "food" and low fat dairy products, so don't even go there!)
Darlings, La Diva is escaping Miami for a few days to celebrate a friend's birthday and to catch up with dear friends on the Gulf coast! I'll be back to check y'all at the end of next week. Have a lovely, LIGHT week, darlings! Ciao for now!
Originally posted 2011-01-08 16:31:00.