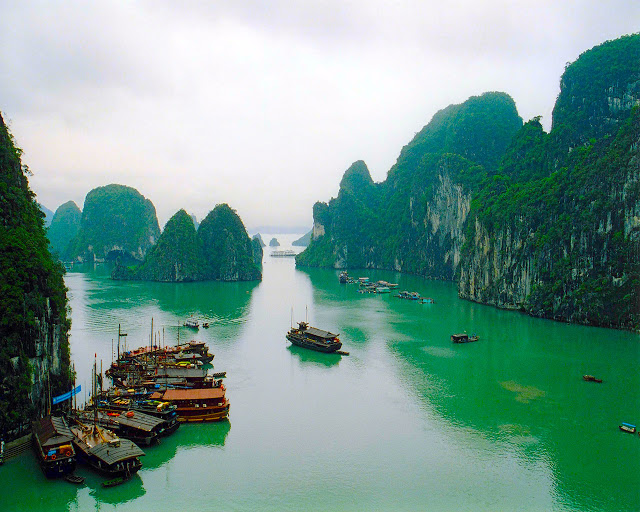 Vietnam's Halong Bay….Calgon, take me away!
Darlings! Well, hi-dee-ho, La Diva sho' has been busy! In less than a week, I've done two classes and catered a Valentine's Day lunch. Last night, I was a guest on
The Love and Sex show with Gina Martell
on South Florida radio talking about food, sex and aphrodisiacs. I was meant to speak for only a half an hour but she had La Diva talkin' for an hour and a half! Whew! (Click
HERE
to hear the podcast! I start about 15 minutes into the show.)
So, what does this all mean for La Diva? I ain't cookin' much outside of class! Seriously, when I work so much on my feet and cook so much for others and spend so much time promoting my business, the last thing I'm thinking about is spending an inordinate amount of time on my feet cooking.
And that means the blog suffers. No time to cook, nothing to post, no time to write! (or even comment back to my own commenters or visit my lovely blogging community! I'm sorry!) La Diva has been a bit
FRAZZLED
lately!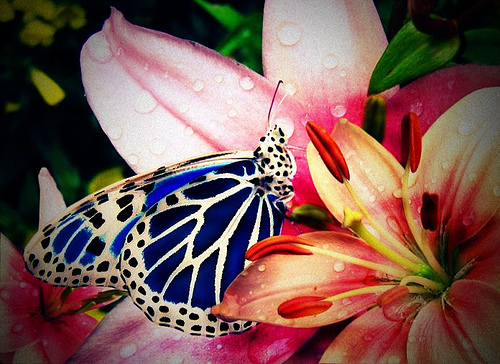 I was looking up images for "frazzled" and this came up along with photos of women with really messy hair. Apparently only women can be frazzled and that means your hair is a mess. I hate that. So, I picked this "frazzled" photo instead. hmpf.
So what DOES La Diva cook when I'm spent after a class or function? Leftovers! And this dish was inspired by the leftover herbs I had from a Vietnamese dish we made at a private class last week including cilantro, basil, mint and chives!
Checking in the cupboard, I found some unsalted whole peanuts and sweet chilli sauce. In the fridge there were shredded carrots and napa cabbage. Inspired by the fresh taste of the
CHẠO TÔM
with all the fresh herbs, I decided that I had all the makings for a light and lovely noodle salad. Here's what I did!
La Diva's Light and Lovely Asian Noodle Salad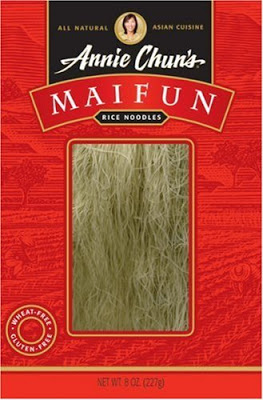 I started off cooking some thin rice noodles, like a very fine rice vermicelli. Be careful not to overcook and don't worry if they stick, the sauce will soon take care of that.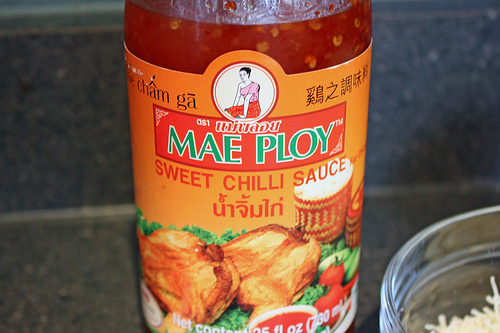 You'll need a bit of this, sweet chilli sauce, a Thai staple. If you don't know what this is or have never had it before, this is a sweet and slightly spicy condiment and served most often with spring rolls! Most grocery stores now carry this in the Asian food section. In Australia, this was used frequently as ketchup and is dee-lish with hot fried potato wedges and sour cream. ( But, I digress!)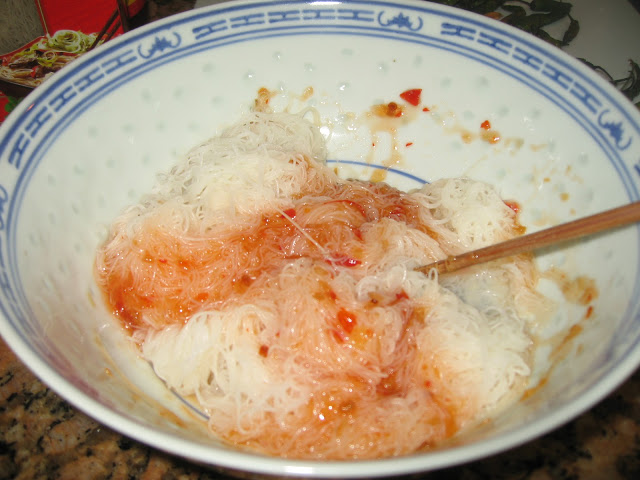 Using a chopstick, add chilli sauce and separate the noodles, making sure to coat the noodles well. The noodles are delicate so BE CAREFUL! You can add more sauce to taste later after you've added the rest of the ingredients.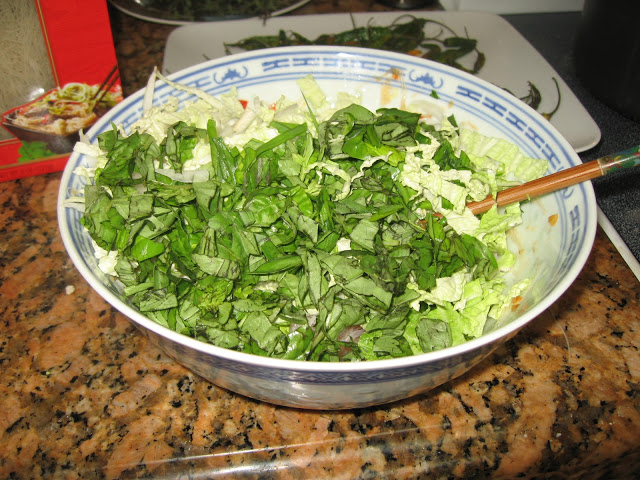 To the noodles I added fresh basil, chopped chives and shredded fresh Napa cabbage. The chopstick is pretty ineffective now, better switch to tongs! But, still, BE GENTLE, darling!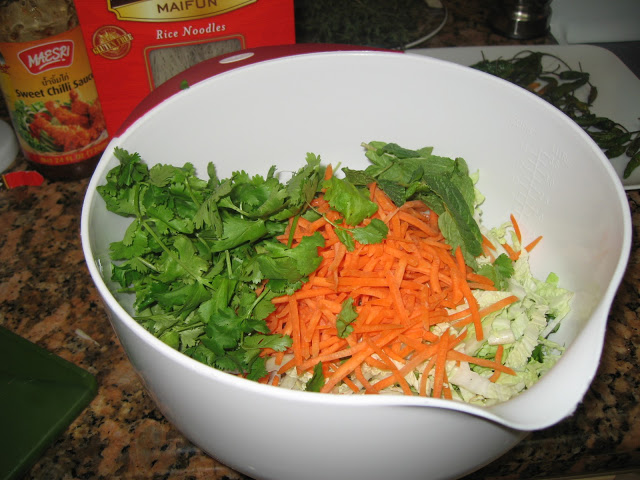 Time for a bigger bowl! I added shredded carrots, cilantro and mint. Mix thoroughly and add more chilli sauce as needed. Gently mix in some cubed firm tofu. Serve in a bowl and then top with crushed peanuts!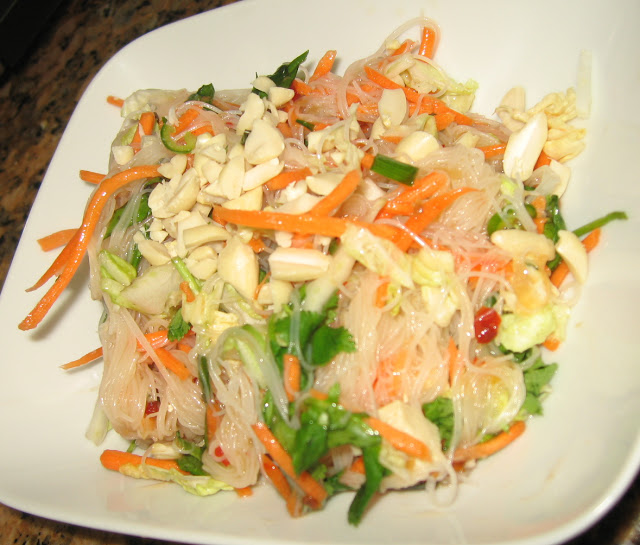 RESULT: Tasty, light, crunchy, YUM! This salad has no oil in the dressing and it doesn't really need it. The veggies and peanuts add the crunch and the tofu adds the substance and the herbs and sauce add the flavor! A perfect combo covering all of the Asian profile bases of sweet, savory, sour and salty. This is a super simple salad that I made with what I had on hand. Other items that would be great to use would be scallions, leftover chicken, steamed prawns, cucumber, fresh chopped chillies and red onion. The objective is to have a light, crunchy, healthy salad combo.
Well, you'd think with all of these LIGHT and MEATLESS MONDAY meal ideas I post would mean that your Diva is a little ol' whisp of a gal! Alas, I'm NOT! The "small bites, BIG DRINKS' classes DO take their toll (especially the BIG DRINKS!) But La Diva figures that eating well, when I can, helps stave off the onslaught of any additional "job related" calories!
I hope you have a LOVELY HUMP DAY and the rest of your week is FABULOUS! Ciao for now, darlings!
If YOU'D like to learn more about FRESH ASIAN COOKING, why not take my MIAMI COOKING CLASS "small bites, BIG DRINKS" Asian class? Click HERE for more info!
Originally posted 2011-02-16 14:24:00.