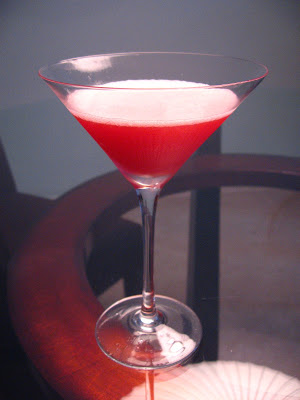 La Diva's updated version of the classic whiskey sour! Click on the photo to enlarge, you big ol' drunk!
Reposted from original date 9-26-10
Darlings! If you've been reading this blog for a while now, you know of course that La Diva is a big ol' boozehound.

Ah, yes, when did IT all start for La Diva?
It started for me in the fifth grade when my gal pal Penny came over to my house with her
Barbie blender
along with a couple of miniature bottles of whiskey her parents absconded from a recent flight to Las Vegas. La Diva and Penny decided to "play" bartender and made whiskey and cokes. After sloshing the "cocktail" about in the toy blender, we took a timid sip and then proceeded to gag. But, we didn't throw the drinks out. We sipped them slowly……and finish drinking them we did.
This was an isolated incident of curiosity. La Diva didn't really try drinking al-kee-hol again until I was 16 and my neighbor and BFF Rochelle experimented with over-proof rum and coke with disastrous results. But, that's another story for another time.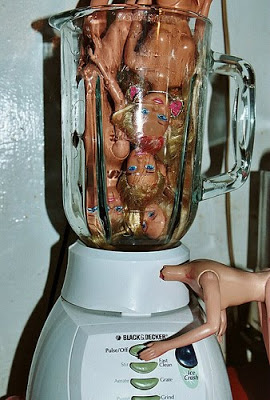 I like to play mad scientist and infuse my booze. I've been doing it for years but usually only with vodka as it's such a bland base without any really distinct flavor and can really 
take on
 the essences of the fruit or spices I'm using. But, after a recent trip to the grocery and seeing the lovely sweet black cherries on display, La Diva got the idea of ….cherries….bourbon…..mmmmmm!
Here's what I did:
Buy 1.75 liters of an inexpensive whiskey. Not scotch though as scotch has too much of a strong, smoky taste. I used Early Times bourbon.
Pour into a large container. I use a plastic container with a lid and spigot (for easy tasting!)
Wash a pound or so of fresh, ripe sweet black cherries. I cut them in half to help release their juices. I didn't take out the pits.
Leave in the back of the refrigerator for two weeks. Try to position it so it's out of sight otherwise stray deejays will sample the product every day and you'll be left with none to make drinky-poos with at the end of it's curing time.
After two weeks, drink!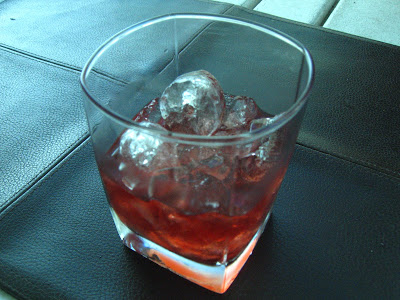 Result: Mmmmmm! The cherry taste is quite subtle but it is undeniably there!! You can still taste the bourbon but now it has a tinge of sweetness to it, very nice indeed. The bourbon is now colored bright red and ready for ingesting as a shot, cocktail or simply over ice as DJ Nevah L8 tried it for the first time in the photo above!
(yes, you can click on this photo too, darlings!)
So now La Diva had liters of this sweet cherry bourbon, what to do with it? As you are now probably quite aware, La Diva is all about "working" with what she's got. Into the fridge I went and found I had a bit of lime juice I had squeezed fresh for cocktails the other day…and that was about it.
How about instead of an
old school whiskey sour
with lemon, we do a
cherry bourbon lime sour
instead? A tasty twist on a classic cocktail.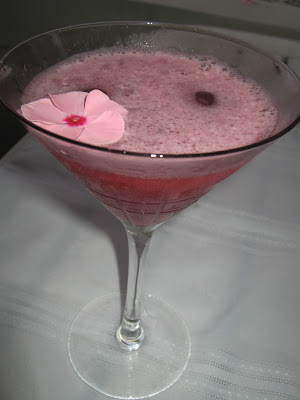 La Diva garnished her drink with a matching impatiens flower. Just make sure you use a flower garnish that is not poisonous. Oleander is NOT recommended.

La Diva's Cherry Bourbon Lime Sour
cocktail:
In a shaker filled with ice pour:
2 oz. cherry-infused bourbon
1 heaping teaspoon powdered sugar
1 oz. fresh squeezed lime juice
1 dash of egg white
Shake vigorously until ice is broken down and all ingredients are well mixed and cocktail is frothy. Pour into chilled cocktail glass and garnish with two cherry halves (warn imbibers about the pits!)
Dee-lightful, darlings! This libation is sour with a touch of sweetness and VERY REFRESHING! And, as an added bonus, you may pass out those drunken cherries as "Cherry Bombs" as eating a few of those deadly blasts of liquored fruit is equivalent to doing a shot!
So tell La Diva, darlings, what would YOU do with this divine cherry-infused bourbon? Or better yet…when did YOU have your first drink of alcohol?
Originally posted 2012-08-14 12:10:00.