Tiny organic tomatoes hitch a ride safely home from La Diva's South Beach garden in a fallen coconut husk.
Darlings!  I just adore tiny tomatoes!  And there is so much choice now, they come as grape tomatoes, cherry tomatoes, yellow pear tomatoes, and in vibrant colors including green, purple and PINK!
Don't get me wrong, darlings, La Diva DOES love her full size tomatoes.  But I've bought organic tomatoes that are imported and out of season in Florida that look perfectly red and ripe on the outside only to find them white and mealy on the inside.
So very disappointing.
Unlike the larger varieties, especially the heirlooms, mini tomatoes tend to not get bruised and mushy, retain their shape, flavor and juiciness and will pop pleasantly in your mouth even a week after purchase.
For that reason, I tend to buy a lot of baby tomatoes.  Check out how versatile they are!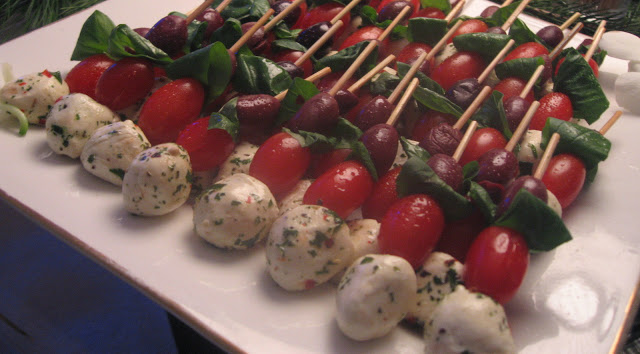 Grape tomatoes are a key component with these Mediterranean salad skewers.  Salad on a skewer is picnic perfect!
Another benefit to buying baby tomatoes, is that if they start to shrivel, you can always cook them and they will be just fine!  Pop 'em in a pan to roast, saute them on the stove or put 'em in pasta!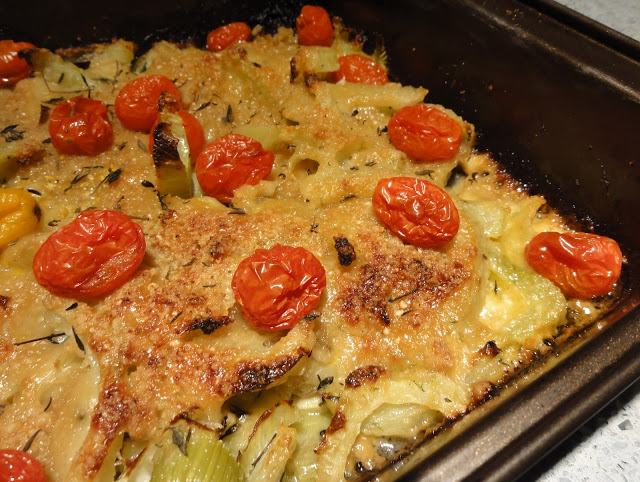 I love roasted baby tomatoes!  Sweet and plump, they are a savory and tasty topping to this fennel gratin with thyme.  More roasted tomato recipes
HERE.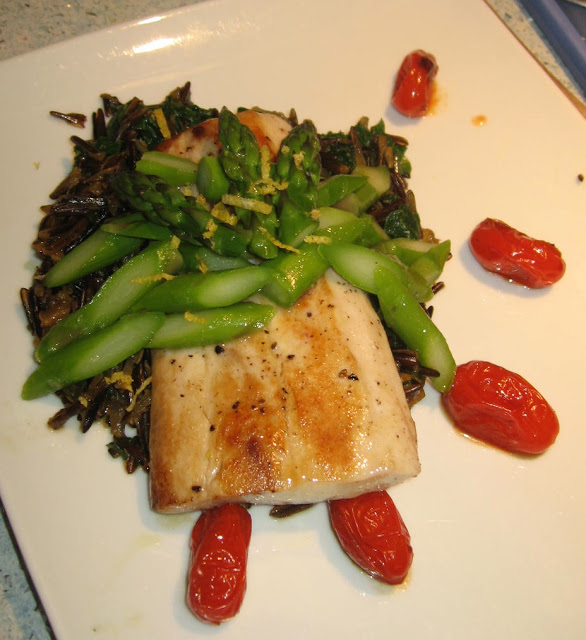 Sauteing tomatoes can make for a quick, flavor enhancing addition to a variety of dinners!  Lemony asparagus sits atop a seared mahi mahi filet and wild rice from Wisconsin.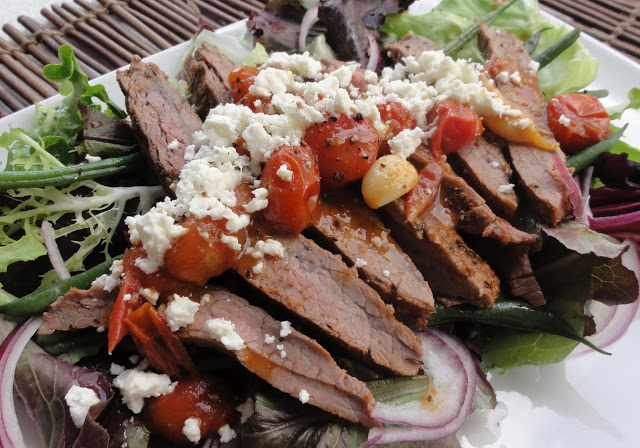 Click
HERE
for a smoky flank steak and roasted tomato salad with buttermilk dressing recipe!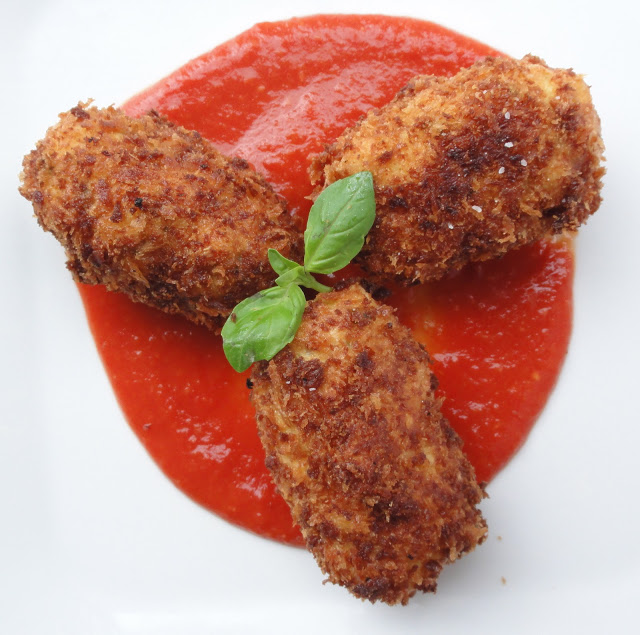 Don't like the seeds or skin of a gushy little tomato?  Easy peasy, just make a quick tomato and garlic sauce and strain for a silky tomato coulis!
Click
HERE
for the recipe and method!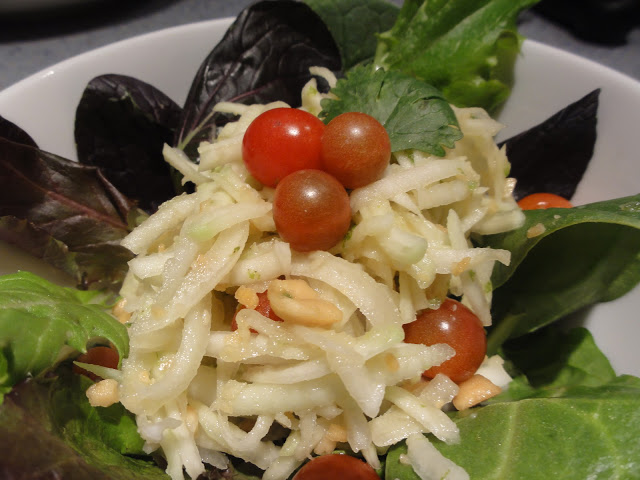 Of course, the obvious way to enjoy baby tomatoes is to simply have them in a salad!  Here's my refreshing green papaya salad, the recipe is
HERE.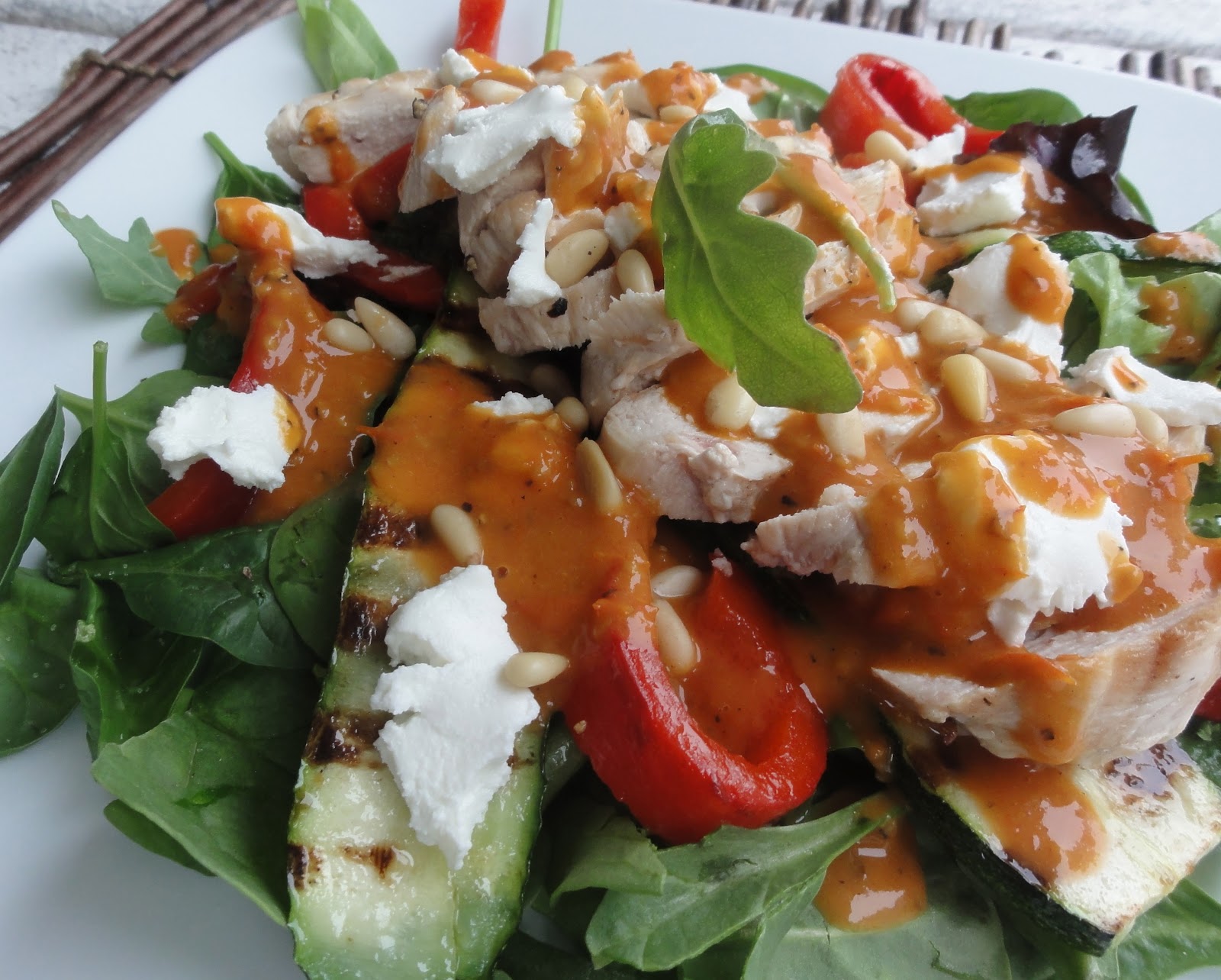 Why just have tomatoes on the salad when you can have them as dressing for the salad?  Here La Diva has sauteed cherry tomatoes and simply processed them into a puree.   I then emulsified it with extra virgin olive oil, a dash of white Italian vinegar and seasoned simply with salt and pepper.
This dressing is the perfect sauce for grilled chicken, red peppers and zucchini with goat cheese and pine nuts over baby arugula.  The dressing adds piquant flavors with a nod to Italy.
Darlings, do you love little tomatoes?  DO tell me how you like to enjoy them!  Ciao for now!
Originally posted 2012-06-05 13:09:00.