Darlings! La Diva woke up on Day Two of her fabulous STAYcation in the Florida Keys to a dismal, dark and dreary day of drizzle! A morning snorkeling trip was definitely out, so leaving the Big Bear Man to slumber on, La Diva took off in search of REAL coffee instead of the insipid dishwater being offered for free in the hotel's lobby.
The lovely front desk staff directed me to the Midway Cafe "just down the street" and I headed out into the rain. I drove. And drove….and noticed a woman sweeping up fallen leaves in front of a row of charming art galleries. I stopped to ask her where the heck the cafe was, La Diva was getting desperate for her caffeine fix. She told me I was close, only a few blocks away, and I made a mental note to come back and check the galleries out after I picked up the DJ.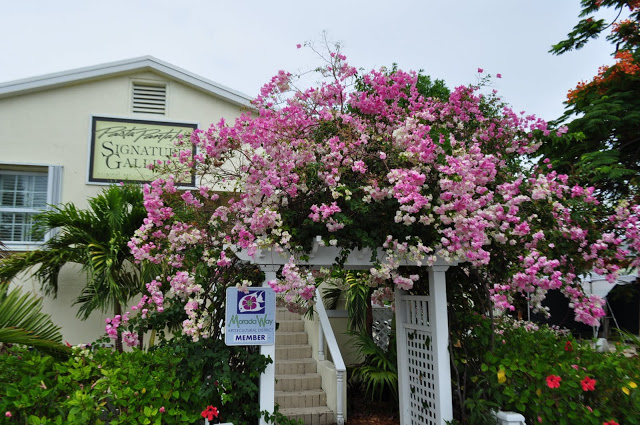 La Diva started with a cup of the spicy conch chowder, tasty, hot and satisfying, and then ordered a mahi Reuben which consisted of a super fresh blackened dolphin fish fillet on toasted rye with spicy slaw and remoulade. I took my first bite…oh hell yeah. It was so good that I wouldn't stop eating it to let the DJ take a photo! The DJ got the house sammie…a nice grilled fillet of dolphin fish on toasted sourdough bread with cheese, tomato and mayo. The sandwiches were so fresh that we both had juice running down our hands, definitely two napkin sandwich.
In the afternoon it cleared up enough for us to go sailing! One of the main reasons for our trip to the Keys was to go sailing and to stay at a place that offered water sports on the their beach. We love the freedom of sailing in a small craft without a motor…until the wind dies! And then you realize you are not free at all, but a slave to MASTER WIND!
That's when I realized that I love to sail on the smaller boats. The DJ grew up on the water and as his father was a navigator for the Royal Australian Navy, sailing was a prerequisite growing up. So, in his capable hands, with La Diva prone on the canvas, we glided across the waves, getting splashed and wet with warm sea water. Sailing a Hobie Cat is the closest thing to being a fish that this little mermaid can get.
And for dessert: The German Chocolate cake from Ma's! The cake "slice" was HUGE, four layers! It was super fresh and moist, with REAL caramel and coconut layered between the dense cake…heaven! Sigh….another laid back and peaceful day in the Keys and our last night! The next day we would head back north, up to Key Largo for an afternoon of motor boating out to the reefs. Ciao for now, darlings!
Originally posted 2011-07-09 16:22:00.